We independently research, test, and recommend the best products; you can learn more about our review process here.
Spincast reels? Aren't those for kids? Well, yes – but not always. A lot of reel manufacturers give spincasters a bad reputation because they pump out these bottom-dollar, crappy reels and sell them at Wal-Mart for ten bucks.
That doesn't mean that all spincast reels are like that. Some of the most respected reel manufacturers on the planet produce the best spincast reels that are well worth your time and money. I've fished some terrible ones but I've also fished some great ones.
In this guide, we're combing through to find the needles in the haystack when it comes to spincast reels. I think you'll be pleasantly surprised.
Comparison Table – The 7 Best Spincast Reels
Image
Product
Rating
Price

Best Overall

Bearings: 7
Weight: 10.08 ounces
Gear Ratio: 3.4:1

Amazon

Best Premium

Bearings: 5+1
Weight: 14.4 ounces
Gear Ratio: 5.1:1

Amazon

Best Budget

Bearings: 5
Weight: 11.2 ounces
Gear Ratio: 3.1:1

Amazon

Best Triggerspin

Bearings: 2
Weight: 5.2 ounces
Gear Ratio: 4.1:1

Amazon

Best Saltwater

Bearings: 3+1
Weight: 5.7 ounces
Gear Ratio: 3.6:1

Amazon

Most Beginner-Friendly

Bearings: 1
Weight: 6.4 ounces
Gear Ratio: 4.3:1

Amazon

Honorable Mention

Bearings: 5
Weight: 9.88 ounces
Gear Ratio: 4.0:1

Amazon
---
In-Depth Reviews of Our Favorite Spincast Reels
Zebco Omega Pro Spincast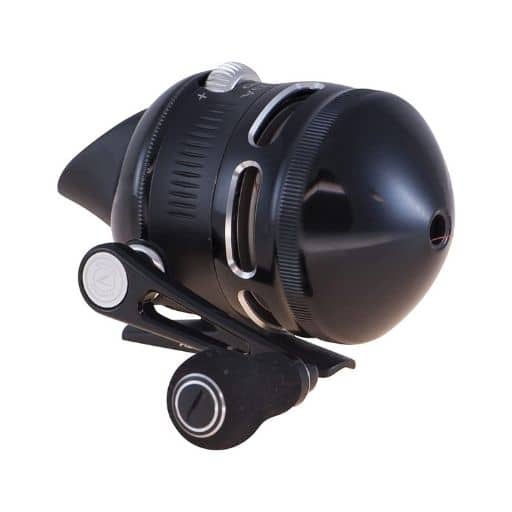 BEST OVERALL

Specs
Bearings: 7
Weight: 10.08 ounces
Gear Ratio: 3.4:1
Pros
Smooth drag system and cast
Instant anti-reverse bearing
Brass gears
Seven bearing system
Cons
What Do We Like?
There are a few primary things every angler will look for when shopping for the best spin casting reel. First, you're looking for simple operation. This reel comes with a soft touch button that presses easily and releases well. It comes spooled with a six pound Zebco line, which I highly recommend removing and replacing with a better quality line.
One of the main reasons I think this is the best Zebco spincast reels is because of the anti-reverse, seven bearings, and smooth feel. You don't get that choppy and rough feeling that you get from a lot of spincast reels. I've found over the years that the casting experience on a spincast just can't compete with other reels but this one comes pretty close.
The Omega Pro is made with an aluminum body and a nice oversized handle which helps you crank in decent sized fish like bass and catfish. You're not restricted to small panfish and trout with this guy which is also nice.
What Needs Improvement?
The only real complaint I could come up with is the price of this spincaster is a lot higher than most. The issue is that you could get a high-quality spinning reel or even a baitcaster for the same price so you have to want a spincast reel specifically to go out and purchase this one.
Overall Summary
The most important thing to remember about the Zebco Omega Pro is that it's a spincast reel in a league of its own. It's the best spincast reel hands down so if you're looking for something that is simple to operate, easy to use, functional, and good enough for most recreational fishing, this reel isn't a bad choice.
That said, the price may turn some of you away because you can get a decent spinning reel from Shimano or Daiwa for even less than this. But, that won't grant you the luxury of not having to worry about nesting or line twist. Plus, if you have arthritis, carpal tunnel, or anything similar – you'll appreciate how easy this push button reel works.
Zebco Bullet Spincast Reel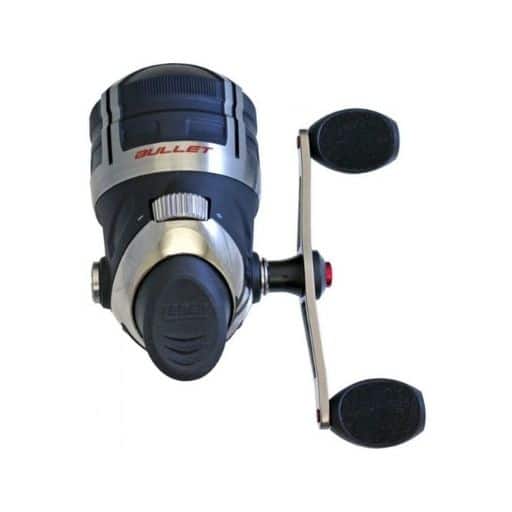 BEST PREMIUM
Specs
Bearings: 5+1
Weight: 14.4 ounces
Gear Ratio: 5.1:1
Pros
Great quality
Smooth as butter
Durable and long lasting
Oscillating spool
Cons
What Do We Like?
If you're looking for the holy grail of spincast reels, congratulations because you found it. You'll be hard-pressed to find a spincaster that's more expensive or more loaded up than this one. The body is forged aluminum with a double anodized aluminum cover and it comes with their ZeroFriction dual-bearing design.
This feature is said to reduce the amount of friction the line experiences as it flies off the spool which will result in a longer casting distance, smoother cast, and less abrasion to your line. This feature is paramount in spincast reels because of the closed design. Since you're casting through a small hole (line guide) in the center of the body, there's a lot of friction and ways for the line to get hung up.
It also comes with a 90 yard 10 pound test line capacity which is great for a spincaster and tells me that it could hold its own against some of my favorite spinning reels.
Lastly, unlike any of the other top spincast reels, the spool on the Zebco Bullet oscillates which helps the line lay evenly resulting in a better retrieval and smoother cast.
What Needs Improvement?
It was really tough putting this one in second place and not at the best overall but there's two primary reasons. First, the weight of this reel is exponential in comparison to most reels of any kind with this capacity.
That's a big factor because it impacts the beginner-friendliness of the reel while also producing more fatigue which is something I frown upon when it comes to these types of reels.
Not to mention the price. If you thought the price of the Omega Pro was bad, just wait. You could walk away with a Shimano Sedona, Sienna, and a Penn Battle III for the price of this spincaster. I have a hard time understanding the cost here but it is what it is.
Overall Summary
If you're determined to get the best spincast reel and you don't care about other types of reels, this is the one you want. It's the cream of the crop and really a premium offering from the company that specializes in making these types of reels.
The downside is that I feel like you're overpaying for something that isn't worth it simply because they've cornered the market. But, if you want a reel that is easy to use, long lasting, and won't give you any trouble no matter how much you beat it up, give this one a further look.
Pflueger President Spincast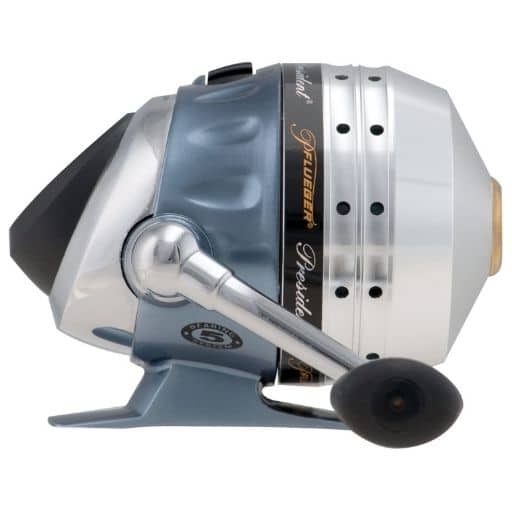 BEST BUDGET


Specs
Bearings: 5
Weight: 11.2 ounces
Gear Ratio: 3.1:1
Pros
Titanium pickup pins
Smooth drag
Rigid aluminum frame
Low price
Cons
What Do We Like?
Zebco is the brand that has really cornered the spincast fishing reel market but Pflueger also has a few great options as well as Daiwa and Abu Garcia. The one thing that makes this reel stand out right off the bat is that "out of the box" feeling when you put it in your hands. It feels nice in your hand, looks great, and appears durable. There's a lot of aluminum in the reel which is long-lasting and will hold up as you abuse it over time.
It comes with a five bearing setup with a multi-stop and anti-reverse system that works pretty well. The one advantage with the Plfueger is that it features titanium take-up pins which adds a corrosion-resistant feature as well. While it's intended for freshwater you could likely use this quality reel in saltwater too.
The one thing that is clear is that this reel is built to last and that's something we look for in a spincaster. I personally always have one as a backup reel if someone comes fishing and doesn't have one or if I'm fishing ultralight tackle.
What Needs Improvement?
Where problems arise is the casting consistency. I've found this problem with a lot of spincasting reels and this is one thing I've avoided like the plague in this review. The problem is, you can't avoid it forever.
You're not going to get an ultra-smooth operation every time with this reel, you're just not. The friction and resistance created with a closed face reel will always catch up to you and start to impact your distance and accuracy. There will be times where you cast and the lure drops ten feet in front of you like a brick.
The bail is also a bit slow to react sometimes so if you end up casting into something you'll have a hard time quickly getting out of there because the bail won't close until the lure hits the water.
Overall Summary
Is this the best spincast reel I've ever seen? No. But, it's affordable, lightweight, and simple to use so it serves its purpose as a great backup reel for those who prefer spinning and baitcasting reels. Nonetheless, I'd still recommend it for its durability and longevity.
Pflueger Trion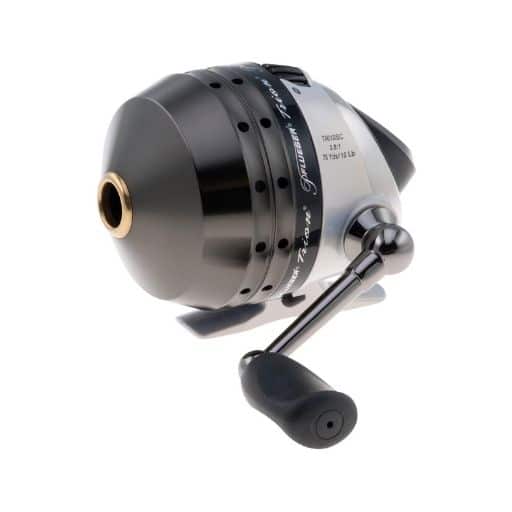 BEST TRIGGERSPIN

Specs
Bearings: 2
Weight: 5.2 ounces
Gear Ratio: 4.1:1
Pros
Simple casting
Aluminum handle
Easy to adjust drag
Cons
May have a learning curve

What Do We Like?
Did you know there is a whole different class of spincast reels called triggerspin reels? Zebco essentially created this technology and other manufacturers have since adapted and made their own interpretations but this one is my favorite. This reel features a lot of the things we all love about spinning reels put together into a spincaster.
The first and most obvious thing you'll notice is the trigger on the top portion of the foot. You'll depress that trigger to open the bail and cast similar to the motion you would make on a spinning reel.
The thumb drag adjust is ergonomic on the left side of the reel which makes it easy to get to as you're casting and retrieving and there's a ported front cone design implemented which helps keep the water out of the cone without it running down your hands or arms.
What Needs Improvement?
If we overlook the obvious issues that you encounter with all spincasters, the only concern I have here is the learning curve. For those who are used to using a typical spincast reel with a push button, you might not like this one as much.
Overall Summary
Of course, every spincaster comes with mechanical concerns and casting issues with abrasion but that's true to them all. This one is lightweight, durable, and features a unique design that I personally love.
Zebco 33 Gold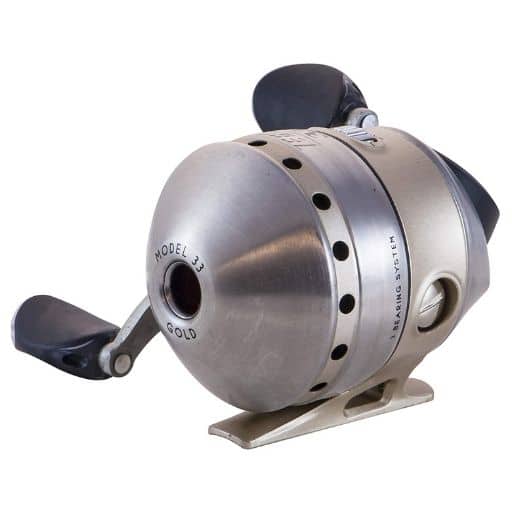 BEST FOR SALTWATER


Specs
Bearings: 3+1
Weight: 5.7 ounces
Gear Ratio: 3.6:1
Pros
Ceramic pins and all metal gears
Graphite frame with metal handle
Double paddle handle
Price
Cons

What Do We Like?
First of all, when we think of saltwater fishing our minds don't instantly run to a spincast reel but this one should hold up for you. It's got ceramic take-up pins, a graphite frame, and a ton of metal all over the reel. This bad boy will hold up for years if you take care of it, clean the saltwater out, and maintain everything properly.
I also love the fact that it comes with a double paddle handle which makes cranking larger fish easier. That doesn't mean you can go out and catch anything weighing more than a couple of pounds because it's still an ultralight reel, but if you want to try – feel free.
What Needs Improvement?
This might be one of the first spincasters in this review where I'll actually say that the size doesn't align with the intentions of the reel. This is one of the smaller spincasters we've reviewed and I'd actually like to see them increase the size and capacity because it has the potential to do some damage in the canals and marshes but it's too small.
Overall Summary
If you're the kind of person who thinks that spincasters are for children, put this one in your hands. It's a great backup reel, it's simple to use, and you'll have a great time chasing fish around the salt with it. They also have a few different upgrades that may lend a hand in saltwater applications if that's your game.
Zebco Micro 33 Triggerspin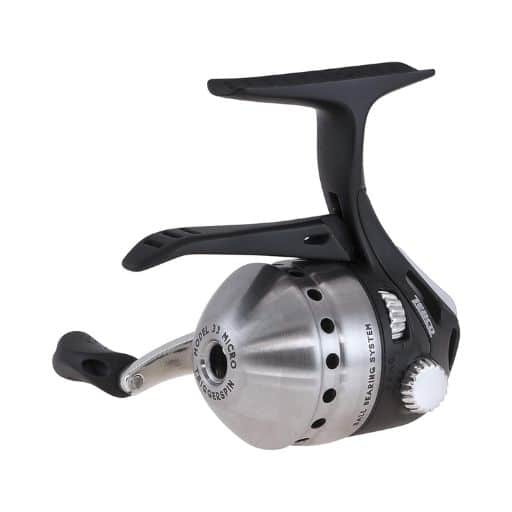 Most Beginner-Friendly
Specs
Bearings: 1
Weight: 6.4 ounces
Gear Ratio: 4.3:1
Pros
Dirt cheap
Bite alert feature
Lightweight
Cons

What Do We Like?
Here we have an original triggerspin reel from the company that brought them into the market. You get all the benefits of having a spinning reel with a much easier to use spincast setup. It's a great option for panfish and trout because it's lightweight, easy to operate, and comes with a unique bite alert feature.
The reel will emit a clicking sound when something takes your bait. Of course, you still need to set the hook for that to happen but that makes this reel very beginner-friendly.
Plus, the reel costs less than a case of cheap beer so you really can't go wrong. If you're introducing someone to fishing but you don't want them to get in the habit of using a push button reel, this is a great way to go.
What Needs Improvement?
These aren't even so much improvements as they're just honest transparency. The reel has limitations but that comes naturally with something in this price range. This reel is not intended for bass or anything larger. It's not intended for any fish that will put up a decent fight. Instead, you'll use this for panfish and trout; nothing more.
The reel also isn't built to last forever, it will start to break down over time, you won't get the smoothest cast in the world, and don't expect to spool a ton of heavy fishing line on here – it's not intended for that.
Also, don't listen to other reviews saying that it's a piece of junk. They just didn't get what they were expecting and should know better when purchasing a reel in this price range. You get what you pay for and in some cases a cheap reel makes more sense.
Overall Summary
Overall, I think I've said it already. It's a great beginner reel. If you're introducing someone to fishing, want a backup reel, or you're on a tight budget but still want to go fishing – this reel is a solid option. Just know what to expect and don't be surprised when you get it.
KastKing Brutus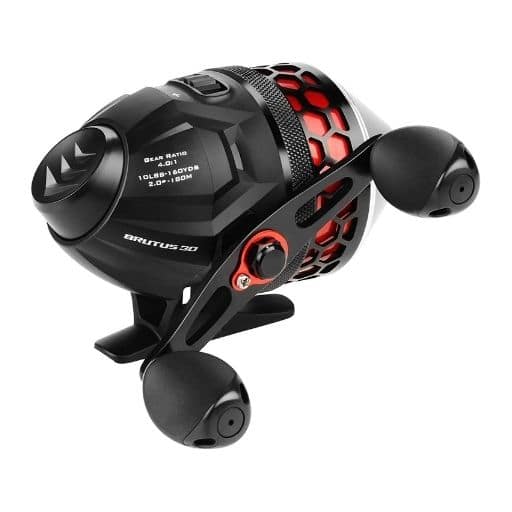 Bearings: 5
Weight: 9.88 ounces
Gear Ratio: 4.0:1
Pros
11 pound drag
Smooth casting
Reversible handle (left hand/right hand)
Good for saltwater as well
Cons
Heavy
Retrieval is choppy

What Do We Like?
I wanted to make sure and include one more reel in this review because I felt that the KastKing Brutus is one of the best spincast reels for bass because of it's fast gear ratio, smooth casting, and 11 pound drag.
Not to mention the fact that the reel looks great and features a five bearing setup. One of the main features that stands out about this one is the reversible handle that they've made extremely easy to adjust.
What Needs Improvement?
First of all, one of the most important things about a spincast reel is that it's easy to use. The weight on this one does not make it easy to use and it takes the user-friendliness out of the hands of beginners and children. When you do that you're losing a huge portion of your market because that's the majority of people that will use this reel.
I'm also personally not a fan of how smooth the reel is on the retrieval. There are a ton of negative reviews talking about this and it's something that I'm surprised a company like KastKing has not addressed yet.
Overall Summary
It's a good spincast reel. Is it the greatest? No, but it'll do the trick for many beginners and enthusiasts alike. Plus, it comes at a price tag that is affordable for most budgets. I also recommend removing the line they provide you with unless you like throwing your lures into the water and never seeing them again.
Understanding Spincast Reels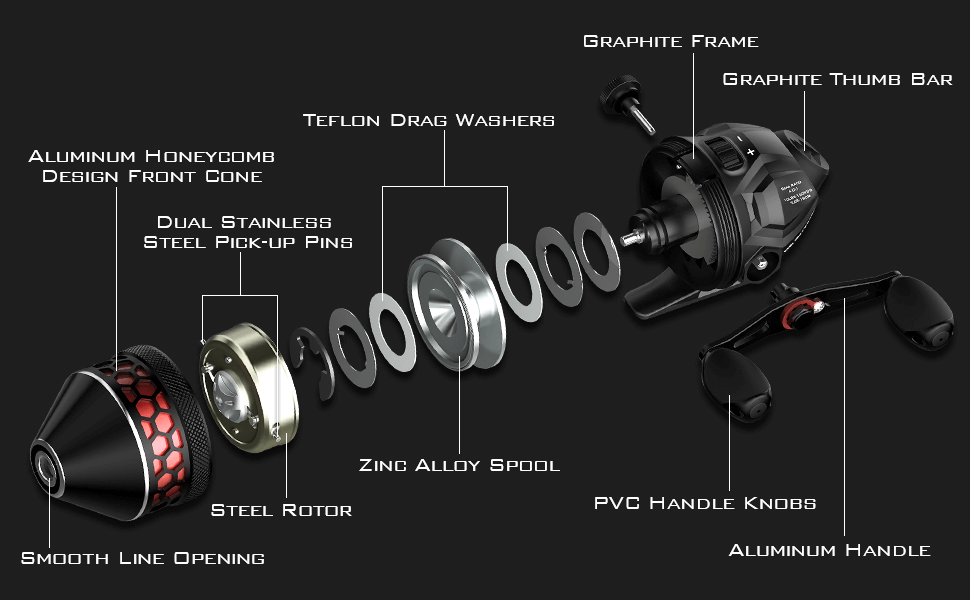 If you're on the fence about what type of reel you should purchase, the following sections should help you make that choice. Going with a spincast reel over an ultralight spinning reel or standard spinning reel requires you to understand the different components of each and why anyone would pick one over the other. Let's go in-depth on the topic and break down the details of the top spincast reels.
Closed Spool – The Good
The first and most obvious thing you'll notice about spincasters is that the spool has a cover over it that protects the line and internals from wind, water, and sun rays. If you're just introducing yourself to fishing for the first time, this has it's pros.
You don't have to worry about tangling your line because there's a lot less chance of anything going wrong. The line runs along the spool and out through a small opening at the top of the cone.
Since the line isn't flowing so freely in open air, the chances of getting tangled are lower as long as you understand how to properly cast.
Another plus of having a cone around the spool is the fact that it will prevent debris from getting inside. While things can get in and line can get tangled, the chances of it happening are smaller with a spincaster.
This is one of the reasons why most anglers will always say that spincasters are for beginners. What you lose in performance, you gain in user-friendliness. They're also easier to care for and take care of because the cone protects everything and increases the lifespan of the reel in most cases.
Of course, this won't always apply. But in general, the lifespan of a spincasting reel is longer than most other reels in the same price range.
Closed Spool – The Bad
Now for the bad news about a closed spool. Again, these are primarily my opinions so you may have a different experience.
Casting with a closed spool is naturally more difficult because there's more abrasion and more touching points along the way. As a result, it slows down your cast and makes it more difficult to hit the spot you want.
This is another reason why most anglers wouldn't be caught dead with a spincaster. They're primarily geared towards beginners and weekend warriors who might be on the water killing time and they're not worried about whether or not they catch anything.
Another issue I have with a closed spool is that things can happen inside and it makes it more difficult to catch it before it becomes a big problem. Some of the worst tangles I've had have come with these types of reel because you aren't able to see it coming. Then you need to take the lid off, untangle everything, and put the lid back on.
Push-Button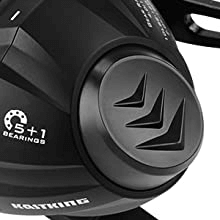 Another thing that is different about spincasters in comparison to baitcasting reels and others is the use of a push button on most. You'll mount a spincast reel on the top of the blank like a baitcaster and it comes with a button on the bottom that you'll depress with your thumb.
When you're ready to cast you'll release the button and the line will start flowing off the spool.
When you're ready to engage the line again, you'll start cranking the handle. This operation is much simpler than using a spinning reel or baitcasting reel and it limits the number of errors that can occur along the way. That chances of something going wrong are slim but there are also some issues you can run into.
I find that casting with push button reels requires more precise timing than spinning reels simply because it's a mechanism you're relying on rather than your finger.
With a spinning reel, you release your finger that's pressing down the line and you cast, it's simple. With a push button reel, you need to release your finger from the button which then releases the line inside so it's an extra step. When you add extra steps, you increase the chances of running into a problem.
Triggerspin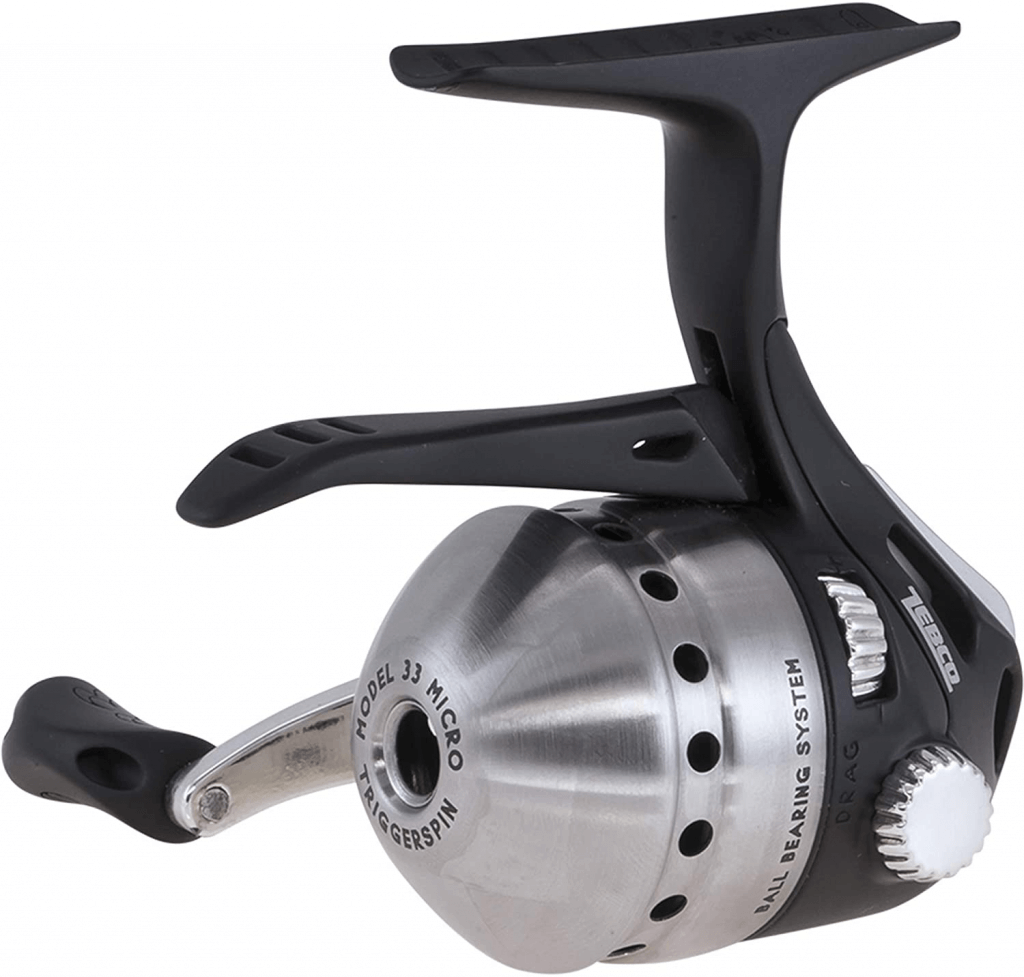 If you're not a fan of the push button but still want to get a spincaster, you could go with a triggerspin design. These mount on the bottom like a standard spinning reel and instead of using a button, they come with a trigger that operates similar to a spinner as well.
You'll press the trigger down when preparing to cast, release it when you do, and then crank the handle to engage the line again. The process is basically the same and still requires mechanism to release and engage the line but I personally prefer triggerspin casters because they're more closely related to spinning reels.
I also trained my kids on triggerspin reels because I didn't want them to get into the habit of pushing a button to cast. The process of pressing the trigger mimics how you'll fish when you open the bail and press the line against the blank.
Take-Up Pins
The most important component of a spincasting reel are the take-up pins. These act like the bail of a spinning reel and control the engagement of your line. When you push the button, the take-up pins will release the line and when you start cranking they will engage the line again.
You want to pay attention to all mentions of these in the reviews above because the durable and performance of your take-up pins will make a huge difference in the overall performance of the reel. Sometimes the pins can wear down and they won't properly engage the line which will result in trouble retrieving.
Other times the mechanism designed to release the line doesn't work properly and that's even more frustrating. The result is your line stopping dead in the air and your lure flying half way across the pond or worse (wrapping around and flying back at you).
Look for materials like graphite, aluminum, and ceramic versus plastic. These will last longer and provide better performance over time.
Casting and Retrieving
We always talk about smoothness when it comes to casting and retrieving. Every angler wants a reel that casts smoothly, engages the line properly, and reels back as smooth as it went out. That's something we all want but not something we all get. Some premium offerings will feature a multi-disc drag, ball bearing drive, and full metal body which is something you won't find in the cheaper spincasters on Amazon.
When it comes to even the best spincast reels, they have their limitations in this area. I find that casting with a spincaster is difficult and frustrating because you can't get the same distance you would on any other reel and retrieving can be a challenge as well because they're not usually as quick to retrieve slack line as some other reels would be.
At that point, you might as well just use them as an ice fishing reel.
That said, there are some that are a league above the rest and the seven reels reviewed above are exactly that. As long as you take care of them, you won't even notice the difference between casting with those and casting with a spinning reel.
Buying Factors of the Best Spincast Reels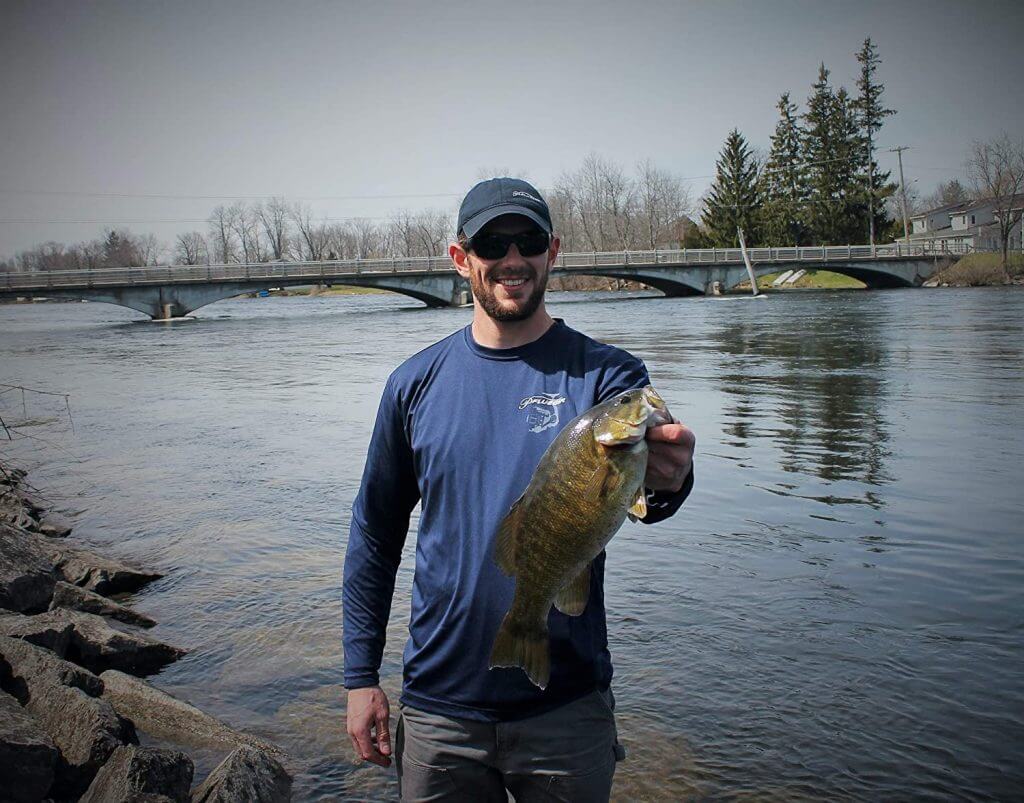 Now that you understand the limitations of spincast reels, let's talk about some of the factors I consider when purchasing one.
Durability
The durability of a reel is important but even more important with spincasters. The reason many people purchase this type of reel is because they're looking for something that will last a long time and they may not use it as frequently as they would a spinning rod and reel.
As a result, you need something that won't rust, break down, and become temperamental over time.
That requires you to choose very carefully. If you choose the wrong spincaster, you're going to end up with a reel that operates poorly and starts to give you trouble after a year or so.
I recommend going with a reel with as much metal and stainless steel as possible especially on the take-up pins. You also want to pay attention to the ball bearings and whether or not they're shielded.
Many spincast reels do not come with shielded bearings which makes it easier for debris to get inside and make casting and retrieving difficult.
Weight
Many people who choose this style of reel are looking for something with ease of use. I personally purchase spincasters as backup reels and for friends who want to fish but don't have their own gear.
Because of that, I need something that is super easy for them to use and if the reel weighs 20 ounces, it's going to be heavy, clunky, and they'll get tired of holding onto it after a while.
You should also keep in mind that fishing with spincasters is typically an ultralight game which will require a lot of presentation on your part. If you're jigging or tossing topwaters, you'll get tired very quickly with a heavy reel.
As a result, pay close attention to the weight and anything heavier than 15 ounces is excessive unless you're fishing saltwater.
Design
The overall design of the reel is obviously an important factor. Do you like the push button or trigger action reels better? As I've said, I prefer the triggerspin design simply because it closely mimics what I'm used to with a spinning reel.
I also think it's important to teach youngsters on that type of reel as well so it primes them as they progress and move away from spincasters.
On the flip side, push button reels are great for people who might not have such an easy time fishing. Those with disabilities or painful bones and joints may prefer the push button reel because it's easier to use and doesn't require as much movement in your hands.
You also want to pay attention to the handle on your reel. Most spincasters have a standard angle aluminum handle with one paddle but some have two. I find the two paddle design nice for cranking but it's not always necessary.
FAQs
Why don't pros use spincast reels?
There's a few different reasons. First, they chew up your line because of the way the pins are designed and from the abrasion. Second, they have an inferior drag in comparison to most other reels. Third, they're not as smooth and can't offer the same level of casting distance and accuracy. Even with the best ultralight spincast reel in the world, you're still going to face severe limitations.
Can you use spincast reels for catfish?
Absolutely, you can use pretty much any reel for catfish because the presentation isn't very elaborate and catfish aren't that finicky. Bottom feeders will be a lot less choosy about what they bite. There are specific catfish reels though that I would recommend for large channel cats.
What is an underspin reel?
Underspin is another word to describe the triggerspin design. They call it underspin because the reel sits underneath the fishing rod blank like a spinning reel.
Final Thoughts
If you're trying to choose the best spincast reel I hope this guide has helped you make an informed decision. There's a lot of misconception out there about these types of reels and I made sure to be as brutally honest as possible.
Will you face limitations with spincast reels? Yes. But, that doesn't mean they don't have their time and place on the water.
If you're a beginner, looking for a backup reel, or trying to find something that is simple and easy to use, this is the way to go. Consider any of the options above and be sure to leave me a comment and let me know how you made out. Tight lines!