---
We independently research, test, and recommend the best products; you can learn more about our review process here.
Whether you're throwing square bills, deep cranks, or lipless cranks, having the right crankbait reel can mean the difference in catching a limit of bass and a lackluster experience on the water.
Throughout my bass fishing career I've learned a thing or two from reel manufacturers and tournament anglers as far as what to look at when choosing the best crankbait reel.
Having the right specs when it comes to torque, line recovery rate, and gear ratio can make a huge difference when throwing cranks. 
By combining my personal experiences with owning different crankbait reels and actually trying a few of them out during a bass fishing weekend, I've come up with a guide to help you select the best crankbait reel to fit your style of cranking.
Top 3 Crankbait Reels on the Market
As a quick summary, here are my top three choices for best crankbait reels based on my research and testing.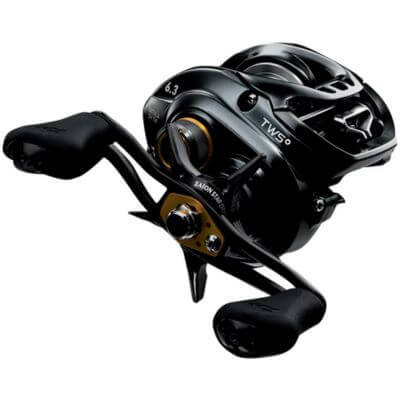 Daiwa Tatula SV TW Baitcast Reel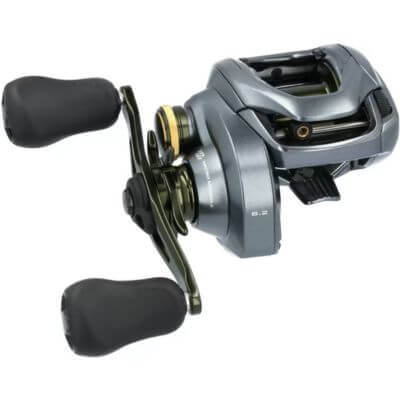 Shimano Curado DC Baitcast Reel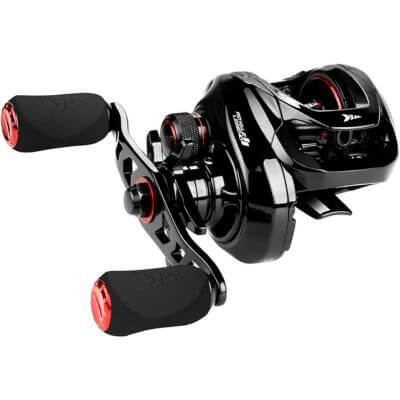 KastKing Royale Legend ll
---
Testing Procedure 
Living in South Louisiana, I have access to a lot of tributaries locally but I decided to make a trip to North Louisiana to fish Toledo Bend. The reservoir is home to numerous state record bass and tons of structure and drop-offs.
It's there that I spent a week solely focused on examining some of the top selling crankbait reels on the market.
During my time on the water I specifically focused on these qualities that each reel possessed:
Gear Ratio: Crankbaits come in all shapes and sizes. Having a reel that can move that bait from the top of the water column to the bottom with just a few turns of the handle is important.

During my test I looked at reels with a gear ratio between 7.4:1 and 8.0:1 since that's the ratio that's commonly used for crankbait fishing.
Line Recovery Rate: When choosing a crankbait reel it's important to choose one with a slower line recovery rate. For this reason, crankbait reels tend to retrieve line slower than other baitcasting reels.  
Reel Comfort: While the majority of your hand is wrapped around the rod, a lot of fishermen like to palm the reel when using crankbait reels.

Having a reel that is comfortable and allows your hand to operate it with ease is an important factor when choosing a reel.
Drag System: The drag system of a bass fishing reel should be smooth and consistent. Afterall, it's in charge of the line payout when a bass makes a run.

This helps with line breakage and gives the angler an advantage when tiring out a big bass. 
Durability: What's the point in having a great reel if it isn't going to last? A quality crankbait reel should be built to withstand beat-down.

It should be made with durable materials such as aluminum or carbon fiber to ensure long life and resistance to lots of line strain.

A sturdy reel should be able to handle the stress of constant line pressure and vibrations from a crankbait. 
Best Crankbait Reel Overall
Daiwa Tatula SV TW Baitcast Reel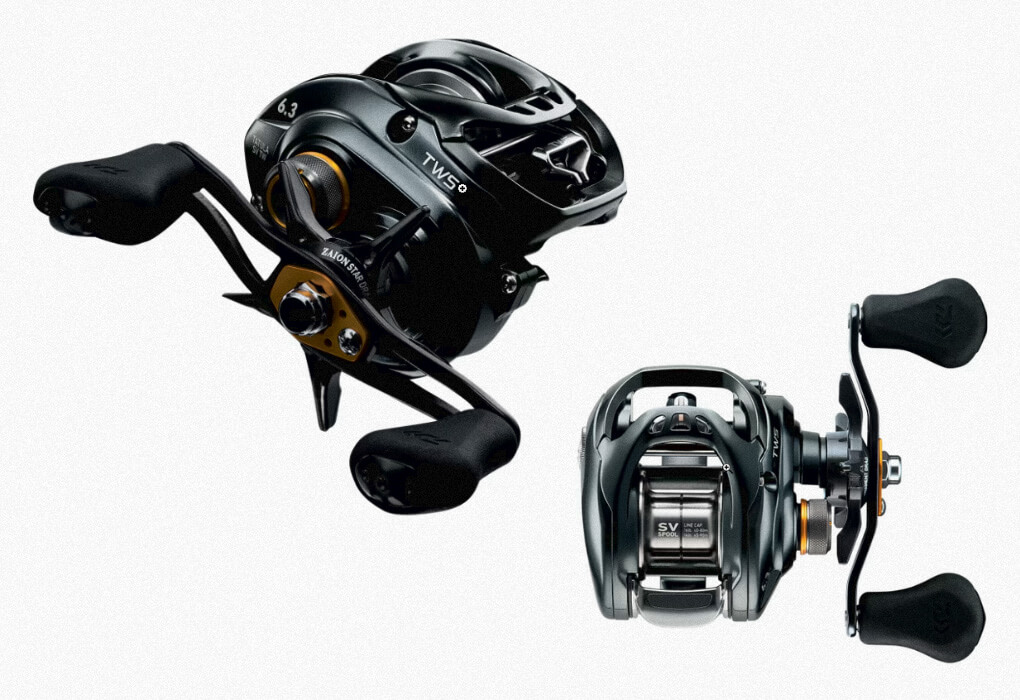 Specs
Type: Casting
Gear Ratio: 6.3:1, 7.3:1, 8.1:1 
Weight: 7.2
Bearings: 7+1
Line Capacity: 14/100
Why We Chose It
The Tatula SV TW leads the pack when it comes to handling crankbaits. 
I've used this reel on numerous bass fishing trips and the 6.3:1 model is my go-to reel for crankin' because of its ability to throw numerous styles of crankbaits.
During my test, the first thing that stood out to me was its weight.
This reel has a lot of cut-outs which makes it very light coming in at 7.2 oz.
I was able to use this reel all morning and it remained comfortable even after throwing some deep diving crankbaits for over an hour.
It has a ton of torque as well which handled deep diving cranks beautifully.
The reel also had a line recovery rate of 26 inches per turn which is fantastic for crankbaits.
The casting is another thing that stood out to me.
I was throwing a Strike King 3XD Crankbait and barely had to touch my thumb to the spool when casting. I was actually expecting a backlash but the reel self-corrected.
In a "watch this" moment I wanted to push the limit on this reel so I made a full-strength bomb cast and glanced down at the spool while the line was flowing off.
The line flowed smoothly and came to a stop with only soft pressure from my thumb.
The T-Wing System is what makes this possible because of the wider spool which allows for less bouncing back and forth of the line.
During my test, I caught four bass with the biggest being 3.5 pounds.
The biggest bass came on a very long bomb cast which was good because I was able to gauge how the reel performed from the hook-set to the boat.
It was like there was some sort of autopilot in this reel and it braked when it needed to brake and sped up as the bass tired.
During the fight, I found the drag system to be really smooth. The tension knob was easily accessible and I was able to tighten it up just a tad when that 3.5-pounder made his initial run.
I would highly recommend this reel for not only pro tournament guys but beginners as well as its strength is backlash-free casting. It's like having an auto-pilot built into the reel!
The only downside I can see is if you've never used a baitcaster and are just starting out with this reel; you may not get the proper training on thumb-braking as you would with a standard baitcaster.
If you've ever used the Daiwa Tatula 100, this is a souped-up version of that but with virtually no backlashes!
If you're looking for a reel that excels in the crankbait department, this is the reel that checks all the boxes.
Get this reel and let us know what you think! So far it's the most complete crankbait reel that I've used and I find it hard to find a flaw in it. 
Best Tournament Grade Crankbait Reel
Shimano Curado DC Baitcast Reel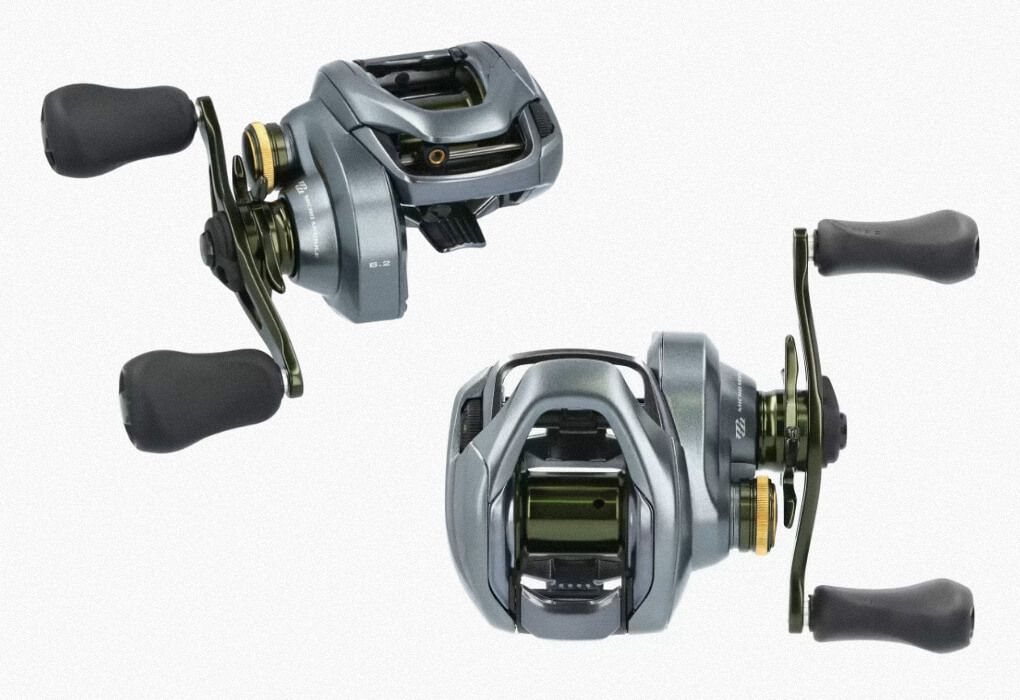 Specs
Type: Casting
Gear Ratio: 6.2:1, 7.4:1, 8.5:1 
Weight: 7.8
Bearings: 6+1
Line Capacity: 10/120
Why We Chose It
I've owned Curado's since they first came out in 1991 and all I can say is WOW! 
If you want ultra smooth casting, it's got it.
If you want a phenomenal braking system, its got it.
If you want a near-perfect line recovery rate, it's got that too!
On my test I chose the model with the 6.2:1 gear ratio and spooled it with Seaguar Smackdown braided line and tied on a Strike King Square Bill Silent Crank. 
After adjusting the spool tension I was able to fling the 7/16 oz. crankbait over 50 yards which completely caught me off guard.
It's equipped with Shimano's unique Digital Control braking technology which is a microcomputer-driven system that monitors the reel's spool speed 1,000 times per second and automatically applies the correct brake pressure during the cast. 
The end result is an ultra-smooth cast with hardly any backlashes. I say hardly any because there was a time or two where I tried to muscle a few casts so I guess I deserved it.
Shimano did a great job with this reel. There was no slop or play in any of my casts. The retrieve was smooth and flex-free.
Another thing that stood out was the weight. The Curado DC weighs 7.8 oz. and is incredibly comfortable. I used the reel from 6:00 a.m. until noon and didn't have any problems with fatigue. 
Of course, time flies when you're having fun! I was able to put 8 bass in the boat all caught on the same squarebill crankbait.
My biggest bass gave me a chance to test the drag system and it performed flawlessly.
I was worried about the 11 lb. max drag which seemed a little low but the 4-pounder didn't stand a chance and I was able to enjoy a good solid 3-minute fight and also witnessed a cartwheel.
The reel had a line recovery rate of 26 inches per turn which is fantastic for crankbaits.
One thing that I'll say with this reel is that the Cast Smart control takes a little getting used to so plan on dedicating about an hour to getting up to speed with it. But don't let that scare you off if you're a beginner.
While the digital feature on this reel is well worth the money, if you're looking for a Curado that's a little more affordable, minus the Cast Smart system, check out the Curado K Baitcast Reel.
Overall, I really enjoyed the Curado DC and highly recommend it to beginners and pros who are looking to throw cranks with it. 
The gear ratio is right on target and the Cast Smart feature reduces birdnest big time allowing you to have more time to catch cartwheeling bass! 
Best Budget Bass Fishing Reel
KastKing Royale Legend ll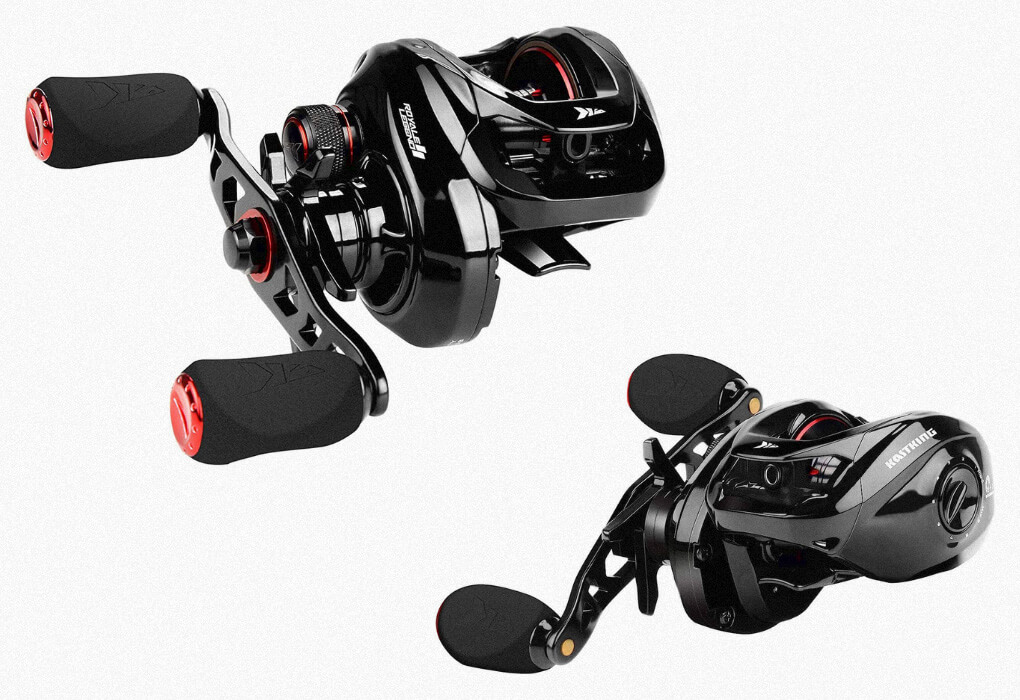 Specs
Type: Casting
Gear Ratio: 5.5:1, 7.2:1
Weight: 7.2 oz
Bearings: 5+1
Line Capacity: 10/130, 12/110, 14/90
Why We Chose It
I have to admit that I didn't expect much to come from such an inexpensive reel but the KastKing Royale Legend ll far exceeded my expectations when it comes to the retrieve and torque.  
The reel comes in two models with gear ratios of 5.5:1 and 7.2:1. I chose the 7.2:1 and threw a SPRO RKCrawler DD Crankbait mid-lake.
I spotted some big bass in deep water just off a ledge so I needed this reel to pull the crank deep into about 20 feet of water.
The Royale Legend ll pulled off the feat. The 7.2:1 gear ratio quickly picked up the fishing line at 29.8" per turn.
The torque impressed me as well as it pulled the lures through the water with little effort on my part.
This is a great little crankbait reel!
It's got six bearings which is more than I expected with the price being under 60 bucks. The casts were smooth and the retrieve was quiet.
The Cross-fire Magnetic Braking System has 8 magnetic buttons for adjusting the levels of braking power. When this is properly set to line up with the crankbaits weight, it casts like a dream.
I hardly had to use my thumb to stop the spool when the lure hit the water. 
There were a few downsides, however. I struggled throwing light crankbaits and had to adjust the braking system more than I'd like.
In all honesty this reel felt very similar to KastKing's more expensive Royale Legend Elite reel but is considerably cheaper
But all-in-all, this reel overachieved for a budget reel and delivered where it needed to. It makes for a great starter reel for someone who is just starting out in the bass fishing world. 
Best Deep Diving Baitcasting Reel
KastKing Bassinator Elite Baitcasting Reel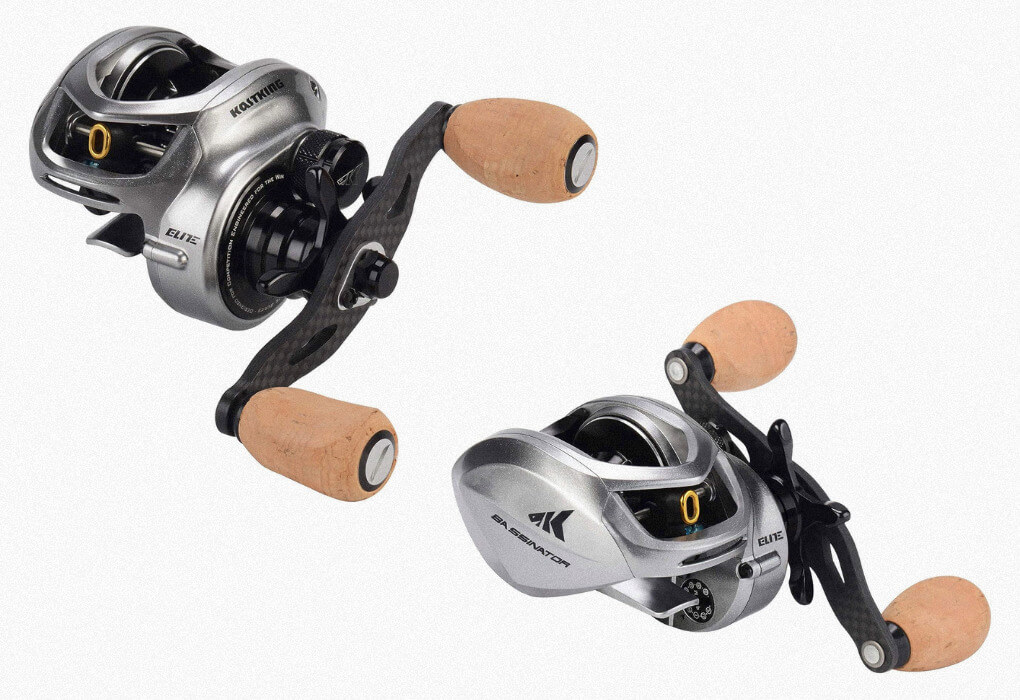 Specs
Type: Casting
Gear Ratio: 6.6:1, 8.1:1 
Weight: 5.7
Bearings: 10+1
Line Capacity: 12/130
Why We Chose It
When it comes to deep-diving crankbaits, the KastKing Bassinator Elite checks all of the boxes when it comes to the key things that make a great crankbait reel like weight, drag, and gear ratio. 
On my test I paired this reel with a 13 Fishing Envy lll Crankbait Rod and felt like I owned the lake. 
The first thing I noticed was its size. It's an incredibly small reel which fits comfortably inside my hand. (The more of the reel I can palm, the better)
I was able to sling deep diving cranks all morning without any fatigue thanks to it's lightweight 5.7 oz design and high torque.
KastKing really did a great job with this baitcaster.
I was throwing a Rapala Shad Dancer Crankbait on the edge of a deep drop-off and hooked up with 4 bass with one of them being a 4-pound toad. 
The 17.6 lb. drag performed like a champ and I will say the drag sounded great as well. Nice and smooth, like a high-end baitcaster sounds.
The only thing that I have a problem with is that it has no outside magnetic adjustment.
The six centrifugal brakes are great and all but the addition of magnetic brakes would allow for fine tuning without digging into the reel.
I would highly recommend this reel for those who are looking for a solid deep diving crankbait reel. It's also got a lightning The 6.6:1 gear ratio offers the perfect speed for throwing these baits.
I was also impressed with the Abu Garcia Revo5 Winch which has a 5.4:1 model if you're looking for a crankbait reel with a slower gear ratio. 
Best Crankbait Rod and Reel Combo
Daiwa Tatula 100/Qualifier 2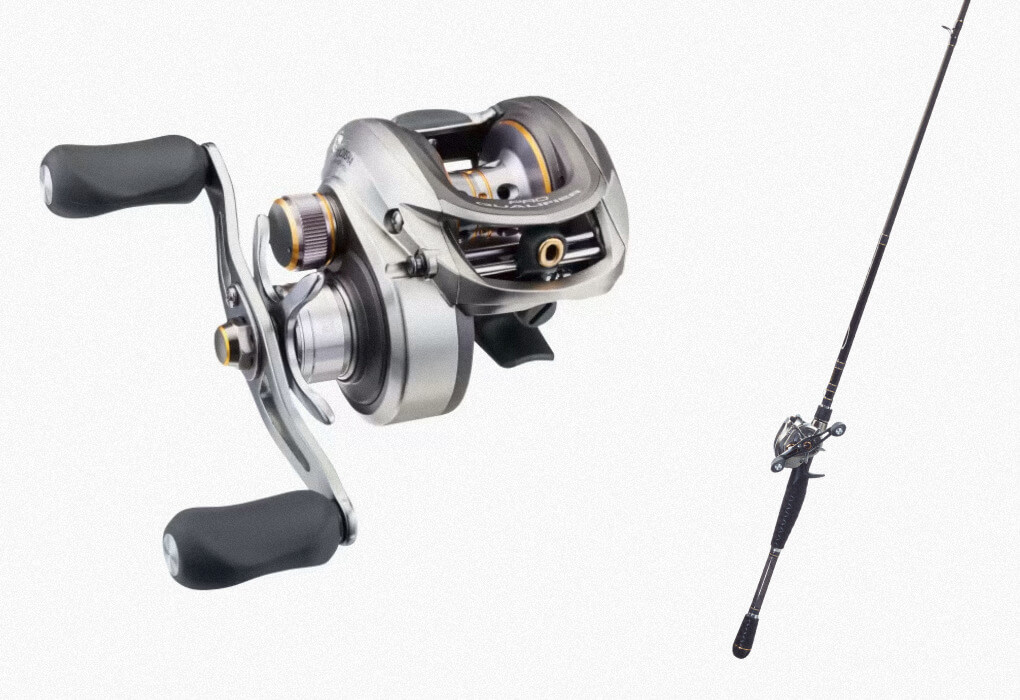 Specs
Rod Length: 7'
Rod Material: Graphite
Type: Casting
Gear Ratio: 6.6:1, 8.1:1 
Weight: 5.7
Bearings: 10+1
Line Capacity: 12/130
Why We Chose It
The Daiwa Tatula 100/Qualifier 2 combo comes with a 7-foot graphite rod and Daiwa Tatula 100 Baitcasting Reel.
The rod is a single-piece rod made of Bass Pro Shops patented RT3 Graphite Blank (Equivalent to 30-ton)
Like most high-end rods this rod is coated with a strengthening epoxy the Bass Pro calls Powerwall.
When testing this combo I was a little worried about the quality of the rod but the Qualifier felt great and the medium action was perfect for giving me an extra second to let that crankbait sit in the fish's mouth.
That's important when throwing crankbaits. 
Now let's talk about the Tatula 100. What a great reel for cranking!
When using a baitcasting reel I like a smaller reel. The reason being is that I can wrap most of my hand around it.
I feel it gives me more leverage and control especially with crankbaits. The Tatula is the smallest reel that I used on my trip and it felt great in my hands.
Another thing that I like about the reel is the T-Wing System which is simply a wider spool. This allows the unraveling to encounter less back and forth than normal sized spools.
On my trip I was able to connect with three fish on two strikes and land those two fish. Which is great for me considering I usually set the hook too early when throwing crankbaits.
The Tatula 100 graded out high in the casting department as well. My casts were long and accurate. Not to mention smooth.
I really think Daiwa is on to something with their T-Wing System which is simply a longer spool bar which cuts down on the back-and-forth during retrieving.
Moving back to the rod and staying with the casts, I always monitor the guides on a rod when throwing crankbaits because of the amount of line-slap that is involved.
This rod has Aluminum-oxide guides which make a big difference in the world of durability. The line flowed smoothly through without much abrasion from the guides.
The only con to this combo is that the reel is made of an aluminum frame instead of carbon like a lot of high-end reels, but I've had aluminum frames last quite a while so it's not a deal-breaker.
If you're looking for a perfectly matched crankbait combo I recommend the Daiwa Tatula 100/Qualifier 2.
The 6.6:1 model performed amazingly on my trio and I would highly recommend it for those who are throwing all size crankbaits. It's a very versatile combo. 
I'd rank it right up there with the other tournament-grade crankbait rods at a price point that's not too bad when it comes to crankbait set-ups. 
What to Look for When Choosing a Crankbait Reel
Lure specific reels have really changed the game when it comes to bass fishing. Knowing what to look for when choosing a crankbait reel is very important.
Below is a quick run-down of the top three things to focus on when buying your next crankbait reel. 
Gear Ratio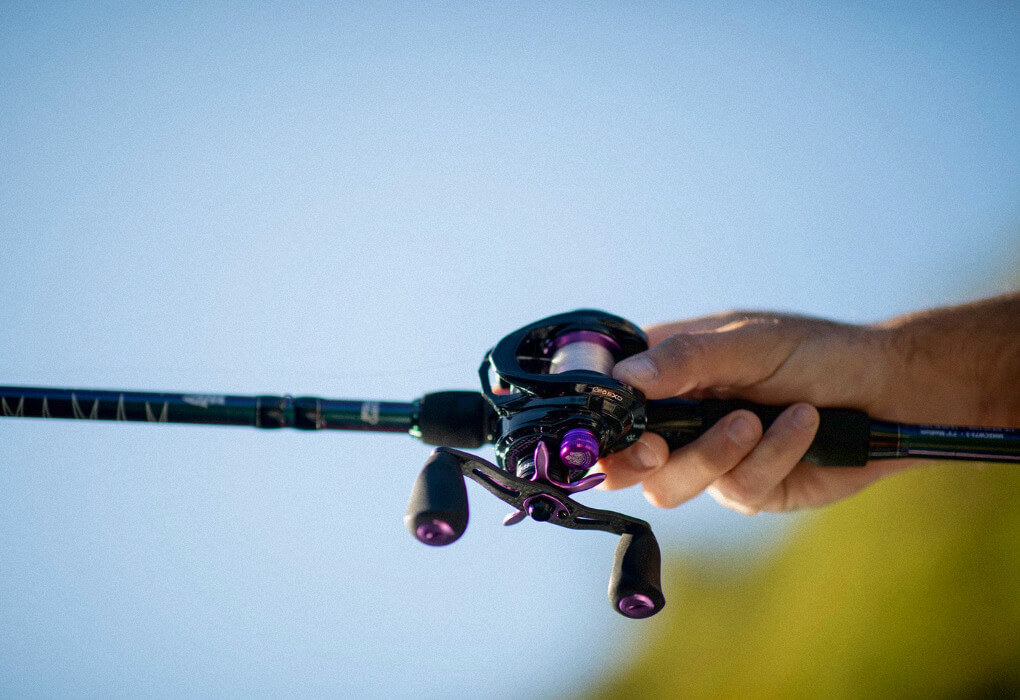 The #1 factor to choosing the right crankbait reel is the gear ratio. When you are reeling in a crankbait you don't want to reel it in too fast otherwise the lure digs too deep.
Not to mention you'll wear yourself out between turning the handle and ripping the lure through the water.
While there are differing opinions on what the perfect crankbait reel gear ratio is, it's safe to say that a gear ratio of 5.5:1 – 6.5:1 will handle the majority of crankbaits.
Line Recovery Rate 
Another thing to look closely at is how much line the reel recovers with one turn of the handle.
When looking at line recovery rate it's important to target reels that pull in around 20 to 23 inches per turn of the handle.
Anything higher will pull in too much line and you'll be forced to consciously try and slow down your retrieve to adjust for the line being pulled in too fast and trust me, that is no fun!
Increased Torque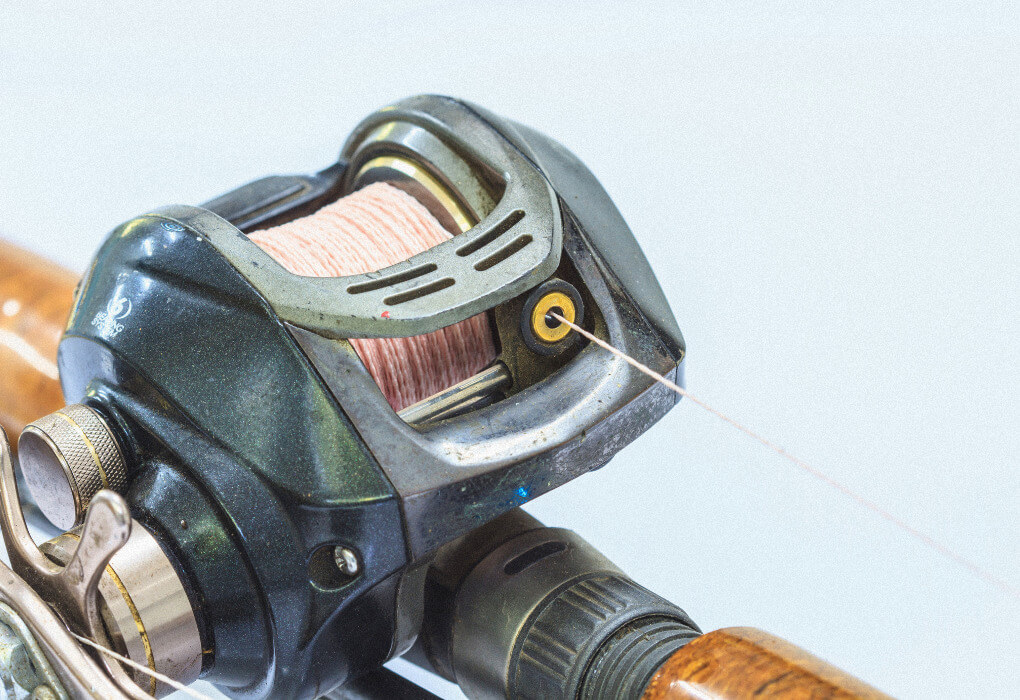 Reeling in a crankbait can put a lot of stress on you and also your rod. An added benefit to using a reel with high torque is that it requires less effort to reel in larger crankbaits for crankbaits with a lot of resistance.
When describing reel torque, I like to use the analogy of peddling a 10-speed bike.
Imagine shifting the gears to the first gear. This is the gear that makes it easy to pedal and is usually used when climbing hills.
Reels with a torque of over 80 lbs. Is generally what you're looking for when choosing a crankbait reel.
Final Thoughts
I thoroughly enjoyed my weekend on Toledo Bend and I learned a lot from testing out so many crankbait reels.
Factors like gear ratio, line recovery, and torque all played a part in deciding which reels to pick.
And while there were some hard decisions to make, I feel our choices should be able to direct you to the perfect crankbait reel.
So let's review our top pick!
For the best crankbait reel overall, I choose the Daiwa Tatula SV TW Baitcast Reel. It was a phenomenal reel and performed like a champion especially with crankbaits. 
While the Tatula SV TW won overall, you really can't go wrong with all the reels mentioned in this best crankbait reel guide that I've put together.
Give them a try and tell us what you think! We'd love to hear from you!