We independently research, test, and recommend the best products; you can learn more about our review process here.
Fishing with crankbaits is something that every angler will learn at one point or another. When you're ready to step up your crankbait game, you'll want to pick up the best crankbait reel. Some characteristics that make up a crankbait reel are:
Low gear ratio
Great braking system
Efficient line management
Without these three things you'll deal with many of the problems I see anglers having all the time. I always see them struggling with bird's nests and inaccurate casts. Equip yourself with the right knowledge by going through this guide covering the top five crankbait reels.
Comparison Table – The 5 Best Crankbait Reels
Image
Product
Rating
Price

Best Overall

Gear Ratio: 6.3:1
Weight: 7.2 ounces
Bearings: 7+1
Line Capacity: 100/14

Check Price

Best Runner-Up

Gear Ratio: 6.3:1
Weight: 7.6 ounces
Bearings: 4+1
Line Capacity: 120/10, 110/12

Check Price

Best Torque

Gear Ratio: 6.2:1
Weight: 9.5 ounces
Bearings: 7+1
Line Capacity: 240/12, 205/14, 170/17

Check Price

Best Lightweight

Lew's Tournament MP Speed Spool

Gear Ratio: 5.6:1
Weight: 7.0 ounces
Bearings: 9+1
Line Capacity: 140/12

Check Price

Best Budget

Gear Ratio: 7.2:1
Weight: 7.2 ounces
Bearings: 5+1
Line Capacity: 10/130, 12/110, 14/90

Check Price
---
In Depth Review of Our 5 Favorite Crankbait Reels
Daiwa Tatula SV TW Baitcaster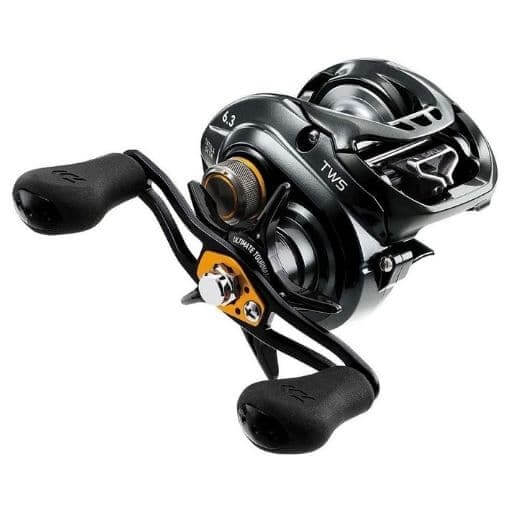 Gear Ratio: 6.3:1
Weight: 7.2 ounces
Bearings: 7+1
Line Capacity: 100/14
Pros
Loaded with premium features
Optimal drag
Variable gear ratios
Daiwa quality
Cons
A little heavier than some

What Do We Like?
As mentioned, this reel is loaded with premium features which is something I would expect to see from Daiwa. They're one of the most reputable names in the market and when you're looking for the best reels for crankbaits, you need something with a backbone.
The T-Wing system is a great feature that guides the line on and off the spool. It intends on maximizing your casting distance and helping with accuracy as well. If we compare this to a levelwind system, there is one major fault with the levelwind compared to the T-Wing.
The T-Wing system will adjust between casts to change the size of the aperture so you get optimal casting distance and the best control over your retrieval each time.
The problem with the levelwind system you find in many of the competitors is that it doesn't adjust so it works perfectly on the retrieval and helps you spool the line properly and evenly but it doesn't help increase your casting distance or accuracy.
Another great feature that we only see with premium reels is the air brake system. It helps create a great crankbait presentation and it assists with precision casting.
The big problem that causes a lot of people to stay away from baitcasters is the fear of creating a birds nest. This happens when air resistance pushes back on your line when it's in the air while the spool is still spinning.
Daiwa uses something called an inductor cup which is something you won't find in any other reels. The result is, no braking power when the cast begins, slight braking mid-cast that happens naturally, and again, no braking at the end. This ensures that there will be no nesting and consistent and predictable casting distances.
As you can tell, there is a lot to love about this top crankbait reel, I could go on and on.
What Needs Improvement?
Obviously I'm splitting hairs here to find something to complain about but the reel is a bit heavier and bulkier than some of the other options within this price range. I believe this is due to the amount of components and features packed into this low-profile reel. Plus, you're still getting a solid line capacity, secure side plates, and tight tolerances.
Overall Summary
If you're looking for the best crankbait reel, this might be it. I'm not going to say it's the absolute best for crankbaits because that's subjective to my opinion but it's certainly up there. You'll be able to hold your own with deep diving cranks and mid-column cranks with no problem.
The braking system is great if you're fishing in the wind especially with heavier crankbaits. I also think that this baitcasting reel is a great choice for those who are introducing themselves to baitcasters for the first time.
Shimano SLX DC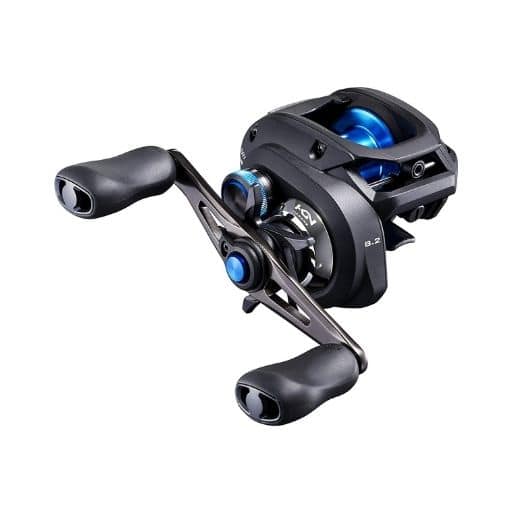 BEST RUNNER-UP
Specs
Gear Ratio: 6.3:1
Weight: 7.6 ounces
Bearings: 4+1
Line Capacity: 120/10, 110/12
Pros
Great casting control
Affordable
High rigid body for longevity
Cons
4+1 bearing system
Learning curve

What Do We Like?
This is a good crankbait reel from my other favorite company, Shimano. I own quite a few Shimano reels myself and this is a great choice for banging squarebill crankbaits off the rocks and throwing lipless cranks into the shallows.
The Shimano SLX DC comes with three different gear ratio options but for crankbaits, I recommend going with the 6.3:1. I think this provides you with the most versatile option across the board.
If we get into the specifics, you get the Hagane body which is pretty standard for Shimano reels in this price range. What this means is that you have a high rigidity body that will resist body flexing. This feature translates into improved cranking power, added strength, and a longer lasting reel because you won't burn up the gears and bearings.
It also comes with intelligent digital control braking with four different modes based on what type of line you're using. The best part about this is that you can adjust it if you want to use something a bit lighter. You could go for the max distance braking system that will help you get a precise casting without any nesting when you're using a lightweight lure.
Even though it's only a 4+1 bearing system, you'll also get the S3D spool technology that reduces vibration and helps improve smoothness on your cast. I don't feel that the limited bearing setup impacts the smoothness of the reel at all and I've always said that you don't want to dwell on the internal bearings because it's all the other factors that come with it that actually impact the feel of your reel.
One unique component of this reel is that the spool tension knob doesn't operate the same as it does on most baitcasters. Usually you adjust the knob based on the weight of the lure but for this one, there's no side to side play so there's no need to adjust the knob based on the weight. Instead, you'll adjust it based on the movement of the spool.
What Needs Improvement?
The biggest area of improvement for this reel is helping people to understand some of the new features. I find that the braking system is a bit difficult to use and there are little to no instructions on how to set it properly. All you get is a description of what each 1-4 number means but they don't tell you how to set it. So, take my previous paragraph and use that to help you otherwise you'll be setting it based on your lure weight and that won't work..
Also, when you remove the side plate, most reels have a mechanism that attaches it to the reel even though you've exposed the internals. That's not the case with this one. When you remove the side plate, it comes entirely off so you need to be extra careful if you're working around the water.
Overall Summary
It's a solid choice for crankbaits of varying sizes because of the variable braking system. Plus, you know you're getting a reel that is going to last you a long time. With the Shimano Hagane body, S3D spool system, and plenty of other features we didn't even get into; you're getting a lot of bang for your buck with this reel costing around $200.
Abu Garcia Revo Toro Beast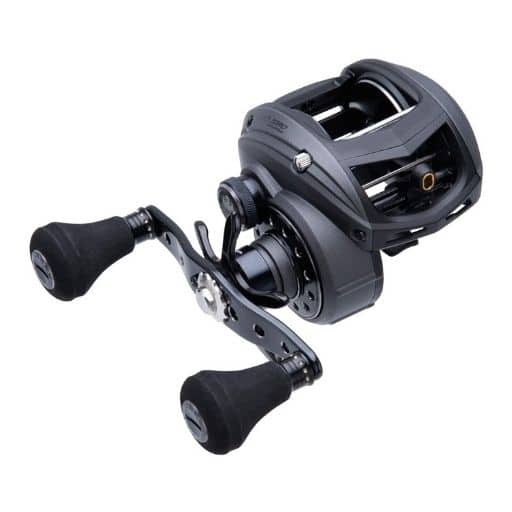 Gear Ratio: 6.2:1
Weight: 9.5 ounces
Bearings: 7+1
Line Capacity: 240/12, 205/14, 170/17
Pros
Great for deep cranks
Smooth drag
Extra long handling for cranking
Cons

What Do We Like?
When we're talking about the best cranking reels, we're essentially looking for a reel that is slow and powerful. We need a lot of torque to bring in large fish like muskie and we also need something with optimal drag that is slow enough in the gear ratio to give the fish the time it needs.
This is your big boy reel for those who are serious about crankbait fishing. It has the word beast in the name for a reason.
The reel hit the market in 2015 and has since been known as one of the best deep crankbait reels. It comes in two sizes, 50 and 60 and each have their own gear ratios. The 50 is a 4.9:1 and the 60 is a 6.2:1. I recommend going with the 6.2:1 because it offers the most versatility for your money.
I never plan an entire reel around a specific fishing application simply because I can't afford to spend that much on a reel I may only use once a month. Maybe some of you can but I assume most of you are with me on that.
The Abu Garcia has a nice black finish with anodized blue highlights running throughout. The side plates are a nice glossy black which really make them pop.
One thing I love right off the bat about this reel is that they include two additional power handles which are the kind with two knobs. These are great for cranking and they really help you control the reel which results in an easier retrieval.
When it comes to performance, you couldn't ask for much more out of a reel in this price range. The reel is a beast, it's smooth, and it has optimal drag with a max pressure of 25 pounds. The performance is consistent and that's the most important thing.
Lastly, because I could ramble on all day – the braking system on the Revo Toro Beast is pretty impressive as well. Instead of just having a centrifugal brake it comes with a dual system that features a mag dial on the sideplate. I think this offers a little more control because centrifugal braking systems have a habit of reducing your overall casting distance.
What Needs Improvement?
There are two areas I'd like to see improvement with this reel. Number one is the weight. It's heavy, bulky, and sometimes even clunky. It's not the easiest reel to operate nor is it the easiest to maintain. Disassembling and assembling the Toro Beast is a bear and you can go through the owner's manual all you want, it won't matter.
The design isn't anything out of the ordinary so if you've disassembled one before, you shouldn't have too hard of a time but I wouldn't recommend this reel for complete beginners.
Overall Summary
When it comes to crankbaits, you know you need something with a slower gear ratio, more torque, and enough backbone to weather the storm. If you can get past the excess weight and general learning curve of this reel, it's the one you'll want to land a big muskie, pike, or even in bass fishing.
Lew's Tournament MP Speed Spool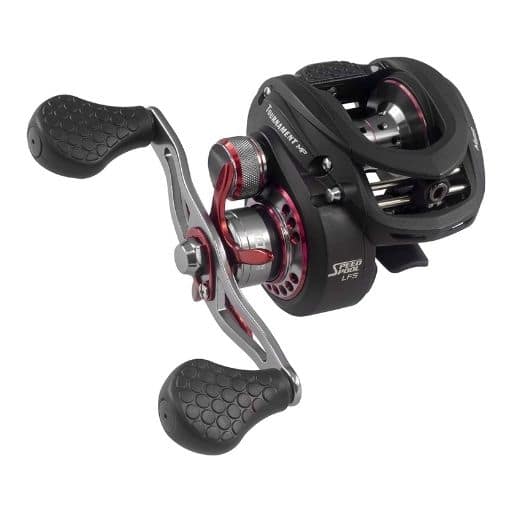 Gear Ratio: 5.6:1
Weight: 7.0 ounces
Bearings: 9+1
Line Capacity: 140/12
Pros
27-point adjustable braking system
Longevity
Palmable reel
Cons
Issues with bearing failure

What Do We Like?
Maybe it's just me, but when I'm looking for a baitcaster, I always look towards Lew's. I think this company makes some of the best products out there and they have a very respectable reputation.
This Lew's crankbait reel is one of the newest that they've added to their Tournament Series. It features some great upgrades that are perfect for crankbait fishing.
They're now using a one-piece aluminum frame which is ideal whether you're fishing salt or freshwater. It helps prevent dirt, debris, sand, and saltwater from getting into the internals making it easier to maintain over time. Corrosion resistant features are important whether you're fishing deep diving crankbaits or light lipless crankbaits.
It comes with a 10 bearing system, 20-lb carbon fiber drag, and a 27-point adjustable braking system which is highly impressive.
I think the biggest improvement to this reel is the addition of brass gears and pinions. It helps everything run smoother internally which always results in a buttery smooth feel on the outside.
Let's backtrack and talk about that braking system though. Having the right brakes on your baitcaster is incredibly important as I have mentioned.
It'll help you get your bait right where you want it and it will prevent backlashing and nesting if you're fishing in the wind. If you're using mostly large lipped crankbaits, you won't have to worry too much about this. But, if you want to consider this a versatile reel that could be used for a variety of different applications, then the braking system will be very important.
Lastly, I know I expressed my love for the T-Wing line guide and I stand by that. Lew's does a nice job though with their Zirconia guide with titanium coating. The goal is to make the line guide as smooth as possible to create no friction between the guide and the line.
What Needs Improvement?
While I've never personally experienced this, a lot of anglers have complained about the ball bearings failing in this Lew's reel and having to replace them within the first few months of ownership.
It's always important that you keep up on maintaining your reels even if the manufacturer tells you that you don't have to worry about it. I recommend tearing it apart at least once per season and much more often if you're fishing saltwater.
Overall Summary
What can you say? It's a Lew's reel so the expectations are very high. My absolute favorite thing about this reel is how low-profile and small it is. It fits nicely in your palm, doesn't get in the way, and the whole ergonomics of this reel are just checking a lot of my boxes.
The braking system is great, the reel looks awesome, and you can grab it for less than $150 so you can't go wrong.
KastKing Royale Legend GT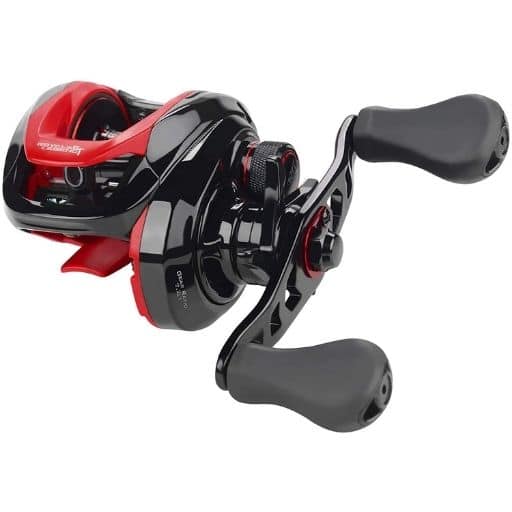 Gear Ratio: 7.2:1
Weight: 7.2 ounces
Bearings: 5+1
Line Capacity: 10/130, 12/110, 14/90
Pros
Exceptional performance
Lightweight
High IPT (29.8 inches per turn)
Price
Cons
Lifespan
Spool Tension Knob

What Do We Like?
If you've read any of my reviews, you know that I'm not the biggest fan of KastKing but this budget crankbait reel is really impressive.
It comes with a 7.2:1 gear ratio which is quite a bit higher than I would normally recommend for a baitcast reel for crankbaits. But, here's the thing. If you're new to baitcasters, you'll likely fish a lot of different types of lures and try to take on a bunch of different fish. You don't want to limit yourself. A lot of the reels with 6.0:1 gear ratios and lower will cause you to struggle when using lighter tackle for smaller fish. This one allows you to have the versatility to learn as you go.
The manufacturer really boasts their handles as being some of the most comfortable ones you'll ever have. They're synthetic soft-grip handles that help prevent fatigue if you're out fishing all day.
Lastly, it comes with a ceramic line guide to help protect your line from abrasion while also ensuring you get the maximum casting distance and most control over your cast as possible.
What Needs Improvement?
The biggest issue I have with this reel is the lack of control over the spool tension knob. A lot of the time, there is vibration in the reel when you cast, present, and retrieve. What happens is the knob moves slightly over time which throws off the amount of braking you apply as well as the amount of drag you have. The result is some nasty bird nests.
A lot of anglers also feel that the lifespan of this reel is pretty short. I will say, you get what you pay for. The fishing reel costs less than $50 which is almost unheard of for a baitcaster with this many features. I just wonder how they keep the price so low.
Overall Summary
All-in-all, this is a solid budget reel. It's got a low-profile design that is palmable, it's easy to manage, and most of the features are sufficient enough for the beginner to intermediate level angler. If you're looking for the best crankbait reel but you also want something you can use for soft plastics and other lures, this might be the right choice for you.
Best Crankbait Reel Buyer Guide: How to Choose?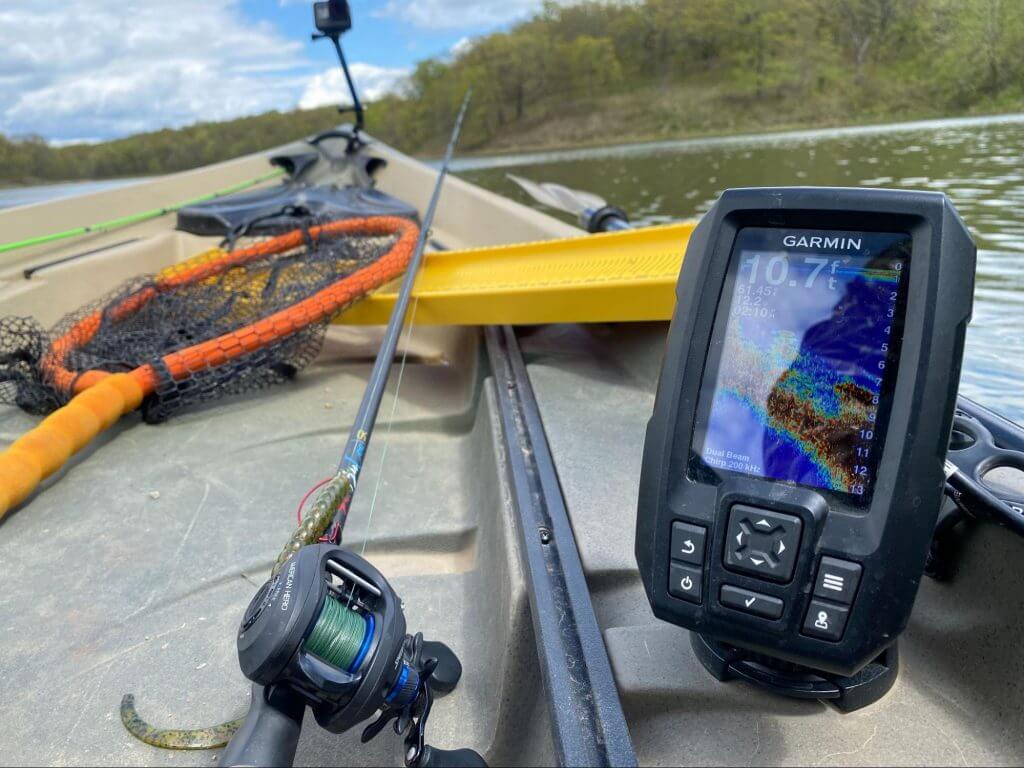 The big question now is, what features are most important when choosing a crankbait reel? What specifications, what components, and what numbers should you be looking at when determining the best crankbait reel for you? This section will help clear things up.
Gear Ratio
The ideal crankbait reel ratio doesn't exist and if anyone tries to give you a specific number, they're lying. We all know that a gear ratio in the range of 6.0:1 is where most of us would like to be but that can vary from angler to angler. What you need to understand is that a slower gear ratio is ideal for crankbaits because you're generally presenting the lure at a slower rate and targeting big fish.
Having a slower gear ratio will result in you giving the fish a little more slack, allowing them to work the lure, while you sit back and gradually tire them out. If your gear ratio is too high you'll run the risk of snapping your line and grinding up the internals.
The gear ratio you choose also depends on where you're fishing and what for. If you're using an inshore spinning reel compared to an offshore saltwater spinning reel, you would want to have different gear ratios. The offshore reel would need a lower gear ratio because you're targeting larger fish.
Finding the perfect middle ground is what I like to do. I don't buy specific reels just to fish certain lures so I like to find something that will work for crankbaits but also for other lures as well. All of the options above should fit that description.
Braking System/Drag
The next most important factor is your braking and drag system. When it comes to baitcasting reels these really go hand-in-hand. I've found that the Daiwa Tatula SV TW offers the best braking and drag system but there is a bit of a learning curve there.
If you're new to baitcasters you might want to go with KastKing or Lew's because their systems are a bit more standard and you'll have a higher chance of running into them in the future if you upgrade to a different reel.
Weight
We also can't forget that the weight and overall profile of the reel matter as well. If you're fishing crankbaits, you're typically applying a slow presentation and could be dragging your lure through mostly open water. This creates a lot of fatigue on your part which is only going to be made worse with a large 10 ounce reel.
Most of the baitcasters you'll find for crankbaits will range between 7-8 ounces which isn't overly large but it's certainly something you'll want to keep in mind.
The weight on these reels is much different than if you're fishing an ultralight spinning reel. Transitioning from that to this would be a hard thing to do without some experience.
Rod and Reel Combo
The last thing you'll want to consider is your crankbait rod and how fishing rods pair with your reel. Having a high-quality reel is important but you'll also need to make sure you have the right baitcasting rod to go with your reel.
This will help with long casts and going with a high speed reel requires you to have a durable and strong graphite rod to go along with it.
The most experienced anglers will take their fishing experience and use it to craft the most high performance rig out there. If you're concerned about hitting that sweet spot every time, I suggest putting as much thought into your rod as you do for your reel.
Final Thoughts
Choosing the best crankbait reel is all about understanding baitcasters, braking systems, and gear ratios. Once you understand how they all come together to impact the presentation of your lure you'll have a much easier time making a decision.
I'd highly recommend any of the five crankbait reels above from Amazon so give them a further look and don't dwell on it. The longer you sit here deciding the less time you're spending on the water.