We independently research, test, and recommend the best products; you can learn more about our review process here.
The best catfish reels will have three main components. They'll have a high line capacity, optimal max drag, and a rigid and durable body to withstand the pressure. Penn is our favorite brand for catfish reels and you'll find a few of their reels in our expert review.
Whether it's the muck and mud of a farm pond in PA or a trophy channel cat in Okeechobee, I've seen my fair share of catfish. Here's my picks for the eight best catfishing reels.
Comparison Table – 8 Best Catfish Reels
Image
Product
Rating
Price

Best Overall

Gear Ratio: 4.9:1
Weight: 1.9lbs
Line Capacity: 25/455, 30/370, 40/285

Amazon

Best Catfish Spinning Reel

Gear Ratio: 6.2:1
Weight: 76lbs
Line Capacity: 390/15, 320/20, 250/30

Amazon

Best Catfish Baitcaster Reel

Gear Ratio: 5.3:1
Weight: 8.8lbs
Line Capacity: 310/30

Amazon

Gear Ratio: 5.3:1
Weight: 12.6 ounces
Line Capacity: 12/200, 16/250, 16/430, 16/650, 16/750

Amazon

Abu Garcia C3 Species Catfish Special

Gear Ratio: 5.3:1
Weight: 11.6 ounces
Line Capacity: 415/20, 310/30, 220/50

Amazon

Gear Ratio: 5.6:1
Weight: 7.1 ounces
Line Capacity: 12/140

Amazon

Gear Ratio: 5:1
Weight: 15 ounces
Line Capacity: 30/290, 50/195, 65/140

Amazon

Gear Ratio: 5.2:1
Weight: 6.2 ounces
Line Capacity: 6/150, 8/115. 10/90

Amazon
---
In Depth Reviews of OurFavorite Reels for Catfish
Penn Squall LevelWind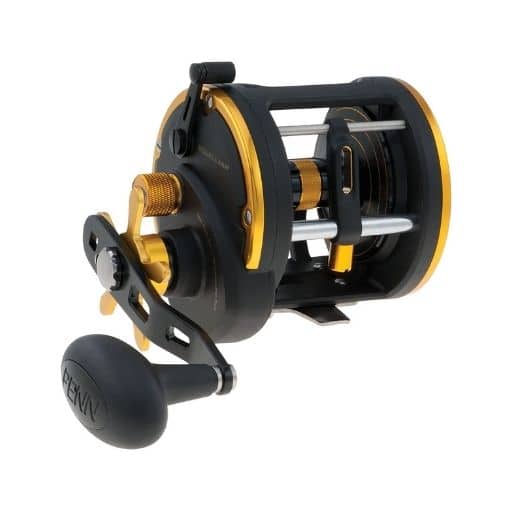 Gear Ratio: 4.9:1
Weight: 1.9lbs
Line Capacity: 25/455, 30/370, 40/285
Pros
Bronze gear and stainless steel pinion
Durable and rugged
Dual-handed configuration
Price
Cons

What Do We Like?
Penn is one of our favorite manufacturers so we expected the best when introducing ourselves to the Penn Squall Levelwind. This reel is a beast and it's built for saltwater fishing so you get a lot of the corrosion-resistant materials you'd like to see here as well.
It comes with a stainless steel pinion and bronze gears for corrosion prevention and the lightweight graphite frame helps reduce the weight while still keeping enough strength to pull in larger catfish with ease.
You get a two plus one bearing design with two stainless steel ball bearings and an anti-reverse which gives you more control over the fish. The top selling point here is the HT-100 carbon fiber drag system. It's a powerful drag that you'll need to handle catfish in the muck but it doesn't sacrifice smoothness in the retrieval and cast.
What Needs Improvement?
The biggest downside isn't exactly a downside so much as it's a character trait. This is a trolling reel and with most trolling reels, casting isn't that easy. If you're fishing for catfish in small backwater ponds and lakes, this reel isn't for you. This is for deep channel cats in canals. Having one of our recommended catfishing spinning reels would be a better bet for your small few pound cats.
Overall Summary
The Penn Squall LevelWind doesn't make the top of our list for nothing. This is the ideal choice for catfishing because it's got the backbone to handle large cats but it's not overly heavy so you can use it in canals and large lakes as well. The casting issue is a slight concern but that means you also have the flexibility to take it offshore.
Penn Spinfisher VI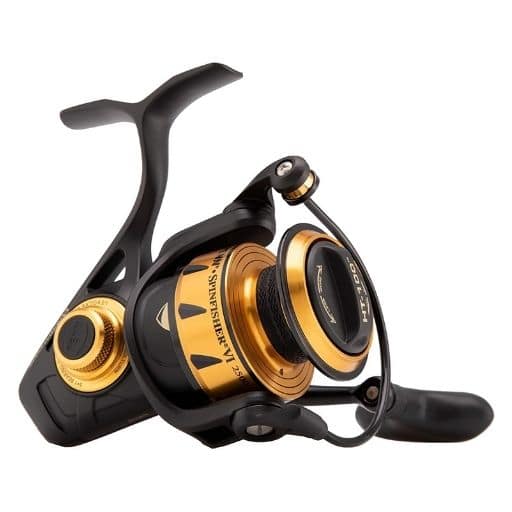 BEST CATFISH SPINNING REEL

Specs
Gear Ratio: 6.2:1
Weight: 76lbs
Line Capacity: 390/15, 320/20, 250/30
Pros
Lightweight saltwater spinner
Superline Spool for braided line
Corrosion-resistant
Live Line feature
Cons

What Do We Like?
The Penn Spinfisher VI is our top pick for catfish spinning reels for a few different reasons. First of all, if you're choosing to go with a spinning rig chances are you're planning to fish variable conditions and situations from inshore canals to backwater ponds. If that's the case, you'll want to go with something like this over the larger trolling reels.
These are lighter, more versatile, and they have a higher gear ratio so you'll experience less fatigue if you're fishing all day long.
The biggest plus of this reel as compared to some of the others is the fact that you have the choice to upgrade to the Live Line feature which is essentially another version of a bait clicker. Having this feature offers a lot more versatility to the reel and allows you to swim your baits to the cats.
What Needs Improvement?
In terms of using this reel for catfishing, there's really nothing wrong with it. We noticed that the company has experienced some quality control issues and some of the reels are coming out defective but the chances of that happening to you are slim. Penn is one of our most trusted brands so we would always stand by their quality.
Being that this is a spinning reel versus a conventional or baitcaster, you don't get as much line as you would on a baitcasting spool. That could be a downside if you're really planning to crank on it offshore.
Overall Summary
All-in-all, this is the best spinning reel for catfish for many reasons. You get the power and strength you need to pull them in, the flexibility to use the reel for other fish, and the Penn name on your side. If you decide to upgrade to the Live Line feature you're merely adding the cherry on top of an already incredible reel.
Abu Garcia Ambassadeur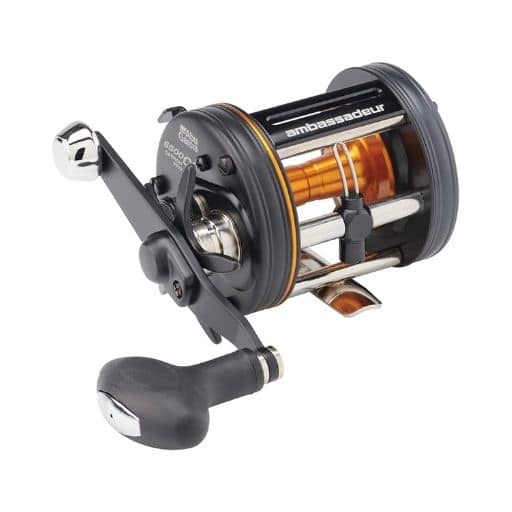 BEST CATFISH BAITCASTER REEL

Specs
Gear Ratio: 5.3:1
Weight: 8.8lbs
Line Capacity: 310/30
Pros
Aluminum body
Level wind system
6-pin brake system
Cons

What Do We Like?
We all know that fishing with just any baitcaster won't do the trick when you're a cat angler. That's why Abu Garcia went out and built the Ambassadeur. This reel is designed specifically for catfishing which requires a bit more of a rigid design to handle the fierce battle that you may find yourself in.
It comes with a rigid aluminum body to prevent flexing and burning off the bearings. The aluminum spool is also meant to be durable but lightweight and this one is quite a bit lighter than some of the other baitcasters of this size.
You also get a six-pin centrifugal braking system which again helps reduce the wear and tear you put on your bearings while preserving the life of the reel. Lastly, the extended bent handle has an ergonomic design that makes it easier for you to crank on it and get the catfish back to the boat.
What Needs Improvement?
The reel itself is about as perfect as you can get. This catfish reel does come at a premium tag though. Just keep in mind what you're getting. A lot of North American catfish can grow up to and longer than 6-7 feet weighing dozens of pounds. If you're chasing after catfish of this size, you need to make sure you have a reel that is built to handle them.
Overall Summary
If you're in the market for a baitcast reel that checks all the boxes, this is the one. This is a specified catfishing reel that is designed exactly for the battle you're going to encounter. If you're chasing large cats throughout the Northern Hemisphere, this is the reel you'll want for it.
KastKing Rover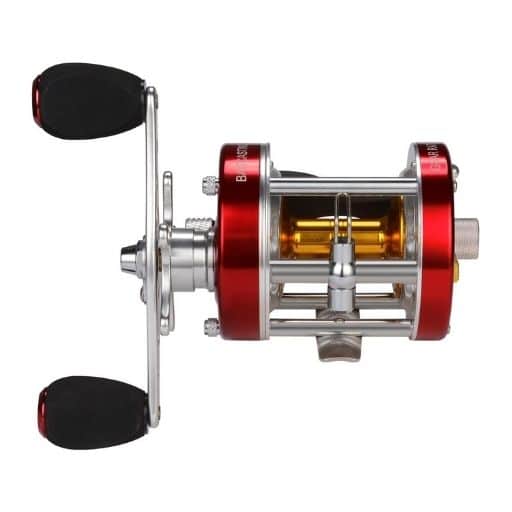 Specs
Gear Ratio: 5.3:1
Weight: 12.6 ounces
Line Capacity: 12/200, 16/250, 16/430, 16/650, 16/750
Pros
Carbon fiber multi-disc drag
Thick side plates
Smooth operation
Price
Cons

What Do We Like?
If you see all the big baitcasters and think they're too bulky but you see the spinning reels and think they're too flimsy, this is the reel you want. It brings together the lightweight and fast operation of your spinning reel with the power and strength of the best baitcasters.
Not to mention, this is a cheap catfish reel if we've ever seen one. For less than the cost of a tank of gas to get to the lake, you can grab this KastKing reel.
Starting with the body, it's an all metal body with aluminum, precisioned brass on the spool, and anodized side plates so you get optimal corrosion protection. They've also included an oversized handle with nonslip material to make it easier to crank and hold your own against a large channel or flathead cat.
There's also a unique feature in the line out alarm with a centrifugal braking system so you get even pressure on your casts to prevent backlashing. This is great for those who are inexperienced with these types of reels.
What Needs Improvement?
As with all reels, there are sacrifices. Keep in mind that this reel sells for about $50 as you read this section. The reel lacks power in the drag. Time and time again, large catfish will basically get away with your lure and if you tighten the drag too much you end up snapping your line or grinding up the bearings. If there was one thing that I'd consider a necessary improvement it's the fact that the drag is very weak on this reel.
Overall Summary
As I said, lightweight operation is important to a lot of people and when you find a conventional round reel with a 5.3:1 gear ratio and it only weighs 12.6 ounces, you go for it. If you're not trophy hunting for catfish, the drag shouldn't be a big problem for you.
Abu Garcia C3 Species Catfish Special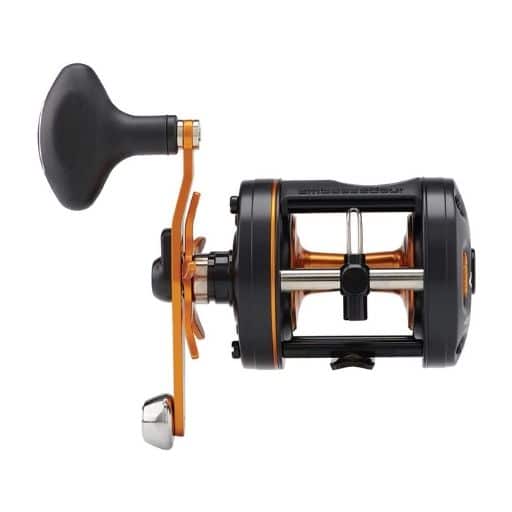 Specs
Gear Ratio: 5.3:1
Weight: 11.6 ounces
Line Capacity: 415/20, 310/30, 220/50
Pros
Powerful cranking
Line out alarm
Versatile for fresh and saltwater
Cons

What Do We Like?
We're back here again with another Abu Garcia reel that is very similar to the Ambassadeur. This one is a species special C3 that is designed specifically for catfish. It's the choice amongst expert catfish anglers and it stands apart from many other reels simply because of its blend of power and precision. It also has a lightweight design.
If we look at the reel, at first glance, nothing really stands out. It's a simple design with a few different moving parts. I'm in favor of simplicity when it comes to reels because I see it all as one less thing that could break down over time.
What Needs Improvement?
The Abu Garcia brand features brass cut gears and they advertise it as so but if you really dig deep and research or tear down the reel, you'll find that not all the gears are made of brass. Some are made of plastic and when you're paying for a premium reel of this caliber, that's not something you want.
Overall Summary
Overall, the construction of this reel is what makes it so desirable. It's built precisely for catfishing and it's designed to last long with the proper maintenance and love. It also possesses the backbone necessary to bring in large channel cats.
Lew's Speed Casting Reel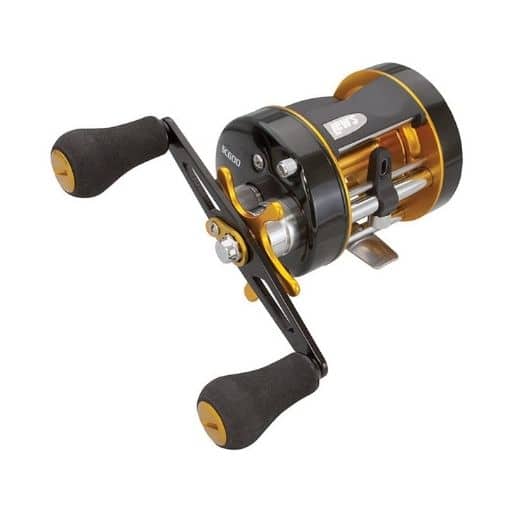 Specs
Gear Ratio: 5.6:1
Weight: 7.1 ounces
Line Capacity: 12/140
Pros
Sexy appearance
Aluminum frame and brass gears
Smooth cast and retrieval
Cons
Lacking centrifugal brakes

What Do We Like?
If you're in the market for a reel that won't cost you that much and also won't limit you to one specific style of fishing, this reel from Lew's is a great way to go. It came onto the market in 2018 and it has stood out as a "no-frills" reel that gets the job done on a budget.
When I see reels in this price range, my initial thoughts are that they must be weak and low-quality but that's not the case with this one. It features an aluminum frame with brass gears, the design is ergonomic, and the line flows pretty well on the spool.
Some people like the double knob handle, I'm not a big fan of it but it's not something that I could necessarily call a pro or a con. It's also very light at only 7.1 ounces making it the lightest reel in the review.
The main reason I decided to include this one is because not everyone is looking for a catfish reel that you would only use for catfishing. Many of us will need something more versatile that we can use for many different occasions. If you understand how to use a baitcaster, you can take this from the canal to the pond for panfish and have no issue doing so.
What Needs Improvement?
It doesn't come with the centrifugal braking system we're used to in our baitcasters. Instead they use a spool-tensioning knob with a magnetic control system to help control the cast and prevent backlasthing. While it does work okay, you can tell it's a budget-related item and they couldn't keep the cost down with the centrifugal brakes that we'd like.
Overall Summary
I always trust products from Lew's and that's why I think this is a good catfish reel. It looks great, performs well enough, and only has a few problems that most average anglers would never even notice.
Shimano Sedona 6000FL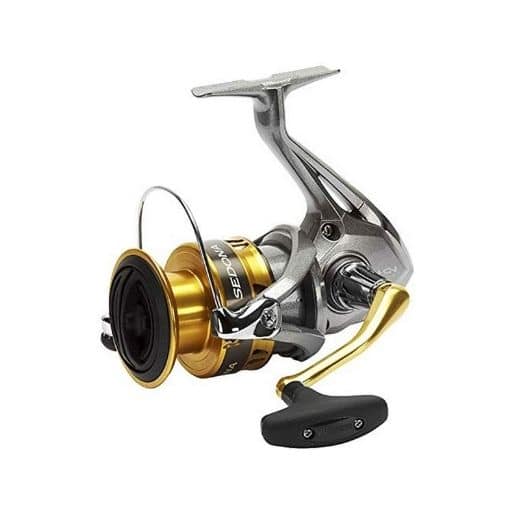 Specs
Gear Ratio: 5:1
Weight: 15 ounces
Line Capacity: 30/290, 50/195, 65/140
Pros
Powerful HAGANE gearing
Smooth performance
G-Free body
Cons
No anti-reverse in some models

What Do We Like?
Many of you may be familiar with the Shimano Sedona FE. This is an upgrade to that design and they've made a lot of great improvements. First, they're using a G-Free body design now which centers the reel closer to the rod making for an easier cast and reduced fatigue if you're fishing all day.
They've also upgraded to the HAGANE gearing technology which steps up the internals to an all-metal, cold forged gearing system that provides you more durability and strength when chasing big catfish.
Continuing on, you also get the propulsion line management system which is a Shimano specialty and is very useful if you're fishing in the wind. It helps increase your casting distance by preventing backlash and ensuring that the line flies off the spool.
What Needs Improvement?
The absence of an anti-reverse switch is something we can debate until the end of time. Some people will tell you it's a deal breaker while others won't care at all. That's me. I don't need an anti-reverse because I don't backreel. I find that allowing the drag to control the fish actually prevents them from running away with my lure and making it harder to get them back on these smaller reels.
Overall Summary
With a price tag of around $100, the Shimano Sedona 6000FL is one of the best Shimano catfishing reels on Amazon. It's durable, powerful, sleek, and low-profile to prevent fatigue. Best of all, I'm not a huge believer in spending hundreds of dollars on a reel I can only use for catfish. This reel will open a lot of doors for you and catfish are simply one of those doors.
Pflueger Patriarch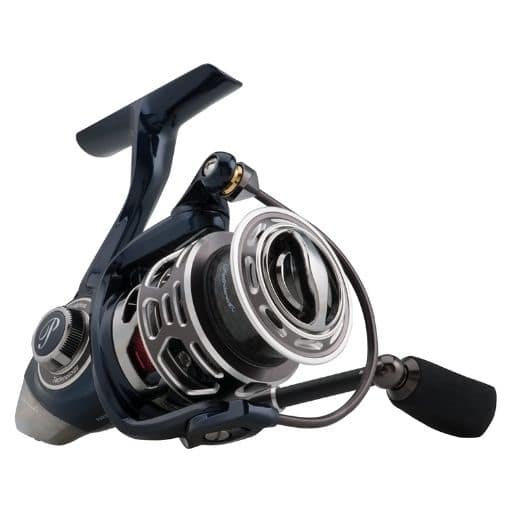 Specs
Gear Ratio: 5.2:1
Weight: 6.2 ounces
Line Capacity: 6/150, 8/115. 10/90
Pros
Lightweight
Sealed bearing system
High end carbon
Cons

What Do We Like?
Let's wrap up the review section with one of my favorite spinning reels of all time. The Pflueger Patriarch is one of the most premium reels ever made by this manufacturer. This company has been around since 1881 and I know and respect them very much. This is a lightweight reel with three different sizes to cater to your needs.
It features a 10 bearing system with 9 XCR bearings and an instant anti-reverse bearing as well. They used a magnesium body and rotor which is how they keep the overall weight of the reel down while still maximizing on strength and power. It has a three-step coating on the body that prevents corrosion in saltwater.
The sealed carbon drag is another great saltwater-related benefit. You won't feel anything seizing up and the operation of the drag is as smooth and efficient as you could want.
What Needs Improvement?
There's really nothing bad you can say about the Patriarch. It's got a hefty price tag so don't expect to pick this one up for less than $200 at any given point in time. But, you get what you pay for. If you want a versatile reel that you can use in a wide assortment of purposes from saltwater canals to backwater bass fishing, this is worth a look.
Overall Summary
Pflueger did a nice job pairing together lightweight design and powerful internal components. This reel is the end result and that makes it a great choice for catfishing.
Types of Reels for Catfish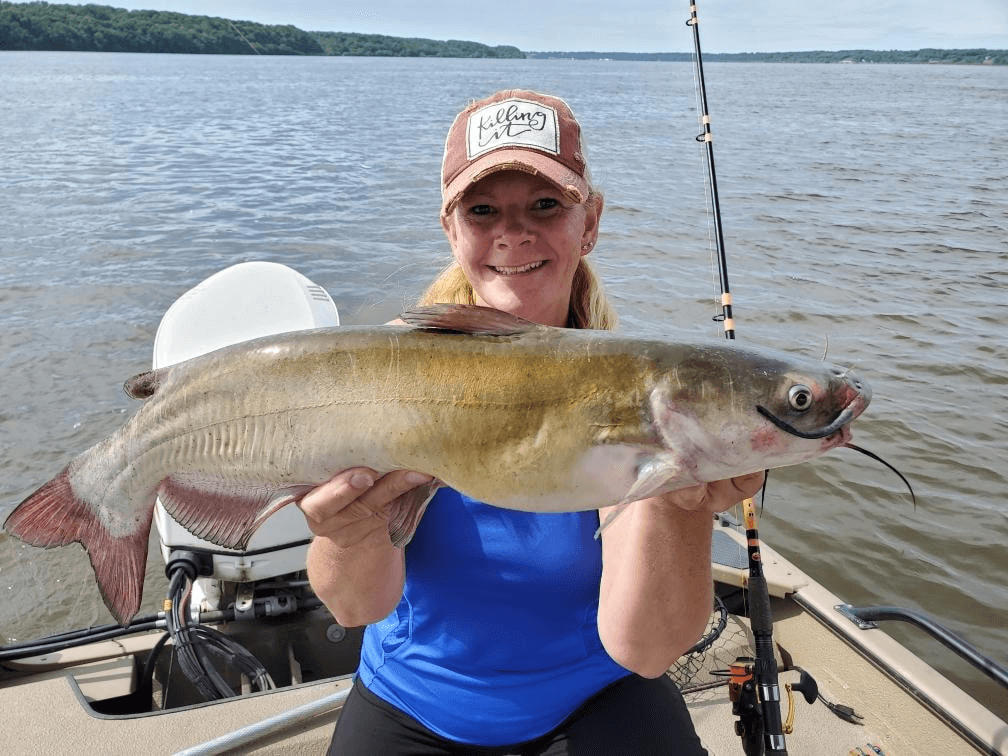 While there are a bunch of different types of fishing reels, for catfish, we're focusing on the main two. I don't recommend spincast reels for catching catfish. The best quality reels will be either spinning or baitcasting.
Spinning
You can identify a spinning reel by it's open spool and bail. This is the type of reel that most anglers start with and they're generally intended for freshwater fishing only. What we've discovered over time is that manufacturers are really stepping up their game when it comes to saltwater corrosion prevention.
If you're planning on using your spinning reel for catfish, you'll want to keep size in your mind. Going for an ultralight spinning reel might work well for bass and panfish but it won't do the trick for anything more than a small catfish.
Picking up a heavier spinning reel like some of the options recommended above will mean you've got a harder body so less flexing, a stronger handle, and corrosion-prevention features to help you in the salt.
The one problem that many encounter with using a spinning reel for catfish is that they're limited in options when it comes to catfish rods. There are few options to begin with when it comes to catfish rods but using a spinning reel limits you even more. Most catfish fishing rods are designed with a top placement baitcasting reel in mind.
For some of you, this could be the perfect excuse to get your first baitcasting reel. I know that many of us fear switching over to a baitcaster because we're worried that we're going to get nested up a bunch and make a mess of everything but that's not always the case.
Baitcasting
Baitcasting reels are the preferred choice for catfish anglers for a few different reasons. First, they work better with most catfishing techniques. If you choose wisely you can also use them to land smaller fish while taking on trophy fish opportunities as well.
Catfishing baitcasters usually have a larger fishing line capacity as well which means they can hold more line. This will be important to some and unnecessary to others. If you're fishing offshore or near canals, you're going after larger fish and catfish which will require heavier line. If you're hoping to use a 30lb test there's no way any of these smaller spinning reels will do the trick. You'll need a heavy-duty baitcaster like the ones recommended above.
Lower gear ratios are the right choice for catfishing. You need to be patient with the fish as they're going to take you for a ride. Cranking away right off the bat is going to not only grind up your bearings but it could snap your line as well. A lower gear ratio gives the fish some breathing room while allows you to calmly crank them in without putting too much pressure on your gear.
Choosing the Best Catfish Reels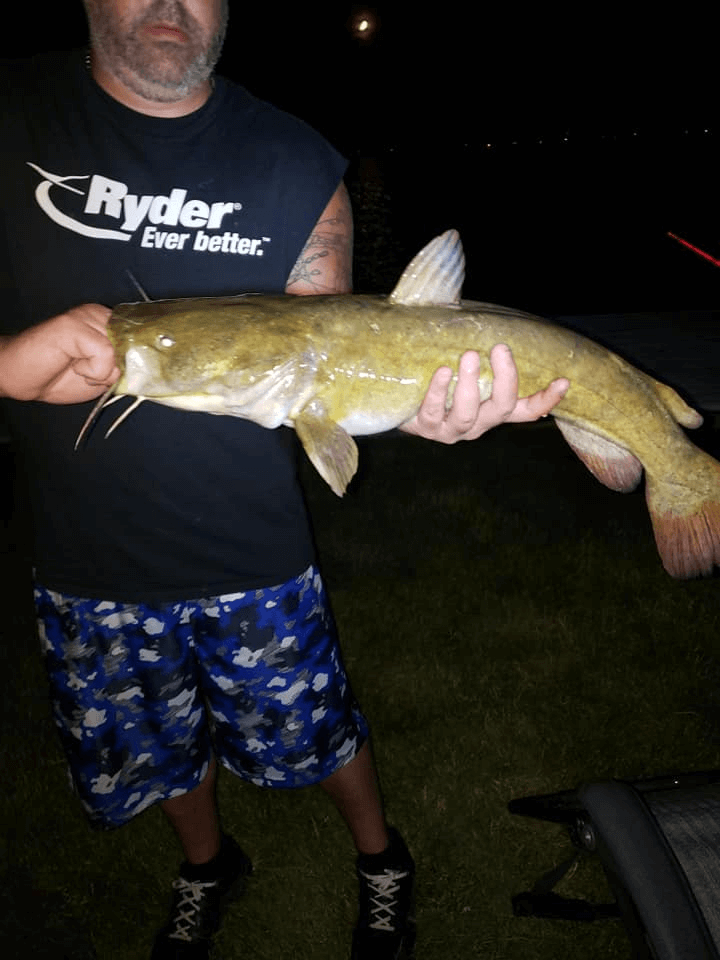 Now let's talk about some of the specific features you'll want to keep your eye out for when shopping around. Finding the best reel for catfish isn't that hard but you need to understand this specific species of fish and why these features are important.
Gear Ratio
The gear ratio of your reel refers to the number of times the spool turns for each crank of the handle. So, if you have a reel with a gear ratio of 5:1, it means that the spool rotates five times per each crank of the handle. The initial idea is that higher is better but that's not true.
Higher gear ratios are ideal for smaller fish that don't put up that much of a fight. For these fish, a 7:1 gear ratio is great because you can crank fish in and out all day long without getting too tired. When you're battling larger fish like catfish, you need a slower gear ratio because fast revolutions of the spool won't happen when you have a large amount of reverse tension from the fish.
That said, a catfish reel will generally have a faster gear ratio than a dedicated offshore trolling reel. Those might have gear ratios of about 4:1 whereas a catfish reel will stay in the 6:1 range. If you purchase a catfish reel specifically, you won't have to worry too much about the gear ratio because it will have the ideal ratio anyway.
Line Alarms
One feature you'll find in a lot of catfishing reels is line alarms or bait clickers. These allow for a free spool and they'll click when something starts swimming away with your lure.
To operate them you'll cast out, tighten the slack, and turn the alarm on. When you do this you'll press the spool release and now the line will move freely. When something comes and grabs your lure, the line alarm will alert you of that. This is especially popular with catfishing techniques like slip sinker rigs. It allows you to fish the water column and create an ideal presentation without having to manually do anything.
Line Capacity
Line capacity is self explanatory and not something I should have to go too far into. When it comes to fishing catfish, you're likely using a larger line than you would for most freshwater fishing. The large braided line takes up more space on the spool, as a result, you need a higher line capacity if you expect to get enough line on there to handle larger fish.
If you're fishing with a low-profile reel like some of the smaller spinning reels you may only be able to get 100-120 feet of line which isn't enough in most cases. Larger trolling and casting reels will accommodate as much as 350-400 feet of line. This gives you the room you need to let the fish do it's work.
Braking System
The thing that scares the crap out of amateur anglers is nesting (rats nests). This is when you cast a baitcaster and the spool continues to move even though the line isn't going anywhere. This can happen in the wind but it can also happen for no reason at all. It's the thing that makes most people stick with their spinning rod setup and never move away from it.
Many high-quality baitcasters come with elaborate braking systems to help prevent these issues. When the reel starts to sense that the line is slowing down, it automatically slows down the spool as well to prevent the line from flying off the spool too quickly. This is a feature you definitely want to look for in your catfishing baitcasting reels.
Drag System
Catfish are ferocious fighters and they have a lot of stamina so having a solid drag system is very important. The drag is what allows the fish to pull away from you while still remaining on the line. If your drag is too tight, they'll snap the line or burn up your reel. If the drag is too loose, you'll end up spending all day bringing the fish in; if at all.
What's most important though is that you understand how to use the drag settings on your reel. Having an optimal drag is crucial but if you don't know how to properly set it, it doesn't matter how good the drag is. Carbon fiber drag washers are the ideal choice.
FAQs
What are levelwind reels?
You'll notice that most of the reels in this review are different from your low-profile baitcasters and that's because these are round casting reels. Many of them have something called a level wind which means that the line guide slides back and forth across the spool to ensure that the line sits evenly so it can flow evenly off the spool as well. This is a preferred type of fishing reel for catfish because it makes it easier to cast heavier braided line for inshore and offshore fishing.
What kind of handle is best for catfish?
There are two different kinds of handles on baitcasting reels. Power handles and standard handles. Standard handles are traditionally what you would find on a baitcaster. They come with two smaller knobs which allows you to crank on either side of the handle. Power handles typically come with one knob but it's much larger than the traditional size and it offers much more control. 
The type of knob you choose is entirely up to you. Generally as you size up your reels you're going to find these larger knobs are more common anyway.
Are baitcasters good for catfish?
Baitcasters are generally considered the ideal choice for catfishing. This is because they possess the necessary line capacity and drag needed to handle large fish.
What is the best gear ratio for catfish?
The most common reel out there is a 6.4:1 gear ratio. When it comes to catfishing I would skew towards a slower gear ratio but I wouldn't recommend going with anything lower than a 5:1. Again, this is something that could vary tremendously from person to person and reel to reel. Everyone has their own preferences so take your personal experience and research and make of it what you will.
How do you set the drag for catfish?
The general recommendation is to set the drag to ⅔ of what the breaking point is. So, if you have a 20lb braided, you'll want to set it around 17lbs. Once again, this is personal preference and only a recommendation. It'll also vary based on the type of reel. You might set the drag a little higher on an inshore spinning reel than you would a baitcaster.
Final Thoughts
Catfishing is a unique and fun sub-category of fishing. Choosing the best catfish reels is all about understanding how catfish behave, where they live, and how you catch them. By this point you should have a firm understanding of how to choose the best reels for catfish. Now you just have to learn to cook 'em!