---
We independently research, test, and recommend the best products; you can learn more about our review process here.
Whether you're hunting down a monster flathead, or hitting the river to catch a stringer of channel cats, choosing the best catfish reel can be daunting.
Questions like how much drag power is enough? Is a baitrunner feature necessary? And how much line should the spool hold? Are all important questions to ask when choosing a catfish reel.
I've been fortunate to have access to some of the best catfishing lakes in the country and have used upwards of 30 different catfishing reels throughout my fishing career.
I've taken that experience and combined it with a weekend fishing trip to Kerr Lake where I compared some of the newer reels on the market with some of my all-time favorites.
Top 3 Inshore Spinning Reels on the Market
As a quick summary, here are my top three choices for best catfish reels based on my research and testing.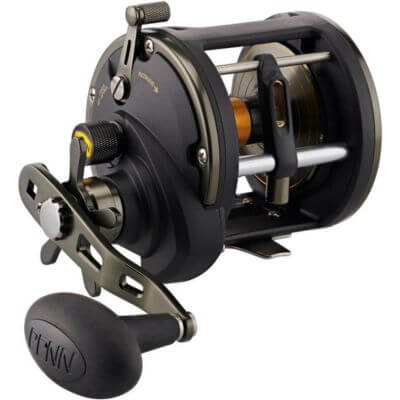 PENN Squall ll Levelwind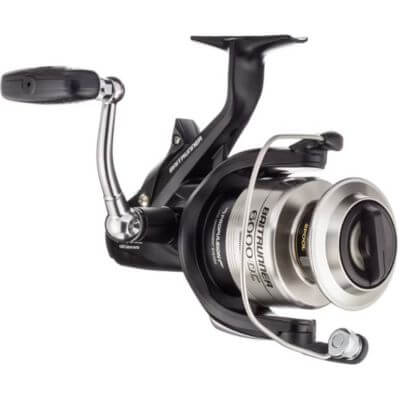 Best Catfish Spinning Reel
Shimano Baitrunner OC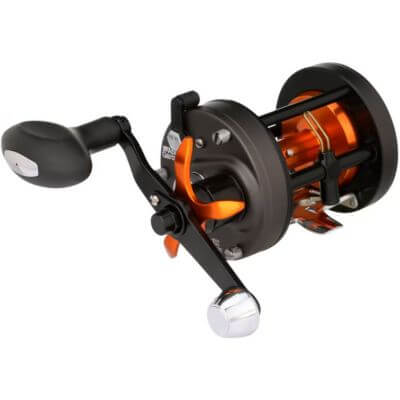 Best Catfish Baitcasting Reel
Abu Garcia Ambassadeur Catfish Special
---
Testing Procedure 
Since one of the most important features of a catfish reel is how the reel holds up against big catfish, I wanted to fish a location where I would be able to catch catfish that were on the heavier side.
I headed to Kerr Lake AKA Buggs Island where I was able to catch a wide variety of catfish ranging from 12 to 42 inches.
During my time on the water I specifically focused on the following qualities that each reel possess:
Gear Ratio: Having the right gear ratio for pulling in long lengths of line is important when looking at catfish reels. How much line comes in with each turn of the handle is important to know in order to pick the right reel. 
Drag System: Having a quality drag is one of the most important qualities that a catfish reel can possess.

Catfish are larger and stronger than most freshwater fish so it's important that the reels drag system performs consistently and is able to tire out the fish during its initial run.
Weight: Catfish reels are typically on the heavier side due to the more durable materials that are used to make them. They also hold more line and have larger ball bearings inside.

Having a catfish reel that is lightweight will allow you to fish longer without tiring after a few hours of hauling in big cats. 
Price: Is the reel worth the price? Value is important! We'll look at all the key features of each reel and let you know if it's worth the number on the price tag. 
Best Overall Catfish Baitcasting Reel 
PENN Squall ll Levelwind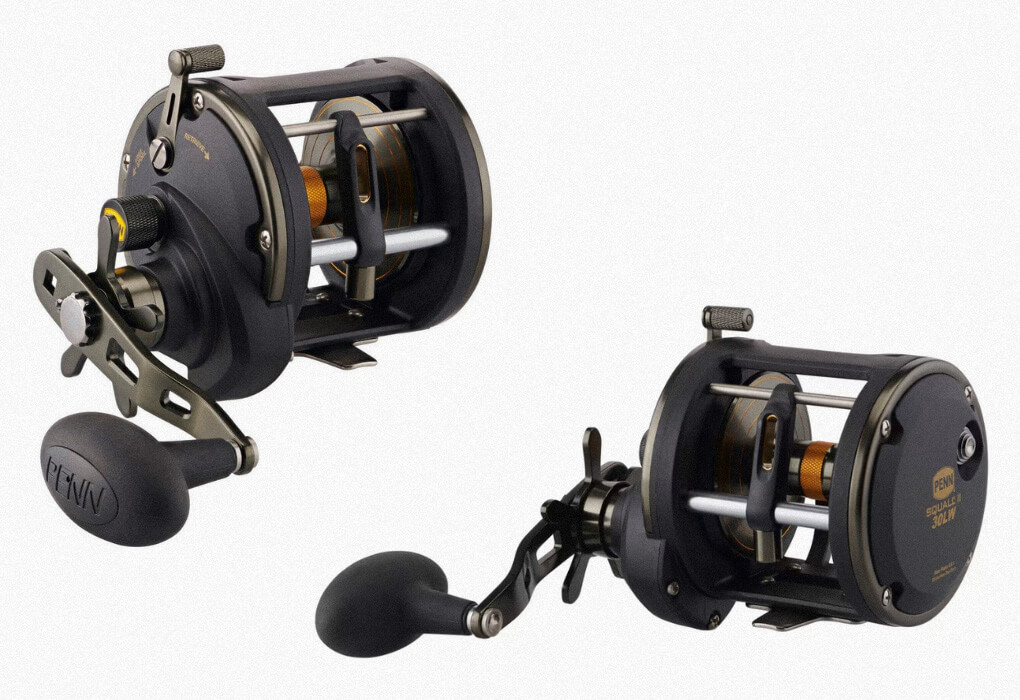 Specs
Type: Baitcasting 
Gear Ratio: 4.0:1, 4.9:1
Weight: 21.3 oz. 
Bearings: 3+1
Line Capacity: 20/315
Why We Chose It
PENN has made a living on producing quality oversized reels whether it's for offshore or inshore saltwater. But I've found that these round reels also translate to amazing catfish reels.
Right out of the box I loved this reel! It was lightweight for its size and built solidly.
PENN is one of many manufacturers who are going away from the more heavy metal and aluminum to using high quality graphite on their reels. 
When testing the PENN Squall ll Levelwind I was able to make monster casts which made a difference where I was fishing.
There was a drop-off about 40 yards away from where I was standing and the long casts allowed me to catch 16 catfish that ranged from 14 to 34 inches. 
My largest cat came while I was reeling in so it gave me a chance to test the drag system. It made a hard run and I let the drag fight the fish for about two minutes before starting to reel.
The HT-100 carbon fiber drag washers made all the difference in the world. When letting line out, the drag was sooooo smooth and consistent without any hesitation or what I like to call "spurts".
Another great thing about the Squall ll is its main gear is made of marine-grade bronze and its pinion gear is made of stainless steel which makes this reel a lifetime reel. 
While I'm talking about the quality of the reel, I think I should mention one feature that just plain ole' makes sense.
PENN has a fast gear access sideplate feature which allows you to open the reel with a couple turns of a screwdriver.
This gives you access to the guts of the reel making maintenance a breeze. It's no stretch to say that the PENN Squall ll gears and pinions have the possibility of remaining brand new for years with proper maintenance.
The only downside is that this reel doesn't have a baitrunner feature which allows the fish to take the bait without feeling the tightening of the drag.
So if you're looking for a quality catfish reel with that feature check out the Abu Garcia C3 Catfish Reel. 
Overall the PENN Squall ll Levelwind beat out all the other reels and was clearly our top choice for best overall catfish reel. It's a beast of a reel and is built to last a lifetime!
Best Catfish Spinning Reel 
Shimano Baitrunner OC Spinning Reel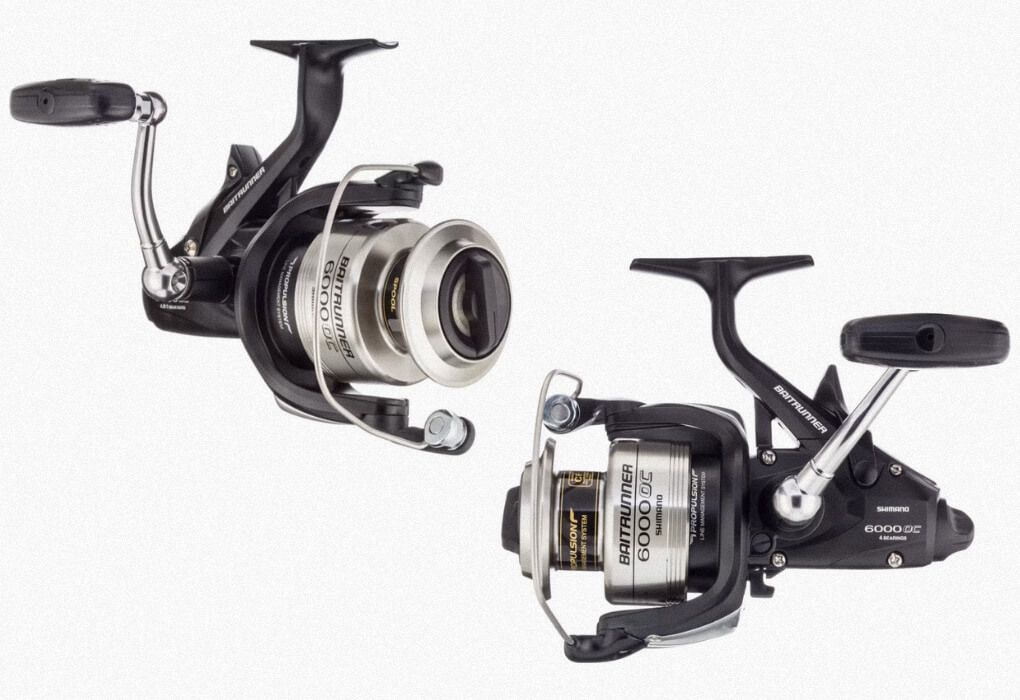 Specs
Type: Spinning 
Gear Ratio: 4.8:1
Weight: 13.4 oz. 
Bearings: 3+1
Line Capacity: 12/160
Why We Chose It
It's rare to find such a quality reel in the 4000, 6000, and 8000 size that is so lightweight but Shimano has figured out a way to reduce the overall weight without skimping on material.
The Baitrunner OC is made of XT-7 graphite which is a high-end material that weighs a fraction of what metal or aluminum weighs. 
I have to admit when I first took this reel out of the box my first thought was that it was cheap because of its weight but after using it on the lake I can honestly say that this thing is anything but.
I was using shiners in about 40 feet of water and tied on to a 24-pound blue cat that would have blown up some of my other freshwater reels.
The Baitrunner OC performed wonderfully from the initial bite, until I netted it at the side of the boat. 
I have to say one of my favorite features on this reel is the Baitrunner feature which serves as sort of a second drag.
When this big cat hit initially I was able to let it run for a good 10 seconds before throwing the hammer (bail) down on him.
The reel transitioned from giving line to taking line in, in an instance without any gear shifting or locking.
Another thing that I noticed is that this reel is really balanced due to what Shimano calls its Dyna Balance system which uses the same method of computer balancing that a tire shop uses when balancing tires.
Basically the rotor weight is redistributed evenly to create a smooth rotation and eliminate wobbling. This is often a problem when using large reels.
This reel has everything you need when targeting catfish from the shore or on a boat. It holds plenty of line and it pulls in a lot of line quickly because of its 4.8:1 gear ratio.
I even plan on using it on some of my surf fishing trips because of how well it performed at Lake Kerr.
One thing that surprised me is the reel only having 4 ball bearings. It's not the smoothest reel I've used, but I think Shimano's intention was to create a lightweight reel.
After all, you're not going to be retrieving crankbaits with this thing so it serves its purpose, which is getting the fish to the boat.
In the end the Shimano Baitrunner OC beat out all the other reels and I was able to put a total of 7 catfish in the boat. 
I would highly recommend this reel for beginners all the way up to catmen. It checks all the boxes when it comes to all the attributes of a legendary catfish reel and will help put more meat in the freezer. 
Best Catfish Baitcasting Reel 
Abu Garcia Ambassadeur Catfish Special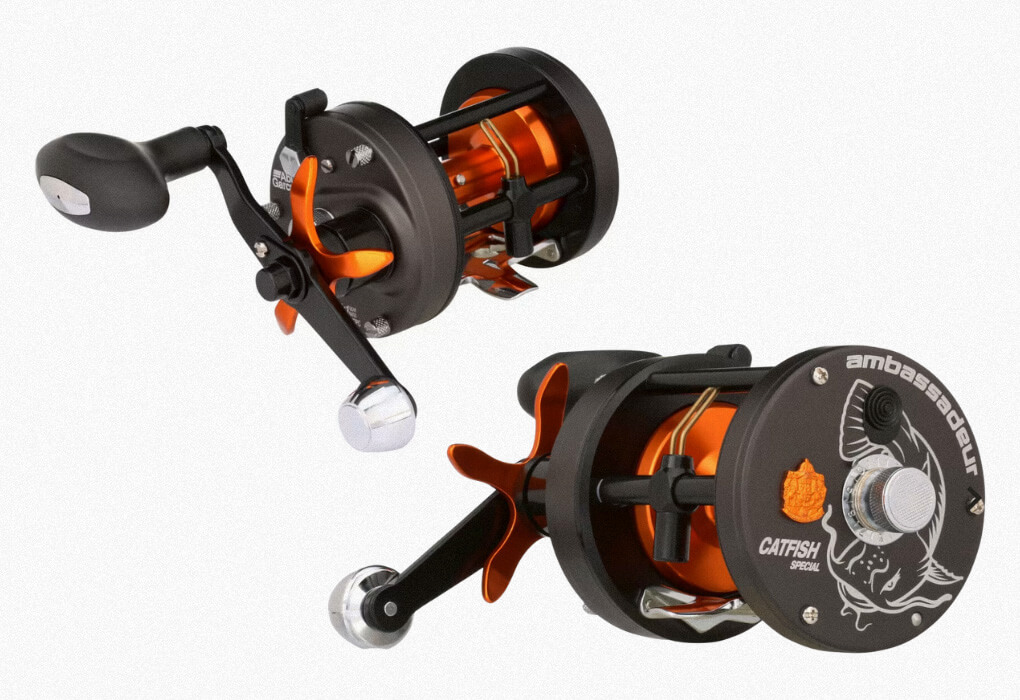 Specs
Type: Baitcasting 
Gear Ratio: 4.1:1
Weight: 21.5 oz. 
Bearings: 2+1
Line Capacity: 20/250
Why We Chose It
If you've ever owned an Abu Garcia Ambassadeur C3 Roundreel then you should be very familiar with the Ambassadeur Catfish Special. 
The reel has all the features that made the C3 a fan favorite among bottom fishermen and trollers. 
I have to admit that my casting skills with a round reel need some fine tuning but when I used the Catfish Special I was making smooth, far casts without any major backlashes. 
I loaded this reel with 30 lb. monofilament line and mounted it on an Ugly Stik Bigwater Series Rod for my test at the lake. 
Within a few minutes I was casting this reel with ease. This is by far the most user-friendly baitcaster I've ever used.
I dialed in the reel to the weight of my Carolina rig using the adjustment on the side, and I had no issues making long distance casts with only a few very small over runs.
I recommend setting the friction lever according to the weight of your bail so you hardly have to use your thumb when braking. The spool should stop spinning when it hits the water.
This reel is everything I'd ever want in a catfish reel. There is plenty of capacity for heavy line, power handle, and a level wind.
The 6 centrifugal breaks allow both the experienced baitcast user and the novice to set the reel up to match their experience, skill, and bait weight.
I was able to catch three catfish using this reel with the biggest being 18 pounds.
The reel locked up nicely on the hookset and I was able to bully him in due to the large power roller spool that seemed to bring in line at a faster-than-normal speed.
One other tip with this reel: When you're loading it with line, be sure to put monofilament on the first few wraps around the spool because if you use braid it slips.
Also the button to release the spool is located on top of the reel which takes a little getting use to.
Other than that, the Catfish Special has everything you'll need to start targeting catfish. 
I would highly recommend it to seasoned catmen, but being that it is a round reel and may be tough for a beginner to use. However the reel is worth learning how to cast just to experience what a true catfish reel feels like. 
Best Tournament Grade Catfish Reel 
PENN Squall Lever Drag Reel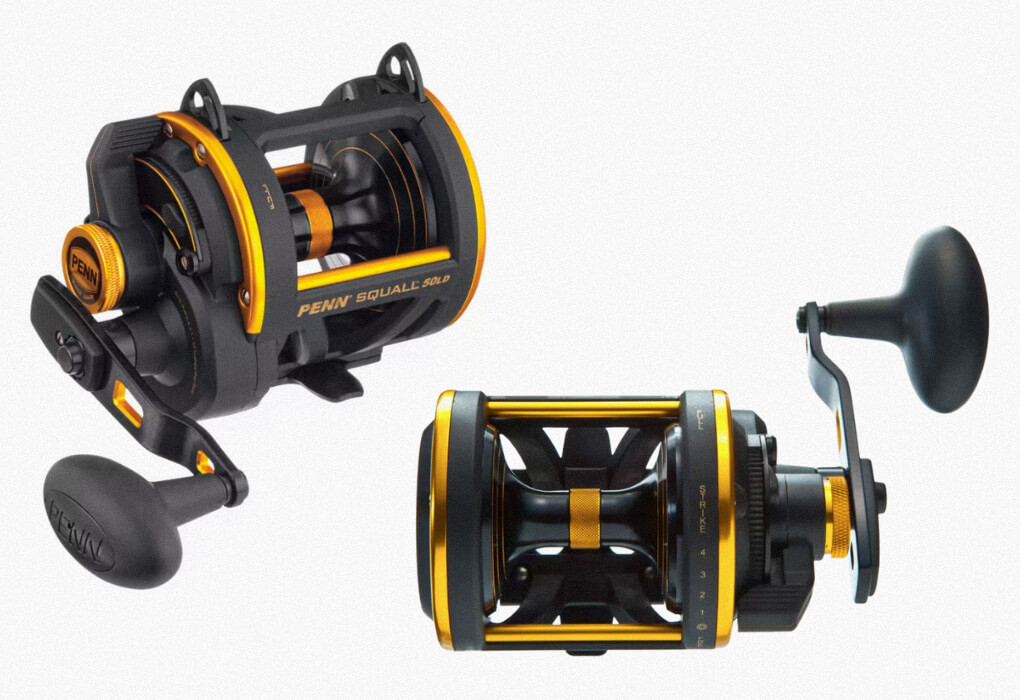 Specs
Type: Baitcasting 
Gear Ratio: 4.3:1, 5.1:1, 6.1:1
Weight: 18.2 oz. 
Bearings: 5+1
Line Capacity: 30/260
Why We Chose It
The PENN Squall Lever Drag reel is a rock-solid reel that also has some bells and whistles that make fighting that big cat a breeze. 
The reel comes in 3 sizes with gear ratios of 4.3:1, 5.1:1, and 6.1:1 and weighs 18.2 oz.
This reel is a lot like the PENN Squall ll Levelwind but has two added features that set it apart. 
The first feature is the Versa Handle system which is a very user-friendly feature that allows you to change handle configurations quickly without the need for any special tools.
So you can choose your handle length according to the size of the catfish you're fishing for. This is one of those features that set this reel apart from any others that I've tested.
Since I was targeting average sized catfish with the possibility to catch a big un' I opted for the longer handle and it paid off. I set the hook on a 34-pound blue cat and used the leverage from the long handle to power the fish in.
During the fight I used another added feature that the PENN Squall Lever Drag has and that is the lever drag which is basically a lever that you can throttle forward and backward to tighten or loosen the drag. 
The lever is located on the side of the reel and it can be moved forward or backward.
When the lever is pushed forward, it increases the amount of drag, making it harder for the fish to pull the line.
When the lever is pulled backward, it reduces the drag, allowing the line to be pulled more easily.
The lever was very easy to control and I used it to my benefit when the fish made hard runs.
Another great thing about the Squall Lever Drag reel is that its main gear is made of marine-grade bronze and its pinion gears are made of stainless steel which makes this reel one that you can use for life. 
The only downside is that this reel doesn't have a baitrunner feature so if you're looking for a quality catfish reel with that feature check out the Abu Garcia C3 Catfish Reel. 
Also, if you are on a budget and looking to save a few bucks check out the younger brother of the PENN Squall Lever Drag, the PENN Squall ll Levelwind.
It's got all the features of the Lever Drag reel minus the Versa Handle system and the Lever Drag. 
In the end, the PENN Squall Lever Drag reel beat out all the other high-end reels over $150.
It delivered a solid performance when it comes to drag performance, material makeup, and had bonus features like the Versa Handle system and the Lever Drag.
If you are serious about catfishing, look no further than this reel for your future trips. 
Best Budget Catfish Reel 
Lew's Speed Cast Round Reel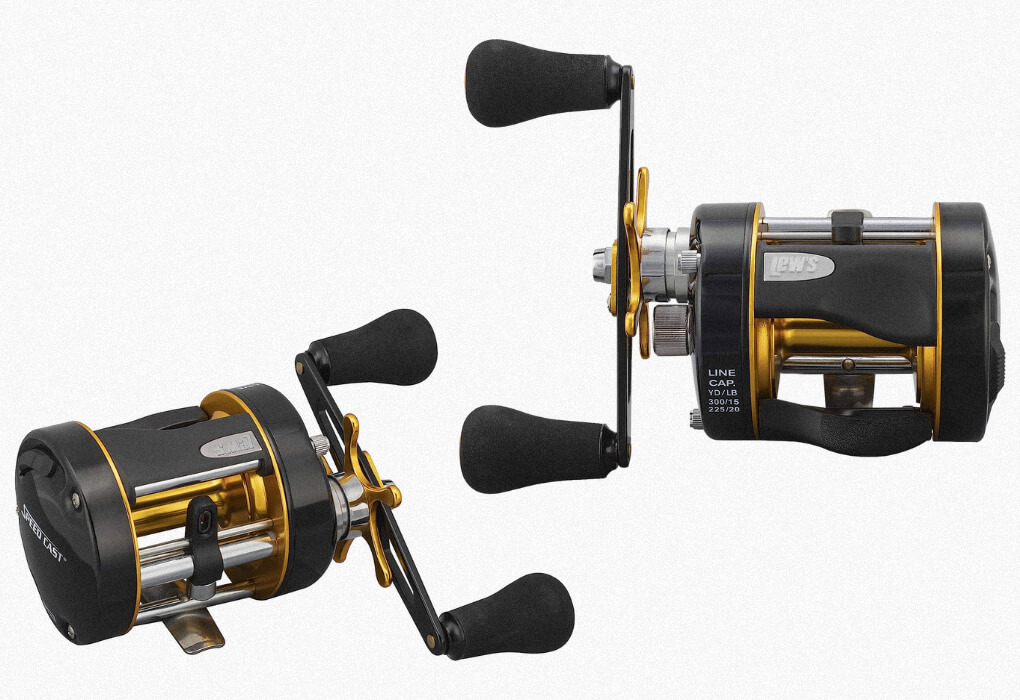 Specs
Type: Baitcasting 
Gear Ratio: 5.3:1
Weight: 11.8 oz. 
Bearings: 4+1
Line Capacity: 15/300
Why We Chose It
The Lew's Speed Cast Round Reel was the surprise of my catfishing trip as it consistently overachieved when tested. 
This reel only comes in one gear ratio and that is 5.3:1 which was perfect for what I was using it for. I paired this reel with a Ugly Stik Catfish Special rod and used it to fish from the bank. 
I really liked the star drag that allowed me to adjust the drag with the same hand that I was using to reel in.
I used it numerous times to adjust the drag to a few bigger cats that I hauled in. The carbon fiber drag system performed great and the reel didn't have much play in it at all as I was fighting the bigger fish.
During my test I used the heck out of the bait clicker feature. I was able to leave the rod in a holder and sit back and wait for a bite. Once the fish was on, the clicker started going off.
It started out clicking slow and then all of a sudden it started clicking faster letting me know that the catfish had the bait and was running. 
While the clicker was a great feature I will say that Lew's could have designed it to be louder.
I walked to my truck which was about 20 feet away and I didn't hear the clicker going off when a catfish bit and started pulling the line out. 
The Lew's Speed Cast comes in at the top of the price range when it comes to budget reels so if you're looking for a reel that is similar to this one but is more affordable check out the PENN General Purpose Round Levelwind Reel. (If any reel ever had a budget name, it's this one!) 
The General Purpose reel was very impressive and was comparable to the Lew's but it doesn't have a bait clicker feature.
Overall if you're looking for a solid reel that won't break the bank, the Lew's Speed Cast should be your next reel. It made smooth, long casts and was able to handle a few large blue cats that I caught from land.  
Choosing the Best Catfish Reels
When choosing a catfish reel you'll want to take a look at a few specifications before you make your decision.
Gear Ratio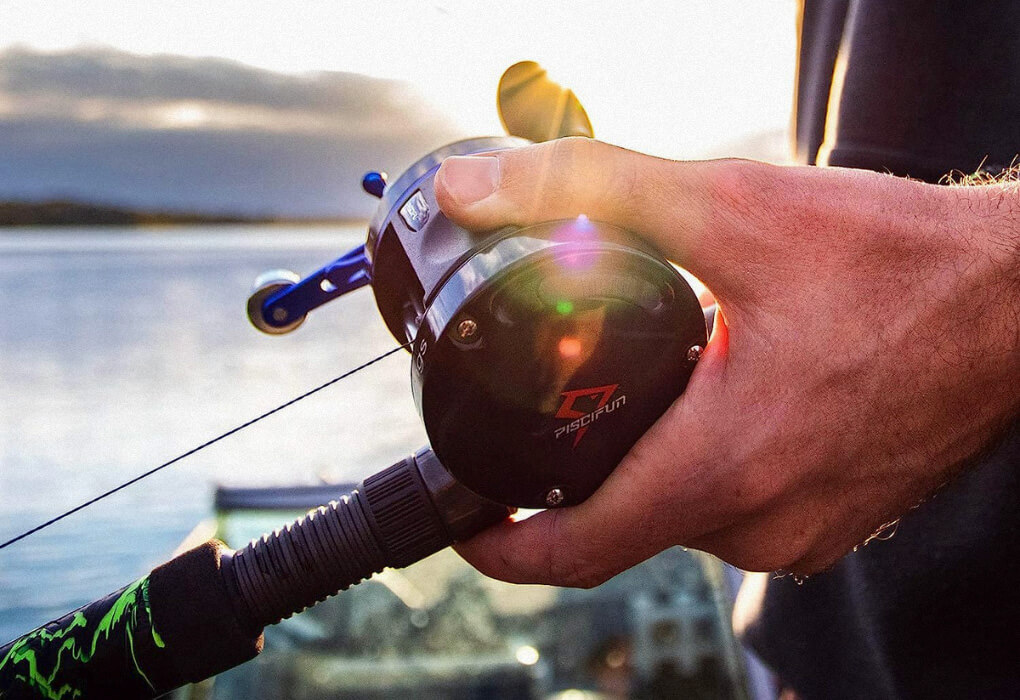 The gear ratio of your reel refers to the number of times the spool turns for each crank of the handle. So, if you have a reel with a gear ratio of 5:1, it means that the spool rotates five times per each crank of the handle.
A catfish reel will generally have a faster gear ratio than a dedicated offshore trolling reel. Those might have gear ratios of about 4:1 whereas a catfish reel will stay in the 6:1 range.
If you purchase a catfish reel specifically, you won't have to worry too much about the gear ratio because it will have the ideal ratio anyway. 
Line Alarms 
One feature you'll find in a lot of catfishing reels is line alarms or bait clickers. These allow for a free spool and they'll click when something starts swimming away with your lure.
To operate them you'll cast out, tighten the slack, and turn the alarm on. When you do this you'll press the spool release and now the line will move freely.
When something comes and grabs your lure, the line alarm will alert you of that. This is especially popular with catfishing techniques like slip sinker rigs.
It allows you to fish the water column and create an ideal presentation without having to manually do anything.
Drag System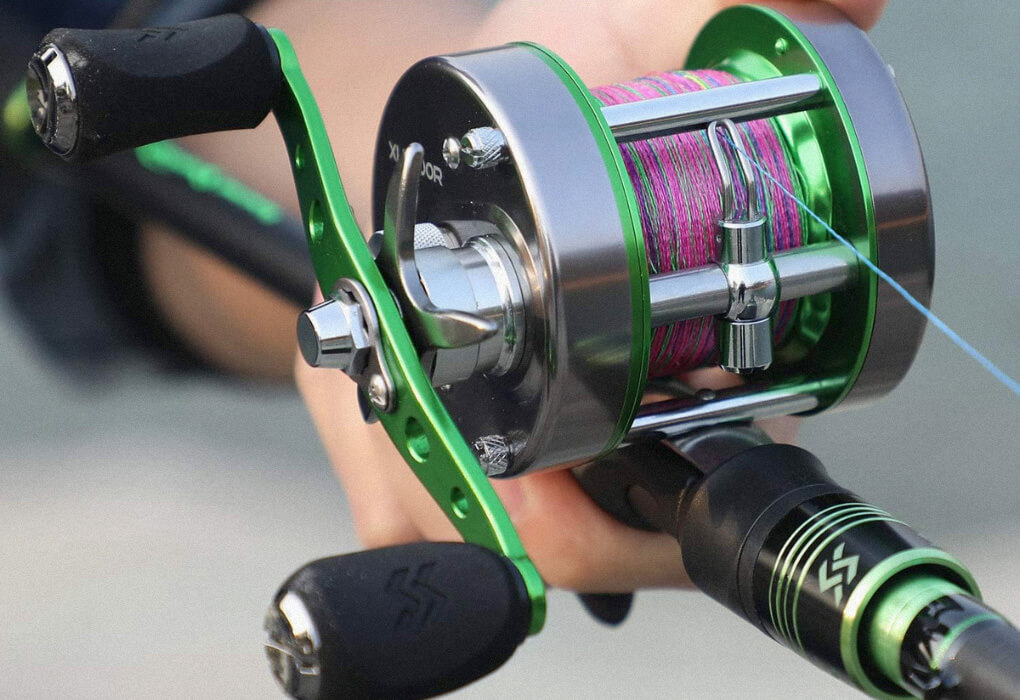 Catfish are ferocious fighters and they have a lot of stamina so having a solid drag system is very important.
The drag is what allows the fish to pull away from you while still remaining on the line. If your drag is too tight, they'll snap the line or burn up your reel.
If the drag is too loose, you'll end up spending all day bringing the fish in; if at all.
What's most important though is that you understand how to use the drag settings on your reel.
Having an optimal drag is crucial but if you don't know how to properly set it, it doesn't matter how good the drag is. Carbon fiber drag washers are the ideal choice.
Final Thoughts
During my weekend at Kerr Lake I caught a lot of catfish and got to use somereally nice catfish reels.
In the end, I think our top 5 list will help guide you to the best catfish reels on the market today.
So let's review our top pick!
For the best catfish reel overall, I chose the PENN Squall ll Levelwind.
It was an outstanding reel and led the pack when it came to material makeup, drag quality and overall strength.
While the Squall ll Levelwind won overall, you really can't go wrong with all the reels mentioned in this best catfish reels guide that we've put together.
Give them a try and tell us what you think! We'd love to hear from you!