---
We independently research, test, and recommend the best products; you can learn more about our review process here.
You've reached this point. You're considering purchasing a fishing drone, congratulations on reaching the epitome of fishing greatness.
But you need help choosing, right? Who better to help you than I? 
There are so many factors to consider when buying a fishing drone because it's not a cheap investment and you can do so much with them if you choose one that performs.
By the end of this guide, you should be able to make a firm decision on which drone is the right choice for you and you should understand how they can positively impact your fishing game.
Comparison Table – The Best Fishing Drones
---
---
Our Picks For The Best Fishing Drones
DJI Phantom 4 Pro V2.0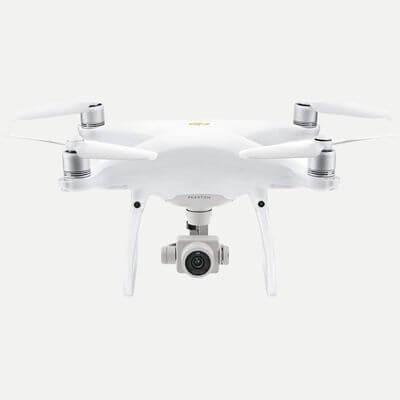 BEST OVERALL DRONE FOR FISHING
Specs
Dimensions: 1' (Diagonal Size)
Video Resolution: 2160p
Max Speed: 45mph
Max Flight Time: 30mins
FEATURED SPECS
This drone comes with a 3-axis motorized gimbal and one inch 20MP CMOS sensor to eliminate rolling shutter distortion for high-quality imaging.
EXTRA FEATURES
Features intelligent flight modes that allow the pilot to get exactly what they need out of the drone be it speed, smoothness, or ease of use.
BUYING ADVICE
The intelligent flight modes are nice and can offer customization based on where you're fishing and what the conditions are like.
Pros
High-quality image gimbal camera
Shutter distortion
Easy to rig landing gear
Powerful flight modes
Cons
The DJI Phantom Pro is the king of fishing drones for a few reasons. First, the incredible 2160p resolution allows you to get a brilliant idea of what's going on in the water.
It's reliable, durable, and easy to rig to the landing gear. Not to mention the 11-mile flight range. I hope you brought a lot of line.
DJI Mavic 2 Zoom with Smart Controller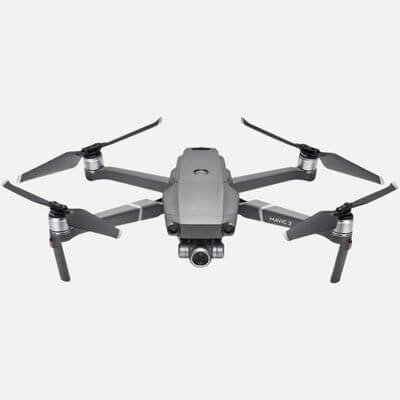 BEST CASTING DRONE
Specs
Dimensions: 8.4×3.6×3.3 in. (Folded)
Video Resolution: 4K, 2.7K, FHD
Max Speed: 44mph
Max Flight Time: 31mins
FEATURED SPECS
The Mavic 2 Zoom features a 4x zoom and 2x optical zoom offering dynamic perspectives of everything going on in and around the water.
EXTRA FEATURES
It features a 31 minute flight time and 44mph max speed.

The 3-axis gimbal is ideal for high-quality imaging and it comes with 8GB internal storage and 128GB SD compatibility.
BUYING ADVICE
This drone for fishing offers one of the best cameras on the market, if you're trying to scope out potential fishing locations at far distances, this is the way to go.
Pros
Foldable drone
Easy to rig for casting
Plenty of data storage
High-quality imaging
Cons
This drone is loaded with unique features like ActiveTrack 2.0, Omnidirectional Obstacle Sensing, Hyperlapse, and much more.
It's a fun, functional, and stable drone that will help improve your fishing game in many offshore applications. You can rig your line release system to the wings or purchase a dedicated release system.
DJI MAVIC MINI QUADCOPTER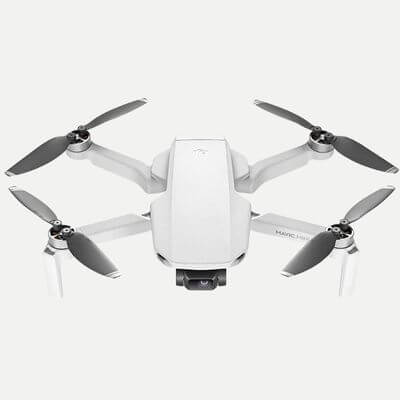 BEST MINI DRONE
Specs
Dimensions: 5.5×3.2×2.2 in. (Folded)
Video Resolution: 2.7k, FHD
Max Speed: 29mph
Max Flight Time: 30mins
FEATURED SPECS
The Mavic Mini features a compact but powerful design.

It weighs approximately .55 pounds and is as light as most people's phones.
EXTRA FEATURES
The Mini supports 12MP aerial photos with 2.7k HD video.

The 3-axis gimbal offers superior stability for clear and smooth footage.
BUYING ADVICE
I highly suggest using this drone for freshwater fishing in lakes and ponds only because of the wind limitations.
Pros
Compact and light
30 minutes of flight time
The drone is light enough to fly without government registration
Cons
Rigging may be a bit challenging
By sacrificing some size you're also losing a little bit of functionality.
When you're flying over water the wind is your enemy and if winds exceed 18mph which is quite common in surf fishing, you can't fly this drone.
Since it doesn't have landing gear, you'll also have to purchase additional attachments to rig it to hold your line since it's too small to rig to the wings.
DJI Phantom 3 Professional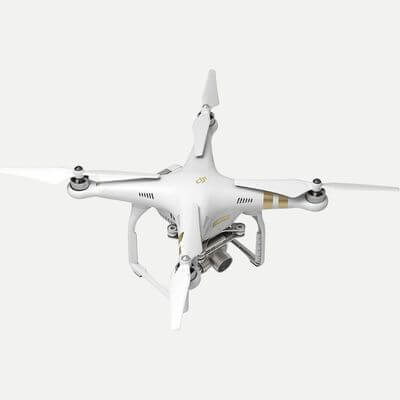 BEST VALUE
Specs
Video Resolution: 4K, 720p
Max Speed: 36mph
Max Flight Time: 23mins
FEATURED SPECS
The DJI Phantom 3 features a 4k UHD video camera, a stabilized 3-axis gimbal, and 2 flight batteries with a rechargeable remote control.
EXTRA FEATURES
The drone comes with a convenient carrying case for easy transportation and rigging is simple because of the independent landing gear.
BUYING ADVICE
If you're concerned about not being tech-savvy and having to purchase and install additional gear, this drone is the simplest and most affordable one with this many features.
Pros
High-quality video and images
Easy to rig landing gear
Carrying case and backup batteries
Cons
Issues with customer service
This drone is very smooth and the landing gear makes it really easy to install your line release system. It doesn't require any additional parts other than the standard clip.
The carrying case, rechargeable batteries, and remote control make this drone a great choice for budget-conscious beginners.
Autel Robotics EVO Foldable Drone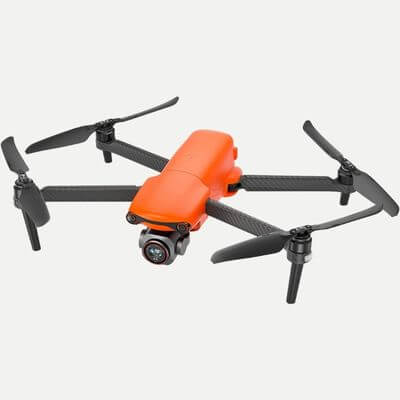 BEST GPS/MAPPING DRONE
Specs
Video Resolution: 4K HD
Max Speed: 22mph
Max Flight Time: 30mins/4.3 miles
FEATURED SPECS
Here we have a world-class foldable drone with dual GPS satellite positioning and ultrasonic sensors.

It's great for navigating in tight waters and it comes with 3D mapping.
EXTRA FEATURES
It features a 4K 60FPS HD camera with a 94-degree wide-angle lens on a stable 3-axis gimbal.
BUYING ADVICE
If you're a frequent traveller and someone who fishes new water a lot, you'll enjoy the GPS mapping capabilities of this one.
Pros
Premium quality
3D mapping and GPS technology
Failsafe function and avoidance sensors for tight water
Cons
Unreliable app
Requires additional landing gear
This might be one of my favorites yet.
It's an amazing drone with advanced technology that allows you to capture images and convert them into 3D maps that you can store on the SD card.
The drone has a great and stable camera plus it travels up to 4.3 miles with a total travel time of 30 minutes. 
The only issue you will encounter is when you try to rig it with your fishing line.
You can try figuring something out with the wings but for stability purposes, you will likely need to purchase additional landing gear.
Chasing Dory 1080p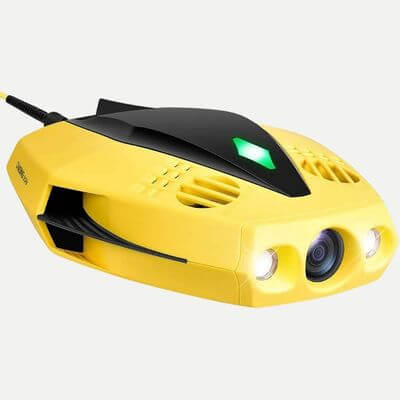 BEST UNDERWATER DRONE
Specs
Dimensions: 9.7 x 7.4 x 3.6 in.
Video Resolution: FHD 1080p
Max Flight Time: 1hr
FEATURED SPECS
This underwater drone is waterproof up to 49 feet in depth and it features a 1080p camera and dual 250-lumen headlights for great underwater exploration.
EXTRA FEATURES
Control it and see what's happening underwater directly from your phone for one full hour.
BUYING ADVICE
I would recommend using this for surveying water before fishing it. The drone will create a pretty big stir in the water so you'll want to survey for structure ahead of time.
Pros
Lightweight and easy to transport
Waterproof up to 49 feet
High-quality camera
Cons
The jury is out on saltwater usage
This is a pretty cool waterproof fishing drone that you can use to scope out new lakes and ponds before you decide to fish them.
If you're searching for underwater structure to identify honey holes, this would be the most effective and enjoyable way to do it.
Some people have issues navigating from the phone and it would be nice to have a remote control.
There's also concerns over use in saltwater, I would suggest just making sure you clean it very well after.
Swellpro Splash Drone 4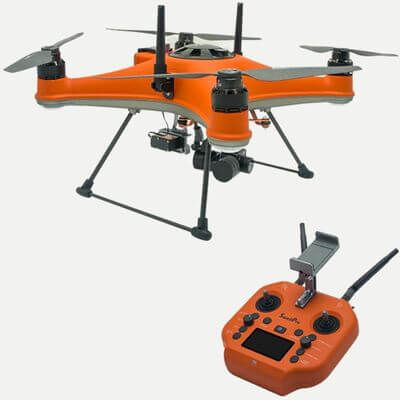 BEST WATERPROOF DRONE
Specs
Video Resolution: HD 4K: 3840*2160
Max Flight Time: 30 mins
Featured Specs
This fishing drone is one of a kind with 100% waterproofing of both the drone and the remote control.

You can wade the water while using this drone and travel distances of up to three miles while still getting an accurate representation of what's happening on and in the water.
Extra Features
The SplashDrone 4 comes with a built-in GPS that can set coordinates and travel directly to and from them with the push of a button.

It also features a powerflip option that allows you to automatically flip the drone over if it falls upside down in the water.
Buying Advice
If you want to combine the elements or artistry and photography with the world of fishing, I would highly recommend getting this fishing drone.

It's in a league of it's own in terms of video and picture quality while also offering optimal payload so it's not just for show, you can actually catch some pretty big fish and create cool content around it.
Pros
100% waterproof and corrosion resistant for saltwater fishing
4.4lb payload for catching larger fish
8-hr battery life and 30-minute flight time total
Cons
Why We Chose It
50-150 words about why you chose to recommend this product and what you like about it especially as it relates to the category that it was tagged with.

For example, if you chose it for the "best trout rod for beginners" why is it the best for beginners?

Highlight why the product is in that best category. For example "best overall" "best value" "easiest to carry" "most resistant" "best extra features" "Budget option". Make sure each product has 1 of these attributes.

When choosing products, use sources like Quora and Reddit as opposed to reading our competitors
This is one of the only drone companies on the market that specifically designs their units for fishing.
This drone comes with complete waterproofing that allows you to actually float the drone around the water and capture images and videos of what's happening beneath the surface as you fish.
If you're a fishing content creator and you're trying to figure out ways to level up your game, this is a pretty hefty investment that should find a way to pay for itself pretty quick.
I highly recommend checking out this fishing drone.
DJI Mavic Pro Quadcopter with Fly More Combo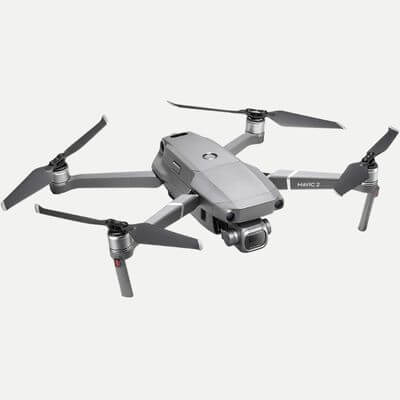 BEST DRONE BUNDLE KIT
Specs
Dimensions: 8.4×3.6×3.3 in.
Video Resolution: 4k
Max Speed: 44mph
Max Flight Time: 31mins
FEATURED SPECS
This bundle includes the original DJI Mavic 2 Pro with all the normal pieces of gear plus a long list of accessories to go with it.
EXTRA FEATURES
Some additional pieces of equipment include three additional batteries, a power bank adapter, shoulder carrying bag, waterproof case, landing pad, gear extension, signal reflectors, and video/photo transfer USB card reader.
BUYING ADVICE
The bundle is worth it because of the 64GB SD card and two additional batteries. The batteries will keep you going on long fishing trips and the cost is minimal compared to the drone itself.
Pros
The bundle comes loaded with additional gear
Drone quality is unmatched in general
Landing pad is a nice safety feature
64GB SD card is great for live video capturing
Cons
Some pieces of equipment could be considered optional
The DJI Mavic 2 with the Fly More kit comes loaded with a variety of accessories and additional gear that will help you save money by spending a little more upfront.
The two things I think that are completely necessary are the extra batteries and the 64GB SD card for smooth video capturing.
For what you pay for this premium drone, the added cost isn't that much.
How to Choose the Best Fishing Drone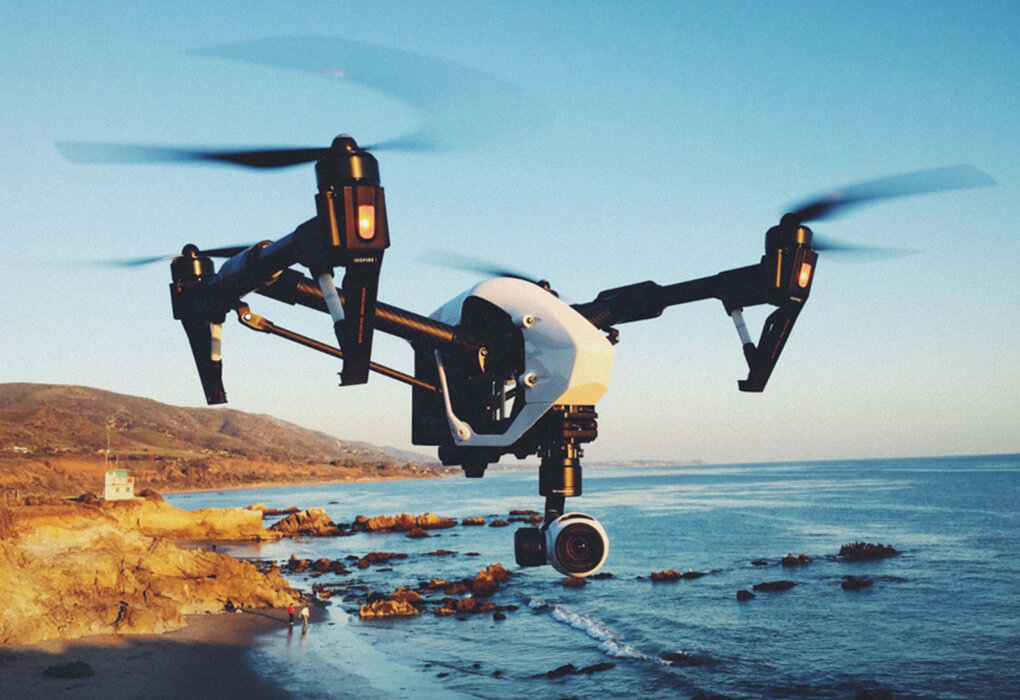 We looked at some of the best drones for fishing, now we need to determine how we're going to settle on one.
Keep in mind that, while all of these drones used for fishing work in a variety of applications, they're great choices for all types of fishing. 
But, some are better in certain scenarios, fishing styles, techniques, etc. This section will help you figure out which is the best one for you.
Camera
One of the most important features will be choosing a fishing drone with a camera.
The main purpose of using drones for fishing is scoping the area out, identifying ideal fishing spots, and seeing what's happening down near the water.
If you have a low-quality camera, you're not doing yourself any favors. 
There are a few things to consider with a drone camera. Resolution is the first factor to look for. Most of the drones recommended above have at least a 1080p HD camera with video recording as well.
This seems to be the standard and they improve from there. Some even have up to 4k camera resolution so it doesn't seem like you'll have to worry too much. 
Bear in mind that you're not trying to capture Instagram worthy images (or maybe you are). If you're trying to get a drone that serves two purposes, you might want to pay a little more attention to the camera you choose. 
If you're using this drone strictly for fishing assistance, the camera won't carry quite as much weight.
There is one other important factor and it's the stabilizing system that holds the camera. All drones use a gimbal that allows you to freely control the camera separate from the drone itself.
So, as you're flying over the water, you can rotate the camera, point it up or down, and snap pictures as you're moving. 
You want to make sure that the drone you choose uses a high-quality stability control method so you can clearly see what's happening.
If the gimbal is shaky or it vibrates, you won't be able to get good video or picture quality. Based on my research and reviews from others, all the drones recommended above pass this test. 
Battery Life/Distance
The total distance your drone can travel, paired with its total battery life is another important factor we need to bear in mind.
The battery life refers to how long you can fly the drone before you need to land and either change or charge the battery. 
This is important because you might be fishing for eight hours and very few (if any) drones will supply you enough battery power to make a whole day of fishing.
So, getting the longest battery life will allow you to scope out the water, take photos, and put together a plan before having to ground the drone for a recharge. 
On a different note, distance is another fish drone essential. Some drones can travel for miles from the pilot while others can only go a couple of thousand feet.
Most drones have compatible transmission boosters that will allow you to go further but just adds another accessory that can break down and an added cost. 
I would consider what type of fishing you plan on doing with the drone. If you're only scoping out rivers, lakes, and ponds you can go with a short-range drone because you're not going that far.
In offshore fishing, you could travel long distances and may require a bit more range. Just keep that in mind as you decide on a drone. 
Payload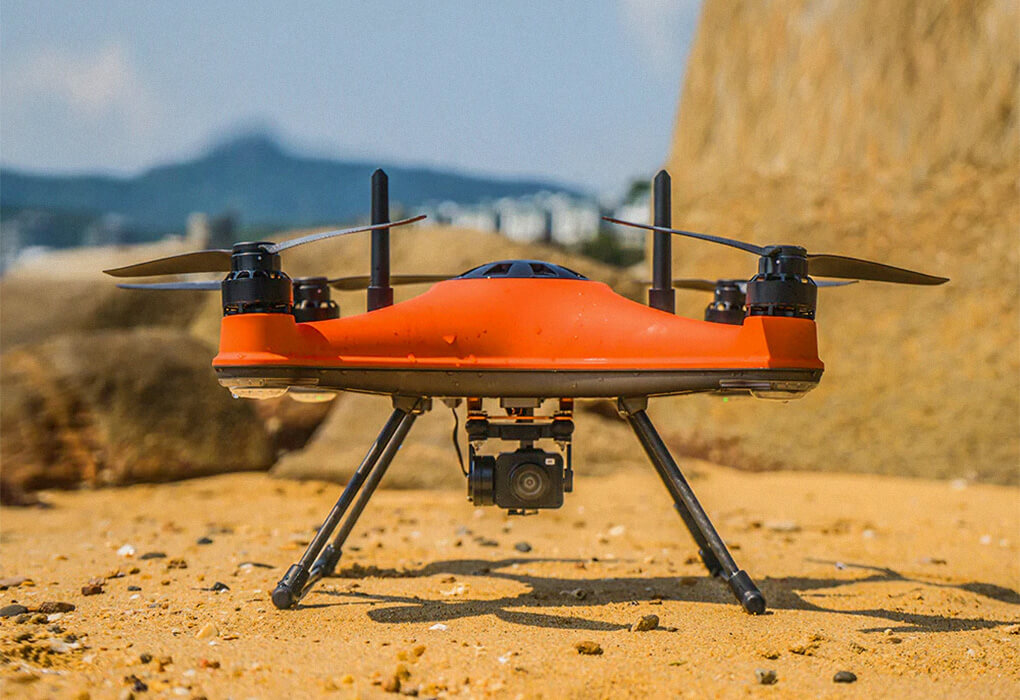 Your drone's payload is how much weight it can carry while still flying reliably and safely.
With a drone fishing rig, this is an important factor because you'll be carrying your lure, release mechanism, the lines drag, and potentially sinkers too.
This can add up to as much as a full pound or two when you factor in the drag resistance. 
Many drones don't offer a payload and they don't recommend using them for that purpose so you might be on your own when it comes to determining how much weight the drone can hold.
I recommend testing it out well before you plan to hit the water and go with drones that have a track record of use in fishing.
All the options recommended above are used for fishing so you know they'll be able to carry some weight. 
Also, bear in mind wind resistance and how all of these factors combined will diminish your flying time because they'll drain the battery faster.
Waterproof
The best drone for fishing will be waterproof but unfortunately, it seems like drone manufacturers have had a hard time getting this right.
Many "waterproof" drones don't protect all the essential elements of the drone which is misleading and frustrating for people who buy them. 
As a result, the waterproof drones on the market aren't that well recommended by the fishing community.
The only real waterproof drone for fishing is the floating drone submarine-style option which is great for scoping out the water, but it's also great for scaring away the fish. 
As you review some of the dedicated fishing drones reviewed above, you'll notice that many of them have extremely poor reviews due to inconsistent performance.
If you decide to purchase one of those, I would recommend fully understanding the instructions, doing plenty of testing ahead of time, and ensuring that you're taking all the necessary safety precautions before flying over the water.
Ease of Use
One important factor that many of you need to keep in mind is, we're fishermen(women) not drone pilots. I don't know about you but, I need something that isn't overly complicated because I don't need it to be.
I need a stable drone, with a decent camera, great battery life, and a solid interface so I can easily see what I'm doing.
I suggest you take on the same attitude. If you go with something that has too many bells and whistles you'll end up complicating the process which will lead to damaging the drone or ruining it for good.
It should be easy to take off and land. Also, make sure that the bait release and payload release process is straightforward. 
All the drones recommended above are some of the most popular on the market for both beginners and experts alike.
They don't have steep learning curves and their instructions are clearly outlined to make it easier for you to learn.
How to Use a Drone for Fishing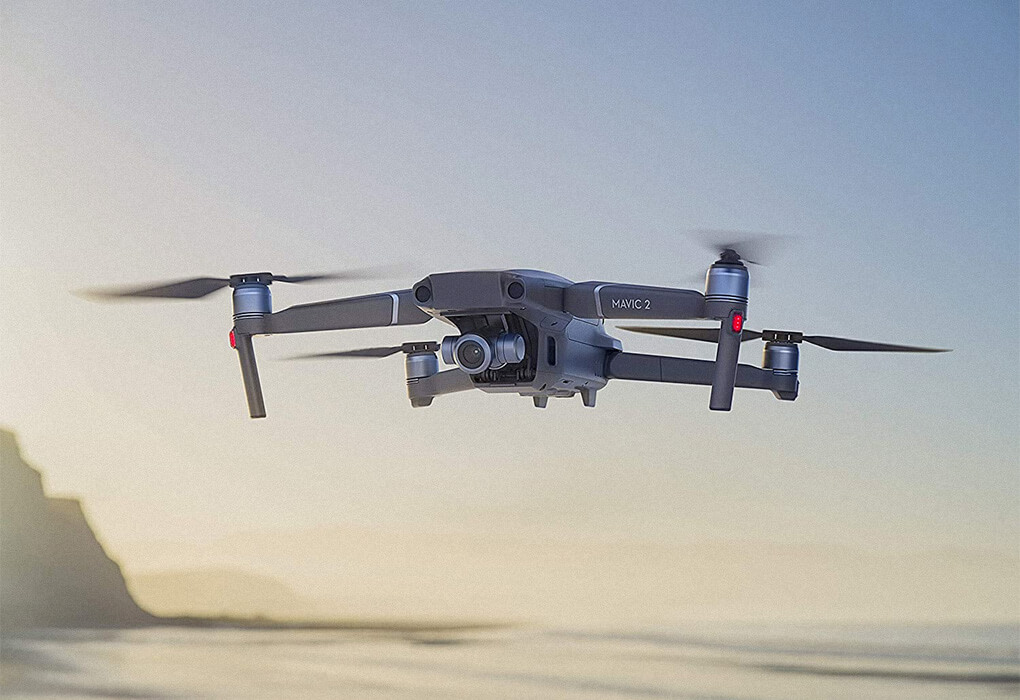 If this sounds foreign to you, this section should clear things up. Besides the very few drones that carry their own payload, most will require you to rig the drone with a downrigger release mechanism.
This is essentially a pin that you'll run your line through so the drone carries your baited line out to wherever you want to fish. You'll release the bail on your reel so the drone flies out to where you want to drop the lure.
Then, when you've reached your ideal spot, you'll close the bail, fly a few more feet and the release mechanism will drop your lure and you will fish as normal.
So, the question is, why would anyone want to spend $1,000+ to fish with a drone? 
I see a strong advantage on the research side of things. If you're the type of angler who really likes to find the best fishing spots you can save a ton of time and likely have a lot more success on the water this way.
You can use the drone to identify ideal fishing locations based on weed beds, stumps, docks, overhanging trees, and more. I would use these to put together my own personal map of the lake I'm fishing.
I'll identify multiple spots where I want to fish with specific lures, jot them down, and make sure I put together an action plan for the day.
Some drones even make it possible to put together a map using 3D topographical mapping technology.
You also have underwater drones that make it even easier to identify the best spots.
You can find drop-offs, underwater weed beds, and structure and make personal notes of where they are so you can come back later when the water settles down. 
Frequently Asked Questions
What is drone fishing?
Drone fishing is the act of using a drone for both researching and casting.
Some people use them to scope out the water to find ideal fishing locations, potential obstructions, and structure while others use them for casting.
Casting with a drone involves using a release mechanism and the reels drag to pull the line out and trigger the mechanism. 
What makes a good fishing drone?
You need one with a decent camera, strong stability for taking pictures, ease of use if you're not a drone expert, and it needs to have a long battery life for plenty of fishing.
Keep in mind the payload as well as you'll be carrying lures and weights. Size is another important factor because you'll want a drone compact enough to fit inside a fishing backpack. 
If this is your first time looking at drones, going with brand names is a good choice too. Brands like DJI, Autel, and Gannet produce high-quality products and most are available on Amazon.
What are the benefits of drone fishing?
The biggest benefit is that it will help you catch more fish.
Now instead of trolling the water for an hour trying to find the best spot to drop your line, you can stand on the shore or sit in your boat and let the drone do this for you.
Plus, it's a lot of fun!
Final Thoughts
Drones are becoming a popular part of many different industries and fishing is one of them. If this is something that's been on your mind for a while, it's time to give it a shot.
The best fishing drone is calling your name and if you choose wisely, it can really take your fishing to another level. Have fun! 
By the way, if you end up purchasing any of the drones recommended above, please drop a comment with a short review of which one you bought so we can help others choose!