---
We independently research, test, and recommend the best products; you can learn more about our review process here.
There are tons of fishing subscription boxes out there. They differ widely, however. Some are general fishing boxes with a little bit of everything, while others are centered around a particular type of fish.
The best fishing subscription box depends largely on what fish you're targeting. If you mostly fish a single species, you'll benefit most from a box centered on that species.
For those that like catching a little bit of everything, a more multispecies box is the way to go.
We've reviewed some of our favorite boxes below. On top of a general option, we've also reviewed one for bass, saltwater, and trout.
Top 3 Fishing Subscription Boxes
| | | |
| --- | --- | --- |
| Best for Bass | Best for Saltwater | Best for Trout |
| Monsterbass | Coastal Salt Box | Postfly |
---
Best Overall Fishing Subscription Box
Mystery Tackle Box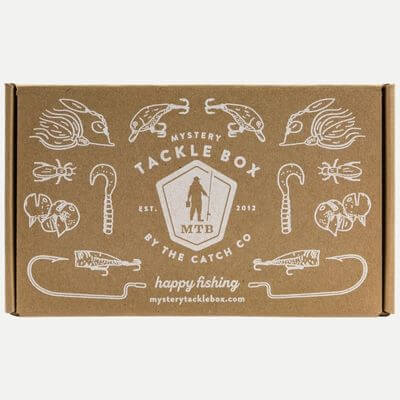 Specs
Cost: $9.99 – $39.99/month
Value: $25 – $60 of gear
What's Included?: Lures, Tackle, and other "Fishing Stuff"
Pros:
Wide-range of different products included
Information on how to utilize all items in the box
Several different tiers are available
Great value
Cons:
The Mystery Tackle box allows you to choose from several fish species, including bass, walleye, and trout. You can also select generalized boxes, including some designed specifically for saltwater.
Each monthly subscription box includes a range of lures, tackles, stickers, apparel, and other fishing-themed stuff.
Several different tiers are available, depending on how much gear you want. Only certain species are available in the different tiers. For instance, the lower tiers have many different species, but the elite box has fewer to choose from.
You can pause or cancel your subscription at any time. Shipping is free, and there is tons of information on the website about using all the different lures in the box.
Best Bass Fishing Subscription Box
Monsterbass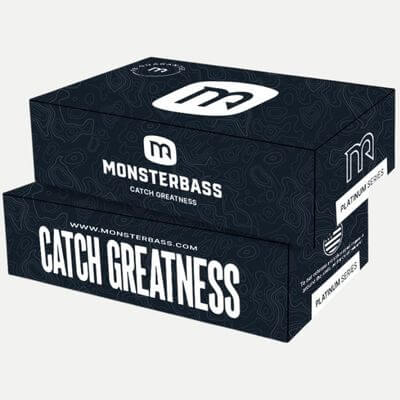 Specs
Cost: $20 – $38/month
Value: Around $50
What's Included?: Bass lures specific to your region
Pros:
Custom box based on your location
Curated range of lures
Several bass species provided
Excellent customer service
Cons:
When signing up for the Monsterbass box, you'll fill out several questions, such as your location, skill level, and fishing style.
Then, each monthly box is curated based on your answer to each question. Therefore, you'll receive exactly what you need to fish bass in your area.
You'll find many guides and tutorials on their website, as well. If you get a bass lure you don't know how to use, you can often find directions online.
The company offers several tiers. The most basic tier offers 5+ lures and baits for bass. The higher the tier goes, the more lures you'll receive. Higher tiers also get other benefits, like free bait and gift cards.
Best Saltwater Fishing Subscription Box
Coastal Salt Box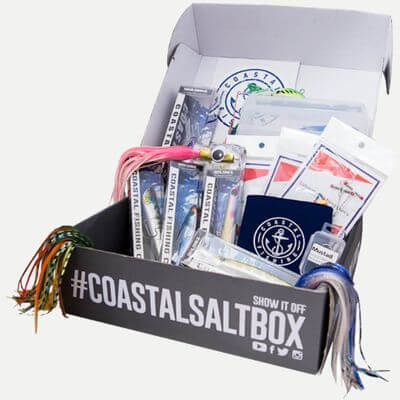 Specs
Cost: $30 – $70/month
Value: $50 – $150
What's Included?: Premium gear for saltwater anglers
Pros:
Personalized to your region and season
Several different tiers available
Skip a month at any time (or even double up)
Products from top brands
Cons:
The Coastal Salt Box provides gear specifically for saltwater anglers. Depending on your budget, the company offers three boxes for you to choose from.
While all the boxes have the same gear, higher tiers provide more of everything and offshore gear. According to the company, the box value is about double what you pay.
In my experience, the box includes mostly lures, hooks, rigged lines, and similar items. Each box is personalized to your region and the current season.
You can also choose back bay or inshore fishing. Higher box tiers offer offshore saltwater fishing, too. Therefore, not everyone will receive the same thing.
You can cancel, skip, or pause your order at any time. You can double up one month (perfect for gifting to your fishing friends).
The box is always delivered at the end of the month, and shipping is always free within the United States.
Best Trout Fishing Subscription Box
Postfly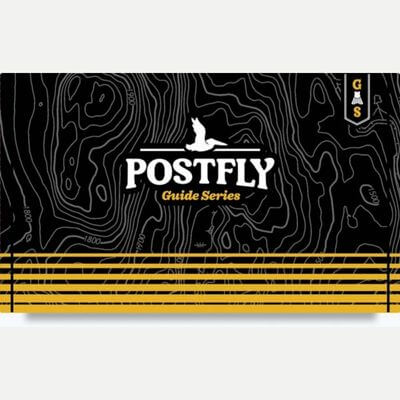 Specs
Cost: $28 – $50/month
Value: $50+
What's Included?: "Everything you need," including flies and gear
Pros:
Several species are available, including trout
Three tiers
Several stand-alone boxes are available
Exclusive gear in the top-tier box
Cons:
For trout anglers, the Postfly box includes everything you need to get fishing right away. The company claims that its boxes include "everything you need."
You can choose from several different tiers. Two tiers cost the same, but one is based on fly tying. You can learn a new recipe monthly with this box or select their "regular" fly fishing box.
Their top-tier box includes more of everything in the regular box and some premium flies. It's nearly twice as expensive as the other options, though.
You can select from several different species, including a more general "warm water" box. Each box includes flies and information on how to use them.
If you choose the fly-tying box, you'll get pre-portioned materials, one complete set, and everything you need to make several flies yourself. In the end, Postfly is easily the best fly fishing subscription box.
Factors to Consider Before Buying a Fishing Subscription Box
When you subscribe to a fishing box, you rely on the company to curate fishing gear. Luckily, these boxes often save you money, assuming you use everything in them.
Therefore, the key to choosing a quality box is to find one with items you'll use.
Of course, you also want a top-quality box with premium items for an affordable price. Let's look at each of these factors, in turn, to help you choose the perfect box.
Species
The first factor to consider when looking at a monthly fishing box is the species it is made for.
The Mystery Tackle box provides the choice of bass, inshore saltwater, panfish & trout, or walleye. Often, you can change the species at any time, allowing you to dabble in several different species if you choose.
Even the best tackle box subscription won't be helpful if you don't target the species it centers around.
Contents
Next, take a look at what the box includes. The best monthly fishing box will include tons of fishing gear, including lures, tackle, premium products, and fishing-themed items.
Preferably, the monthly fishing box contains a large enough range of items to ensure that there is something you'll use.
Avoid boxes that seem to contain more fish-themed items than fighting gear. Sure, a sticker or two can be fun. However, you don't want four out of the eight items in your box to be stickers.
Preferably, you want as many lures and tackle as possible.
Watch unboxing videos or look at reviews like ours for examples of what each box includes. Of course, fishing subscription boxes change monthly and depend on how you personalize them.
Therefore, you won't get exactly what is listed in the examples, but they will give you a good idea of what to expect.
Value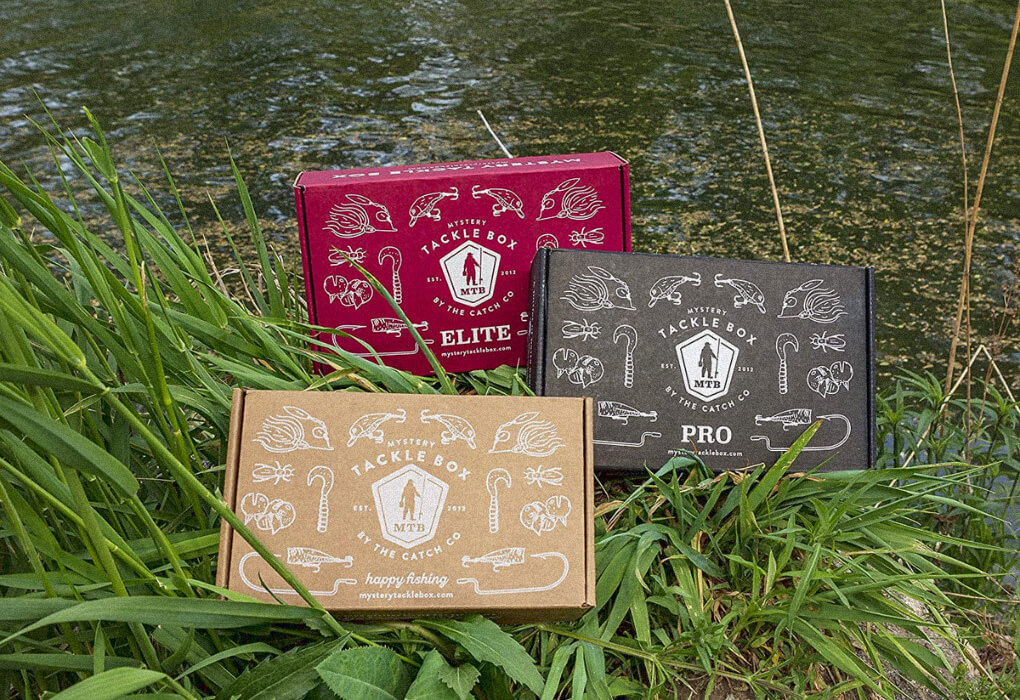 Most subscription boxes have a higher value than what you pay. Often, the company purchases lots of gear in bulk, allowing them to put it in boxes for less than the retail price.
Using a subscription box, you can save a lot on gear.
With that said, different boxes do have different values. Some may be about the same as what you paid, while others will be much more.
Of course, more value is always better. Just be sure that you will use whatever gear comes in the bag. Even if the value is great on paper, it largely depends on if you use all the gear in the subscription box.
Cost
You're the only one who knows your budget. Therefore, you should ensure you choose a box well within your budget.
Luckily, most subscription boxes have several tiers for you to choose from. Many boxes are around $20 for the lowest tier, while the more expensive boxes may be closer to $70.
You should choose the best box for your budget while considering the factors above.
Many boxes may provide discounts if you commit to several months or even a year. However, you cannot cancel these longer subscriptions, so you may lose money in the long run if your first box is lower quality.
Be sure to count for shipping, too. Many boxes provide free shipping, but others may charge you $8+ to get the box shipped.
Frequently Asked Questions
What is the best bass fishing box subscription?
The best bass fishing subscription is Monsterbass. This subscription box is customized to your specific region and your target bass species.
There are several tiers available, depending on your budget and needs.
What are the benefits of a fishing subscription box?
The main benefits of getting a monthly fishing box are the high value of the items in the box. You also discover new items you may not have gotten otherwise.
Many people also love the surprise of getting a box each month. 
How much is the monthly cost of a fishing box?
Monthly fishing boxes may cost as low as $20, while others cost as much as $70. Most companies offer several tiers, allowing you to choose whichever one fits within your budget.
Cheaper boxes often include fewer items but may also include lower-quality items. At the same time, more expensive boxes often include more lures and premium gear.
What is the best fishing box for beginners?
The best fishing box for beginners depends on what species you target. For many, the Mystery Tacklebox is a good option, as it allows you to choose from various species.
Beginners can change their species anytime and dabble in a few different options.
Final Thoughts
There are many different monthly bait clubs out there.
Most boxes cater to a specific species or type of fishing, though, so it's important to look carefully at what each box does. The best box for you is one that caters to your specific fishing style and favorite species.
For many, we recommend the Mystery Tacklebox. It includes many different species to choose from and high-quality items.
You can switch species at any time or stick to your favorite. For many, this is the best fishing subscription box.
We also included several options targeting the specific species above. If you're a bass angler or saltwater fisherman, we've included boxes above that may suit you.