---
We independently research, test, and recommend the best products; you can learn more about our review process here.
While many people fish without fish grippers, I've found them extremely useful when handling fish. The best fish grippers make it much easier to hold and control a slippery fish.
Plus, if you're fishing for anything with teeth, you absolutely need to have fish grippers. Getting bit is never fun.
There are many options on the market, but the Boga Grip 30 lb Fishing Tool is my favorite.
It's made of high-quality materials, and the scale is second-to-none. It's one of the more accurate fish scales I've used, and it comes on a quality lip grip.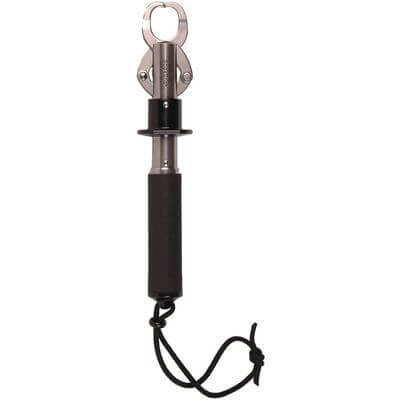 Boga Grip 30 lb Fishing Tool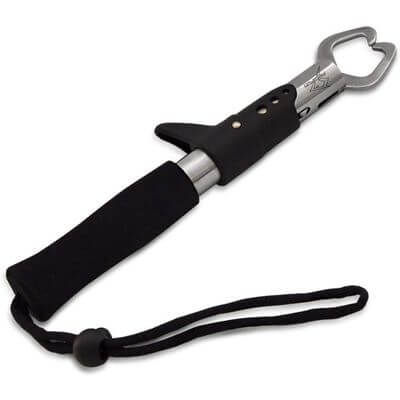 Piscifun Fish Lip Gripper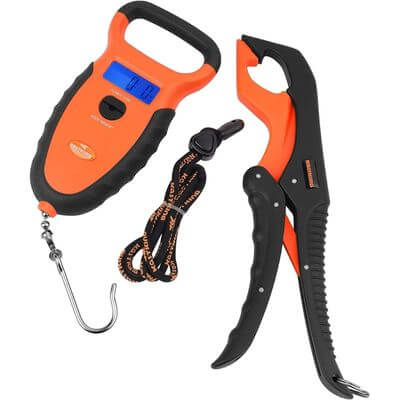 KastKing Madbite Fish Lip Gripper
---
Methodology
You'd imagine that finding a good pair of fish grippers would be easy, but this isn't the case. I tried out many fish grippers before I settled on one that I actually liked to use (and that held up).
I particularly wanted one with a scale, but found that the vast majority of fish grippers with built-in scales are inaccurate. Luckily, I was able to find a few that met my needs, and they'll probably meet your needs, too.
I've also handled plenty of fish grippers that belonged to other anglers, so I've used my fair share. I was surprised by the huge variety of fish grippers out there. Some are very simple, while others have all sorts of extra features.
I personally like the more complicated options. However, I know many anglers that prefer simpler grippers, so I included several in my review, as well.
Best Fish Grippers Overall
Boga Grip 30 lb Fishing Tool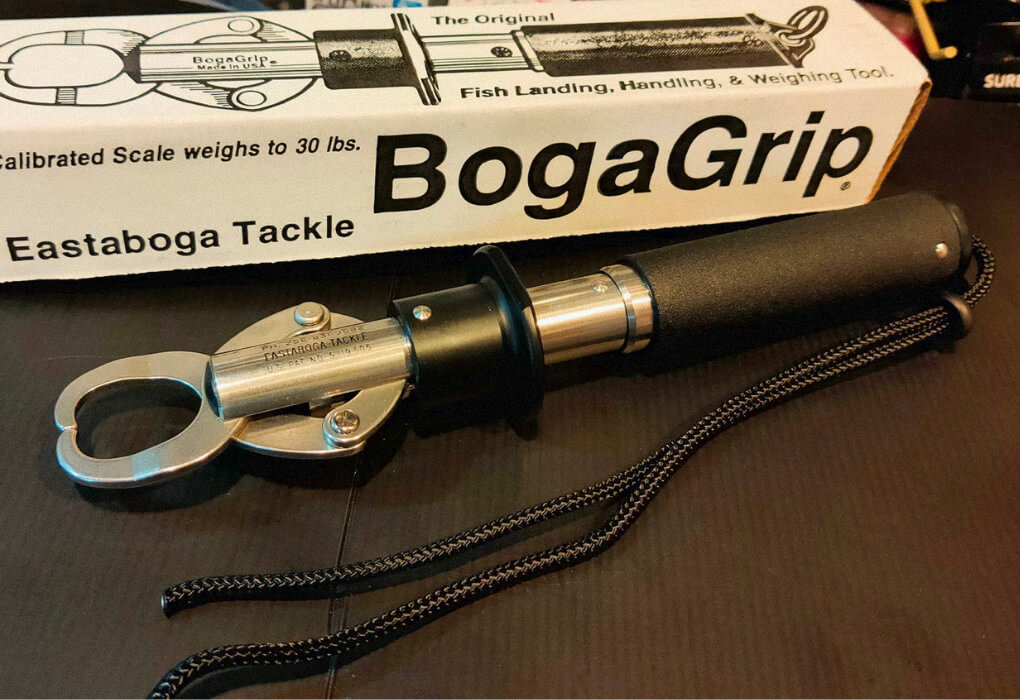 Specs
Weight Capacity: 30 pounds
Length: 10 inches
Why We Chose It
The Boga Grip 30 lb Fishing Tool is my favorite fish gripper. I prefer this fish gripper when fishing for alligator gar, which are an invasive species in my area.
They will bite and can get up to several hundred pounds, so these fish grippers will at least help me out on the smaller fish.
The fish scale is very accurate in my experience. I don't often weigh my fish on a different scale, as this one is plenty accurate.
The secure grip helps me hold onto the fish even when everything is soaking wet. Once you catch an alligator gar, it is illegal to release them. Therefore, ensuring that I'm not going to drop the fish accidentally is vital.
The stainless steel material is extremely durable. My gripper is quite beaten up (and no longer as shiny as it was). However, it still functions as well as the first day I got it.
I love the locking mechanism on this fish gripper. It prevents the fish from slipping out of the grippers. However, it does add some complexity to the grippers.
My grandfather is more traditional and prefers simpler grippers.
Best Fish Gripper for Under $10
Piscifun Fish Lip Gripper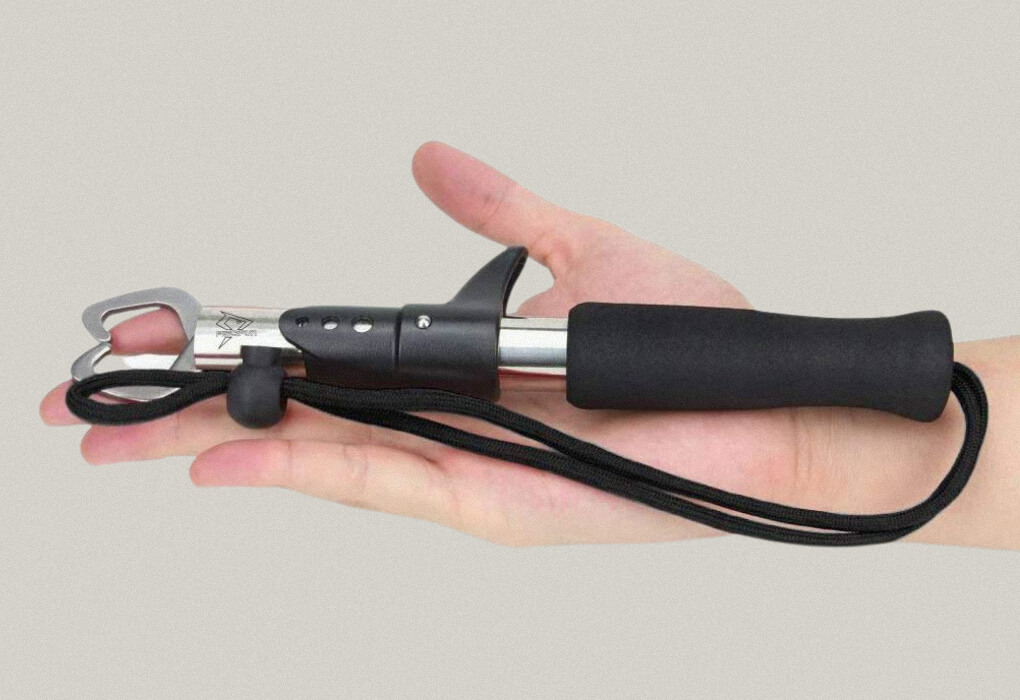 Specs
Weight Capacity: 8.5 pounds
Length: 8.6 inches
Why We Chose It
For those on a budget, the Piscifun Fish Lip Gripper is under $10 and still works well for many anglers. They have a lower weight capacity at only 8.5 pounds, so you can't use them for big fish like big catfish.
If you're targeting a smaller species, though, this fish holding tool works perfectly fine.
Their smaller size makes them very lightweight. You can transport them easier, and they're also a better option for children.
Despite their cheaper cost, they're made from aluminum. Therefore, they're corrosion-resistant and durable.
Like most fish grippers, this pair features a non-slip handle. It's easy to hold onto – even when it's completely wet.
Many anglers prefer the simple design of these fish grippers. If you're used to more traditional grippers, I highly recommend these grippers.
They're so much cheaper because they're very simple without many if the extra features other fish grippers have.
Best Fish Gripper with Scale
KastKing Madbite Fish Lip Gripper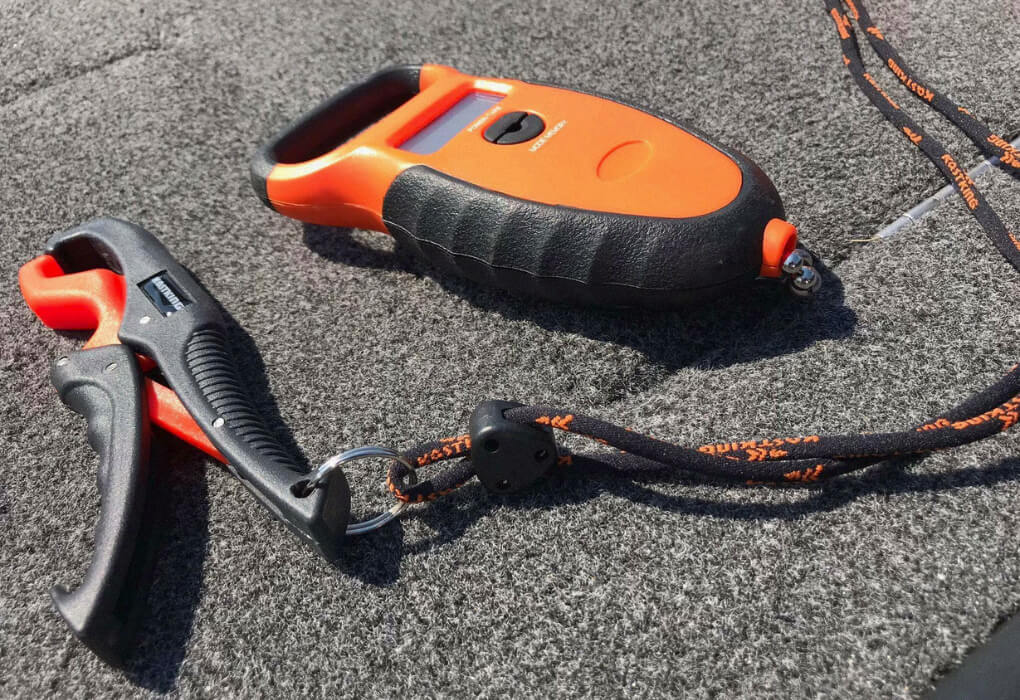 Specs
Weight Limit: 50 pounds
Length: 9 inches
Why We Chose It
KastKing is a fantastic brand. KastKing Madbite Fish Lip Gripper doesn't disappoint. It's surprisingly inexpensive and comes with a built-in scale.
(There is a version that doesn't have a built-in scale, so be sure to purchase the version that includes the scale.)
The scale is digital, so it requires a battery. However, the maximum weight for the scale is 50 pounds, which is higher than most options.
I like that it's made from stainless steel. This material is durable and corrosion-resistant. It functions well around water thanks to the stainless steel.
It has a comparable non-slip handle to the other fish grippers I've reviewed. It works even when the gripper is completely wet.
I found this gripper shorter than I'm necessarily comfortable using. It's great to use with the digital scale, but it's not as useful when handling larger fish.
The scale also wasn't as accurate as other scales. Therefore, unless you really want a cheaper fish gripper with a scale, I would recommend getting the top pick instead.
Best of the Rest
Entsport Fish Lip Gripper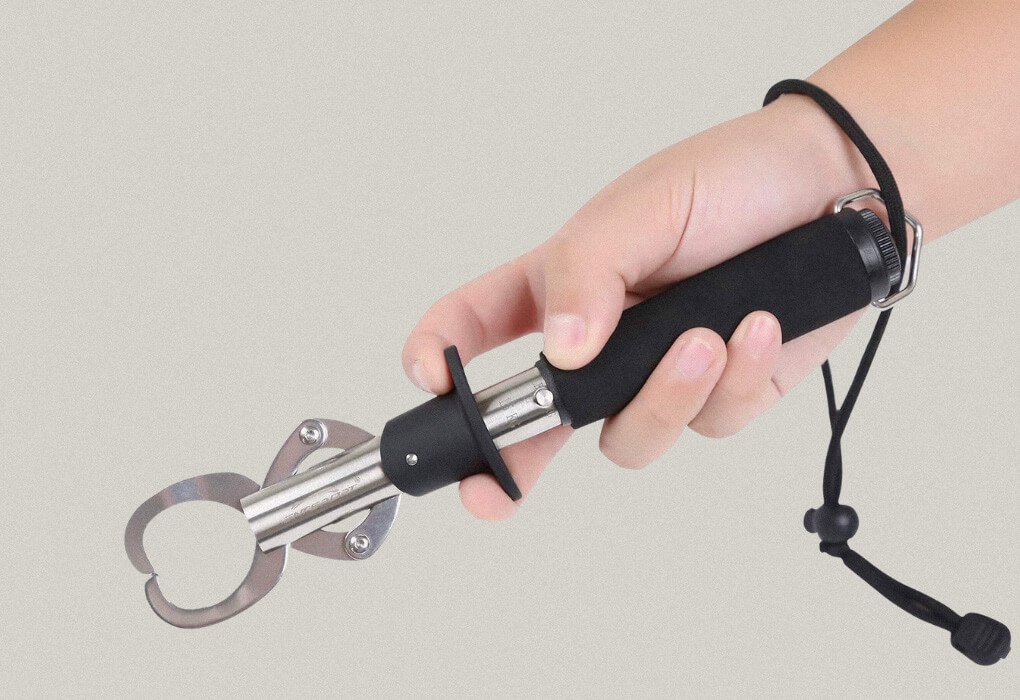 Specs
Weight Limit: 40 pounds
Length: 9.6 inches
Why We Chose It
The Entsport Fish Lip Gripper is my "runner-up budget pick". It's just over $12, making it cheaper than most options out there. I know several anglers who purchased this gripper largely due to its price.
It's made of stainless steel, so it's extremely durable for use around water. It doesn't corrode, even in saltwater. Plus, the non-slip grip makes handling it easy, especially when it gets wet.
It does have a built-in scale, which is hard to find at this price point. However, I did find the scale less accurate than other options. At the end of the day, I wouldn't rely on this scale exclusively.
This gripper is also just a little bit shorter than I'd like. I prefer a full 10-inch gripper, and this one is just below that.
Rapala 9 Inch Fish Gripper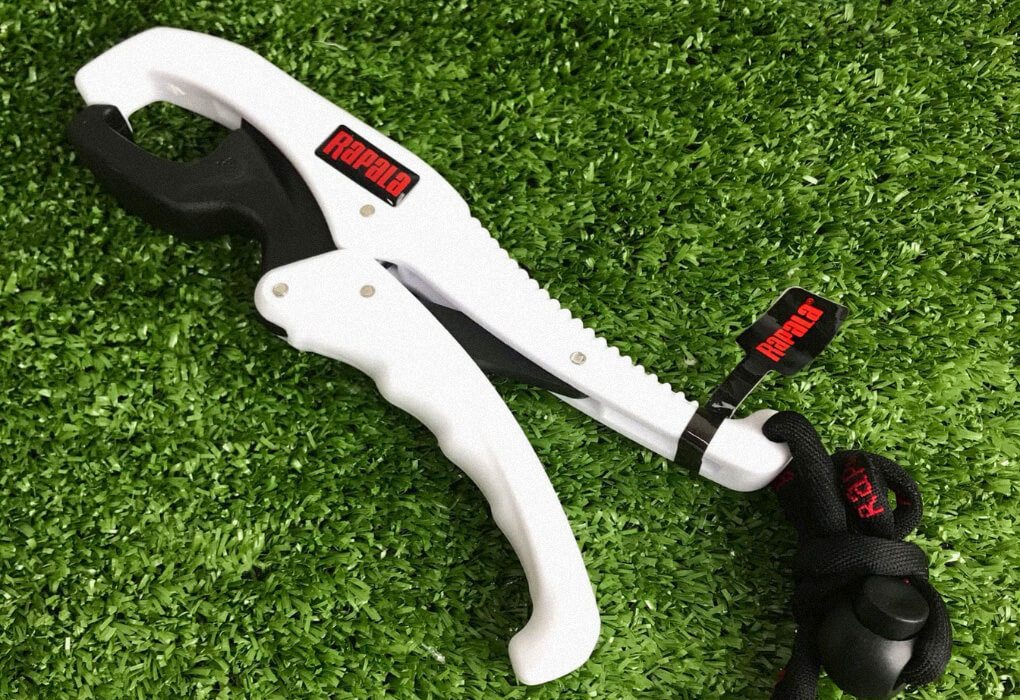 Specs
Weight Limit: Around 20 Pounds
Length: 9 inches
Why We Chose It
The Rapala Fish Gripper is quite popular, which is one reason I chose to review it for this article. However, it isn't my favorite gripper, though it may get the job done just fine for some anglers.
The stainless steel construction gives me confidence that this gripper will last a long time. It won't corrode when exposed to water thanks to the material.
The non-slip grip is comparable to other fish grippers. It helps you hold onto the gripper with a frisky fish on the other end.
One of the things I appreciated about the Rapala Fish Gripper was the locking mechanism, which kept the jaws securely closed around the fish's lip.
On a recent fishing trip with a friend who owns this gripper, the locking mechanism made it easy to transport the fish and kept it from flopping around while we took photos.
The wrist lanyard was also a nice touch, as it kept the gripper handy and prevented me from accidentally dropping it in the water. (With that said, I do find these lanyards a bit annoying, so I don't tend to use them as much as I should.)
However, the gripper's jaws don't open very wide. Therefore, it doesn't work well for larger fish.
Furthermore, the company hasn't listed a weight limit, but it seems to work.
It's absolutely for lower-weight fishfine up to 20 pounds. It may work for 30 pounds, but I wouldn't use it for anything over that.
Factors to Consider Before Buying a Fish Gripper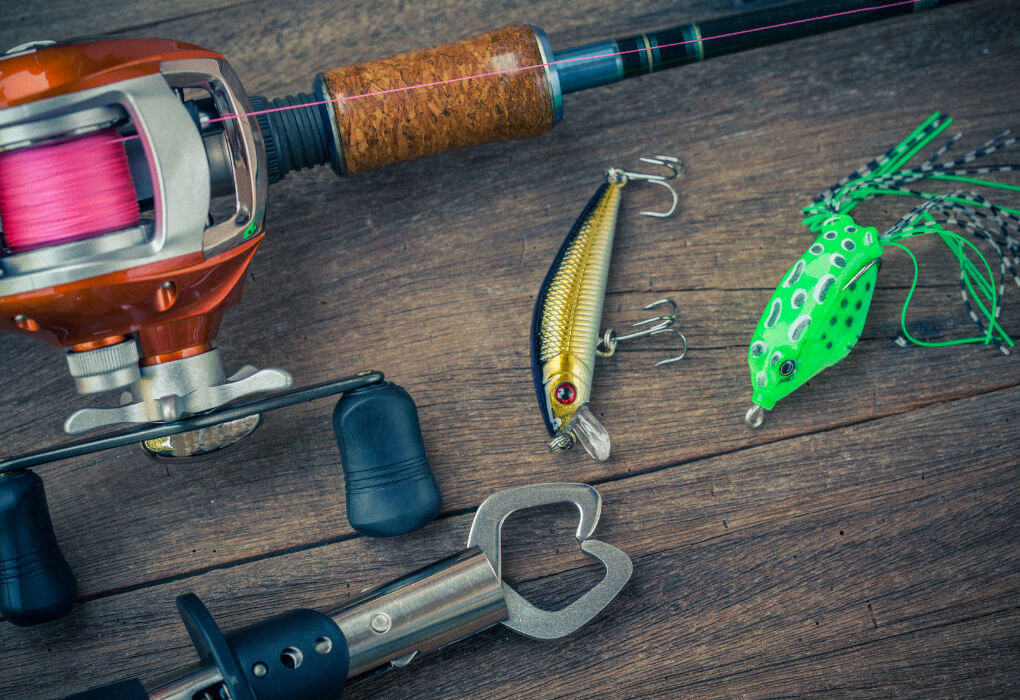 Before you purchase a fish gripper, there are several different factors you should consider. Take a look at this buying guide to help determine which options are best for you:
Maximum Weight
Most fish grippers have a maximum weight. If you're targeting larger fish, you need to get a fish gripper with a higher max weight. Ensure that the gripper can hold the size fish you're planning on catching.
Material
Choose grippers with a durable material, like stainless steel. You want to select a material that is corrosion-resistant, especially if you're fishing in saltwater.
A plastic fish gripper isn't usually the best option. However, they do float, which is a nice plus. You may want to consider them for freshwater fishing.
I like the idea of having something that can float. However, in practice, I prefer an aluminum or stainless steel option.
Size and Weight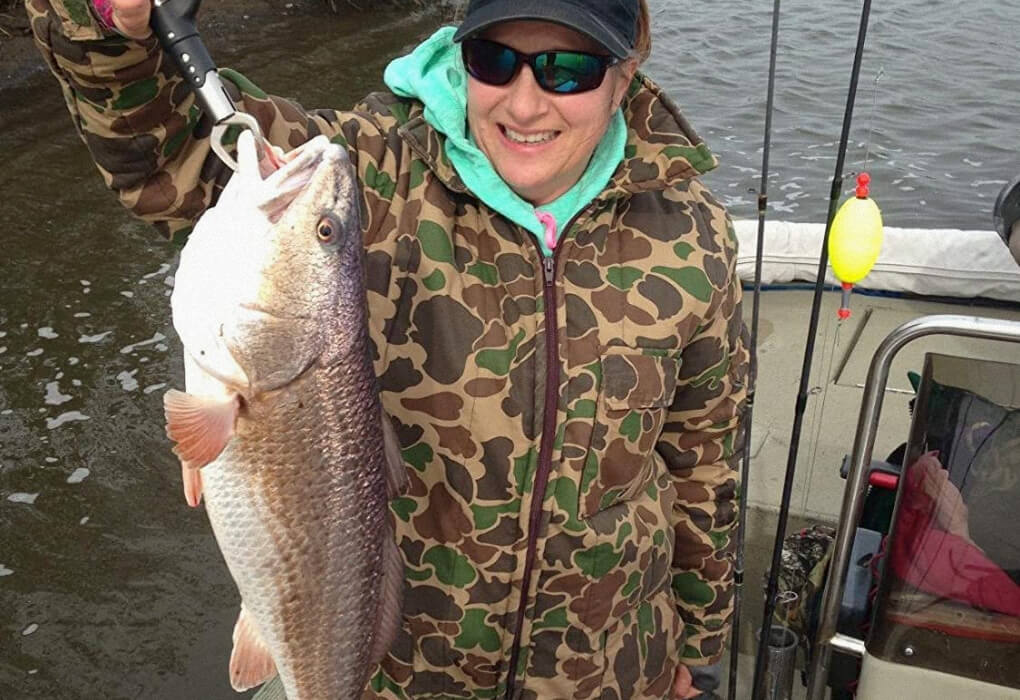 You'll need to take your fish grippers with you on every fishing trip, preferably inside your tackle box with everything else. Therefore, be sure the grippers are light enough and small enough to take with you.
I've handled some fish grippers that are absolutely too big to be practical.
Price
We'd all like price to not matter, but it does for most anglers. I included fish grippers at many different price points above so that you can select one for your budget.
You can find some fish grippers for less than $10, so there is no reason not to have one.
However, more expensive options tend to be heavy-duty and ergonomic. Combo fish lip grabbers also tend to be more expensive.
Extra Features
Many fishing grippers will have scales built-in. Some even double as fishing pliers. These often cost more, but they can reduce the number of tools you need.
Frequently Asked Questions
Do Fish Grippers Hurt the Fish?
Fish grippers don't hurt the fish when put on correctly. Be sure you understand how to use the fish grippers before using it on a live fish.
When used properly, fish grippers can actually improve the recovery of fish – even above the use of fishing nets.
What Are the Different Types of Fish Grippers?
T-style grips, floating plastic fish grips, and pistol grips are the most common types of fish grippers.
Each of these has its own pros and cons, so you should research each type before settling on a fish gripper to purchase.
What is the Best Fish Gripper?
The Boga Grip 30 lb Fishing Tool is by far the best fish lip gripper out there. They have a built-in scale that allows you to weigh fish up to 30 pounds.
Furthermore, they're very durable thanks to the material.
Final Thoughts
Fish grips are necessary when targeting anything with teeth. However, I prefer to use them for just about any larger fish, as they make the floppy fishing much easier to control.
They're especially useful in tighter situations, like kayaks.
Therefore, you should consider them a vital piece of fishing gear.
If you have the extra cash, I highly recommend the Boga Grip 30 lb Fishing Tool, which I rated as the best fish grabbers. However, I reviewed four other cheaper options above, too.
Have a favorite pair of fish grippers that isn't included on the list above? Let me know what they are so I can give them a look!