---
We independently research, test, and recommend the best products; you can learn more about our review process here.
There comes a time in every young angler's life where he gets "shiny object syndrome." Folks, that was me when I first laid my eyes on the Humminbird Apex. They don't call it "apex" for nothing.
This unit boasts a display unlike any other with amazing screen resolution, crystal clear imaging, and buttery smooth controls. If you wanted to fish and feel like Elon Musk at the same time, this is how you'd do it.
After decades of fish finder testing and talking with plenty of pros, we've settled on the Humminbird Apex as one of the best fish finders ever made. After I spent a few hours on the water with this bad boy, it was love at first site.
In this Humminbird Apex review, you're going to learn how we came to that conclusion.
Overview of the Humminbird Apex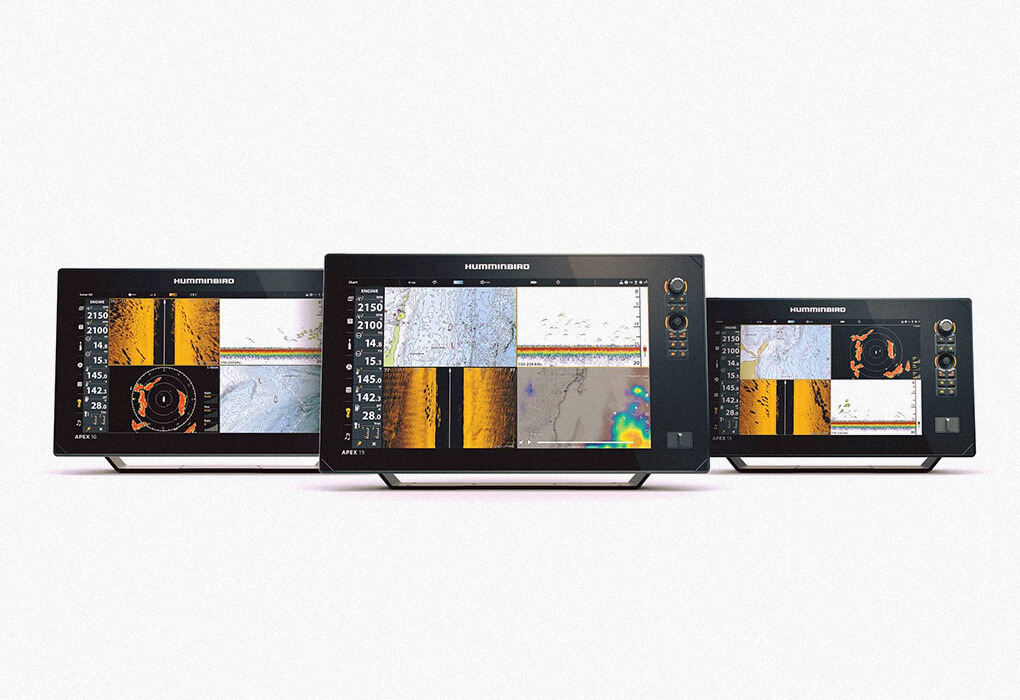 Pros
Unbelievable 1920 x 1080 full-HD cross touch interface
Massive 18.5" low profile display
Loaded with MEGA+ down and side imaging
Inshore and offshore mapping with Bluetooth
Cons
High price tag
Low profile design intended for in-dash flush mounting only
| | | | | |
| --- | --- | --- | --- | --- |
| Model | Screen Size | Depth | Frequency | Check Price |
| Apex 13 | 13.3" | 1200/3500' | 50/83/200/455/800 kHz | Bass Pro |
| Apex 16 | 15.6" | 1200/3500' | 50/83/200/455/800 kHz | Bass Pro |
| Apex 19 | 18.5" | 1200/3500' | 50/83/200/455/800 kHz | Bass Pro |
This top-of-the-line fish finder hit the water in 2021 and quickly became a favorite of mine.
Compared to other Humminbird fish finders, the Humminbird Apex stands out for its advanced features and impressive performance.
It boasts a range of features that help anglers find fish more easily, making it a great investment for serious fishermen.
Hence the words, "serious fishermen."
For the team at Anglers.com, I think this is a great unit because we're out on the water every week for 50 weeks per year.
But for those who are simply weekend warriors? It might be a bit overkill.
This is a primo unit that comes with a hefty price tag so it's definitely geared towards someone who is seeing this as an investment in the future of their fishing.
The main thing that stands out right away about the Apex when compared to previous models is the low-profile sleek design. The unit itself is less than 2 inches deep so it's great when installed into the dash of a bass boat.
It also comes with a gimbal mount so there are a number of options based on the type of boat you're fishing from.
All in all, this is a sharp upgrade from Humminbird's other models, the Solix and Helix.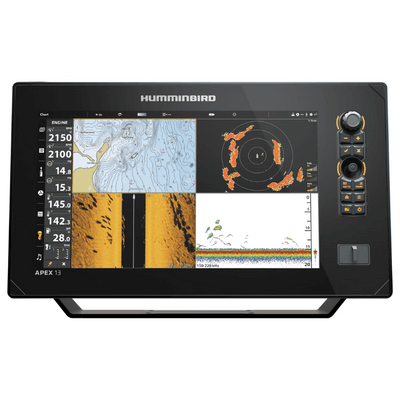 Humminbird Apex 13
Screen Size: 13.3"
Depth: 1200/3500'
Frequency: 50/83/200/455/800 kHz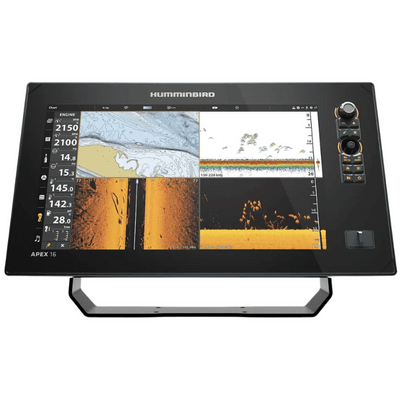 Humminbird Apex 16
Screen Size: 15.6"
Depth: 1200/3500'
Frequency: 50/83/200/455/800 kHz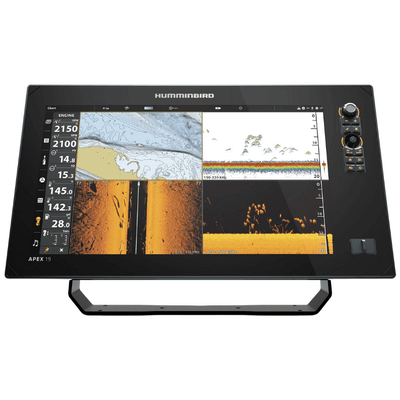 Humminbird Apex 19
Screen Size: 18.5"
Depth: 1200/3500'
Frequency: 50/83/200/455/800 kHz
Things to Consider Before Buying a Fish Finder
Before going out and investing in a fish finder of this quality, you'll want to make sure it's going to be worth it.
After talking to quite a few experts about the Humminbird Apex, I determined that these are the most important factors that go into buying a fish finder.
Sonar Type
The type of sonar that a fish finder uses will affect how well it can detect fish and underwater structures. There are three main types of sonar: traditional 2D sonar, CHIRP sonar, and side-scan sonar.
Traditional 2D sonar is the most common type and provides basic information about what's under your boat. You'll only find this on cheaper units.
CHIRP sonar, on the other hand, provides highly detailed images of the water column and the fish within it. Side-scan sonar provides detailed images of the seafloor to help you locate underwater structures and fish hiding spots.
Chirp, side, and down scan are the popular options you'll find in premium fish finders like the Humminbird Apex.
Screen/Display Size and Quality
The size and quality of your display is the first thing you notice when you buy a fish finder so it's obviously an important consideration.
Look for a device with a large, high-resolution display that's easy to read in all lighting conditions. If you plan to use your fish finder in bright sunlight, consider a device with an anti-glare screen or a cover.
Keep in mind your style of fishing though. Personally, I tend to fish from a kayak so the Humminbird Apex is a bit large for my liking.
GPS, Mapping, and Chartplotter
GPS and chartplotting features are incredibly useful for navigation and finding fishing hotspots.
Look for a fish finder with a built-in GPS system and mapping software that can display detailed charts of the waterways you're fishing in.
This helps you navigate the water, find your way around, and document where you've been so you can check back later if you want.
Many new fish finders like the Humminbird Apex series offer downloadable maps and charts that you can use to make finding fish even easier.
Availability and Pricing
The availability of a fish finder is important because it determines how easily you'll be able to purchase it when you want it. Humminbird has had quite a few issues in recent years with keeping their Helix and Solix models in stock.
That said, the Apex is the newest of the trio so I imagine they'll want to keep pumping these out to anyone who wants one.
Pricing is of course another issue because you can't get it if you can't afford it. There's no doubting the price of the Humminbird Apex. This bad boy is expensive.
But if you're serious about the catch or perhaps training for a tournament, this could be a great way to get a leg up on the competition.
Features & Benefits of the Humminbird Apex
The Apex doesn't skimp on the features. If you've been using fish finders for any amount of time, this should impress you.
Low Profile Design
The Humminbird Apex has a sleek, low profile design that looks great on any boat. The device is also incredibly easy to install and comes with everything you need to mount it to your boat.
Incredible 1920 x 1080 Full-HD Touchscreen
The Humminbird Apex has a large, high-resolution touchscreen display that's incredibly easy to read in all lighting conditions.
The display provides crystal-clear images of the water column and the fish within it, so you can easily see what's happening under your boat.
Not to mention the function is buttery smooth from screen to screen making the experience of using the Humminbird Apex much more enjoyable.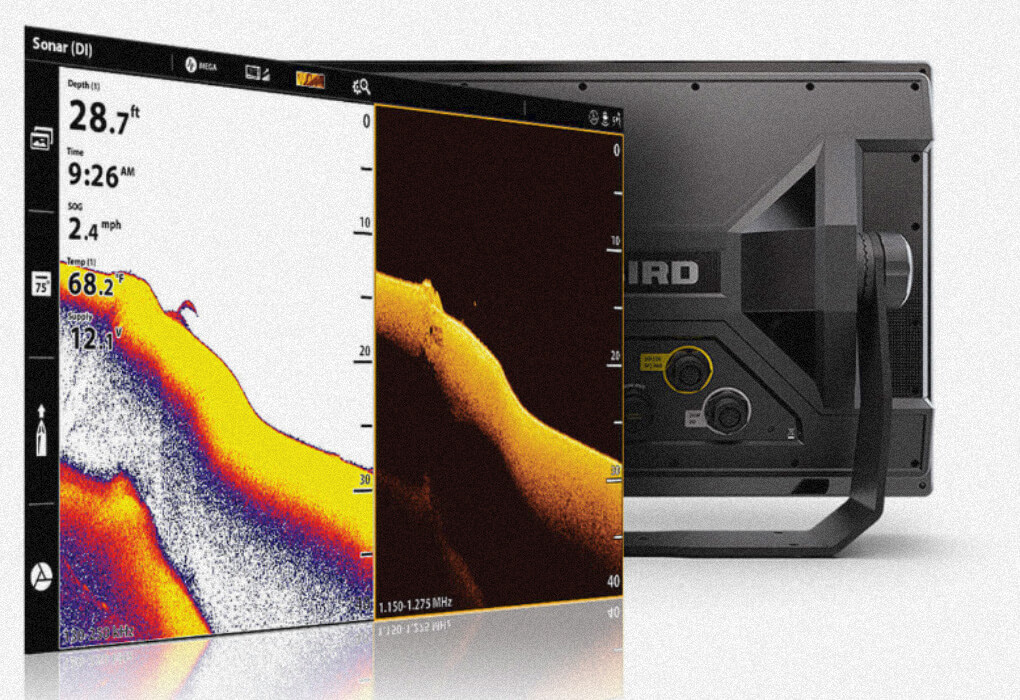 Massive 18.5" Display
The Humminbird Apex has a massive 18.5" display that's perfect for viewing multiple screens at once.
You can split the screen into different views to get a better idea of what's happening under your boat, or use the entire screen to get a detailed view of the water column and the fish within it.
There's also 13.3" and 15.6" display options as well if you're looking for something a little smaller.
Dual Channel Sonar
The Humminbird Apex uses dual channel sonar to provide highly detailed images of the water. This includes pretty much all of the awesome sonar we've seen from Humminbird over the years.
This includes MEGA Side Imaging+ (MSI), MEGA Down Imaging+ (MDI), and Dual Spectrum CHIRP.
You get all of this with 2kW transducers and integrated transducer ID to make everything simple to set up if you've done it before.
GPS with Navionics and AutoChart Live
The Humminbird Apex has a built-in GPS system and mapping software that allows you to navigate safely and efficiently. It features Humminbird Basemap, CoastMaster, and LakeMaster.
This offers versatility for all types of anglers whether you fish inland lakes and ponds, inshore canals, or offshore. There's a mapping option that'll work for you.
To get these premium options, you'll need to purchase a VX card that contains specific maps unique to your area.
One-Boat Network Integration
The Humminbird Apex can be integrated into the one-boat network with other Humminbird devices. This includes Minn Kota trolling motors, Garmin products, livescope, and various other wifi marine electronics.
This also allows you to share data between devices and get a better understanding of what's happening under your boat. You can also control all your devices from a single screen, so you don't have to switch between screens to see what's happening.
A feature like this is priceless for charter captains who might have a handful of fish finders scattered around the boat. You can integrate them all so you can control everything in one place.
Social Proof
Let's take a look at some Humminbird Apex reviews:

This guy obviously loves the chartplotting and the clarity of the screen. It's definitely one of the better units in terms of image quality across the board.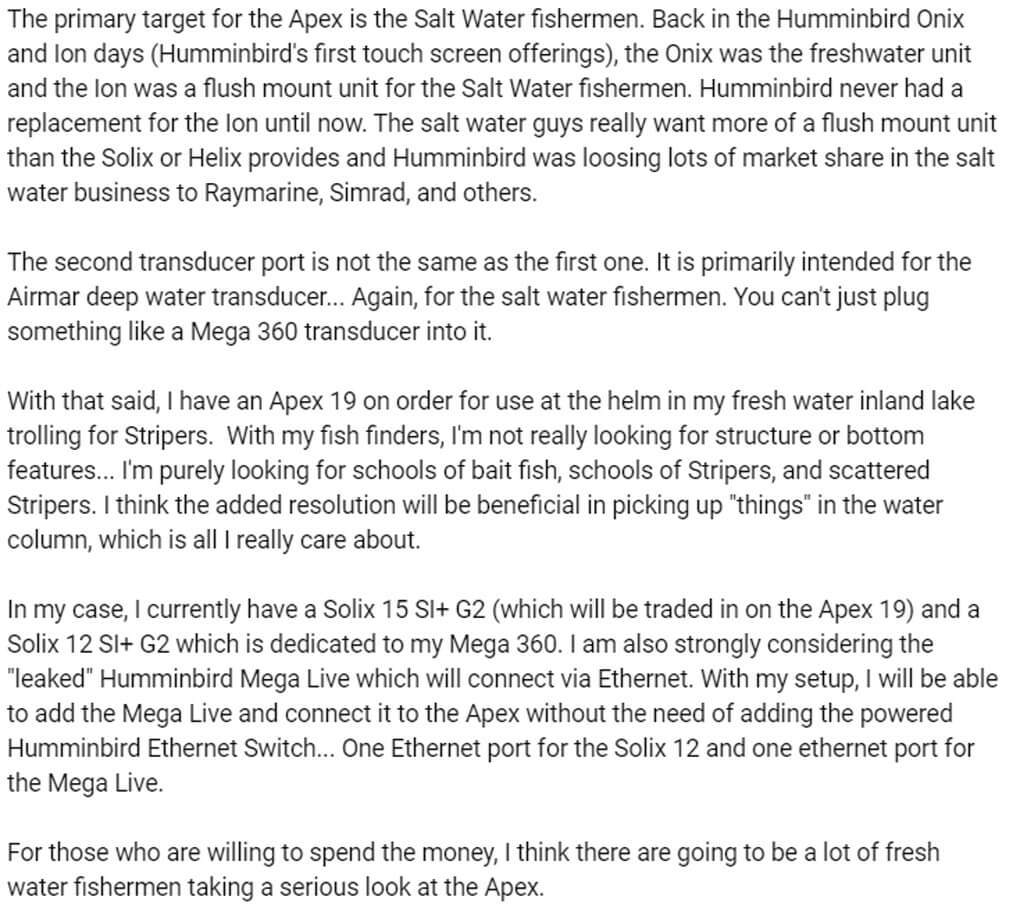 This is one of the more thorough and honest reviews that I felt was important to include here. I couldn't agree more. I have heard quite a bit about people using the second ethernet port as well for the Mega Live sonar.
The Humminbird Apex is definitely a flush mount unit and while they don't advertise only for that purpose, you wouldn't really want it any other way.
Alternatives to the Humminbird Apex
If for any reason you're not impressed by the Apex (not sure if that's possible) or you're simply not able to afford it, here are some comparable alternatives that I think you'll like.
Humminbird Solix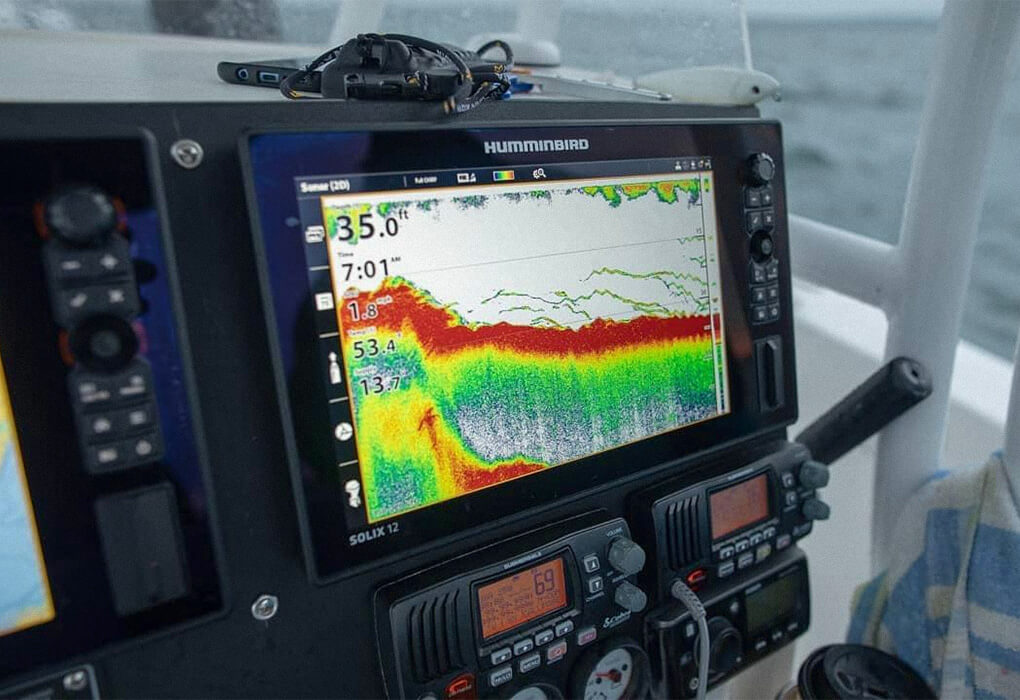 The Solix offers a bright and clear display, with customizable split-screen views and intuitive controls. It features advanced sonar technologies like CHIRP, MEGA DI, and MEGA SI.
As far as mapping goes, you get pretty much the same features with Basemap and Lakemaster. The main difference is the screen resolution of 1280 x 800 pixels.
Keep in mind, that's nothing to scoff at. The Solix is also one of the most fluid fish finder units on the market but it's not quite as good as the Apex.
If you love the Apex but simply can't afford, the Humminbird Solix is the next best option.
To learn more, check out our complete review of the Humminbird Solix fish finder.
Humminbird Helix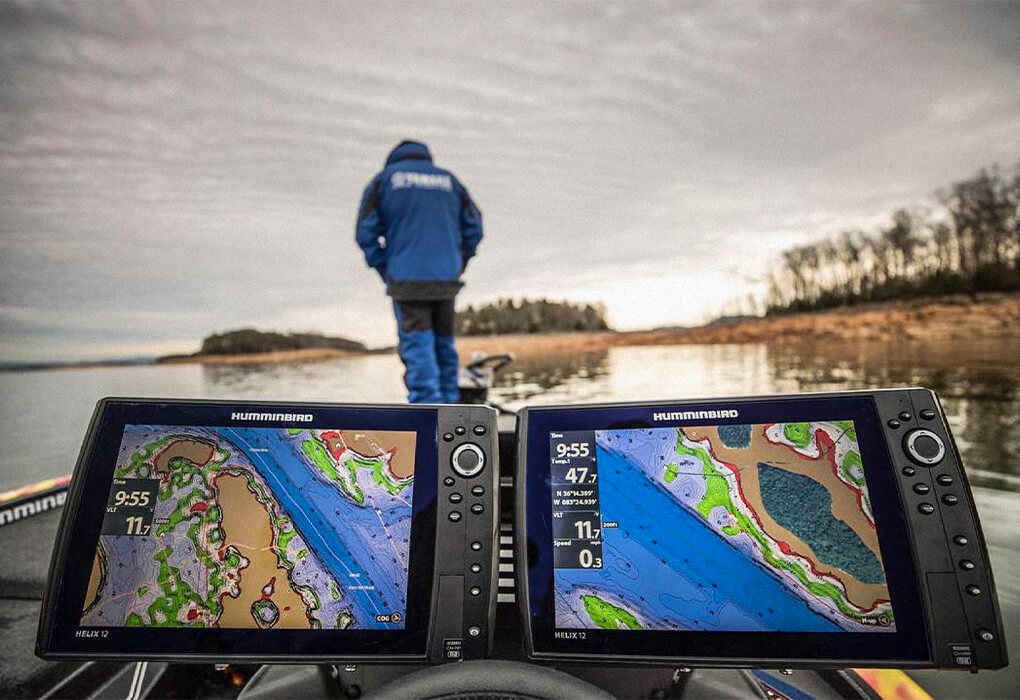 The Helix has been the mainstay from Humminbird for quite a while. It offers a few different options in size ranging from 7-12 inches and it offers just about all the same features that the Apex offers.
Where it lacks is in clarity, accuracy, and display features. The Helix models offer a 1024 x 600 screen resolution with a two-way split screen.
You get all the goodies like mega 360 imaging and Mega Live Imaging with the MSI+ chartplotter.
Plus, it comes at a fraction of the cost.
If you'd like to learn more, check out our complete Humminbird Helix review.
Final Thoughts
Well, if you're looking for one of the best fish finders on the market right now, the Humminbird Apex is hot. This is easily one of the best fish finders I've ever used.
I hope this Humminbird Apex review helped you understand a little bit more about the type of angler who would benefit most from a fish finder like this.
Is it for the typical weekend warrior hitting the local state park? Not really.
Is it for an angler who takes his fishing extremely seriously and might spend more time on the water than he should? Hell yes.
Let me know in the comments where you're fishing first when you get a brand new fish finder this year!