---
We independently research, test, and recommend the best products; you can learn more about our review process here.
There's a lot of fish finders out there and each one is trying to get a leg up over the other. In many cases, a fish finder is an upgrade to a previous model and that's the case with the Solix.
In this Humminbird Solix review, we're going to take a look at how the Solix is a step up from the Helix (or isn't).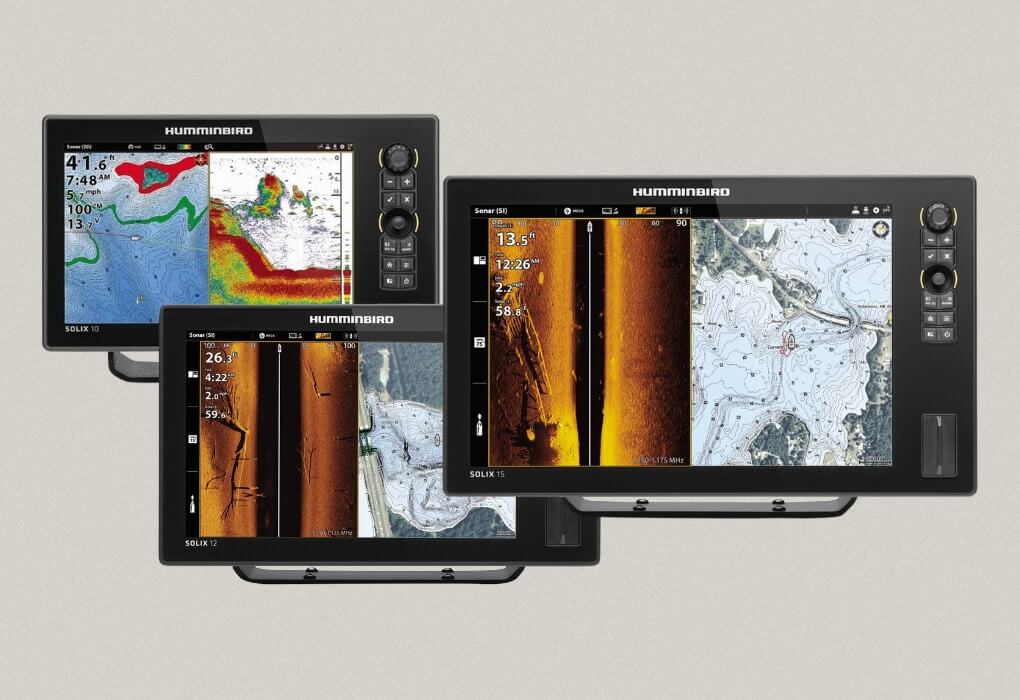 Pros
MEGA Down and Side Imaging for maximum visibility
360-degree imaging limits dead zones
AutoChart live mapping
1280x800 pixel display
Cons
Doesn't seem too different from the Helix
Lacking product availability
---
Overview of the Humminbird Solix
The Humminbird Solix was released in 2017 and was an upgrade to the already impressive Humminbird Helix series of fish finders. 
The Solix was designed to offer even more advanced features and capabilities to help anglers find and catch more fish.
The Solix is available in three different screen sizes – 10.1″, 12.1″, and 15.4″. This (at the time) was quite a step up from the original Helix models. Now the Helix does offer sizes equivalent to this.
All in all, if you take a look at the Humminbird Solix, the main thing that separates it from its predecessor is its high resolution 1280H x 800V pixel screen and color TFT display.
The quality of the image is highly improved from the Helix but does that justify it being almost double the price of most fish finders that offer the same amount of features?
Things to Consider Before Buying a Fish Finder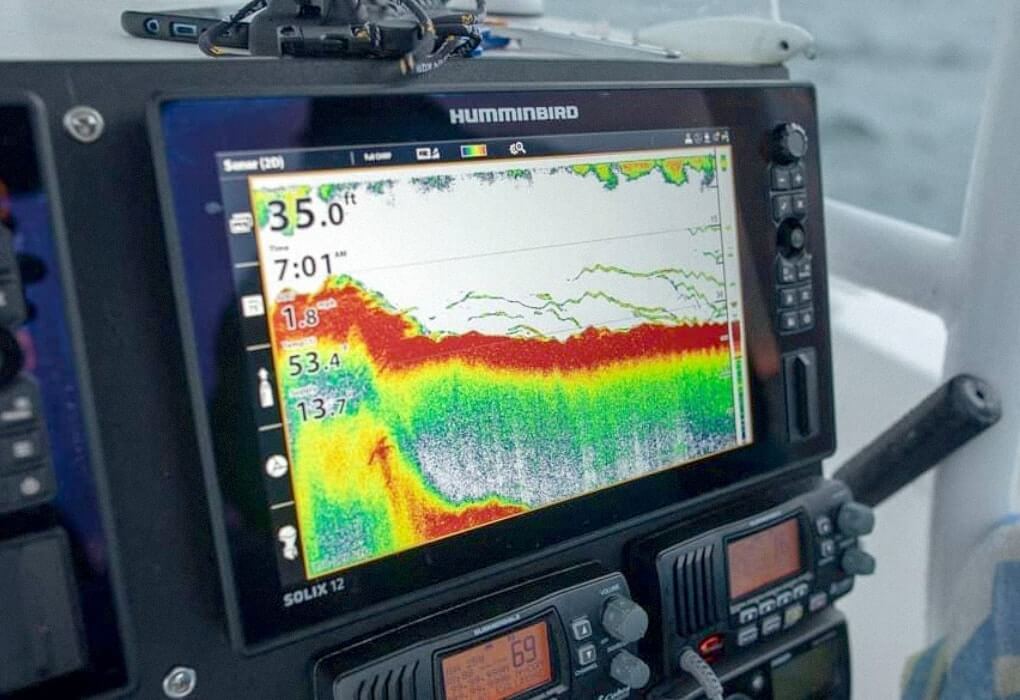 Before we dive into the features and benefits of the Humminbird Solix, let's take a moment to discuss some of the things you should consider before buying any fish finder.
Screen Size/Display
One of the most important things to consider when buying a fish finder is the screen size and display.
A larger screen will offer more visibility and make it easier to read and interpret the data on the screen. However, a larger screen may also be more expensive and may not fit in smaller boats.
You'll want to make sure that you understand how screen size will impact the portability of your unit.
Beyond the actual size of the screen, the display itself is even more important. Pay attention to things like resolution, split screen, touchscreen, and so on.
Sonar Type
The type of sonar a fish finder uses is also important. Down Imaging and Side Imaging sonar are two common types of sonar, each with their own benefits and drawbacks.
Down Imaging provides a detailed image of the bottom and structure below the boat, while Side Imaging gives a view of the underwater terrain to the sides of the boat.
Most of the units you'll find in this price range are 800 kHz x 455 kHz.
In some cases, you'll be lucky enough to get dual sonar in your fish finder and some even come with structure scan or live imaging as well.
GPS and Mapping
GPS and mapping capabilities are also important to consider when buying a fish finder. GPS allows you to mark waypoints and track your movements, while mapping capabilities can help you find and navigate to new fishing locations.
This has become the industry standard with most fish finders so if you're paying over $500 for a fish finder and you're not getting any of these things, you might want to reconsider your purchase.
Humminbird Solix Review: Features and Benefits
Now that we've covered the basics, let's dive into the features and benefits of the Humminbird Solix. Whether you're looking for a Humminbird Solix 12 review or 15, this should answer your questions.
MEGA Down and Side Imaging
One of the standout features of the Humminbird Solix is its MEGA 360 Imaging technology. Everyone always asks for a Humminbird Solix MEGA review so here it is!
MEGA Down Imaging provides an incredibly detailed view of the bottom and structure below the boat, while MEGA Side Imaging gives you an unparalleled view of the underwater terrain to the sides of the boat.
With MEGA Imaging, you'll be able to see fish, structure, and even individual rocks and logs with incredible detail. This makes it easier to identify fish-holding structure and improve your chances of catching more fish.
One thing to pay close attention to is the model you purchase because there are a lot of availability issues with the Humminbird models in recent years.
While this might be a standard feature, it's not available in every model so you'll want to make sure that the listing you purchase from says "MEGA DI, SI or +."
AutoChart Live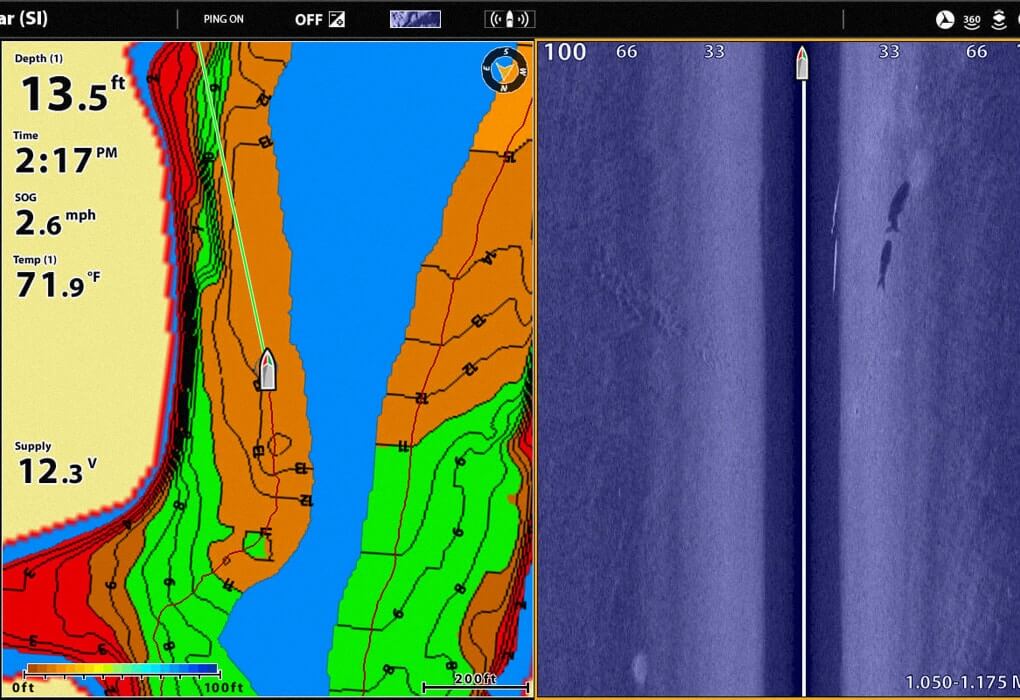 Another impressive feature of the Humminbird Solix is AutoChart Live with Lakemaster. This feature allows you to create real-time maps of the underwater terrain as you fish.
This is incredibly useful for identifying new fishing spots and understanding the layout of the underwater terrain in a particular area.
With AutoChart Live, you'll be able to create custom, high-definition maps of your favorite fishing spots.
Best of all, you're able to download other people's maps as well because of the internet connectivity of the Solix.
This means if you're fishing a popular lake and you have this feature on your fish finder, you can see where other anglers caught fish and try out their favorite spots.
Cross Touch Interface
The Humminbird Solix also features Cross Touch technology, which allows you to control the device with both touchscreen and keypad.
This makes it easier to operate the device in any weather conditions, whether you're wearing gloves or dealing with wet conditions.
In my experience, I always prefer fish finders with actual analog controls and buttons because the touchscreens get gunked up and it's a pain to always have to dry or wipe your hands off before touching the screen.
I find that most modern fish finders continue to get away from button controls so it's nice to see that they preserved the old with the new.
Xtreme Depth Sonar
The Humminbird Solix is also capable of extreme depth sonar, which allows you to see what's happening below the boat even in deep water of up to 1500 feet right out of the box.
This is especially useful for deep water fishing if you're planning to use the fish finder offshore. You also have the option to purchase the 50kHz transducer to increase the range up to 5000 feet.
360-Degree Imaging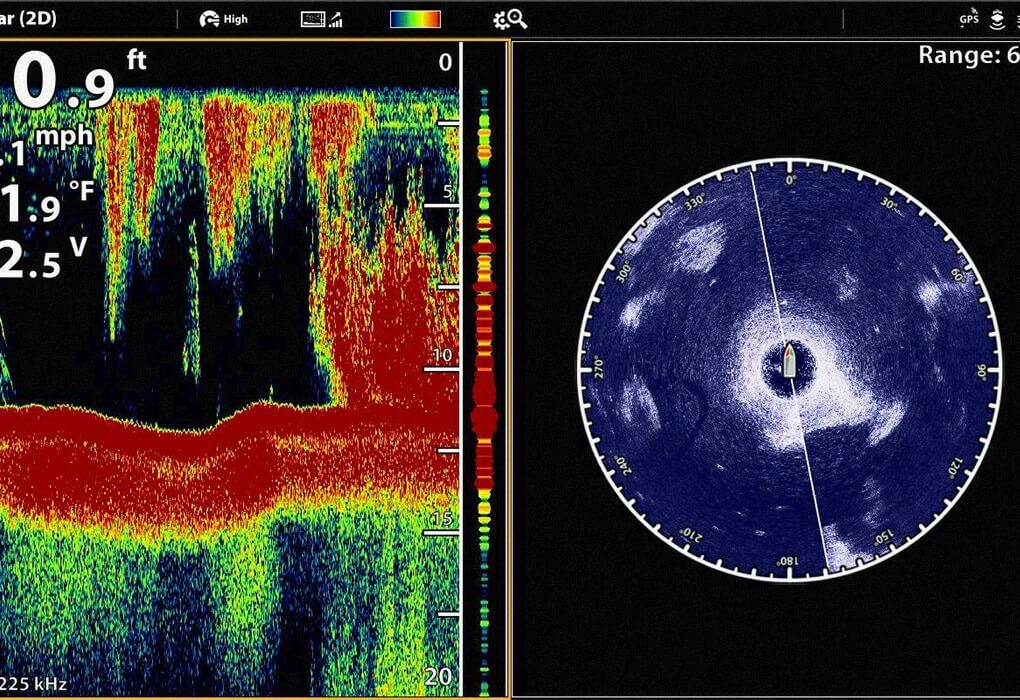 This unit comes with 360-degree imaging, which provides a complete view of the underwater environment around the boat.
This allows you to see fish, structure, and cover in all directions, giving you a better understanding of what's happening beneath you.
What makes this different from regular sonar is that there are fewer dead zones with this feature. Typically in down and side imaging, there is a cone that creates dead areas around the boat where you can't see.
360-degree imaging reduces the chances of this making it a greater option for open water when it's harder to find areas where fish are holding.
Bluetooth Compatibility
The Solix is equipped with Bluetooth connectivity, which allows you to connect the device to your phone or other compatible devices.
This allows you to control the device remotely, receive notifications, and even share data with other anglers.
This feature also makes it easier to update the device's software and firmware, ensuring that you always have access to the latest features and capabilities.
It's also compatible with Minn Kota trolling motors and it has an ethernet port so you can connect it to other NMEA 2000 units.
What Are People Saying About the Humminbird Solix?
If there's a group of people that isn't afraid to tell you what they think, it's the fishing community. Let's take a look at what people have to say about the Solix.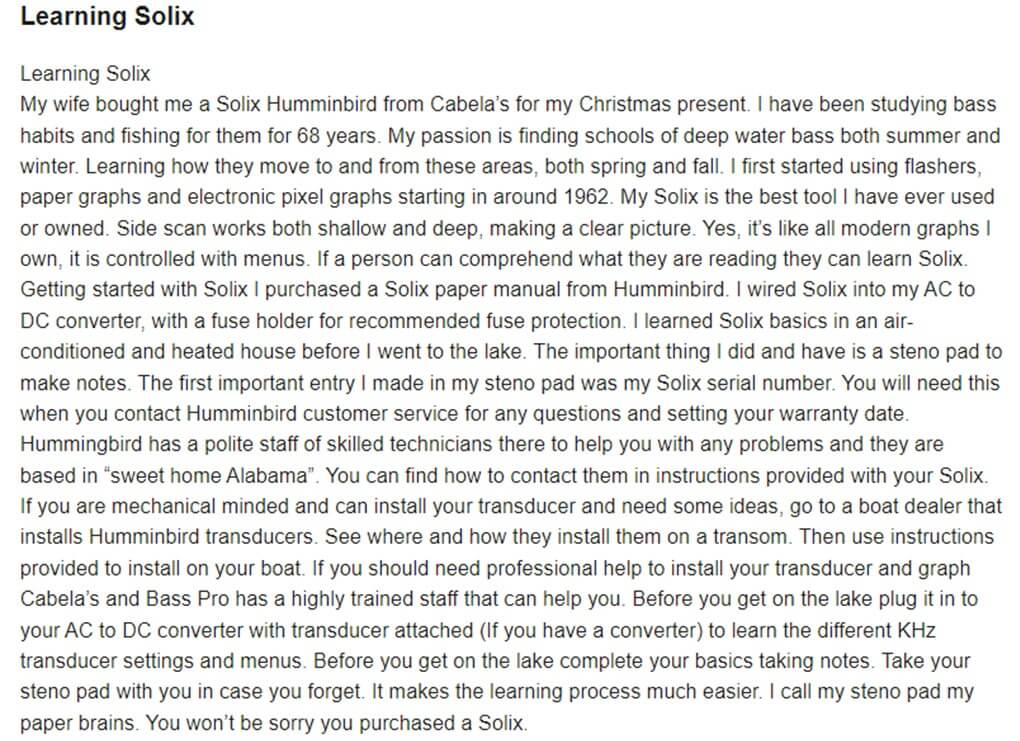 This is a long Humminbird Solix 10 review so I'll summarize. This angler is apparently the king of fish finders but overall he has quite a bit of experience and claims that the Solix is the best fish finder he's ever owned.
There's some good tips on installing the unit here so it's worth reading.

This angler is also very experienced with fish finders and loves the side imaging and lake master card for the mapping. He also states that it's not the best unit for weekend anglers because there is a learning curve but it's still worth the purchase.
Alternatives to the Humminbird Solix
One of the best ways to learn more about a fish finder is to compare it to something similar. The following two fish finders offer similar features, branding, and screen options to help you compare them to the Solix.
Humminbird Helix 15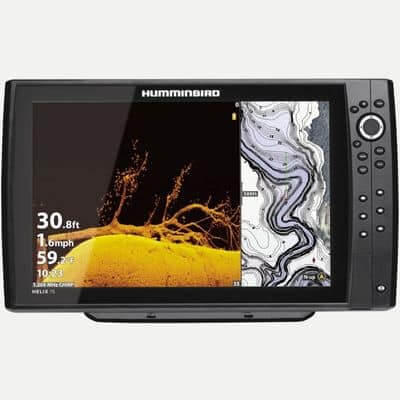 The Helix 15 is the biggest unit from this line featuring a 15.4-inch display with Mega Imaging+, Dual Spectrum CHIRP sonar, 360 imaging, GPS, and Humminbird Basemap. You pretty much get everything offered with the Solix.
So, what's the catch?
Honestly… I'm not entirely sure! It's almost the same as the Solix 15.
Either way, the Helix units and Solix are both very similar so they both make great options for large screen, high resolution fish finders.
Lowrance HDS Pro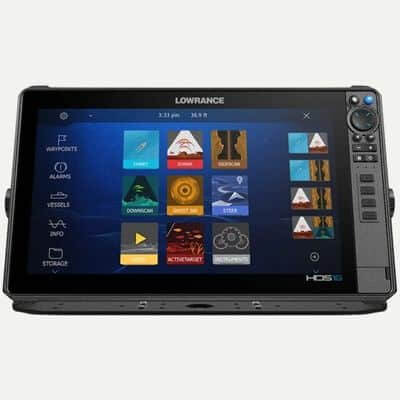 Let's divert away from Humminbird to Lowrance for a minute. The Lowrance HDS Pro 16 is the next generation of fish finders and in my opinion, the best money can buy. This fish finder is brand spanking new.
It comes with the amazing SolarMAX display, Active Imaging, ActiveTargat Live Sonar, and C-map charting. All for the affordable price of slightly under five grand.
So, for everyone saying the Helix and Solix aren't so great for the price, this is pretty much the next step up!
Final Thoughts
Hopefully, this Humminbird Solix review helped clear a few things up.
In my experience, Humminbird is always worth the cost, they stand by their products, and you know they're always working on new technology. If you are a Humminbird fan, check out our article about the best Humminbird fish finders.
The Solix is one of the newest models in this line so I recommend giving them a shot!
Click here to learn more about the Humminbird Solix.