---
We independently research, test, and recommend the best products; you can learn more about our review process here.
Comparing the Humminbird Solix vs Helix is like comparing apples to apples. These fish finders share a ton of similarities with one primary difference.
The screen.
Does the screen justify a steep jump in price or is it just a way for Humminbird to gouge a few hundred dollars more out of you? Stick around to find out.
---
Understanding The Humminbird Helix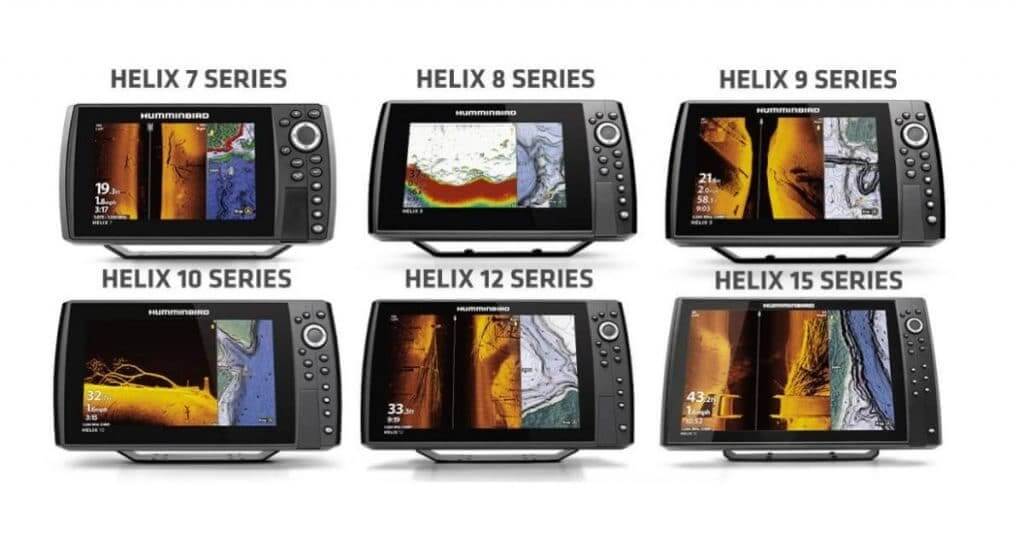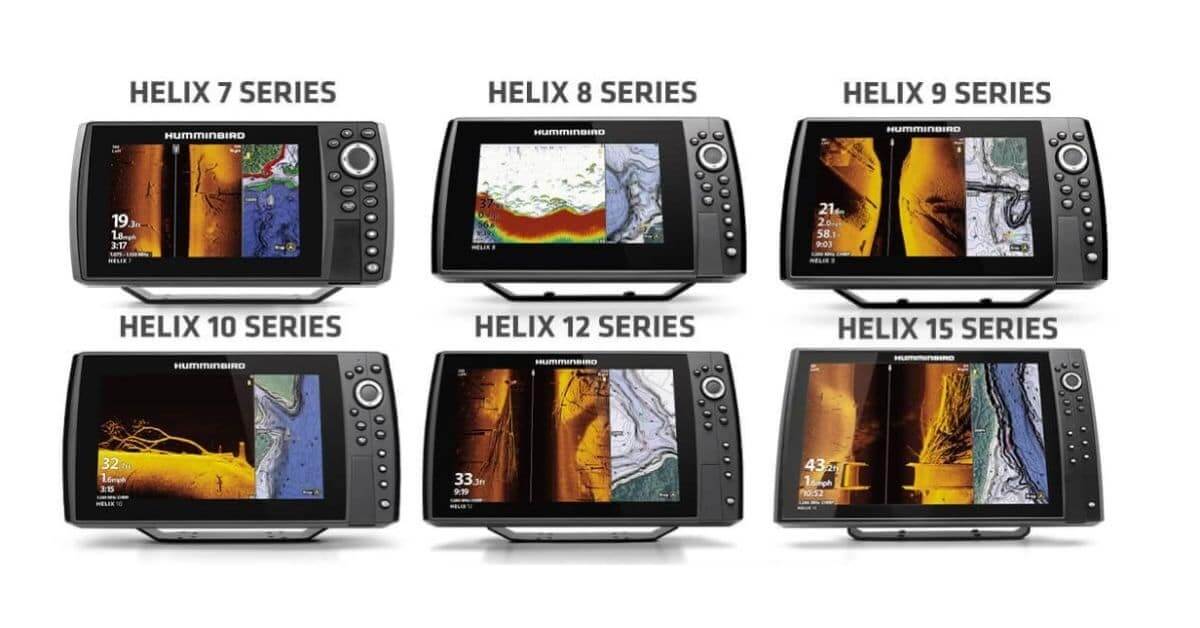 Since Humminbird's introduction in 1971, they've been a leader in fish finding technology. They represent that old school grassroots movement that many of us anglers love. They've led the way for decades with fishing technology and were the first ones to introduce many of the technologies we take for granted today.
The Helix has always been their flagship model and the standard in the industry. I like to think it's the perfect marriage between price and premium features. They have models that most people can afford but you're also not sacrificing too much by going for something more affordable.
Here's a quick overview of each of their models:
Product Title
Price
Price
$600-900
$700-1,200
$900-1,500
$1,200-2,000
$2,000-2,500
$2,500-3,000
Resolution
Resolution
1024 x 600
1024 x 600
1024 x 600
1024 x 600
1280 x 800
1280 x 800
Down Imaging?
Down Imaging?
Yes
Yes
Yes
Yes
Yes
Mega+
Side Imaging?
Side Imaging?
Yes
Yes
Yes
Yes
Yes
Mega+
GPS?
GPS?
Yes
Yes
Yes
Yes
Yes
Yes
Quick note
Keep in mind that some of the features in this table may change based on the model you choose. Each next generation Helix model comes with GPS, Chirp Mega SI, Mega DI, and Mega+ options so you can choose if you'd like the GPS or Mega down/side imaging features. These features also play into the price range. The lower price range of each model may not have some of the advanced features. 
Humminbird Helix 7
While you might see the Helix 7 as the "budget model" I wouldn't think of it that way. It still comes with state of the art technology including dual sonar imaging, GPS, crystal clear display, Bluetooth compatibility, and mapping.
One of the primary sacrifices you're making with the Helix 7 is in your screen size. Keep in mind that you can upgrade to many of the features mentioned above, but the one thing that doesn't change is the resolution or the screen size. The latest and greatest models come with a seven-inch screen.
Humminbird Helix 8
The Helix 8 was introduced in 2019 and was one of the first to feature the new CHIRP Mega technology which is a dual transducer equipped with two types of sonar. Now, this has become the standard with most of their fish finders and anglers have the choice to upgrade to this technology across the board with all of their products. In addition to the dual sonar you get autochart live, Bluetooth, GPS, and SwitchFire sonar which provides you with more control over the type of image you get.
Humminbird Helix 9
As we continue to step up, one thing you'll realize is that not much changes between these fish finders. The main difference between them is the screen size and resolution. In the newest Helix 9 models they've upgraded from a 800 x 480 resolution to 1024 x 600. You still get the dual imaging, great GPS and charting, and a wonderful nine-inch screen. The unit itself is very sleek so it's not bulky on the boat and you don't have to worry about it getting too heavy as you continue to increase screen size. Overall, this is a quality unit for someone who may also want to build it into their boat's dashboard but it might not work as well as a kayak fish finder.
Humminbird Helix 10
The Helix 10 will run you as much as $2,000 if you upgrade for all the features but let me tell you, it's worth it. You're getting a massive ten-inch screen, GPS functionality, MEGA side or down imaging, Mega 360 degree imaging, wireless capabilities, temperature graph, and some of the best chart plotting with ContourXD Maps. Remember, that to get a lot of these features you need to step up to the near $2,000 model.
If you want to dive deep into this one, check my full Humminbird Helix 10 Review.
Humminbird Helix 12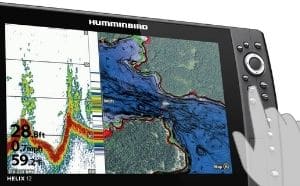 At one time, this was the cream of the crop. The Helix 12 was one of the best rated fish finders you could find but they've recently introduced the Helix 15 so it has been dethroned. That said, it means you get it at a more affordable price and still get all the same features. 
You get a beautiful 12-inch color display with LED backlight, MEGA down or side imaging, GPS feature, chartplotting, and more. I'm starting to feel like a broken record because the features are pretty much the same across the board with the main difference once again being the screen size.
Humminbird Helix 15
Just when you think it can't get any better, Humminbird steps it up again. They've introduced a 15.4 inch display with Mega Imaging+, Dual Spectrum CHIRP sonar, 360 imaging, GPS, and Humminbird Basemap. It really can't get any better than this. It's the cutting edge of technology, the fish can no longer hide from anyone, but you also won't be able to hide your bank statement from your wife after you purchase this one.
Understanding The Humminbird Solix
If you've ever read any of my fish finder reviews, you'll know that I'm a big fan of push-button fish finders. I think they're easier to maintain, they stay cleaner, and they don't break down as often. That said, not everyone agrees with me. If you're in the market for a touchscreen fish finder with a bit more flexibility in terms of how you use it, stepping up to the Humminbird Solix might be the right choice for you. All of these fish finders feature a touchscreen interface without breaking the bank. As with the Helix, you have the choice of adding optional features such as dual spectrum sonar, GPS, mapping, and more. The Solix also features something called CrossTouch technology which is said to limit "false touches" that occur from splashing water and wet fingers.
Let's take a look at the models:
Product Title
Price
Price
$2,499
$2,999
$3,499
Resolution
Resolution
1280 x 800
1280 x 800
1280 x 800
Down Imaging?
Down Imaging?
Yes
Yes
Yes
Side Imaging?
Side Imaging?
Yes
Yes
Yes
GPS?
Quick Note
Keep in mind that some of the features in this table may change based on the model you choose. Each next generation Solix model comes with GPS and Mega options so you can choose if you'd like the GPS or Mega down/side imaging features. These features also play into the price range. The lower price range of each model may not have some of the advanced features.
Humminbird Solix 10
If you're a fan of the touchscreen functionality and the customizable interface but need to keep the budget tight, the Solix 10 is your cheapest option. Many of the older Solix models have been discontinued so this is their new budget choice. You'll get the Cross Touch Interface which allows you to use both the touchscreen or the keypad. The Solix 10 also comes with a large 10.1-inch screen as you could have likely guessed. You have the choice between down, side, or dual-imaging sonar and you get 1,200 feet of range unless you upgrade to the Airmar CHIRP which offers 3,500 feet.
Humminbird Solix 12
As I'm sure you realize by this point, the Solix 12 doesn't offer anything else other than a larger screen. You get a 12.1-inch screen with 1280 x 800 pixels and your choice of sonar. You still get the Cross Touch Interface which puts you in control and the Solix also allows you to fully customize your screen so you can choose what features are important and which are not.
Humminbird Solix 15
Last but not least, the cream of the crop, the Solix 15. This is one of the most expensive fish finders on the market from any brand (if not the most expensive). It'll run you around $3,500 at the time of writing this and there's nothing you can't do with it. As you could imagine, this fish finder works best if you're internally mounting it on your boat because of its large size.
Humminbird Solix vs Helix: Side-by-Side
The main purpose of comparing the Solix vs Helix is to help you understand the pros and cons of each. How can one justify paying more? What gives one an advantage over the other? Etc, etc… Let's stack these two fish finders side-by-side and see which features stand out.
Screen Quality/Resolution
If you take a look at the tables above, you'll see that the Solix units have a higher screen resolution but you can still step up to that with a higher model Helix. Plus, if you go with a Helix 12 you'll actually get the same resolution and screen size as the Helix for a more affordable price. The only thing you're not getting is the touchscreen.
Bottom Line: Both fish finders offer a variety of screen resolutions and sizes. The Helix appears to offer more value because of the lack of a touchscreen.
Screen View Customization
If we really want to stack these up against each other the main differences are the touchscreen and the lack of customization available in the Helix. That's it. The Solix models allow you to choose which features you want to display on the main screen, what size you want them, and what you'd like to push to the back or ignore.
Bottom Line: The Solix allows you to customize your dashboard, the Helix units do not.

Transducer Quality/Range
Something we didn't talk too much about is the transducer differences, this is one area where the Solix models stand out. Their transducers have a longer range and they're fully grounded which means you'll get a more crisp 2D sonar reading. This will help you pick up on potential fish faster and it'll reduce the signal noise you hear while fishing.
Bottom Line: The Solix offers a fully grounded transducer which provides a better image and less sonar (khz) feedback.
Imaging Options
Both the Helix and Solix offer down imaging, side imaging, and MEGA+ dual imaging. They use the same exact technology for each of these and the one you choose will depend on your budget.
Bottom Line: Both the Helix and Solix offer each type of imaging and your budget will determine your choice.
Solix vs Helix: What's The Difference?
If you've read through this entire review, you likely have a solid understanding of the differences by now. To make it crystal clear, let me shout it for the anglers in the back.
Solix – Higher screen resolution at lower models, touchscreen compatible, screen customization options, more expensive.

Helix – More model options, more affordable, no touchscreen, no screen customization.
Final Thoughts
In this Helix vs Solix comparison, we compared two very similar fish finder models. For the most part, these are the same and unless you're a complete fish finder expert you'd have a hard time noticing a difference in the transducers or sonar. The main difference comes with the screen.
If you're a budget-conscious angler who wants to get the most for their money, I think the Helix offers more bang for the buck. You're still getting all the necessary features you want but you're sacrificing the touchscreen. Personally, I don't like touchscreens. I think they break easily, get gunked up, and become a problem after a couple of years.
If you're totally dedicated to having a touchscreen or you plan on inserting the fish finder onto your dash, the Solix might look better and make more sense for you. For me, this Solix vs Helix comparison is no comparison, I'm going with the Helix. Click here for a complete review of some of my favorite Helix models.