Seeing is believing for Shaw Grigsby.
Some fishermen rely on their imagination to envision where a bass is hiding. Grigsby, a Hall of Fame fisherman from Gainesville, Fla., uses his eyes.
He is known as one of the pro tour's best sight fishermen, and he has put dozens of big bass in the boat by his "spot and stalk" techniques.
This week, he'll tell us how, plus talk about Florida bassin,' fishing heavy vegetation and how to get pressured largies to hit.
Shaw has seen it all in almost 40 years on the pro tour, and with his friendly demeanor and ever-present smile, he's one of the sport's most popular ambassadors.
We'll spend the week talking to this legend, offering his perspective in emails today, Wednesday and Friday.
So grab your life vest and hop into the boat. It's going to be a fun ride.
– Brent
---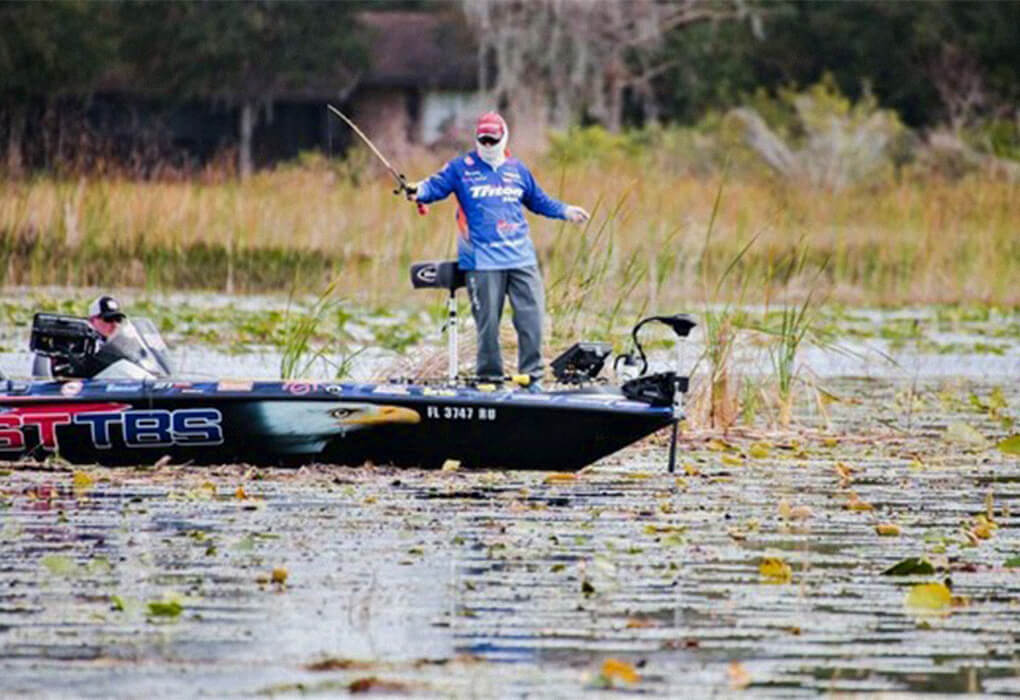 Shaw Grigsby is at home when he is fishing heavy vegetation. (Photo by Phoenix Moore/Major League Fishing)
Keeping An Eye On The Bass
It's no wonder Shaw Grigsby loves to sight fish for bass.
He grew up in Florida, where that style of fishing is king.
Shallow, weed-choked lakes are abundant there. And because of consistently warm weather, the bass spawn can last for months, Grigsby said.
That means it's always possible to find fish on beds, a key component of sight fishing.
"In some states, the spawn will take place for two or three weeks, then it's over," Grigsby said. "In Florida, there are bass spawning somewhere for six or seven months."
Prime time is December and January in southern waters such as Okeechobee and January and February in lakes such as Toho. That's when Grigsby likes to be out hunting.
"It really is fishing and hunting combined," he said. "It's like you're on a stalk for a mule deer.
"You're searching for a big female on a bed, then you have to sneak up on her without tipping her off that you're there."
Honing In On the Big Girls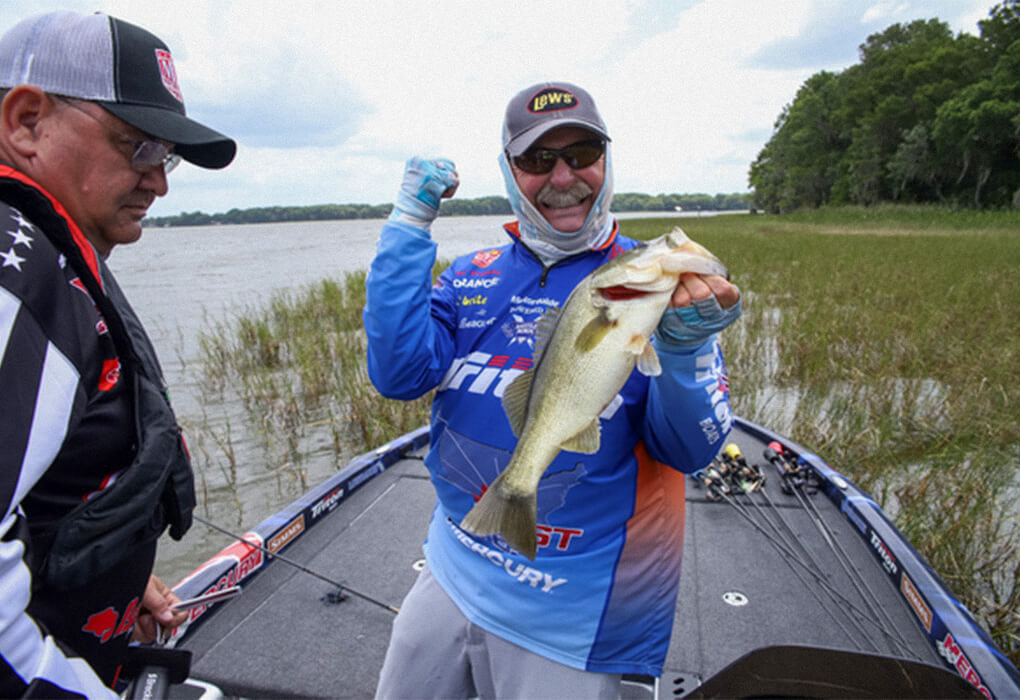 Shaw Grigsby celebrated a catch during a Bass Pro Tour event. (Photo by Phoenix Moore/Major League Fishing)
Not many big bass can escape undetected when Grigsby is at bow of his bass boat.
He is known for his excellent eye for picking up bass movement.
"I think some of it has to do with me being blessed with excellent eyesight," Grigsby said.
"But I've picked up little tricks along the way. For example, I like amber, yellowish sunglass lenses because they collect light and make it easier to see a fish moving or a shadow."
Grigsby often finds those spawning bass in holes in the vegetation or along weed edges.
He tries not to get too close so that he doesn't alert the bass that he is there.
"When something moves into their environment, they're very cautious," Grigsby said. "If you can stay away and make a long cast, you generally have a better chance of catching that bass quickly."
Grigsby's tried and true method for catching bedding bass is to cast beyond the nest, let the bait sit for a while, then slowly drag it toward the bed.
"That way, they turn and face that bait coming toward them and they get madder and madder as it approaches," Grigsby said.
His favorite bait? A pearl-colored Strike King Rage Bug.
"I want that light color so I can see it," he said. "I've had times when a bass will pick a bait up five times and move it from her nest. When I saw that white disappear, I knew she had it and I set the hook.
Spring isn't the only time of the year when Grigsby uses his eyes to target bass.
As long as water clarity is good and the fish are in the shallows, they won't go undetected by Grigsby.
"Especially in the fall, you can see them swimming along the bank, chasing shad," he said. "I'll cast a bait like a Red-Eye Shad up in front of them and sometimes get them to hit."
That's it for now. Be sure to check out Wednesday's newsletter for a look at Grigsby's experiences on the pro bass tour and a fish story about the big bass that bit two lures at the same time.