---
We independently research, test, and recommend the best products; you can learn more about our review process here.
Fishing rods and saltwater reels may be some of the most talked about fishing equipment that often overshadows saltwater tackle boxes, which are vital for success when fishing at sea.
Sadly, the best saltwater tackle box is challenging to find because you have to weed through all the options on the market after all.
Which tackle box you choose is a matter of personal preference. It depends on the equipment you like to carry and your thoughts on organization.
However, some tackle boxes are objectively better than others. Everyone needs a tackle box that's durable, protects their gear, and is cost-efficient.
We've tested and reviewed some of our favorite boxes below, allowing you to select the best one for your needs.
Top 3 Saltwater Tackle Boxes
Below you'll find my top three picks for saltwater fishing tackle boxes based on personal testing and reviews.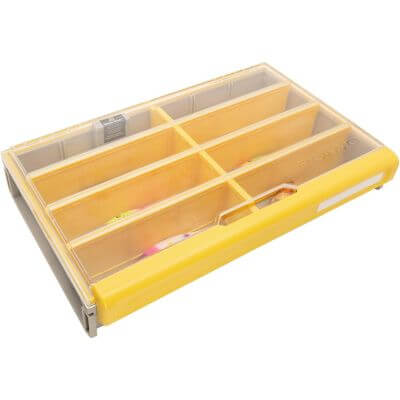 Plano Edge Flex Series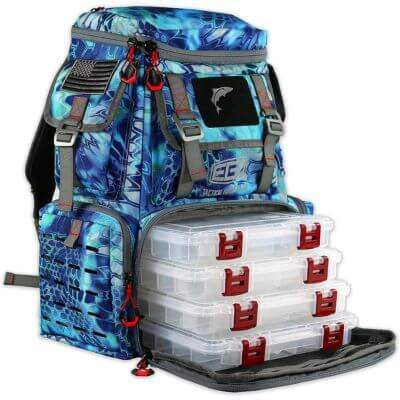 Best Tackle Bag for Saltwater
EGO Backpack Tackle Bag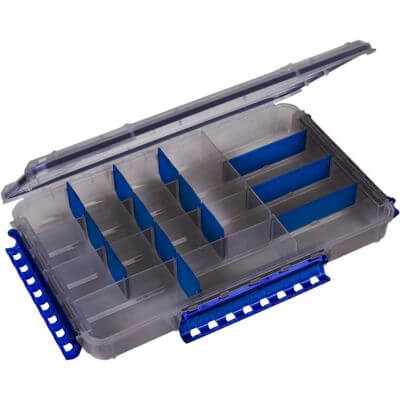 Flambeau Outdoors Zerust MAX Tuff Tainer
---
Testing Procedure
I had the privilege of testing several of the tackle boxes on this list. During the testing process, I looked for characteristics that helped each tackle box stand out.
I need the tackle box to be durable, protective, easy to organize, and reasonably priced.
Durability: I'm tough on my gear, including my tackle boxes, so I need a tackle box that's going to hold up to the abuses I'm bound to put it through.

It must be made from quality materials because it'll be stood or sat on, tossed in the back of my truck, and bounced around in a boat.
Protective: I've used several tackle boxes that do a good job of organizing my fishing equipment but don't protect my sinkers, hooks, and fishing lures from corrosion.

Several brands now make waterproof tackle boxes with moisture-wicking technologies to help prevent rust. These tackle boxes will always be at the top of my list when buying a new fishing tackle box.
Organizability: What good is a tackle storage solution if it doesn't keep your fishing gear organized? I think it's a waste of money! That's why all of the tackle bags and boxes on this list will help you stay organized while fishing.
Price: Budget always factors in, especially when you are buying for a hobby. If you don't get to go fishing much, I would recommend spending less on a tackle box.

However, if you plan to do lots of fishing, splurging on a tackle box will save you money in the long run because it'll keep your gear more organized and protected.
BEST SALTWATER TACKLE BOX OVERALL
Plano Edge Flex Series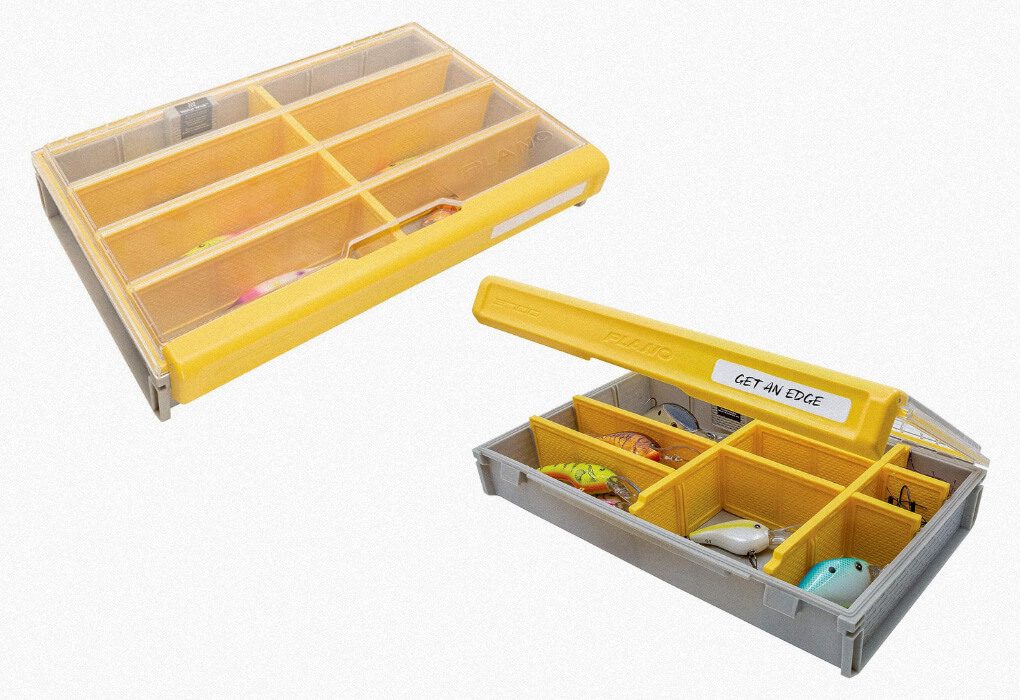 Specs
Dimensions: 11″ x 7-1/4″ x 1-5/8″ and 14″ x 9″ x 2-5/8″
Style: Utility boxes
Why We Chose It
The Plano Edge Flex Series is the best saltwater tackle box, and it's not even close because it's waterproof, protective, and incredibly durable. 
I was mistakenly hesitant to purchase this tackle box for freshwater fishing. However, once I began using this utility box, I was amazed by the versatility and potential it had, including saltwater fishing applications.
I especially love the latches of this Plano series because you can write on them to remind you what's inside; plus, it's one solid latch, so it's easy to open and close.
The lid is clear, so even if you don't write on the latch, you can quickly see what's inside. 
The Flex dividers are great because they allow you to customize the storage areas to fit your needs. Most tackle boxes allow you to do this to a point, but the Flex series is much more durable.
Speaking of durability, these boxes are just plain tough. They're not flimsy, nor do they feel cheap.
I've tested a few different variations of the Plano Edge series, and I think they're the greatest tackle boxes I've ever used because they're waterproof and keep your hooks from rusting, thanks to the Rustrictor.
Even though these are the best, they do come with a few pitfalls.
The first is the price. These tackle boxes are intended for serious anglers, not beginners.
The Flambeau Zerust utility boxes are a much better option for new anglers because they're less expensive but still offer rust protection in a few different sizes.
The other con is for anglers to use big lures for bigger fish; the Plano Edge series might not be big enough to hold your lures because they're so compact.
Despite the drawbacks, the Plano Edge Flex Series utility boxes are very much worth it because they keep your lures secured, dry, and protected. That's worth the few extra dollars to me!
BEST TACKLE BAG FOR SALTWATER
EGO Backpack Tackle Bag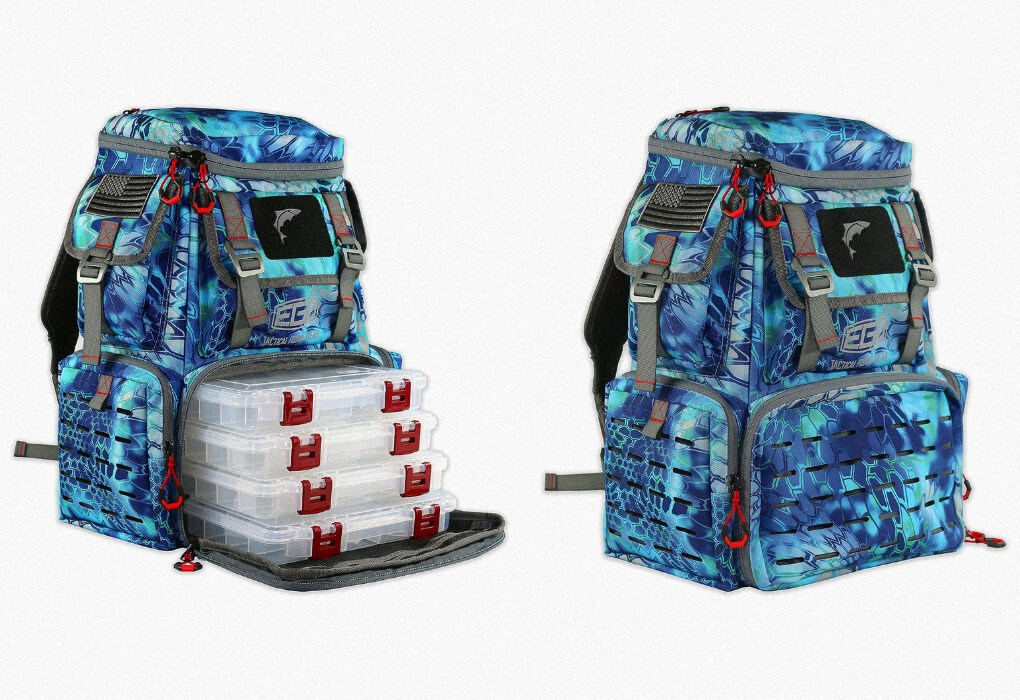 Specs
Dimensions: 19″ x 17″ x 11″
Style: Tackle bag
Why We Chose It
The EGO Backpack Tackle Bag is the best saltwater fishing tackle bag because it holds a ton of tackle, is made from high-quality materials, and is a comfortable backpack. 
I've had the shoulder strap tackle bags, and they just don't cut it when compared to the comfort and capacity of the Ego fishing tackle backpack.
I love how easy it is to get to the utility boxes that are included. This will save you time when searching for a new lure or rig to tie on.
Although the Evolution Fishing 3700 Drift Series Tackle Backpack has even easier access to more and larger boxes, I don't like that a plastic buckle is all that secures the boxes, so when that breaks, you could lose all the utility boxes.
Another great feature of this backpack is its capacity. It will hold a ton of tackle, which is perfect for shore anglers because you can basically carry everything you're going to need in one trip instead of making multiple trips or having to go without.
As great as this backpack is, I found a couple of shortcomings that need to be addressed.
The first is that it's not intended for use on a boat. So if you're a boat or kayak angler, I would pass on this backpack. I recommend kayak anglers look at the Plano Z-Series Backpack since it's waterproof.
The other thing I'm not too fond of is the price. It's expensive. In fact, it's one of the most expensive fishing backpacks on the market.
So if the price is a significant factor, I recommend checking out the KastKing Bait Boss Fishing Tackle Backpack with Rod Holders on Amazon because it's less expensive, still has a ton capacity with PVC pockets, and it's made from waterproof material. 
Overall it's tough to beat the EGO Backpack because it's comfortable, spacious, and provides easy access to your tackle. 
BUDGET-FRIENDLY SALTWATER TACKLE BOX
Flambeau Outdoors Zerust MAX Tuff Tainer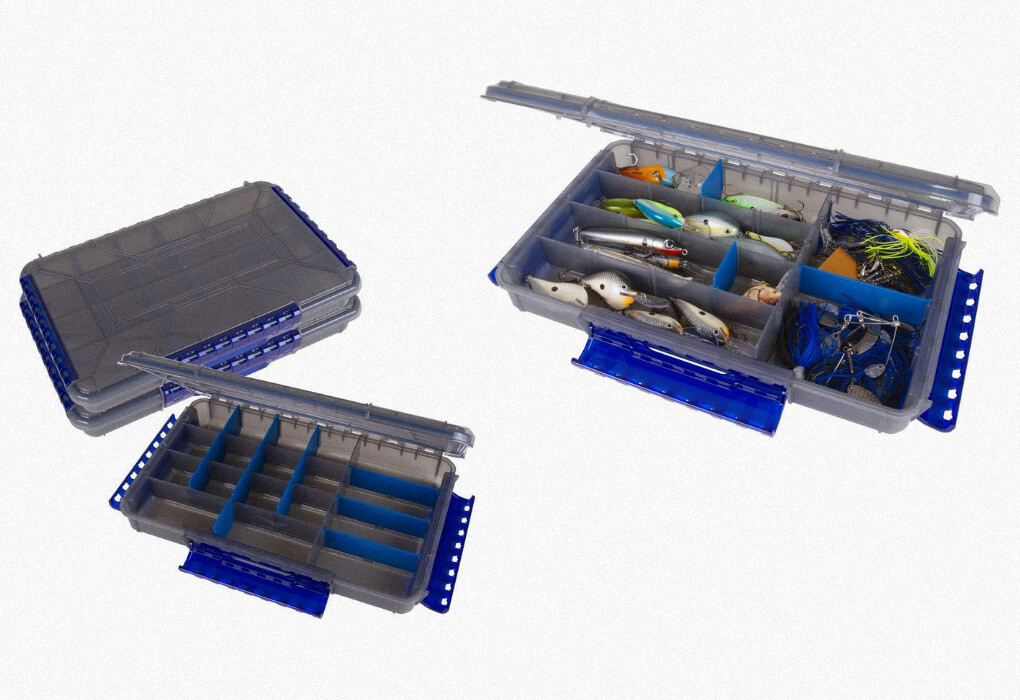 Specs
Dimensions: 14″ x 9″ x 2.1″
Style: Utility box
Why We Chose It
I love my Flambeau Outdoors Zerust MAX Tuff Tainer tackle boxes. I got these tackle boxes before my Plano Edge Series and thought they were an excellent buy. That's why I was so reluctant to buy the Edge Series boxes.
Flambeau nailed it out of the park with the Zerust formula. I have not had any rust form on the hooks of my lures in the year that I owned the tackle boxes. If it's good enough for the U.S. Navy, it's good enough for me!
I also love that these are waterproof, so I can keep them in the back of my truck or boat and not worry about getting water in the box.
I also don't worry about them cracking or breaking while exposed to the elements and beating around because the material is durable. I've used my boxes as a spare step when I couldn't reach something in my shop. 
Lastly, the price is ridiculously low compared to other waterproof and rust-preventing boxes. This is a steal of a deal compared to the Plano Edge Series boxes.
However, there are a few reasons the Plano Edge Series boxes are more expensive.
The first is because it's difficult to see what's in the box. The gray plastic lid makes it tough to see the lures, and the way the sides are designed makes labeling them impossible.
The other thing I've found that I don't like too much is the latches aren't as easy to open as the Plano Edge Series. Sometimes they latch so well it's difficult to open the lid after they're off.
Clearly, I'm being a little nitpicky with the cons because the Flambeau Zerust MAX Tuff Tainer gives beginners and advanced saltwater anglers incredible storage options by protecting hooks in a durable, waterproof tackle tray. 
HONORABLE MENTION FOR SURF FISHING
Plano 7771 Guide Series Tackle Box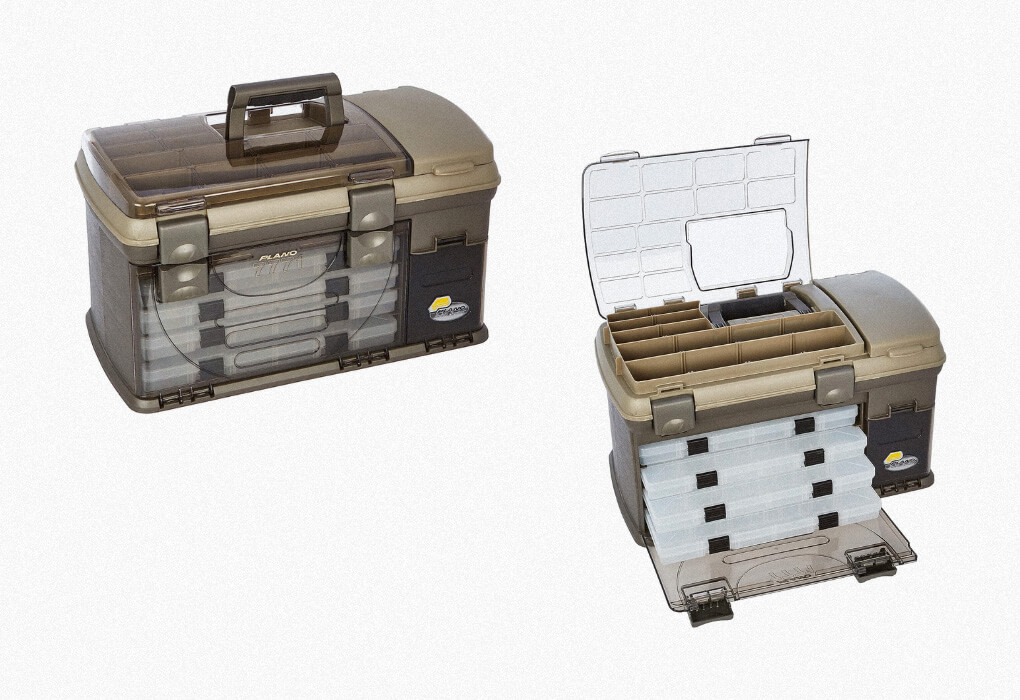 Specs
Dimensions: 21-1/4″ x 12″ x 12″
Style: Traditional tackle box
Why We Chose It
The Plano 7771 Guide Series Tackle Box is a great traditional tackle box for surf fishing. If you need to keep all your gear in one place, this tackle box will do just that and allow for easy access.
I'm amazed by just how much tackle I can cram into this box. It has room for pretty much everything you'll need except the cold beverage of your choice!
Not only does it have a ton of storage options, it's all easily accessible by flipping a couple of latches.
I'm happy to support Plano since this product is made in the US, providing other Americans with jobs, unlike some companies that look for the cheapest option possible and ship all the jobs overseas.
Even though it's an American-made product, there are a couple of things I don't like about it.
The first is Plano is being cheap and not providing the two other utility trays it's capable of holding. If it can hold four trays, sell it with four trays.
The other is the price, this tackle box isn't cheap, but it looks cheap and doesn't have moisture-wicking or rust inhibitors like the Plano Edge Series or Flambeau Zerust.
However, despite the downsides, the Plano 7771 Guide Series Tackle Box is a very viable option for surf fishing. 
HONORABLE MENTION
Buzbe Colony Modular Tackle Box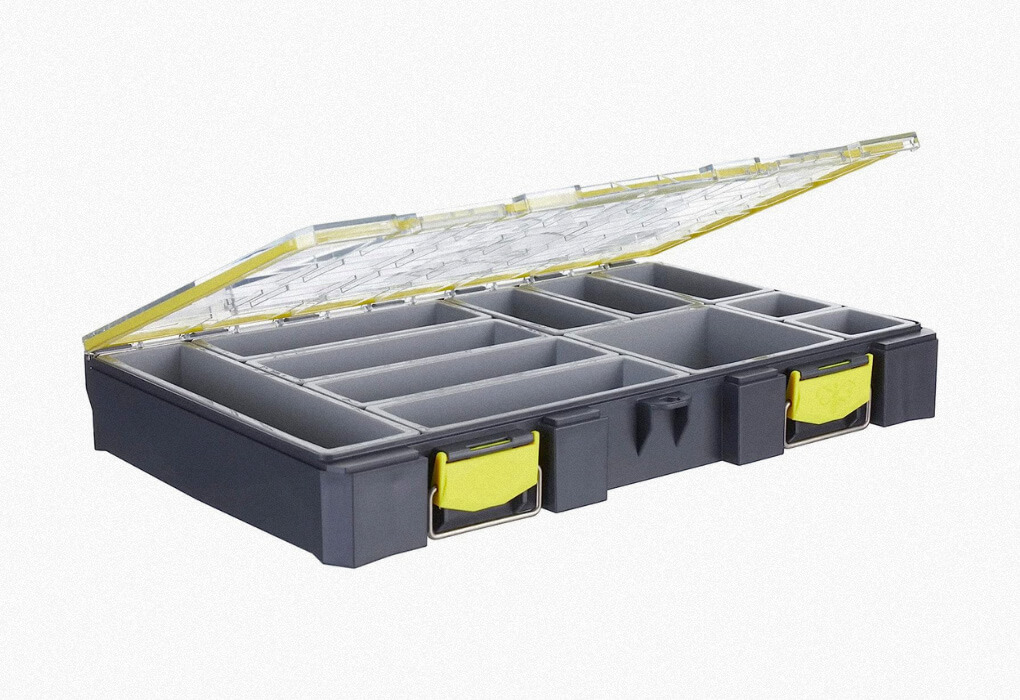 Specs
Dimensions: 10-5/8″ x 7-1/4″ x 2″ or 14″ x 9″ x 2″
Style: Utility box
Why We Chose It
The Buzbe Colony Modular Tackle Box is one of the best saltwater tackle boxes, and I just had to mention it after I got my hands on them at MLF Redcrest. 
This new take on a trusted favorite is refreshing in an industry that's as old as humans.
I love how customizable the tackle trays are; you can move them around to suit your needs. You won't have to worry about this box breakings since it's constructed from military-grade plastic. Put plain and simple, these boxes are tough.
The feature that stood out the most to me was the stackability. I often fish out of a kayak and have to leave a lot of my gear in the truck or home, and with the stackability of these boxes, I'll save even more room in my truck and shop.
Just like the Flambeau Zerust series and Plano Edge series, the Buzbe Colony Modular tackle box is waterproof and prevents rust from forming on your hooks, which means you won't have to buy as much tackle due to rust ruining your hooks.
But I won't tell your significant other that there's no need to buy more fishing stuff, as long as you don't tell mine!
As impressed as I was by the Buzbe Colony at Redcrest, I found a few things I didn't like too. 
Though they're better than the Flambeau Tuff Tainer latches, I don't think the latches are as good as the Plano Edge latch because I can open and close the Plano Edge faster than I can the Buzbe Colony.
They're also priced right between Flambeau and Plano, so the quality matches the price very well, but it's still expensive for a small tackle box.
Lastly, even though the tackle tray makes customization nice, they limit you on lure size, which is a bummer for those that like to throw big lures.
Most saltwater anglers can overlook the minute cons of the Buzbe Colony Modular tackle box, which is why I had to mention them after messing around with them at MLF Redcrest. 
Factors to Consider Before Buying a Tackle Box for Saltwater Fishing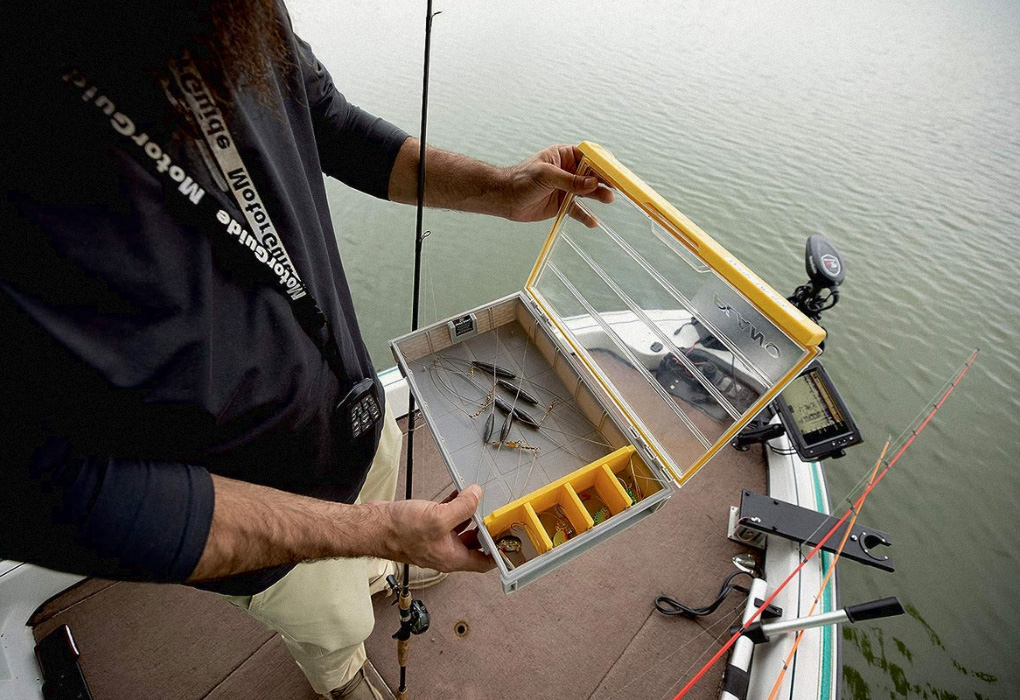 When searching for a tackle box for saltwater fishing, there are many things you need to consider. To some extent, your personal preferences matter.
For instance, you may want a large or small box; it largely depends on how much stuff you carry. 
However, some things are objectively better than others. For instance, cost-effective bags are always better – even if money isn't an object. More durable bags are also important; you don't want the bag breaking in the middle of a fishing trip.
Let's look at some of the more important aspects to remember when shopping for the best saltwater tackle box.
Material
There is nothing that destroys faster than salt and the sun. Therefore, you must choose a quality bag made of durable material. Preferably, rip-stop nylon or polyester are the best choices.
UV-resistant plastic is great for harder cases, though many boxes are now "soft" – designed to be carried on your hip or back. 
Higher-density nylon is the best option. It's very heavy-duty and designed to take a lot of abuse. Rip-stop nylon is made not to rip, preventing it from falling apart. The higher density of the nylon, the tougher it typically is.
You'll also want the material to be water-resistant – especially since you're going to be on the ocean. Corrosion resistance is also vital, as salt is slightly corrosive.
However, you also have to look at the other pieces of the fishing tackle box, like the zippers. If a zipper breaks, the bag becomes useless. Therefore, you must also find a high-quality zipper to find the best saltwater tackle bags.
Self-repairing zippers are the best, as you don't have to worry as much about breaking.
With that said a high-quality zipper that isn't self-repairing is also a great option.
Figuring out how durable a bag is can be challenging. After all, no company will advertise that their bag isn't durable. Therefore, your best option is to look at customer reviews like ours to determine how well the bag really stands up.
You typically get what you pay for. Therefore, if you purchase an extremely inexpensive bag, you can't expect it to last as long as a premium option.
If you have the money and love fishing, I recommend splurging on a great bag that will last years. 
Size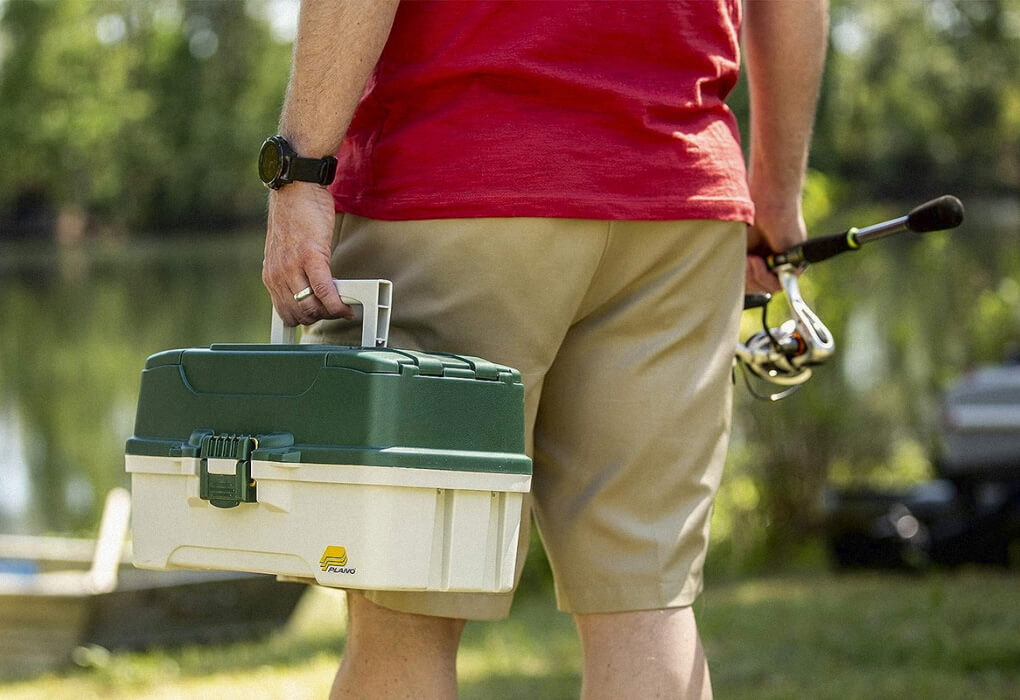 There isn't a one-size-fits-all best offshore tackle bag. Instead, it largely depends on your needs and preferences. You probably need a bigger bag if you carry a lot of gear.
If you don't, a smaller bag will probably work just fine. It's all relative, so it depends mostly on what you're looking for.
With that said, it's usually better to have too much room than too little. Too much room allows you to expand your fishing gear as needed. Therefore, we typically recommend getting a bigger bag than you currently need.
If you're anything like most anglers, you'll purchase more tackle and gear as the years go on (and you don't want to purchase a new bag constantly just to fit all your new stuff).
Bigger bags are typically more expensive. We found a pretty clear correlation between size and price. Therefore, you don't necessarily want to purchase the biggest bag. Not only would it be bulkier than you need, but it may also be more expensive.
When shopping for the bag, take a look at the overall size. Generally, this gives you a pretty good idea of how much the bag can hold. However, you'll also want to look at the type of storage the bag offers.
If the bag only has room for simplistic tackle boxes, you'll need to ensure all your stuff can fit in one of these boxes.
On the other hand, many of the best tackle boxes for saltwater fishing also have external pockets. These pockets can store larger pieces of equipment or items you need to access quickly.
Because many are waterproof, it's also a good place to store your phone and license. 
Many have external pouches for poles too. In this case, you can save internal space by putting your fishing poles on the outside.
Therefore, while space may seem pretty straightforward, it does come with some variance. One bag of the exact same size as another may be different just because of how the pockets are set up.
Portability
Traditional fishing boxes had a handle on top that allowed them to be carried around. While this is perfectly fine when you're only carrying a few items, it can make for a heavy load when you have lots of fishing gear.
Today, you'll still find these more traditional boxes – and we recommend them in many cases.
If you're just going on a quick trip or only taking a few lures, there isn't any reason to purchase a huge backpack. These traditional cases are traditional for a reason; they simply work well.
However, if you have a lot of gear, you'll need to think about other ways to carry them around. Often, a backpack is the safest bet. We can carry a lot more weight on our backs than anywhere else.
A comfortable backpack makes carrying tons of fishing gear much easier. It does need to be a quality backpack, though.
You can also utilize bags with shoulder straps. These tend to be more box-shaped and may sit nicer on a boat than a backpack. The extra strap for your shoulder makes it easier to carry than a traditional tackle box, though.
No matter what bag you get, ensure the strap is high-quality. Straps can be horribly uncomfortable, making the bag difficult to carry.
They may also break or rip, rendering the bag useless. The straps hold a lot of weight, so they must be made to last. 
If your tackle box has a handle, ensure it's comfortable and durable. You don't want the handle snapping off during a fishing trip.
Accessibility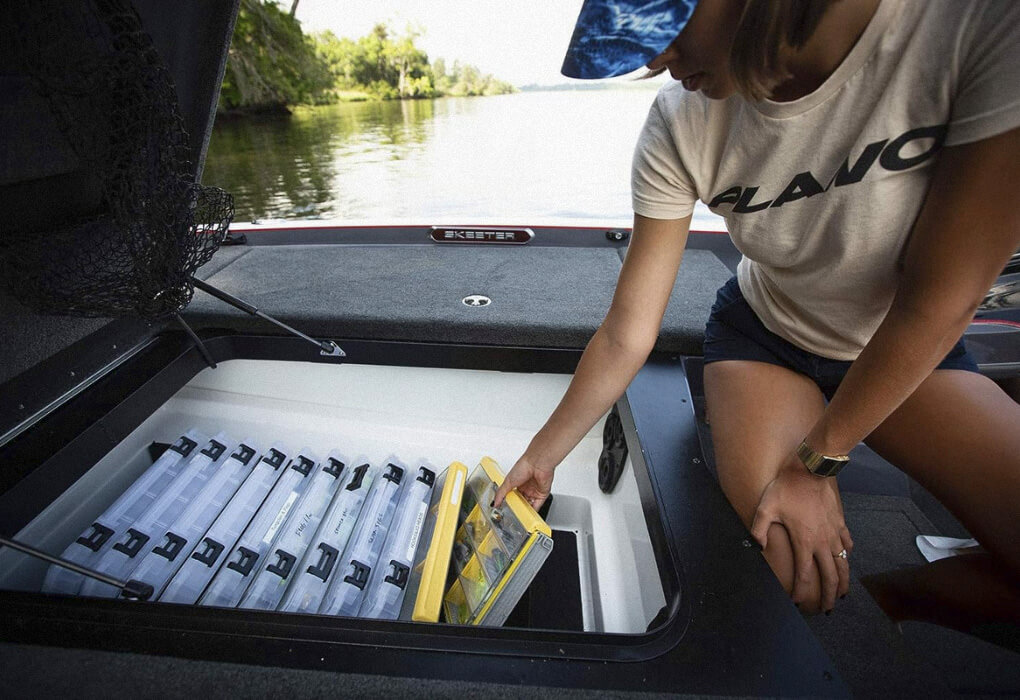 Preferably, you should be able to access your fishing gear quickly. You shouldn't have to unpack the tackle box to get to a particular lure.
On top of tackle, you may bring other fishing gear along in your tackle box, too. For instance, telescoping fishing poles, pliers, multitools, and other tools can also fit inside a tackle box.
Many boxes have external pockets designed for these items to easily access them. External pouches for telescoping fishing poles are extremely common, for instance.
These external pockets are vital for ensuring that you can reach your gear whenever you need to. 
You can purchase a fishing tackle box without any external pockets. External pockets are unnecessary if you're planning on just taking lures and bait along in the box.
However, for all other situations, that can make a huge difference between getting to your gear quickly and needing to dump your bag.
For instance, many saltwater anglers take extra inshore spinning reels, and you'll want to access these quickly. 
How you get into a tackle box is also important. Quality zippers are a must. I personally like zippers with clear contrast, as the last thing I want to do is hunt for the zipper in the middle of a fishing trip.
Price
When it comes to the best tackle box for saltwater fishing, you pay for what you get. Therefore, if you purchase an extremely inexpensive tackle box, you can expect to replace it in only a few months.
It could hold up for years or even decades if you splurge a bit and get something more expensive. The materials are simply better.
Of course, you're the only person who knows your budget. Therefore, you're the only person who can decide whether something is too expensive.
We included several different tackle boxes above, allowing you to find something at just about any budget. 
Frequently Asked Questions
The following FAQs will help you make a better decision when purchasing a saltwater tackle box.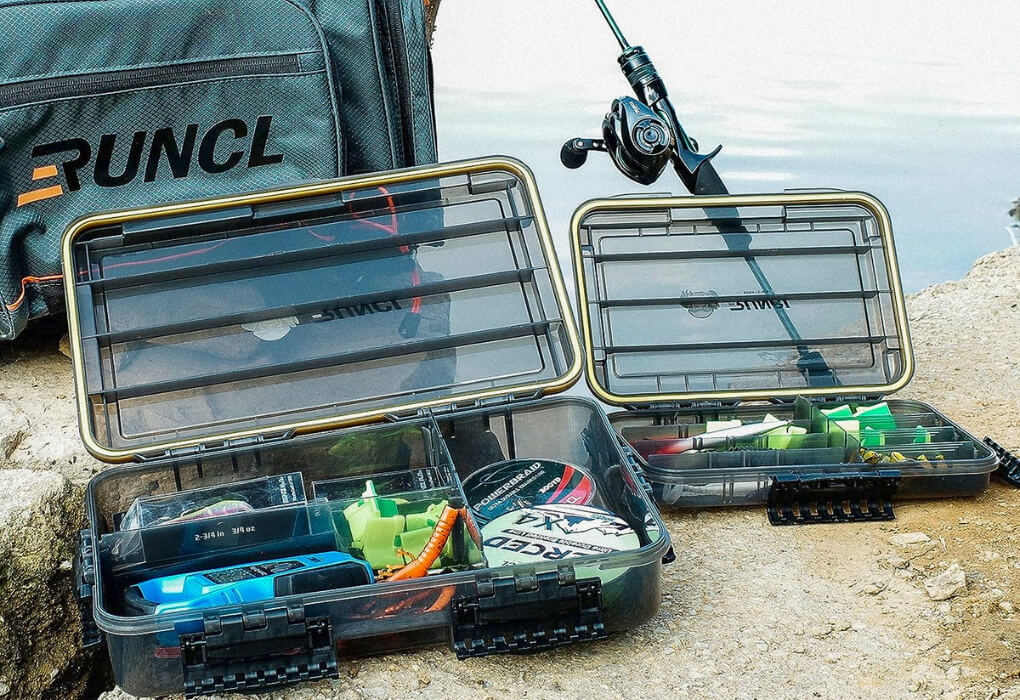 What are some of the benefits of a saltwater tackle box?
Some of the benefits of a saltwater tackle box are fewer corroded hooks and lures, so you spend less money on buying new gear, and better organization, so you spend less time looking for the lure you need.
What is the most popular size for a saltwater tackle box?
The most popular size for a saltwater tackle box is a large tackle box because many saltwater anglers use bigger lures. Therefore, they need more room to keep those lures.
What are the three things you should take into consideration when purchasing a saltwater tackle box?
The three things you should take into consideration when purchasing a saltwater tackle box are size, durability, and the amount of protection it offers for your gear.
Last Cast
Every angler needs a fishing tackle box to carry all their stuff around and keep it organized.
Saltwater anglers need extra care to purchase a durable, protective box that can withstand the salt and sun – two forces that can quickly destroy just about everything.
The best saltwater tackle box for you depends largely on your preferences. A larger tackle box is great if you have a lot of gear or larger lures.
Once you reach a certain size, purchasing a bag or backpack instead of the traditional tackle storage box makes more sense.
You'll also need to consider what external pockets you need and your budget.
We included several of the best saltwater tackle boxes above to help you pick the best option.
While these tackle boxes are great for saltwater, you may want something else for different types of fishing, such as kayak fishing.
Don't hesitate to let us know what you think the best saltwater tackle box is, or ask any tackle box related questions in the comments below!