Some bass fishermen boast of catching keeper bass on ultralight tackle. But they don't know what "ultralight" is.
Try catching largemouth and smallmouth bass on 4-pound test monofilament line, then you can join the club.
I've been fishing that way for years, and I never grow tired of it. Casting a small bait on small tackle and getting a big hit from a bass is as exciting as it gets in fishing.
Yeah, I've had my line broken plenty of times. But I've also caught some bass that most fishermen would never think possible on such light equipment.
In his waning years, bass legend Ray Scott advocated for such light-line fishing. He dreamed of one day establishing a circuit where 4-pound test line was the heaviest allowed.
"It puts the sport back in sport fishing," he once said. "It gives the bass a fighting chance."
Sadly, his dream of establishing that circuit of light-line bass anglers never materialized. Scott, the founder of B.A.S.S. and the most influential figure in the history of bass fishing, died in 2022..
But fishermen such as me still relish the fight of a good-sized bass on lightweight equipment.
I've been fishing that way long before Scott came out with his dreams of a division for ultra ultralight fishermen.
I still use heavier equipment when I'm searching for a big bass. I love throwing big bass jigs, spinnerbaits and suspending jerkbaits, and you're not going to do that on 4-pound test line.
But when I'm just trying to get bites and get a few fish in the boat, I'll always go to my lightweight equipment, and it seldom fails to produce.
Hop into the boat and I'll show you.
---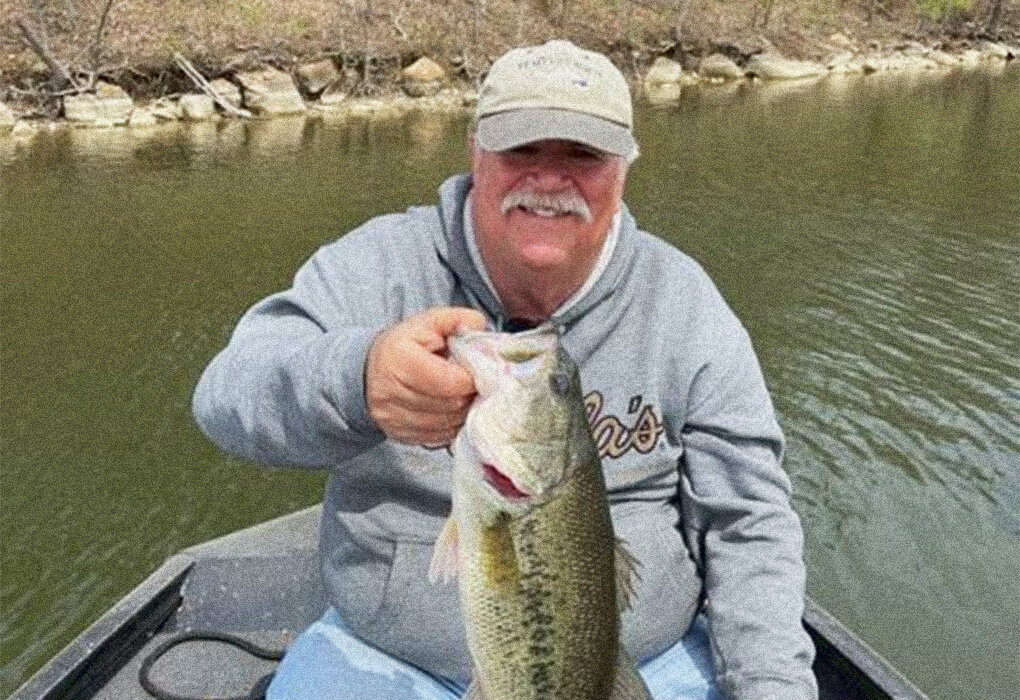 Brent Frazee holds proof that good-sized bass can be caught on light tackle
Understanding the Basics
If you want to fish this way, the first thing you have to do is readjust just about everything you've learned about bass fishing.
You can't set the hook like you want to break the bass' jaw. More often than not, your line will break.
You can't cast into the thickest cover you can find. You'll never get your lure back.
You can't fish with baitcasting equipment. Light line and small lures won't work.
You can't use popular bass lures like topwater bait or bass jigs. We're talking small stuff here.
Instead, we're talking about a specialized type of bassin'.
I use a 6-foot-6 St. Croix Premier Lite Power spinning rod that provides two crucial qualities–a strong butt to set the hook and a sensitive tip to detect subtle bites.
I pair that with a great ultralight spinning reel, the Pflueger President spinning reel that has a good drag system.
There are plenty of other options that probably will work just as well. This is just the setup I have used for years.
I use monofilament line because I want some stretch when I set the hook. I set the hook with a sweeping motion rather than a hard snap of the wrists. Sometimes, the line just grows heavy when the fish is on.
From there, I rely on the drag on my reel. I try to lead the hooked fish to deeper water where the fish is unlikely to get tangled in brush or timber.
That's when the fun starts. The fish and I are fighting on equal terms. The bass can peel off line, but if my drag is set properly, I can eventually wear it down.
I generally use a 1/16th-ounce jig head–either a ball head or a mushroom head–and affix a small plastic bait to that.
The advantages of going that light? I fish clear water and I am convinced the light line is less visible to fish. But it's more than that. Small grubs, plastic worms and jigs have more action on light line. That's just my observation.
When I downsize from even a 6-pound-test to 4, the number of bites I receive almost always picks up.
This is a shallow-water game. I seldom work water more than 13 feet deep when I am light-lining. That's why spring and early summer are the best time to use this technique.
Because there often is an exposed hook on the plastics I use, I cast to the edge of or over brush piles, along rocky areas, off points and near gravel banks. Transition areas where rock fades into gravel are especially good.
The light-line techniques are especially good in small bodies of water such as farm ponds, strip pits and community lakes.
The best way to work your lure is to slowly retrieve it, imagining it swimming just a foot or so from the bottom.
Be prepared to catch more small bass than big ones. But fish in the 15-inch range aren't unheard of. And hefty smallmouth bass also can be caught this way.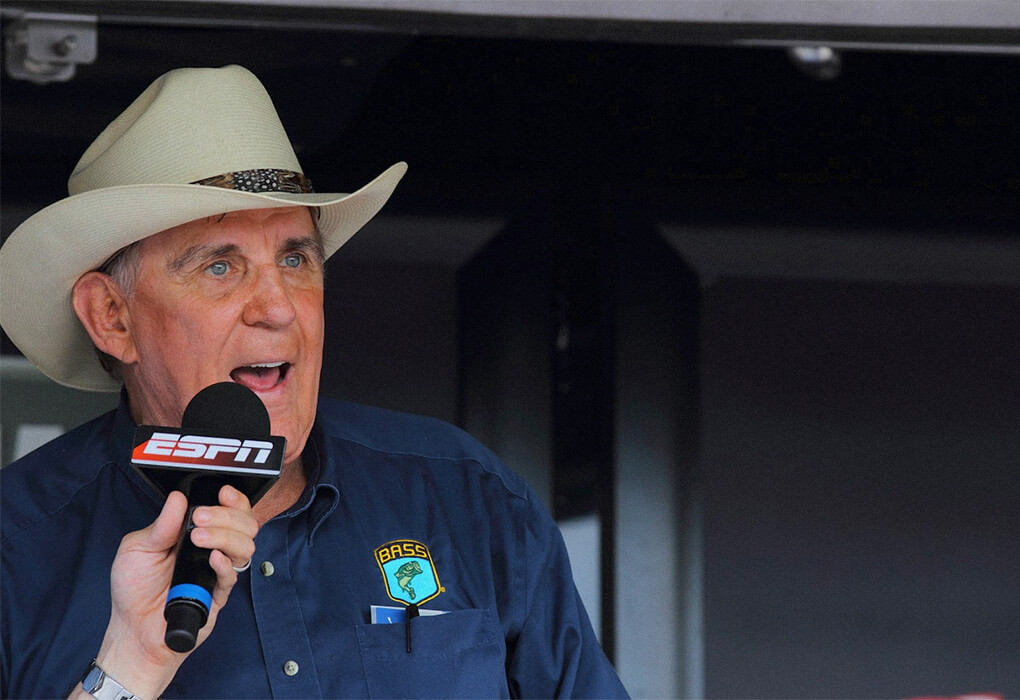 Ray Scott, founder of B.A.S.S., was a big proponent of light-line fishing (photo by B.A.S.S.)
The Bass Boss' Endorsement
After Ray Scott left B.A.S.S., he tinkered with some new ideas.
One of them was establishing a legion of bass anglers devoted to light-line angling.
On his website, he issued a call to fishermen to join the Eagles of Anglers, who would pledge allegiance to light-line fishing to put the sport back into sportfishing.
"Why bully bass?' he wrote. "Where's the sport in whipping a 4-pound bass with 20-pound test line?"
He added, "With pool-cue strength rods and well-rope size lines, sportfishing…might one day become extinct."
Scott didn't want to eliminate the power fishing that he made famous. Instead, he wanted to add light-line fishing as another option.
To be a member of the Eagles of Angling, fishermen had to pass the 12 Steps to Success.
Hooks must be needle-sharp for penetration.
Line must be certified 4-pound test.
Fishermen must use maximum knot strength for line size.
Spinning rods should be 6 ½ feet long with a strong butt and a lighter tip.
Rod guides should have smaller rings and lower profile to increase casting distance.
Reels should have a high-speed gear ratio and an oversized line roller to reduce line twist.
The snap hookset is taboo. Fishermen should use a sweeping motion to set the hook.
Learn how to use the drag on your reel. Tighten it for hooksets on long casts, loosen it as fish is brought near the boat.
Fishermen should learn to play the fish. Be patient.
Know the limits of your tackle. Don't try to "over-pressure" the bass. Let the rod and reel work for you. Be prepared for the bass' sudden runs.
Nets are not allowed. Fight the fish fairly. Slowly work bass into position where the angler can lip it.
Pray. With light line, there's need for a prayer line, Scott said.
It was a good idea, but it never really caught on the way Scott hoped it would. Nonetheless, it generated interest in light-line fishing.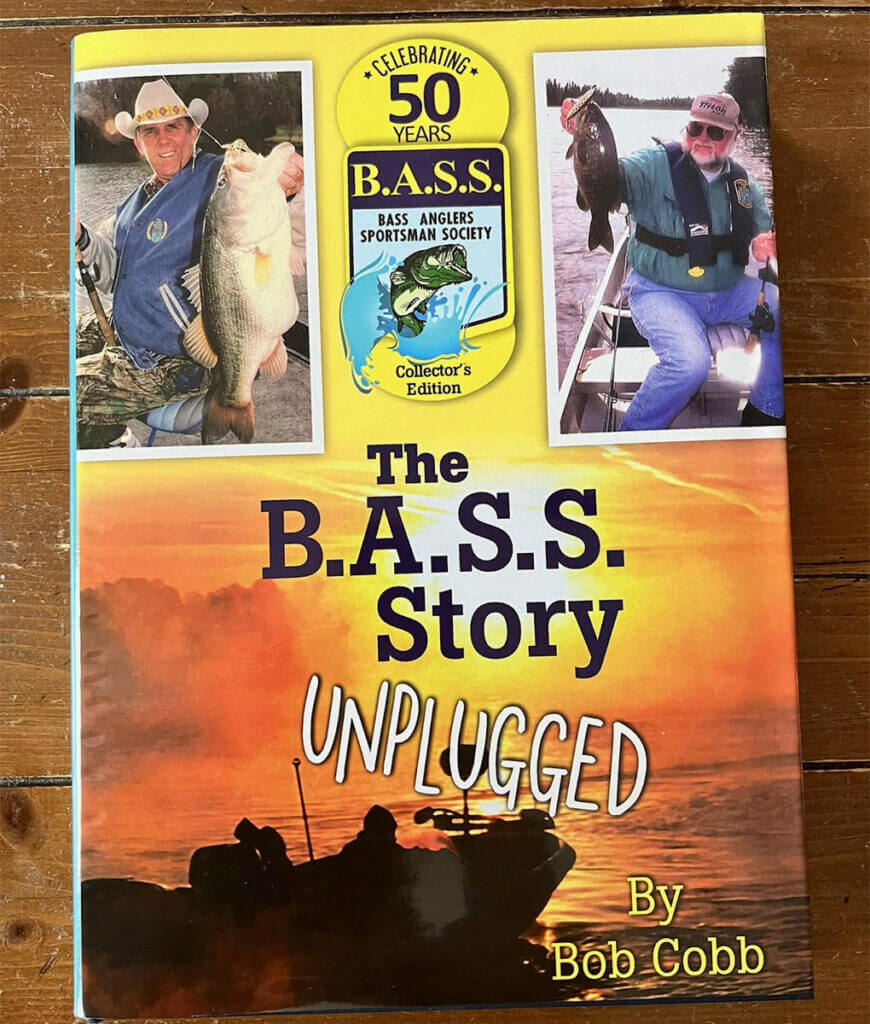 Ultralight Fishing From The Start
Bob Cobb, Scott's right-hand man at B.A.S.S., remembers the moment his boss got hooked on light-line fishing.
Renowned lure manufacturer Charlie Brewer visited Scott in Alabama and extolled the virtues of fishing with light line and the Slider lures he made.
"To illustrate a point, he took Ray out into the parking lot and took a 5-pound bag of slip sinkers out there and hooked it up to a fishing rod," said Cobb, who was the editor of Bassmaster Magazine and the producer of the Bassmasters TV show.
"He set the hook like a hardcore bass fisherman would and broke the line. Then he hooked it up again and swept the bag across the driveway.
"Ray was impressed."
Brewer gave Scott a rod and reel designed for that type of fishing, and Scott put it to good use.
Cobb remembers a day when he and Scott were in Canada and Scott started out using his traditional tackle. When the action slowed, Scott went to the rod and reel Brewer presented him.
Crawling Sliders across the bottom, both Scott and Cobb started catching smallmouth bass at an impressive rate.
They used a Stren 4-pound test line and had no trouble landing the hard-fighting fish.
Later, Scott designed a Sporttackle rod with a strong butt and a flexible tip. He and others used the rod to catch many keeper fish.
But it never became the craze Scott hoped it would and its popularity faded.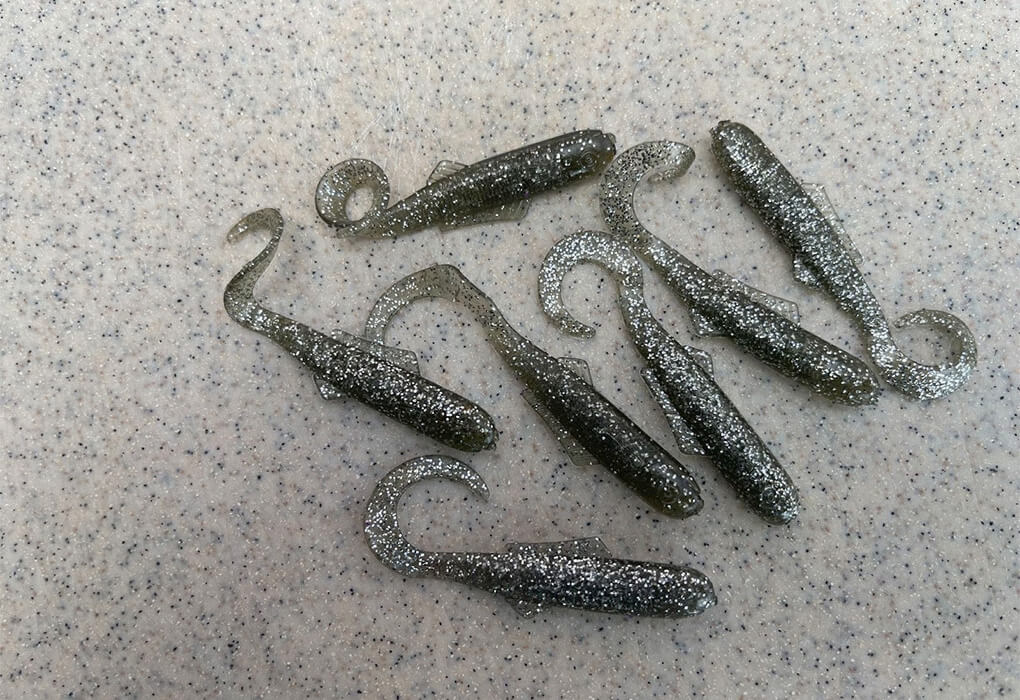 The Swimming Minnow, one of my favorite finesse baits (photo by Brent Frazee)
Ultralight Lures That Get Bites
I remember a day in the 1980s when I visited lure manufacturer Gene Larew at his resort in the Ozarks.
I was doing a story on the electric blue plastic worm, the craze at the time.
Almost as an afterthought, Larew showed me a small grub he started making, the Swimming Minnow. He wasn't much of a finesse fisherman and he wasn't sure how popular the baits would ever become.
"I know one thing," he grumbled. "Guys are winning bass tournaments on these things when the fishing's tough, but they're getting up on the stand and lying about how they caught their fish.
"They;re trying to keep these things secret."
Larew sold me a bag of the baits and they immediately became my favorite finesse bass bait. The smoke glitter version has the looked of a small baitfish, complete with its wiggle, its flash and apparently its taste. Larew infused his baits with salt.
Using a light line, I started catching not only bass, but crappies and white bass as well. Similar baits have been produced over the years, with Bobby Garland Lures producing the ones I buy.
But there are other finesse baits I use to persuade the bass to hit. I still like using Charlie Brewer Sliders to work across gravel bottoms.
And many of Z-Man's offerings, such as the TRDs and TicklerZs, are perfect for light-line fishing.
Small plastic worms, paddle tail swimbaits and tube baits also work.
Last Cast
Fishing with a 4-pound-test line can produce bites year-round, even in the cold of winter.
But if you're after a big fish on a light line, look at March or early April when the bass are still sluggish but will hit a bait put in front of them.
I've found that they put up less of a fight in those conditions and can be easier to land on light tackle.
Whatever the case, light-line fishing can be a great way to introduce someone to bass fishing. That person will get lots of bites, and will learn what it feels like to get a hit and pull in the fish.
It can be an important stepping stone for beginners. And sometimes, it will provide the type of a challenge that will last a lifetime.
Let us know in the comments section about your experiences with light line. Set the hook…just not too hard.