So, you've heard that Lake of the Ozarks is a bass fishing paradise worthy of a road trip. And you can't wait to visit the vast reservoir in central Missouri and make your first cast.
But where do you start? Its size can be intimidating.
The Magic Dragon, as it is often called because of its shape, covers 54,000 acres, has 1,150 miles of shoreline, and is 93 miles long. That's a lot of water to cover.
That's where we come in.
We interviewed a few of the lake's best fishermen and got the best Lake of the Ozarks bass fishing tips guaranteed to catch fish on your next vacation or during your fishing tournament.
So, mark off some vacation dates on your calendar, organize your tackle, and make your reservations at a lakefront resort.
It's time to go fishing, Ozarks-style.
---
What to Expect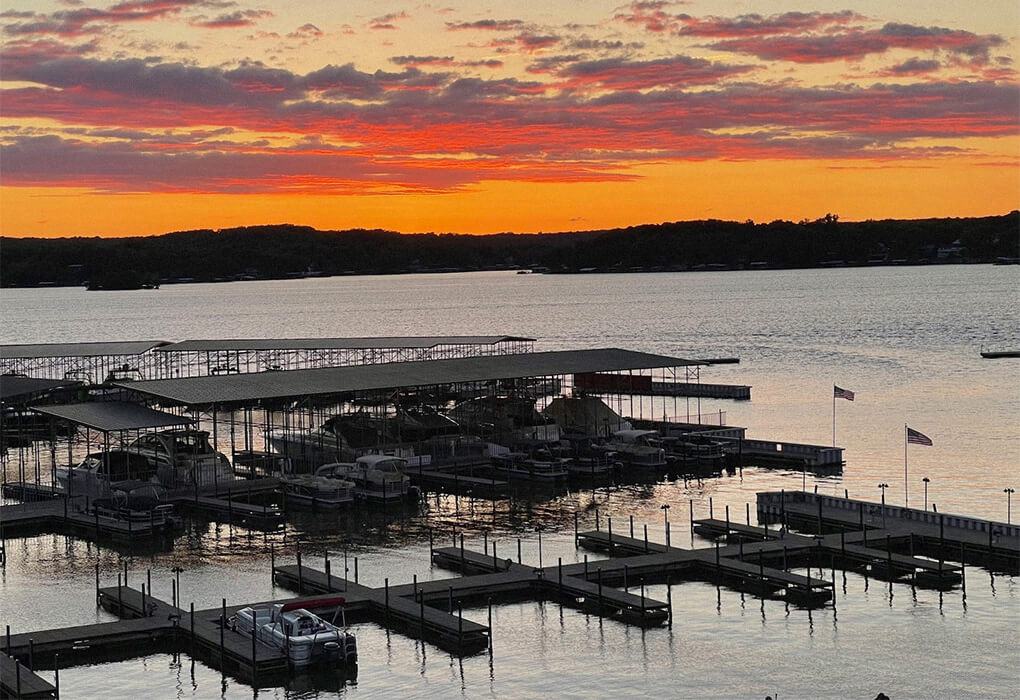 Lake of the Ozarks is filled with docks, boats, and coves lined with summer homes (photo by Brent Frazee)
If you're looking for a peaceful, out-of-the-way spot to go fishing, maybe Lake of the Ozarks isn't for you.
This sprawling reservoir is one of the Midwest's most popular playground lakes. Expect plenty of traffic, both on and off the water.
It has multiple coves, most lined with everything from small cabins to majestic homes. That means thousands of boat docks.
That might sound like a less-than-ideal setting for bass fishing, but quite the contrary.
Those docks provide a refuge for bass, a place to find shade, baitfish, like minnows and bluegill, and cover. Many owners sink brush piles along their docks for better bass and crappie fishing, so there's that, too.
"I really believe that our boat docks make the bass fishing so good at Lake of the Ozarks," said Mike Malone, who has fished the lakes for almost 30 years. "We have thousands of docks, and they give the bass sanctuary.
"They can get way up under those docks and hardly ever see a lure."
That's one of the reasons Lake of the Ozarks' bass population stays consistently good. Another key is that the water level doesn't fluctuate wildly as it does at federal flood-control reservoirs.
Ameren Missouri manages the shoreline of Lake of the Ozarks, and recreation is one of the priorities.
It is a flow-through reservoir, meaning that it has dams on both ends, and water isn't released except in extreme cases to protect the shoreline interests.
Because of that stable water level, the bass have good spawning conditions and often pull off good year classes of fry.
"It's amazing how consistent the bass fishing is at Lake of the Ozarks," said Jim Dill, a longtime guide, tournament fisherman, and past owner of a lure company.
"We have a ton of 14 to 16-inch fish, but there are still big fish being caught, too. If you're just after bites, it's a great place to fish."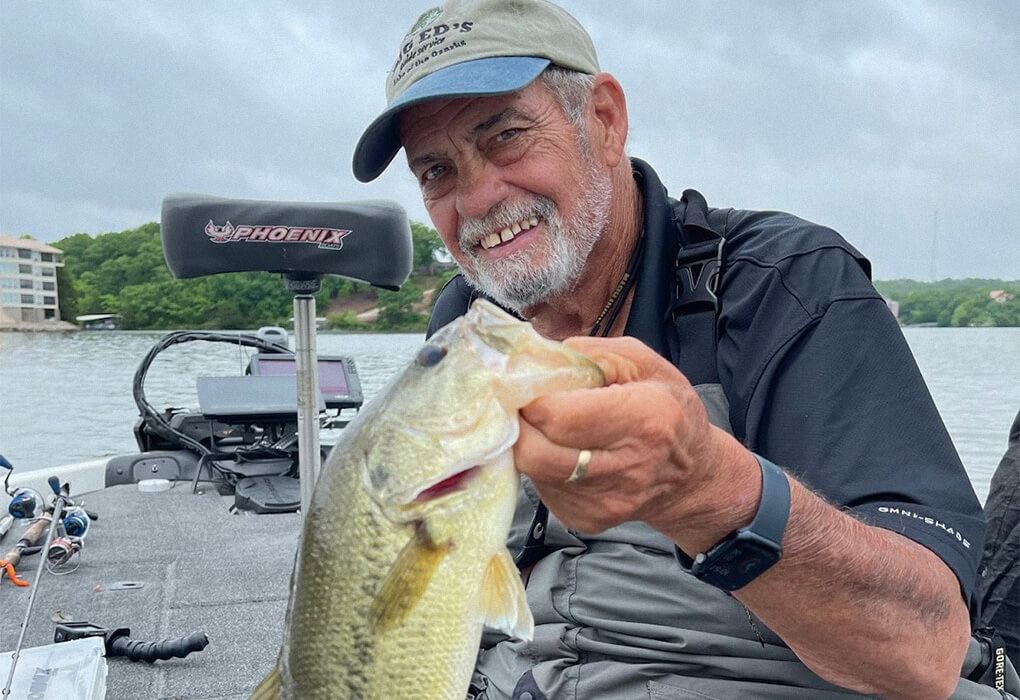 Guide Ed Franko has learned that there is a time when bites are almost guaranteed at Lake of the Ozarks (photo by Brent Frazee)
Time to Visit the Best Bass Spots on Lake of the Ozarks
Get out your calendar or day planner and mark off some dates.
Plan a trip anywhere from late May to mid-June. That's the best time of the year for bass fishing at Lake of the Ozarks, at least in terms of action, according to veteran guide Ed Franko.
"After the bass recover from the spawn, they move on to the points, and they feed like crazy," said Franko, who runs Big Ed's Guide Service and helps his wife run the Bass and Baskets bed and breakfast on the lake.
"Current is the key. If they're releasing water at the dam, it pulls the fry of all kinds of fish out onto the main lake, and they're swept across the points.
"The bass will set up on those points and bluffs, and they'll get pretty easy to catch at times."
Franko proved that last year when fellow outdoor writer Bill Cooper and I accompanied him in late May. Casting shaky heads with Zoom Magnum Finesse Worms along a bluff end, we caught and released 73 bass in three hours.
Franko finds success just slowly retrieving the shaky head along the bottom, hopping it occasionally, then resuming.
He also finds success throwing topwater lures and stickbaits such as Chug Bugs, Whopper Ploppers, or Zara Spooks.
Franko recommends using a medium-heavy baitcasting rod with a 15-pound test line for the shaky heads rigs and a medium-light rod with a 12-pound test line for topwater fishing.
He often fishes the Bagnell Dam end of the lake. But he said the timing of the bass activity applies to other arms as well.
Extreme weather conditions, such as high water caused by heavy rain or cold fronts, will be the only factor that will waylay that action.
But the post-spawn pattern lasts long enough most years that there is almost a guarantee of finding one stretch of good fishing.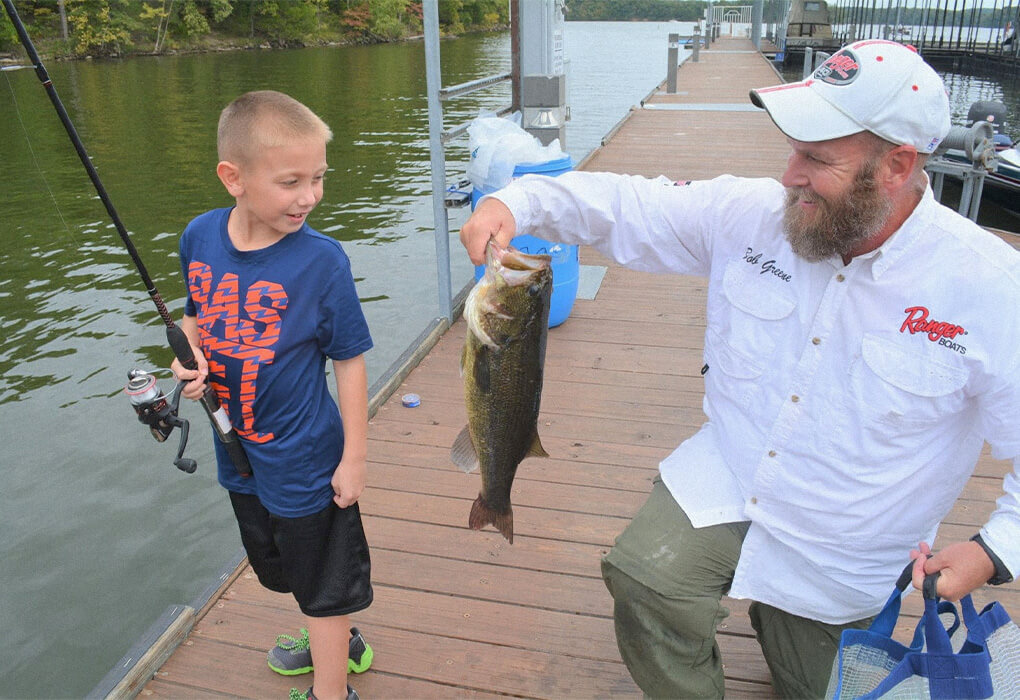 For experienced fishermen all the way down to kids, Lake of the Ozarks has a lot to offer for bass anglers (photo by Brent Frazee)
Another Good Time to Go
April is another month to circle on your calendars or day planners.
As the water warms, the bass steadily make their way to the shallows, with feeding and spawning on their minds.
They are readily accessible for anglers who don't have high-dollar electronics on their boats. Cast to the shallows in coves with gravel flats, and you stand a good chance of getting bit.
"Look for places where big chunk rock transitions to flat pea gravel," Malone said. "Secondary points can be good, too.
"You can throw a Carolina rig, Texas rig, or a shaky head and just drag it along the bottom and do really well."
During April, bass are usually in some phase of the spawn. The keys are the water temperature and the moon phase.
The bass will get ready to spawn if the water temperature is near 65 degrees and there is a full moon.
If the water is clear, fishermen can pull into the back of coves with a gravel bottom and see the fanned-out nests dotting the bottom.
If they're lucky, they can also spot bass cruising around near the nests as they prepare for the spawn.
Slow-falling baits such as Senkos or Flukes can be effective. Malone also likes throwing a pink floating worm rigged wacky style, twitching it over the beds, then letting it fall.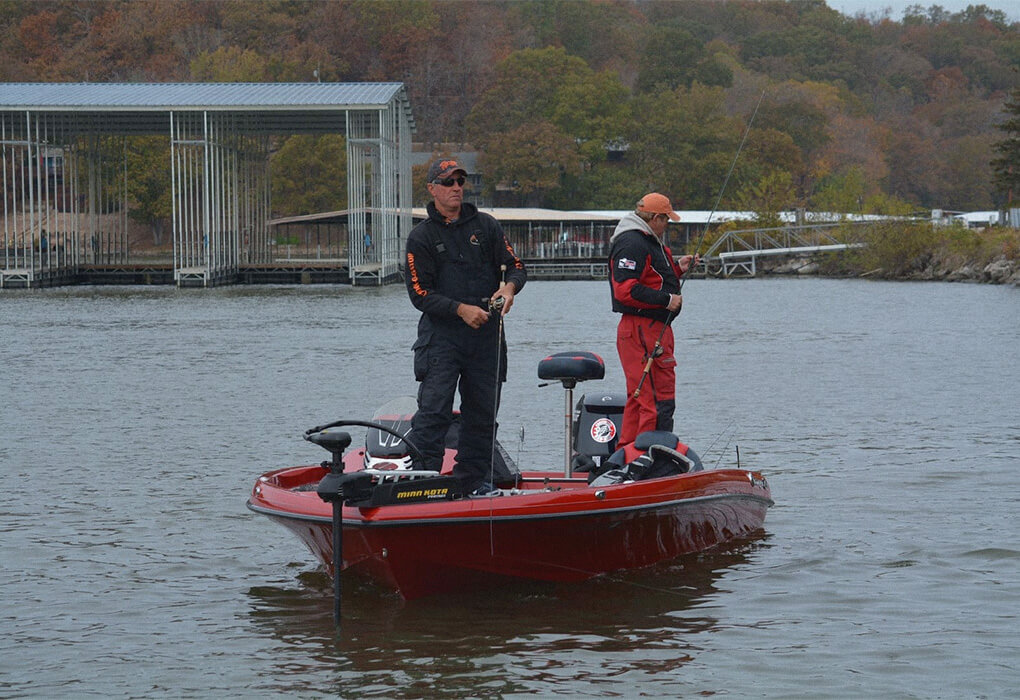 Boat docks can be great places to fish for bass at Lake of the Ozarks (photo by Brent Frazee)
Don't Overlook Those Docks
Many beginner and intermediate bass fishermen look at the numerous boat docks at Lake of the Ozarks as annoying obstacles.
But veteran anglers view them as prime bass cover, which fish relate to almost year-round. The trick is learning how to fish them.
"If you can cast your bait within a few inches of the corner of a dock, you've really improved your chances of catching bass," Franko said.
Dill added, "If you can bring your lure right along the edge of the dock, sometimes the bass will come out and grab it."
How do you know which docks to target? In the spring, the docks near the back of coves with gravel spawning habitat can be good.
In the summer, main-lake condo docks often are the most productive.
A wide range of baits will work. Spinnerbaits, topwater lures, Senkos, and squarebill crankbaits can be effective. If you want to get brave and cast for the big girls, try throwing under the cables and catwalks at the back of the docks.
That's where many of the biggest largemouth bass are caught while fishing Lake of the Ozarks.
But be forewarned. You'll be casting into tight quarters, and reeling in a bass can be a chore.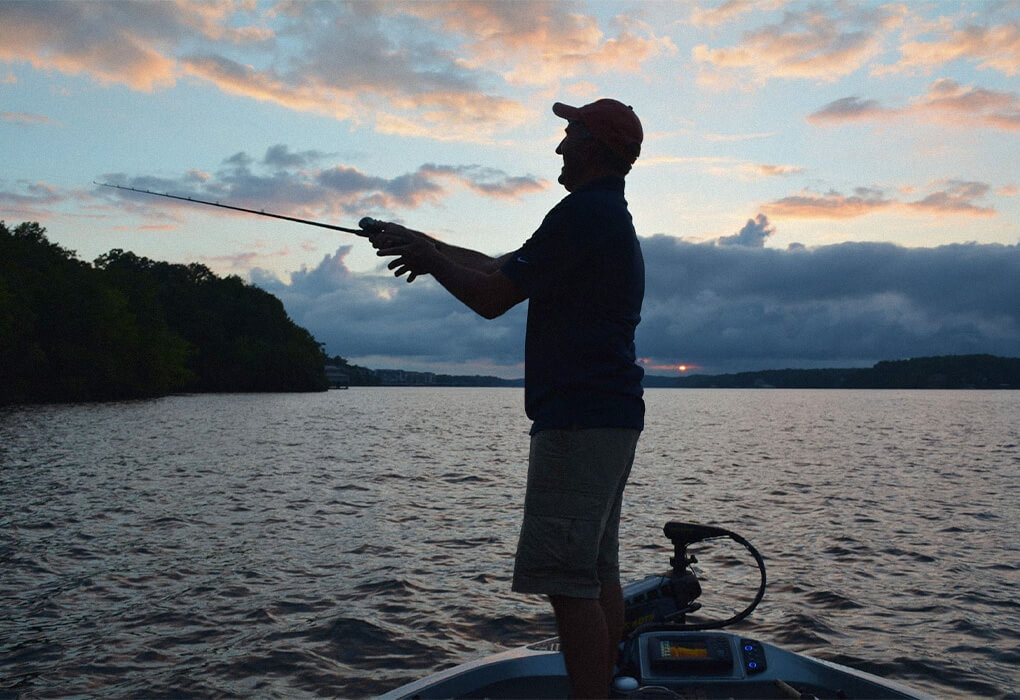 Fishing often is best at dawn and dusk during the busy summer months at Lake of the Ozarks (photo by Brent Frazee)
Summer Vacation Bass Fishing
If you want to catch bass during a summer vacation, you'd better pack an alarm clock.
By the time the sun gets cooking, the lake is often filled with boats, personal watercraft, water skiers, and cruisers. The water can get so rough it's almost impossible to fish.
That's why Dill and Franko recommend getting out early before the water starts churning with activity.
"We'll run our guide trips from 6 (a.m.) to 10 in the summer to beat the boat traffic," Dill said.
In those early-morning hours, fishermen often can run across schooling bass, which can be caught on buzzbait topwater lures or small paddletail swimbaits.
If there is no sign of surface activity, Dill and Franko often drag soft plastic worms through brush or rocky areas.
Bluffs, main-lake, and secondary points can be good places to start. If all else fails, try fishing large boat docks situated at the edge of deep water.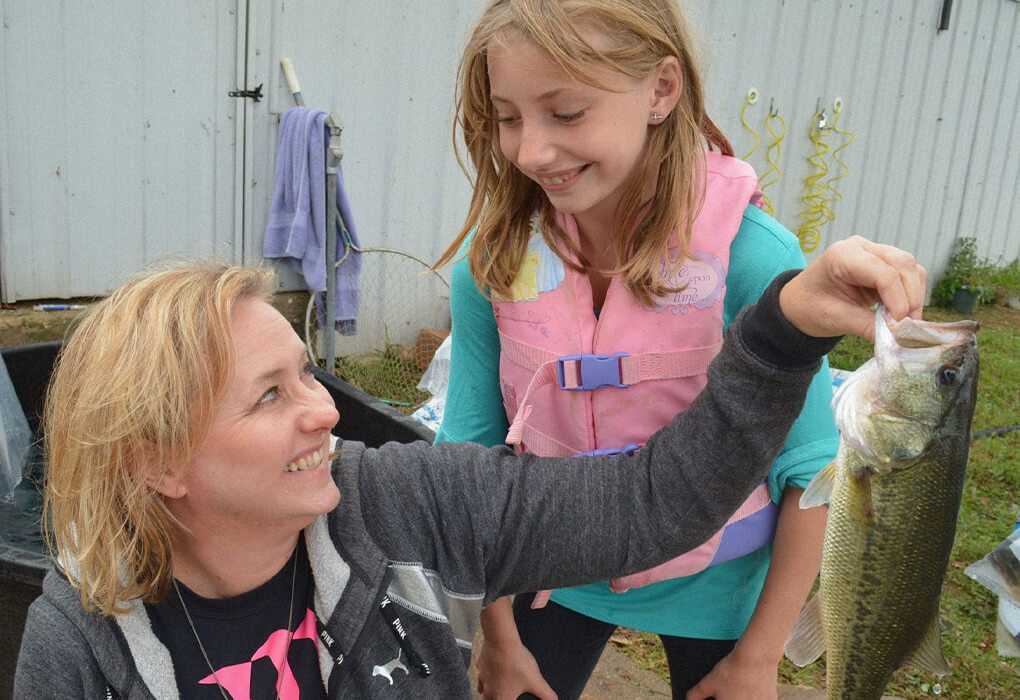 Lake of the Ozarks can be great for family fishing trips (photo by Brent Frazee)
About Those Vacations
Lake of the Ozarks has a history of being one of the Midwest's most popular family vacation spots.
Fishing is only part of the appeal. The lake community is full of lodging, dining, and entertainment options.
You can choose from small mom-and-pop waterfront resorts to large hotel-type lodging.
Dozens of restaurants, family activities such as mini-golf and go-cart tracks, country music theaters, show caves, and shopping offer plenty of family options.
If you like to party, there are plenty of options, too. The lake is dotted with popular on-the-water bar and grill operations.
The Lake of the Ozarks Convention and Visitors Bureau's website, funlake.com, provides complete information about available guides who can offer you the best fishing report.
If your trip centers on fishing, you can find public boat ramps here.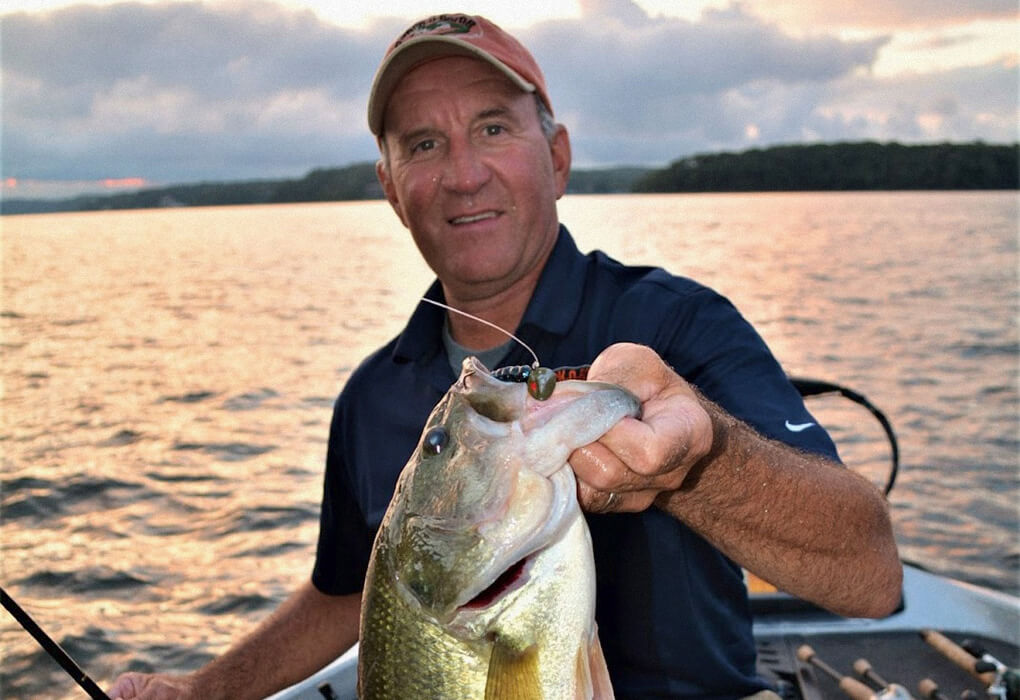 Jim Dill, a longtime guide on Lake of the Ozarks, knows there are some big bass hiding at the edges of all that activity (photo by Brent Frazee)
In Search of a Big One
Some of the biggest bass are caught on Lake of the Ozarks before most fishermen even get their tackle out of storage.
Malone's favorite time to target the big ones is February and March, during prespawn when the bass start to move up and feed in preparation for the spring spawn.
He uses suspending jerkbaits to imitate struggling shad and targets main lake and secondary points, especially the ones close to deep water.
Later, jig and pig combinations and crawdad-colored Wiggle Wart and RkCrawler crankbaits are popular big-bass baits.
"You aren't going to catch a lot of fish in the winter, but you have a chance of catching a big one," said Malone, who has caught bass as big as 8 ¾ pounds at Lake of the Ozarks.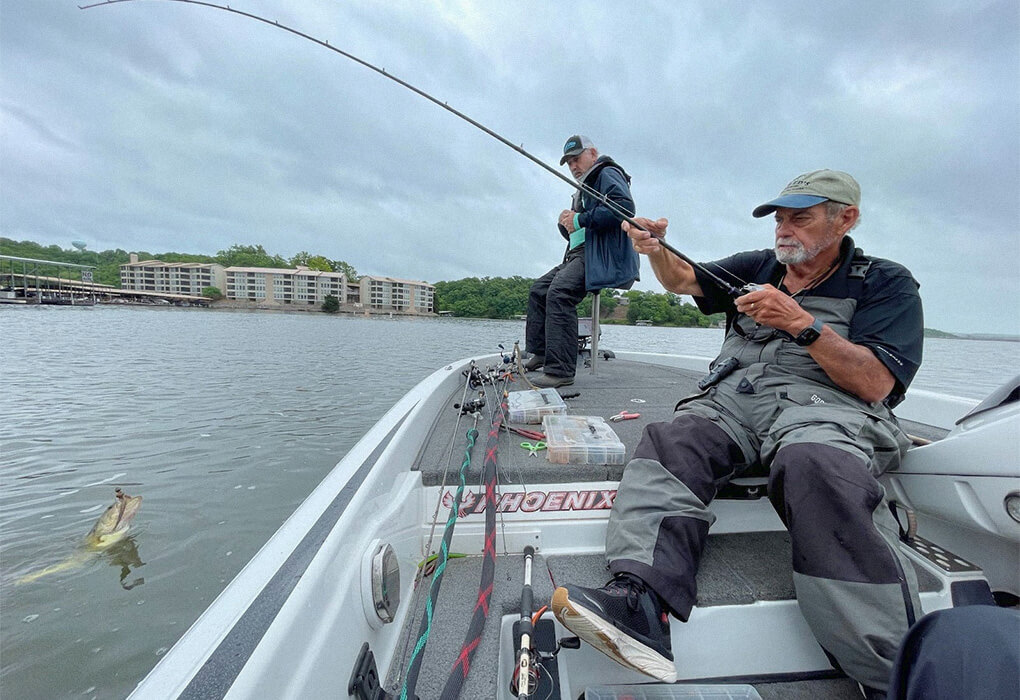 Guides such as Ed Franko (foreground) know that Lake of the Ozarks is one of the best bass lakes in the country (photo by Brent Frazee)
Frequently Asked Questions
Is Lake of the Ozarks good for bass fishing?
Yes, Lake of the Ozarks is good for bass fishing. You can catch a lot of bass here once you figure them out.
Where is the best bass fishing on Lake of the Ozarks?
The best bass fishing on Lake of the Ozarks takes place throughout the lake. Depending on the time of year, target main lake and secondary points or shallow pea gravel flats.
What is the biggest bass caught at Lake of the Ozarks?
The biggest bass caught at Lake of the Ozarks is over 10 pounds. 
How many bass are there in Lake of the Ozarks?
It's impossible to know how many bass are in Lake of the Ozarks, but it's safe to assume there are millions of bass that anglers can catch while fishing at Lake of the Ozarks. 
Last Cast
The impressive thing about Lake of the Ozarks is that the best fishing isn't restricted to just a few "hot spots."
Good fishing can be found below Truman Dam all the way to the face of Bagnell Dam–almost 100 miles by water.
Remember that water clarity and temperature can vary from arm to arm, presenting many variables. But a few constants play a big part in fishing success.
Current plays a considerable role.
When water is released from Truman Lake into Lake of the Ozarks on the east side and pulled through Bagnell Dam into the Osage River on the west side, it affects fish movement.
Baitfish are swept across points, schools of gamefish such as bass congregate to feed on them, and the fishing can explode, especially during the spring months.
Because much of the shoreline is privately owned, finding a place to fish from the bank can be challenging. But there are a few places to try.
Lake of the Ozarks State Park, with its expanse of shoreline open to public use, is probably your best bet. Head to the Public Beach No. 2 area and set out from there.
Many waterfront resorts also have fishing docks that their customers can use.
The lake also has many fishing guides and boat rental outlets.
So, if you want to try fishing a new spot, consider Lake of the Ozarks. You won't be disappointed by one of the best fisheries in Missouri.
Be sure to let us know how your Lake of the Ozarks bass fishing trip went in the comment section!