Bass is a highly-sought sport fish, but not just because they are a thrill to catch. You may have been asked, "Can you eat bass?" by a buddy out for the first time. You can eat these as long as the local regulations allow you to take it home. You'll want to do a bit of research ahead of time on the local fish and water health, but with a bit of knowledge, you'll be able to eat most bass you catch.
I've gathered information from top experts on how much and what kind of bass to eat, as well as the best ways to prepare them. Having attended many fish fries in my day, too, I'll share with you all my favorite ways to cook a bass for a delightful meal showing off your fresh catch.
---
Can You Eat Bass Fish?
Many anglers go bass fishing solely for the sport of it. They choose to catch and release, rather than eat the bass fish. But, you can eat these fish, and many people enjoy the bass taste.
When choosing whether or not to eat bass, it is essential to research the area that you caught it, the local regulations, and the type of bass. For example, those who go fishing in Maine are advised against eating the striped bass by Maine's Center for Disease Control and Prevention due to PCB levels.
Polychlorinated biphenyls, or PCB, are toxic chemicals previously used in manufacturing that have made their way into many of our nation's waterways. Many states have warnings of the levels in the fish populations, although some researchers advise to keep your intake low.
However, don't let that scare you away from eating bass. These fish are an incredible source of protein, giving 15 grams in one average, 62-gram fillet. Meanwhile, they are low in fat and calories, making them an excellent choice for those wanting to stay lean while building muscle.
Fish, in general, also provides vital omega-3 fatty acids that cannot be found from other sources. These can help reduce the risk of heart disease, lower cholesterol, and lower blood pressure, according to Harvard's School of Public Health.
While eating bass does have its benefits, like most things, there is a point where you can have too many. There are trace amounts of mercury in most types of bass fish, so experts recommend that adults have no more than six fillets a month to give their body time to process out the excess.
Some anglers do not want to keep their bass for fear of hurting the bass population in their favorite lake. But, local regulations are put into place to make sure the fish populations are not overfished. So, as long as you stay within the size restrictions and daily bag limits, it is perfectly okay to keep the fish you catch and fry them up for dinner.
Can Pregnant Women Eat Bass?
With the potential for mercury poison if you go overboard on bass, there are suggested ways on how to eat bass when pregnant.
The American Pregnancy Association, in conjunction with the Federal Drug Administration, instructs women to limit themselves to six 6-ounce servings of black bass per month. This is only if you're eating bass, though. If you are also consuming other types of fish, you'll want to lower your bass intake.
Limiting Mercury Intake
Chilean sea bass are known to have much higher levels of mercury, so, when pregnant, limit your intake to no more than 18 ounces per month.
Mercury is absorbed by larger fish as they eat smaller fish that have been in contact with mercury. So, as a general rule of thumb when eating fish, the larger the fish, the higher the mercury level.
If you want to dive deeper, check out my article about Mercury In Fish.
Listeria Concerns in Fish Preparation
Many pregnant women are also concerned about listeria. It is common in pregnant women and is worth following all advised food preparation suggestions to avoid it turning into listeriosis, a type of food poisoning. Even if you feel you could survive a bout of food poisoning, listeria can infect the fetus and cause harmful long-term effects.
If you choose to keep your bass, proper storage is vital to keeping the filets free of bacteria. Kill then rinse the fish with clean water. Then wrap the fish in plastic wrap, aluminum foil, or wax paper and put on a bed of ice. Crushed ice is best as it allows for the most contact, but it's often simply a bag of ice from the local gas station or tackle shop.
In addition to the ice, follow these tips to keep the fillets bacteria free:
Get the fish filleted and into a Ziploc bag within 6 hours of its death.
Only keep fresh fillets in the fridge for 48 to 72 hours. Anything longer than that, you should simply freeze the fillets as soon as possible.
When cooking, use a thermometer to ensure the internal temperature rises to a minimum of 145 degrees Fahrenheit to ensure it is fully cooked.
With so many food stipulations being put on women while pregnant, it is essential to eat a diverse diet. So, don't wholly forego a meal of bass when pregnant. Instead, make sure to limit yourself for the safety of both you and your child while still getting some essential vitamins and minerals only found in fish.
What Does Bass Taste Like?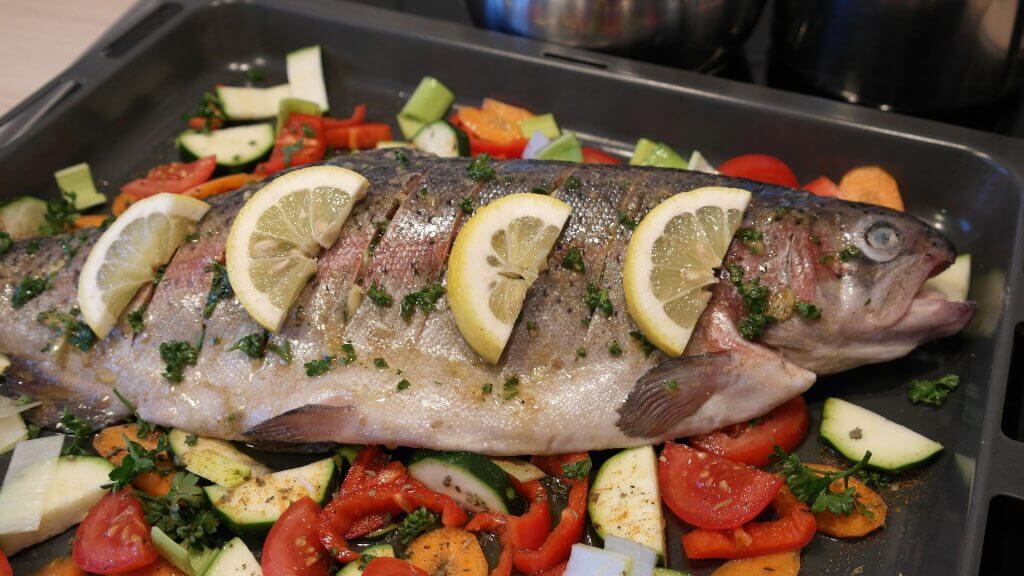 Many new anglers may hold up their catch and wonder, "Does bass taste good?" While much of that is left up to the preparation and cooking methods, the short answer is usually yes.
Each type of bass has a slightly different taste. The most popular freshwater fish, the largemouth bass, is not known as the favorite among the species, though. Largemouth bass have a firm, fishy taste and texture to their white meat fillets.
Those slightly put off by the fishy taste of largemouth may be thinking, can you eat smallmouth bass? Absolutely! It has a slightly sweeter taste, and as they are generally smaller in size. They are usually less fishy and flaky than meaty. However, much of this depends on their diet and the water where they live.
Spotted bass is tasty as well, and most have a finer and firmer texture in comparison to largemouth bass. The mild flavor is still a tinge fishy, but they'll taste best when caught in a higher flowing river with clear water. Great for grilling up or a fish fry, they're a great place to start when cooking bass fish.
Lastly, sea bass has a rich, white fish taste with a tender yet firm texture. The lack of overly-fishy smell makes it a great gateway into the eating bass fish. Some compare it to swordfish or grouper because of its mild and sweet flavor.
Bass Recipes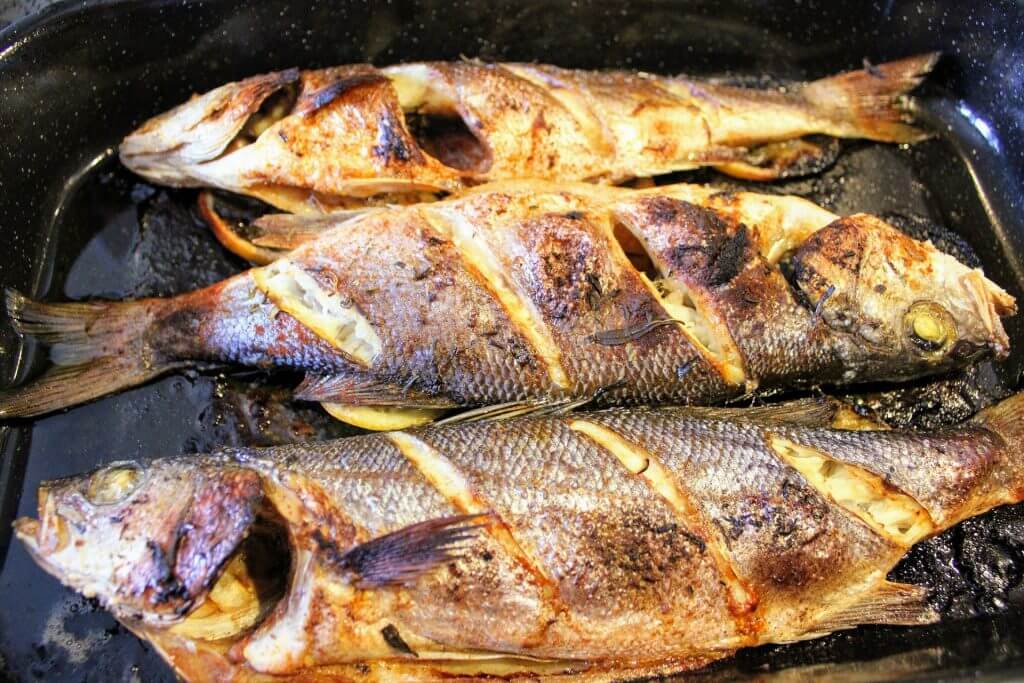 When cooking largemouth bass, or any other variety, the right equipment, prep, and method are critical to a delicious meal.
There are a variety of recipes for bass fish, but the best way to cook bass will depend on who you are serving. For someone hesitant to try this for fear of the unknown black bass taste, consider easing them into it with a heavily battered fish fry. If you are a lover of fish, a bit of butter, herbs, and lemon can transform it into a light, delectable fare.
Some people choose to roast the whole fish, while others leave the skin on. For ease of eating, I recommend just using fillets with the skin off, and this will create the least fishy taste in the end product.
No matter what, you'll need either a stove, fire, or grill to cook your bass. Most methods take between 8 and 15 minutes, depending on the size of the fillet and your heat. If you are fileting the bass yourself, it can take anywhere from 3 to 10 minutes, depending on your skill and speed. If you already have the filets, prep time is less than five minutes for all these recipes.
Basic Pan Grilled Bass Recipe
To ease into bass cooking, start with a simple, pan-grilled version. Follow these steps:
Dry both sides of the fillet with a paper towel, then score the filet approximately 1/2 -inch deep in two or three spots to keep it from curling while cooking.
Season both sides of the fillet generously with salt and pepper.
Melt 2 tablespoons butter in a pan over medium heat.
Place fillet in the pan and cook for 4 minutes.
Flip the fillet and squeeze half of a lemon into the pan.
Cook the fillet for another 4 minutes.
Remove from the pan and let rest for 3 minutes.
Serve and enjoy!
Many variations can be added to this, depending on personal preference. Consider adding:
2 sprigs fresh thyme
2 garlic cloves, 10 coarse-chopped olives, and 1 spring rosemary, and substitute orange juice for lemon juice
2 teaspoons capers and 3 tablespoons of herb mixture of parsley, dill, chives, and tarragon
For a side, try serving with:
Creamy polenta
Oven-roasted broccolini
Maple-glazed carrots
Savory mashed sweet potatoes
Whole Bass Recipes
Whole bass recipes let you skip the filleting upfront and get straight to cooking. Here's our favorite way to do it:
Preheat oven to 400 degrees, place oven rack in the middle of the oven.
Rinse the bass, gut and scale it. Then, pat it dry with paper towels.
Score the bass every 3 to 4 inches ¼ inch deep to prevent curling.
Rub the fish, inside and out, generously with salt and pepper.
Mix together 2 tablespoons fresh parsley, 2 tablespoons fresh tarragon, 2 tablespoons fresh thyme, juice of ½ lemon, 2 cloves garlic, and ½ cup of olive oil. Then, rub this mixture all over the fish, including inside.
Stuff the bass cavity with 4 cloves of garlic, 2 lemon slices, and ¼ cup capers (optional).
Place the fish into a baking dish.
Put 1 cup of dry white wine and 4 tablespoons of butter into the bottom of the dish.
Place in oven and bake for 25 to 30 minutes for a 2.5-pound bass.
The fish is done when the skin is crispy. Carefully transfer the fish to a serving dish and pour the sauce over it.
Bam! You're ready with a decadent fish for everyone to enjoy.
This dish would go great with orzo, an herbed couscous, or roasted root vegetables.
Another flavor profile to try with this same method involves switching up the ingredients, although the cooking method is the same. For a more Chinese flavor, rub the following all over the fish:
½ teaspoon salt
¼ cup chopped scallions
1 ½ tablespoons coarsely chopped ginger
1 tablespoon chopped lemongrass (optional)
Then, mix together ¼ cup soy sauce, 2 tablespoons of sesame oil, and ½ teaspoon sugar and pour into a baking dish. Bake for 25 to 30 minutes and you'll have a delightful feast. Serve with rice or green beans for a full meal.
If you'd like, you can add a bit of plum wine or eat this dish with sake. Either will add just a bit of flair for a great dinner.
The Traditional Fish-Fry
Do people eat bass? Yes, especially when gathered around a big pot of frying oil for a mid-summer fish fry. Anytime you want to introduce a skeptic to eating some fish, this is a great place to start. Here's how to do it:
Begin heating a vat of oil (minimum 4 inch depth) to 375 degrees.
Mix the following ingredients: ½ cup cornmeal, ½ cup all-purpose flour, 1 ½ teaspoon paprika, ¾ teaspoon black pepper, 1 teaspoon salt, 1 teaspoon garlic powder, and 1 teaspoon thyme.
Filet all the fish and rinse them in cold water. Let the water drip off for a moment.
Coat the fish on both sides with the dry mix.
Place them into the hot oil for 4 minutes or until golden brown.
Depending on your preference, you can also use milk, beer, or lemon juice to dip the fish in before battering. In between fish fillets, toss in some fries for a full meal! Serve with watermelon for dessert and all your guests will be wowed.
Final Thoughts
While fishing for bass is a thrill, it is well worth it to enjoy a feast after your hard work. By sprucing up this often overlooked fish, you can have many meals enjoying it as the main course.
Do you have a favorite way of serving up bass? Share with us below!