I've broken probably…seven or eight rods over the years, and I'll tell you – three or four of them were telescopic rods. They're just not durable enough to withstand a decent-sized fish.
That's my motivation for this article.
I want to help find a rod that is both lightweight and compact enough for travel but also durable enough to catch something worthy of a photo.
Hopefully, I don't fall flat on my face, but I think I've managed to put together a solid list!
Comparison Table – The Best Telescopic Fishing Rods
---
Our Reviews of the Best Telescopic Fishing Rods
KastKing Blackhawk II Fishing Rod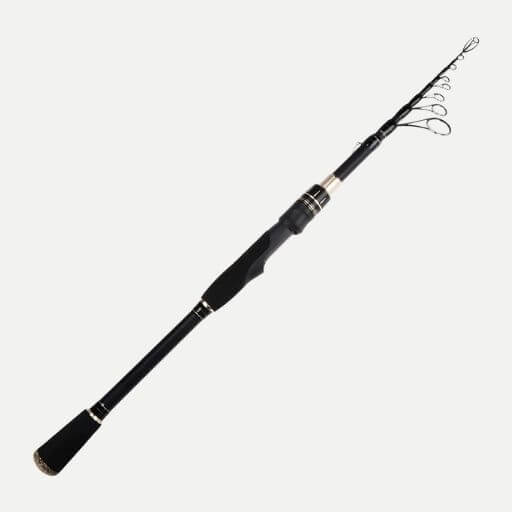 BEST TELESCOPIC FISHING ROD OVERALL
Specs
Length: 6.6' – 8'
Weight: Varies
Material: Graphite/Composite/Fiberglass
Rod Type: Spinning and Casting
FEATURED SPECS
This rod uses a graphite constructed blank with floating line guides to provide extra support to the tip of the rod. The guides are fixed like a normal rod to provide less friction on your cast.
EXTRA FEATURES
It uses a soloscopic performance technology, which means that even though it's a six-piece rod, it functions like a one-piece.
BUYING ADVICE
This rod works best for a variety of purposes, so if you're looking for a great travel rod that functions for surf, inshore, and freshwater fishing, this is the one.
Pros
Great materials
Many different size and method options
Floating guides
Small at collapsed length for travel
Cons
Concerns over misaligned guides
If you read my reviews, you know my stance on telescopic rods. These are usually cheaply made, "gag" rods, as I would call them. They're not intended for real fishing but more so for hobbyists and people who travel a lot. But, I will say that this is the best telescopic fishing rod on the market, hands down.
The build quality is that of a premium rod, the guide design is beautiful, there are a million different size, power, and action combinations to appeal to anglers of all methods. It's a great rod all around.
Kingswell Telescopic Rod and Reel Combo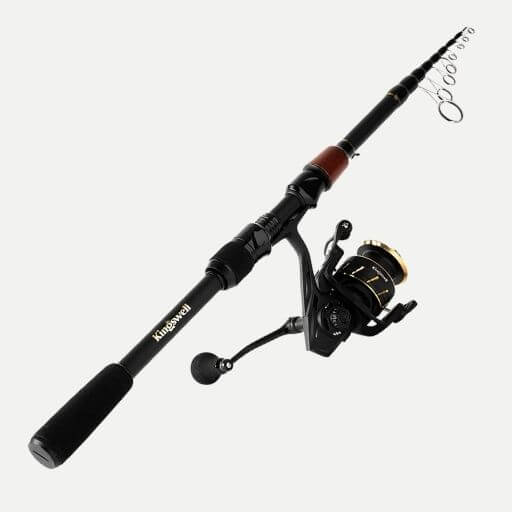 BEST TELESCOPIC ROD AND REEL COMBO
Specs
Length: 1′ 10″ to 6′ 9″
Material: Carbon Fiber
Rod Type: Spinning
Pros
Rod and Reel Combo
It comes with a carrying case
Durable and lightweight
Solid reel quality
Fresh or saltwater
Cons
Some of the eyes are difficult to keep straight while fishing.
It is not intended for larger fish, such as Catfish.
Why We Chose It
The Kingswell spinning rod is made from Japanese 24/30 ultra-high-density carbon fiber, which is lightweight and strong. I'm also a fan of the markings on the rod as they allow you to easily line the eyes up straight. The medium heavy stiffness of the rod makes it a great all-around telescopic rod.
I took this to a local pond the first weekend I got it and found it was sturdy enough for bass fishing and it's even sensitive enough for catching panfish. I set the reel up to use as a right-handed angler but it's easily interchangeable between right and left-handed reeling.
Once you have fully tightened the handle the Anti-reverse and drag work together to keep you from losing a fish while fighting it! The Kingswell is a great rod and reel for any fish under 20lbs.
It's the smoothest casting telescopic rod and reel I've ever used and the casting distance is surprisingly far. The reel is fluid with the 5+1 Stainless steel bearings that won't rust or grind, even if you happen to drop it into the water!
This is the best option because you don't have to worry about buying a separate reel that fits the rod; they come together.
The Kingswell telescopic rod and reel combo is ideal for the traveling angler looking to save space who doesn't want to worry about having to pair a rod and reel.
Eagle Claw PK555SP Pack-It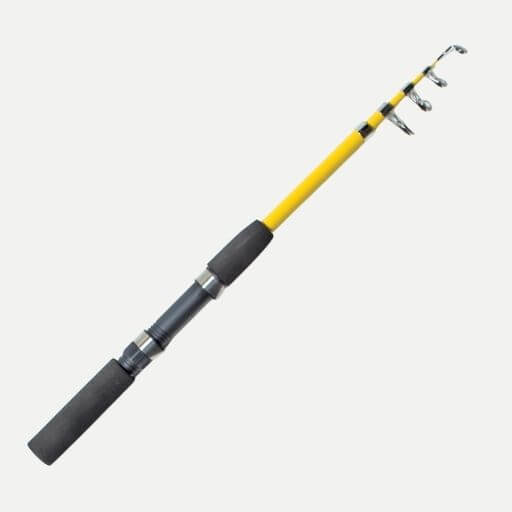 BEST BUDGET TELESCOPIC FISHING POLE
Specs
Length: 5.5'
Material: Fiberglass
Rod Type: Spinning
FEATURED SPECS
This affordable telescopic rod is a great choice for those looking to save some money. Its fiberglass construction makes it lightweight, but you do lose some durability on that.
EXTRA FEATURES
It comes with ceramic guides and a one-year warranty in case it snaps or becomes flimsy at each transition point.
BUYING ADVICE
The rod is a bit short for any type of power angling, so I would suggest this if you're doing a more finesse style of fishing with lightweight lures for smaller fish.
Pros
Lightweight
Easy to handle
Highly affordable
Great for trout fishing
Cons
Too small for power lures
A budget rod is a budget rod, I suppose. This one isn't the most durable rod on the planet, and being a telescopic rod, I'll go even further on that observation. This manufacturer has been making these for a long time, and it's a great option for travel and budget-friendliness.
Daiwa Megaforce Telespin Rod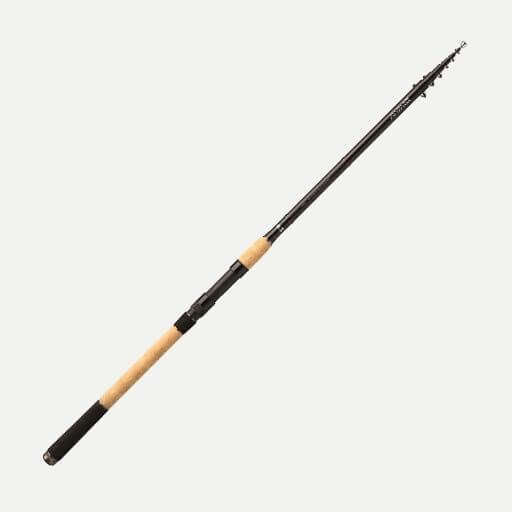 BEST TELESCOPIC SPINNING ROD
Specs
Length: 6.89 – 7.87oz
Weight:4.23oz
Material: Carbon Fiber
Rod Type: Spinning
FEATURED SPECS
This rod comes in variable lengths and sizes, and it uses a cork and EVA material for the handle. The blank is carbon fiber, and the guides are titanium oxide for minimal friction and maximum casting distance.
EXTRA FEATURES
It's a highly sensitive rod that enables you to feel every small nibble on the end of the line. It's sensitivity matches that of a single-piece rod.
BUYING ADVICE
I'd suggest this option for bass anglers who might be looking for something that's a little simpler to travel with.
Pros
Lightweight and easy to use
Great for spinning applications
An excellent choice for bass anglers
High-end materials
Cons
Daiwa does not offer product support on this rod
This rod somewhat verifies what I've said about telescopic rods. Daiwa won't even back up this product at this point because they're not thrilled with the construction and design of the model. That being said, I think it's a solid spinning rod for fishing lakes and ponds.
If you're out there trying to catch an eight-pound bass, good luck. But, it gets the job done for smaller bass and most panfish.
Quantum Embark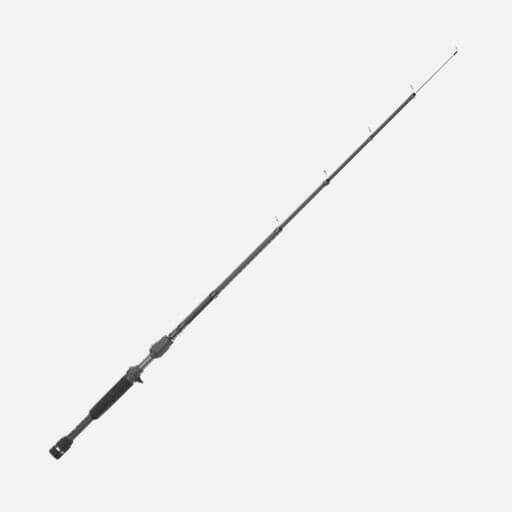 BEST TELESCOPIC CASTING ROD
Specs
Length: 6.6'
Material: Graphite with solid glass tip
Rod Type: Casting
FEATURED SPECS
The rod features a glass tip which improves sensitivity and helps you set the hook faster with each nibble.
EXTRA FEATURES
It comes with a built-in hook keeper located near the reel which makes transporting it easier and it prevents the hook from getting snagged.
BUYING ADVICE
This one comes with a plastic cap to help cover the guides when the rod is closed. Make sure you use that to protect them and keep everything aligned.
Pros
Built-in hook keeper
Graphite material for durability
Glass tip for sensitivity
Well respected brand
Cons
Can be difficult to open and close
This rod combines elements of durability and sensitivity which makes it a great choice for inshore saltwater fishing. The one thing you'll want to be extra attentive to is the joints of the rod. Applying lubrication on a regular basis is a good habit to get into. Other than that, you get a durable moderate action rod that's great for most inshore fishing applications.
MAGREEL 24T CARBON FIBER FISHING POLE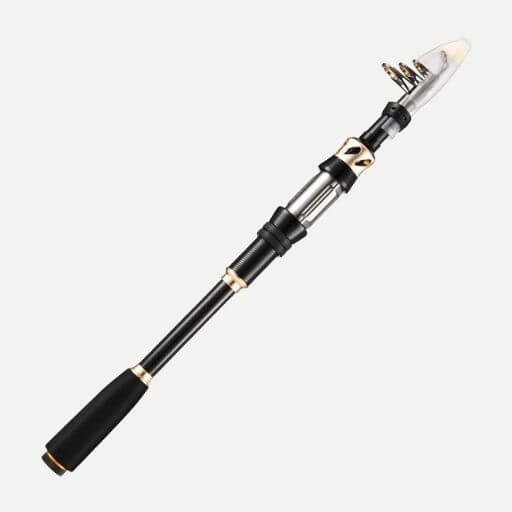 BEST SALTWATER TELESCOPIC ROD
Specs
Length: 5.91' – 10.82'
Weight:Varies
Material: 24T Carbon Fiber
Rod Type: Casting and Spinning
FEATURED SPECS
This saltwater fishing rod is made with 24-ton carbon fiber and a stainless steel reel seat. It possesses all the materials necessary to prevent saltwater corrosion.
EXTRA FEATURES
It's lightweight and used for a variety of fishing techniques, including inshore, offshore, and lake bass fishing.
BUYING ADVICE
When shopping for a saltwater rod, you want to find something that uses corrosion-resistant materials. This one has all the nuts and bolts of a great saltwater rod.
Pros
Top-notch materials
Variable sizes
Affordable for this quality
Relatively durable
Cons
The butt of the rod is small, which makes cranking hard
I'm a fan of this one because I think it uses the best materials you can get within this price range; I'm just not familiar with the brand. 24-ton carbon fiber and stainless steel is the best money can buy, and you shouldn't have any issues with the salt. Just make sure you buy a high-quality reel to go along with it.
Sougayilang Fishing Rod and Reel Combo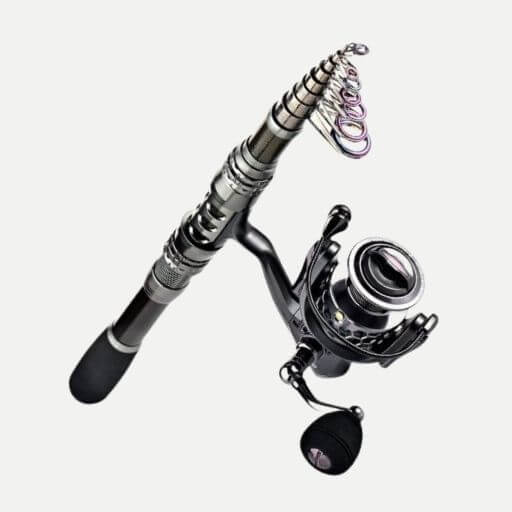 BEST FRESHWATER TELESCOPIC ROD
Specs
Length: 5.9'1 – 9.89'
Weight: 5.8 -9.3oz
Material: Composite
Rod Type: Spinning
FEATURED SPECS
The rod is made with high-density carbon fiber mixed with fiberglass, which helps make it both durable and lightweight.
EXTRA FEATURES
The reel offers an interchangeable handle and instant lock-anti reverse. It comes with a 13+1 stainless steel ball-bearing design and a gear ratio of 5.5:1.
BUYING ADVICE
Sougayilang is a popular brand on Amazon, and most of their rod and reel combos are pretty cheap. This one does come with some lures, jig heads, swivels, and extra line as well.
Pros
Cons
Doesn't come with a carrying case
My expectations are pretty low when approaching this brand because they make a lot of these rod and reel combos, but this one is pretty decent. For freshwater fishing, you get a high-density carbon fiber blank and ceramic guides for better casting accuracy. The reel seems pretty smooth and good enough for the average weekend warrior.
Leo Fishing Rod and Reel Kit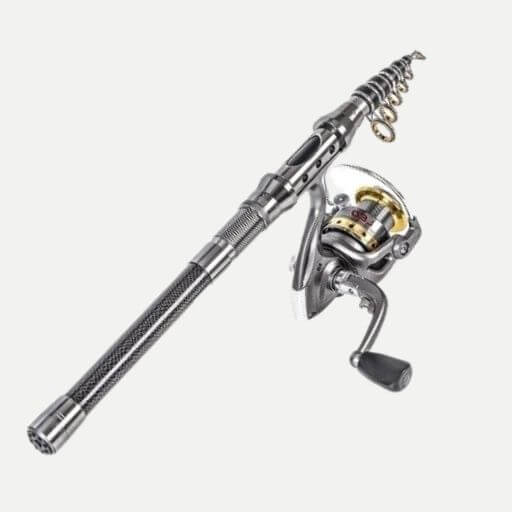 BEST TELESCOPIC ROD KIT
Specs
Length: 4.92' – 7.87'
Material: High-Density Carbon Fiber
Rod Type: Spinning
FEATURED SPECS
This fishing rod and reel combo kit comes with a carrying bag, rod, reel, fishing line, and some lures to get you started. This is great for the beginner angler.
EXTRA FEATURES
The reel features sealed and waterproof bearings, and it comes with a unique design intended to reduce line breakage and twisting.
BUYING ADVICE
This combo package is the ideal choice for beginners or someone who might be going on a fishing trip out of state and needs a way to transport everything all at once.
Pros
Variable sizes
Full fishing kit with everything you need
Durable materials
Comes with 23 fishing accessories
Cons
The eyelets are glued, which will break quickly
If you're shopping for a gift for someone or you're traveling out of state for a fishing trip, this would be the perfect fishing kit. The rod and reel are good enough for occasional fishing, and you get everything you need in one package. My only suggestion is to take it easy on the eyes because they're glued, and they'll snap off with even the lightest pressure.
ODDSPRO Kids Rod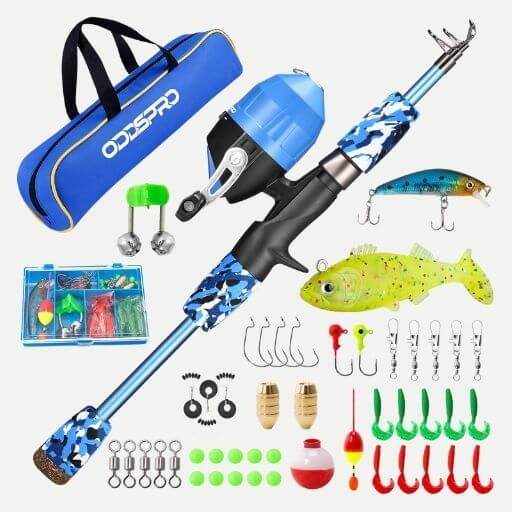 BEST TELESCOPIC ROD FOR KIDS
Specs
Length: 3.94' – 4.92'
Weight: 1.23 – 1.45lbs
Material: Epoxy and Plastic
Rod Type: Spinning
FEATURED SPECS
The rod features a bright and colorful epoxy construction with EVA and plastic materials. It's lightweight, easy to transport, and a great choice for little hands.
EXTRA FEATURES
BUYING ADVICE
This collapsible fishing pole comes with everything you and your child will need. If they're just learning how to fish, this is the perfect place to start.
Pros
All-in-one spin cast fishing kit
Budget-friendly
Comes in many different colorful designs
Easy to use
Cons
I really have no criticism of this rod and reel combo for kids; it's a great telescopic choice. If you're looking for something that's easy to use and manage for younger hands, it's a solid option. The reel is designed well, and it's simple to operate. Plus, the rod is easy to transport, and the whole package comes with a carrying case to keep it organized.
LIXADA PEN ROD AND REEL COMBO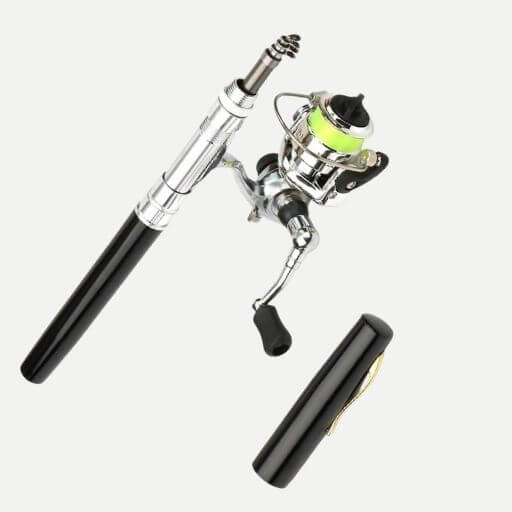 BEST PORTABLE TELESCOPIC ROD
Specs
Length: 38.5" – 53.1"
Weight: 9.8oz
Material: Glass Steel Fiber
Rod Type: Spinning
FEATURED SPECS
This is a very unique telescopic rod that shrinks down to the size of a pen. It uses a corrosion-resistant alloy shell for lightweight portability and strength.
EXTRA FEATURES
Comes with a small reel with a 4.3:1 gear ratio and a 2+1 BB copper axis, and anti-reverse. I'm surprised by the quality of this reel.
BUYING ADVICE
This strange combo is the equivalent of a rod and reel you'd buy at Walmart. It's constructed cheaply, but it's not intended for serious fishing.
Pros
Small and portable
Cheap
Decent reel
Cons
Not intended for anyone who is trying to catch anything big
Only works with this reel
My biggest complaint about this combo is that you're forced to use their reel, so you can't customize it at all. The rod is good enough for battling most panfish, perch, etc. But it would be nice to be able to add your own reel. The seat is so small that it's only big enough for the "gag" reel they include with it.
Wakeman Ultra Series Spinning Rod and Reel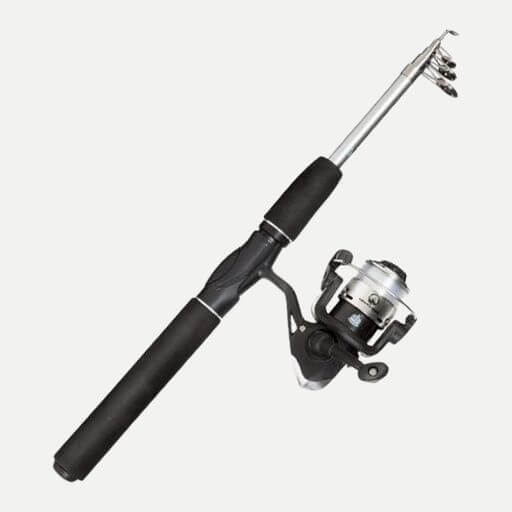 BEST COLLAPSIBLE FISHING ROD
Specs
Length: 7.2'
Material: Fiberglass
Rod Type: Spinning
FEATURED SPECS
This rod and reel combo comes with a 5.2:1 gear ratio reel and an EVA foam handle.
EXTRA FEATURES
Features a carrying bag with a foam insert to prevent your gear from moving around during transportation.
BUYING ADVICE
If you're looking for a fun spinning rod to play around with on trips, this is a great option but don't try to use it for any serious fishing.
Pros
Affordable
Carrying bag included
Decent reel
Cons
This rod will get the job done in most lakes, ponds, and rivers for panfish and other small species. If you're in need of something that is simple to transport and won't get damaged, you might want to give this one a further look. I do have a complaint about the reel, though. It's a single ball bearing reel, which means cranking this baby is going to be like stopping quickly at a red light with a car that hasn't had its brakes replaced since 1998.
ZACX Telescopic Fishing Rod and Reel Combo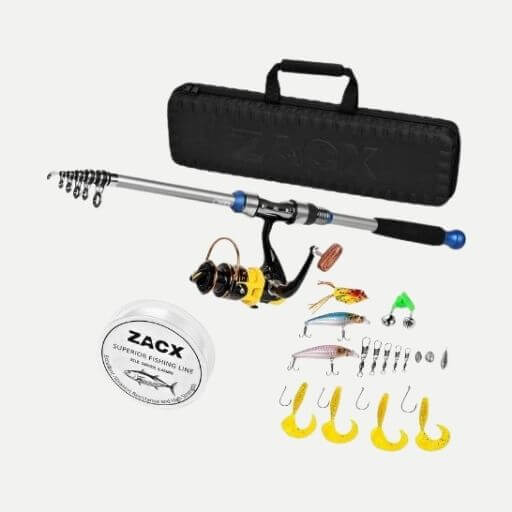 BEST TELESCOPIC ROD WITH CARRYING CASE
Specs
Length: 6.89' – 7.87'
Material: High-Density Carbon Fiber
Rod Type: Spinning
FEATURED SPECS
This rod is made with high-density carbon fiber for durability, and the spinning reel contains a metal spool and high-tensile graphite with an anti-reverse system.
EXTRA FEATURES
The kit contains fishing line, swivels, weights, lures, hooks, and pretty much everything you'll need to get started.
BUYING ADVICE
This rod and reel combo kit would work great as a gift for an older child or teenager who is looking to get started with fishing for the first time.
Pros
Comes with everything you need
Great looking rod and reel combo
Carrying bag
Decent reel
Cons
This combo is an ideal telescopic set because it contains everything you need, it's easy to transport, and it's good enough for light fishing and occasional catching. You can take it anywhere, and it also makes a great gift for children or young adults who might not have a lot of fishing experience.
What is a Telescopic Fishing Rod?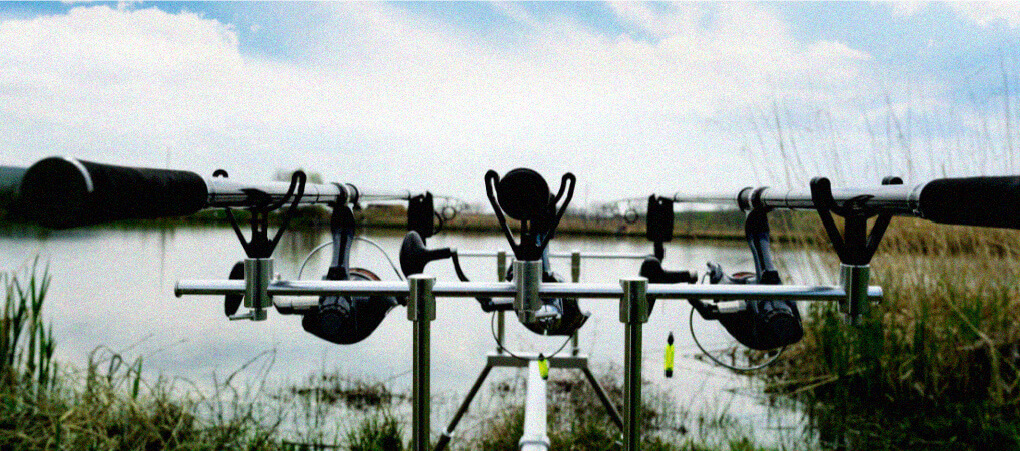 A telescopic rod is one that collapses down so it can be stored and transported easily. These rods are made with multiple pieces in a tiered structure, which allows the rod to collapse on itself. They each collapse down into the handle or the rod blank.
Then, when you're ready to fish with it, you'll expand the sections by pulling the rod out and extending it to its complete length.
This varies from a rod that has multiple pieces. Some traditional rods come in two or three-piece sections that you'll take apart and carry separately. These are not telescopic rods. Telescopic is one single rod composed of multiple sections, but it's still only "one-piece."
Most of these rods use a mixture of fiberglass and carbon fiber material, so they contain a lot of the same strength and durability as regular rods. The reason they're never as durable is simply the fact that they're made with many different parts.
When you combine four or five pieces to make a rod, you're creating weak points, which causes the rod to break easier, and it reduces the overall sensitivity, so they're not usually as effective either.
You'll also see telescopic rods called collapsible fishing rods, telescoping fishing rods, retractable fishing rods, and portable fishing rods.
I find that these are most popular among travelers who frequently move from one location to the other. They don't work with large fish or power applications because of their durability issues, but they'll serve their purpose for someone who isn't a "serious" angler and is simply looking to cast around every now and again.
Telescopic Fishing Rods vs. Traditional Rods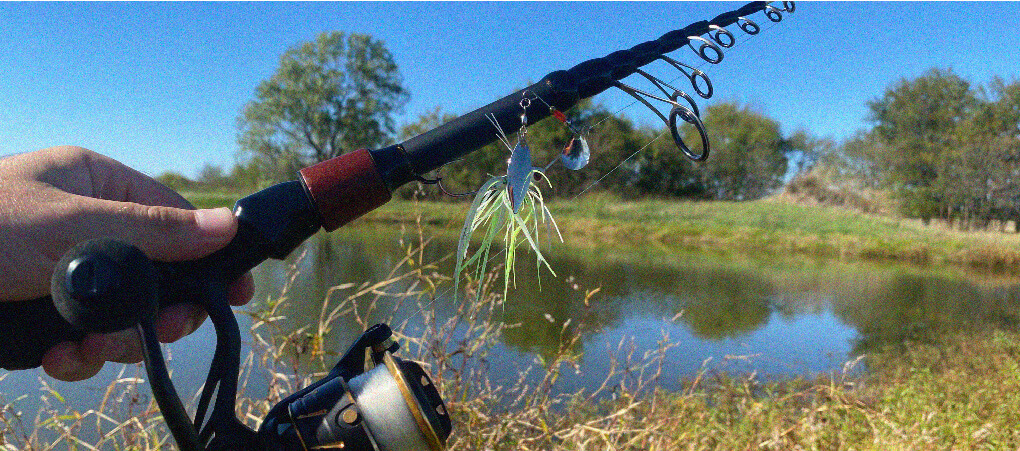 If we're comparing the two, let's look at a few different factors:
Performance
Convenience
Durability
Ease of use
Let's break each one down in its own section so you can get a solid representation of whether or not the best collapsible fishing rod is the right choice for you.
Performance
Winner: Traditional Rods
No matter what telescopic rod you choose, the traditional fishing rod will always prevail. Their performance cannot compare because you're losing a lot of sensitivity due to the multiple pieces, and many of these cannot accommodate a decent fishing reel, which reduces the smoothness of your retrieval and impacts your presentation.
You lose flexibility in terms of what lures you want to use because you won't be able to create a particular presentation, so you'll have to "dumb down" how you present your lure to something a bit more simple.
Now, if you have a lot of experience, you'll know how to handle the situation and choose something like a drop-shot rigged worm or a suspending jerkbait that doesn't require much of a presentation.
But, no matter what way we try to play this, traditional rods will always outperform because they're smoother, more sensitive, and they provide more options.
Convenience
Winner: Telescopic Rods
If you didn't know yet, telescopic rods are easier to transport, simpler to walk around with, and more convenient if you have a lot to carry. Most of these come with carrying bags so you can store everything in one place, and some of them don't even require you to purchase lures, reels, or anything for that matter.
To the experienced anglers like myself, these are "gags," as I like to call them. They're cheap materials, cheap rods, cheap reels, and cheap lures. Do they get the job done 75% of the time? Yes, they do, but that other 25% is where serious anglers live, and these rods aren't good enough.
If you fish a few times a year with a cooler full of beer and three of your best buddies, these rods will take care of business.
Durability
Winner: Traditional Rods
This factor is somewhat obvious, as well. Telescopic rods are the least durable option money can buy.
When you take multiple pieces and combine them to create something that needs to function as "one-piece," you'll never be able to catch anything large or battle fish that put up much of a fight.
Durability is a consistent issue with telescopic rods and a reason that I usually avoid them. I'd rather purchase a high-quality rod and reel combo or bass rod any day before one of these.
Ease of Use
Winner: Tie
What defines ease of use for one is different for another. I don't want to go out on a limb and say that telescopic rods are easier because that's not always true. It's important to keep in mind how corrosion will impact the performance of a fishing rod.
If you're using these for saltwater or you're not maintaining them properly, they'll become brittle and different to open and close, which will decrease the ease of use versus a traditional rod.
As for traditional rods, they might not be as easy to transport as your typical travel rod, but they're easier to use because they're simpler to operate. If you get a standard two-piece rod, you can still travel with them, but you need to be more careful about where you store them because they're not collapsible.
Overall, I can't pick a winner on this because it depends on the individual and how you intend to fish with these rods.
How to Choose the Best Telescopic Fishing Rod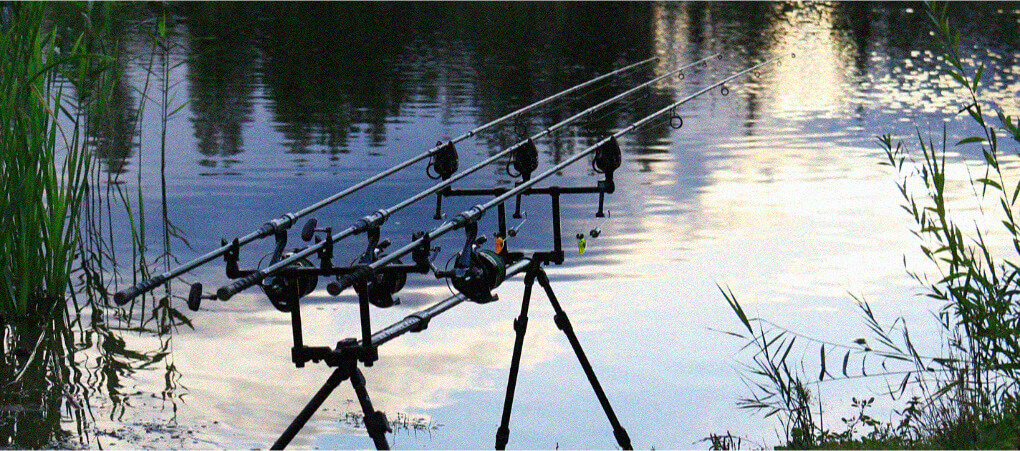 When you're choosing a portable fishing rod, there are some things you should consider. Let's take a look at all the factors I would consider before purchasing.
Sections
The number of sections is important because it will determine how many weak spots you have in your rod. Most telescopic poles are four, five, or six sections. The less, the better, but that might also impact the total length of your rod.
Of course, we're nickel and diming because it may only vary by an inch or so in collapsed length, but that inch might matter for some of you. Overall, I'd recommend going with as few sections as possible to get the most durable rod. The total length won't matter if the rod snaps in half.
Extended vs. Collapsed Lengths
This point goes hand-in-hand with the previous. The total length of your rod is important for both travel and when you're on the water. Keep in mind what you intend to do with your fishing rod. If you're trying to find something for surf fishing, you'll need a pretty long rod of at least eight feet because you need that extra distance to cast beyond the surf.
If you're trying to fish small backwater ponds for bass, you can go with something much shorter, which will likely impact both your extended and collapsed length. A lot of people use these rods for frequent traveling or nomadic lifestyles. If that's the case, weight might also be a factor.
Materials
Most telescopic rods are made with fiberglass, carbon fiber, or a combination of the two. You want to find high tensile materials that are rated for the highest weight possible if you're trying to maximize durability.
Keep in mind that as you increase durability through heavier materials, you're also creating a rod that will weigh more, which may not be ideal if you're traveling or walking long distances and trying to limit the weight of your gear for backpacking.
There's an endless scale that tips down on one side and raises on the other when it comes to these types of rods. Keep weighing the pros and cons to come to a confirmed decision.
Weight
The weight of your telescopic rod is important because most people buy these to find something that is lightweight. Granted, few telescopic rods weigh more than two pounds, so they're all relatively light. Just remember that light is good but also bad.
If you're thinking of using crankbaits, stickbaits, or other heavy power baits, you're going to run into some trouble. You might be able to cast and present them, but if anything hefty strikes you, you're gonna have quite a battle on your hands.
Many of these rods are ultralight medium-heavy action blanks, so they bend a lot, but they're meant for smaller fish to prevent damage. They will break if you're not careful, and most of the negative reviews and bad stigma you might revolve around people who didn't understand what they were getting into.
I'd suggest trying to find a telescopic rod that is moderate in weight, size, and functionality. Most of the recommended options above, especially the KastKing Blackhawk II Telescopic Fishing Rod and the PLUSINNO Fishing Rod and Reel Combo, will handle a sizable fish, and they aren't hard to transport.
Accessories Included
Accessories are fun, but if you follow my reviews, you know how I feel about them. I highly dislike buying rods that come with anything else other than a rod. In most cases, rod and reel combos are cheap materials combined to increase the overall price and value of the purchase.
Whenever you get lures, hooks, and line with a rod or reel, they're the lowest quality possible and will only get the job done for people who aren't actually trying to catch anything.
That said, if you're shopping for convenience and you're not on the water to catch a trophy size fish, they'll work. Consider what you have at home. If you don't have any tackle, purchasing a package deal will help you get started with the necessary pieces of equipment you need to go on the water and try to catch something.
If you have a lot of gear already, don't think that you're getting a deal by purchasing a kit. All you're getting is a lot of junk.
Purpose and Intention
Last but not least, my favorite thing to discuss. I like anglers to niche up and specialize in something. Me, I like to consider myself a finesse angler. I fish for bass with lightweight lures, ultralight rods, and high gear ratio reels. I do this when the water is a bit cooler at times when bass aren't biting. This is when I like to fish, and that's how I do it.
If you had to describe yourself, how would you do so?
If nothing comes to mind. Then go with one of the fishing kits above, and don't worry about it. But, if something does pop into your head, make sure you use it to guide your decision. If you like fishing crankbaits and suspended lures, you'll need something with a bit more guts, so choose a heavier and longer telescopic rod.
Suppose you prefer to fish saltwater and inshore canals throughout Florida as an example. In that case, you'll need a corrosion-resistant rod, and you'll want to avoid the kits because those lures won't hold up in saltwater anyway.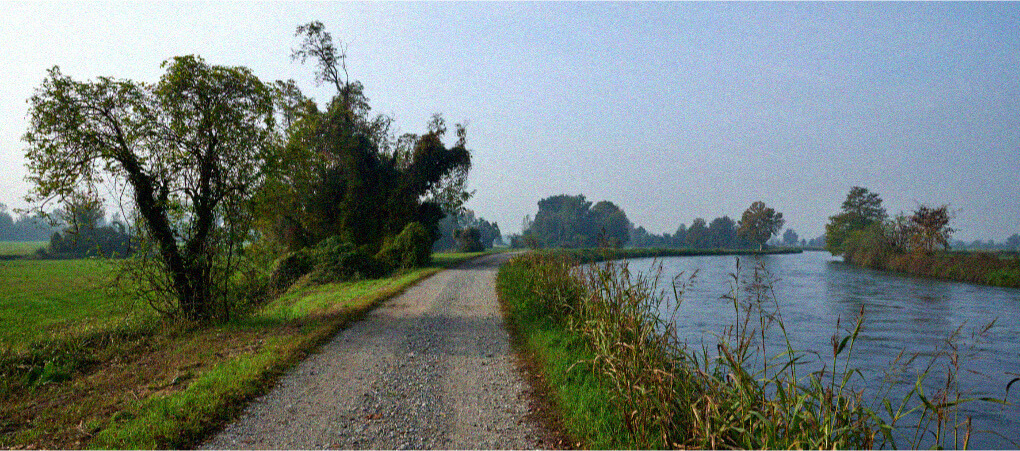 It's important to understand that manufacturers create these rods with everyone as their target, but they don't work for everyone. Amateur anglers don't really have to worry about this, but if you're serious about your fishing and you're looking for something that you can travel with, you'll want to be a bit pickier.
FAQs
Final Thoughts
By this point, you should understand everything about telescopic rods. You should know why you would want one, how to fish with them, and which one you might want to buy. As I've stated many times, factor in your fishing style, technique, and intention before making a purchase.
If you're a weekend warrior or someone fishing on occasion, go with one of the choices above. If you're thinking about taking the sport seriously, you might want to check out some of my other reviews.
Overall, the best telescopic fishing rod is not hard to find, and there are more than enough options to go around. Give some of these choices a deeper look, and have a safe trip to wherever the water takes you! Good luck out there.
About Post Author