---
We independently research, test, and recommend the best products; you can learn more about our review process here.
You wouldn't believe it, but a survival fishing pole will be your best friend in a SHTF scenario. You'll need a lightweight, portable, and easy to use rod that is free of complicated maintenance.
While I might not be a "survivalist," I've done plenty of fishing, and I think that alone qualifies me to present you with this guide. This list of unique fishing rods will be your bible when all hell breaks loose (hopefully before that happens).
Comparison Table – The Best Survival Fishing Poles
---
In Depth Reviews of Our Favorite Poles for Survival Fishing
Emmrod Brand PackRod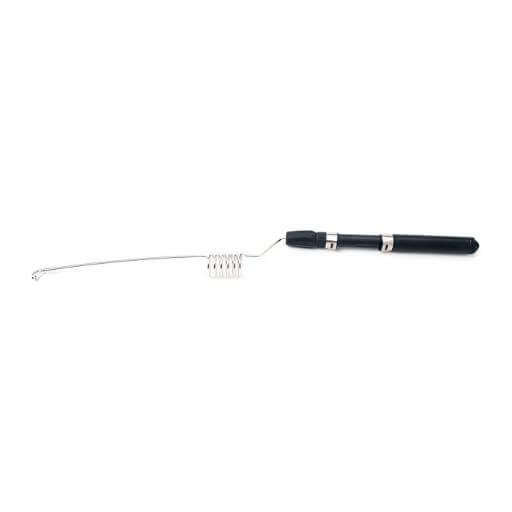 BEST SURVIVAL FISHING POLE OVERALL
Specs
FEATURED SPECS
The stainless steel blank bends and creates power that sends your lure as far as a regular rod. It's compact, strong, and easy to transport.
EXTRA FEATURES
While it might look small and a bit strange, this rod has the capabilities of casting as far as a regular seven-foot spinning rod, plus it's ultra-durable.
BUYING ADVICE
When the SHTF, this rod will come in handy because it's portable and extremely durable. You can store it in a backpack and still be able to fish most bodies of water.
Pros
Catches fish up to 15 pounds
Great for ice fishing
Durable and strong
Casts full distance
Cons
When all hell breaks loose, and you have to worry about your next meal, the Emmrod fishing rod will come in handy. It's highly portable, easy to use, and it offers the same power and flexibility as a regular rod. It's hands-down the best choice for a survival fishing rod.
This rod is also a great choice for tight quarters whether you're ice fishing, kayak fishing in freshwater, or even saltwater fishing.
Ka-Bar Backpacker Caster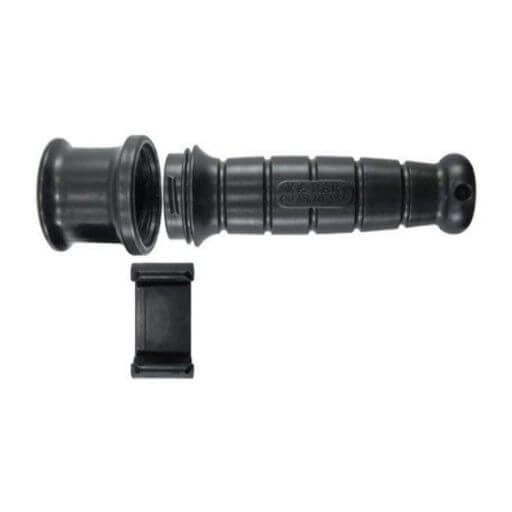 BEST BUDGET PICK
Specs
Weight: .025lbs
Length: 3"
FEATURED SPECS
This unique rod is as light as a feather but extremely tough and built for a survival situation. While it's not a "fishing rod," it functions like one.
EXTRA FEATURES
The best thing about this rod is that it comes with everything you need in one package. You don't need a reel because you spool the fishing line directly to the reel seat.
BUYING ADVICE
If you're in need of an emergency fishing rod, this is the one. It's super simple to use, doesn't require a lot, and there is little that can go wrong, so you won't have to perform maintenance on the rod when you'd rather be eating.
Pros
Incredibly simple
Effective in emergency situations
Requires no maintenance or additional components
Cons
Not ideal for larger fish
Can't cast long distances
So, let's be real for a second; this isn't a fishing rod. But it sure beats trying to make a DIY one out of a tree branch and string when the SHTF. You cast it by letting out some slack and throwing the line out so you won't be able to cast a far distance, so you may end up getting your feet wet.
Plus, you reel it in by hand, which means it's basically you pulling on the line while the fish is fighting it. As I said, it's not ideal but will work in emergency situations.
BLISSWILL Fishing Gear Rod and Reel Combo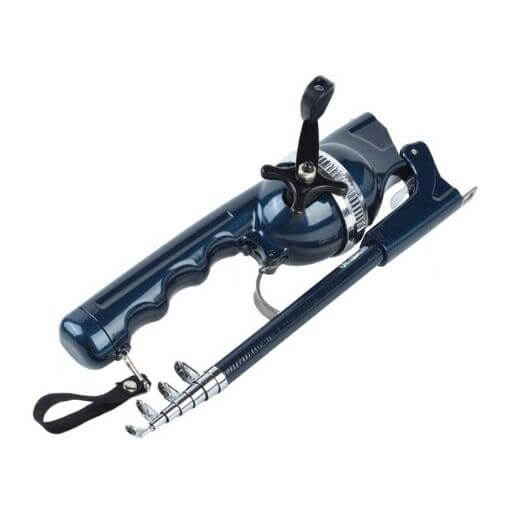 BEST SURVIVAL FISHING POLE KIT
Specs
FEATURED SPECS
This combo comes with a telescopic rod and reel, which is ideal for transporting, and it's small enough to work well for backpacking.
EXTRA FEATURES
Pulling down the handle will extend it to make it longer for easier fishing and longer casting distance.
BUYING ADVICE
I highly recommend this rod and reel combo as an all-in-one for those who aren't familiar with fishing. If you have to fish to survive, this might be the best choice.
Pros
All-in-one
Easy to operate
Comes with line already spooled
Cons
When everything goes wrong, and you're left with little options, the last thing you want to do is fool around with line, lures, and reels. If you're not familiar with the sport of fishing and you suddenly need to do it to survive, you're not worried about the quality of the reel; you're just worried about getting a fish on the hook.
Bassdash Alien Telescopic Fishing Rod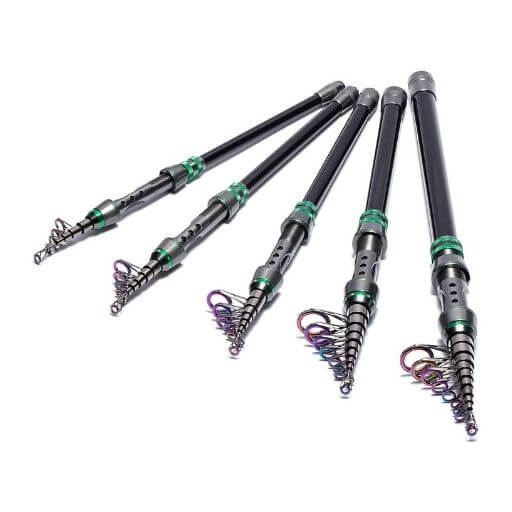 BEST TELESCOPIC SURVIVAL FISHING ROD
Specs
Weight: 12.6oz
Length: 12'
FEATURED SPECS
Here is a survival fishing rod geared to someone who understands how to fish already and is using it to their advantage. It's durable, lightweight, and operates as well as most fishing poles.
EXTRA FEATURES
It comes with stainless steel guides and zirconium inserts to offer great performance and extended casting distance to get past all the vegetation on the side of lakes and ponds.
BUYING ADVICE
If you're someone who has a basic understanding of fishing and knows how to shop for the best spinning reel, I'd go with this one.
Pros
Telescopic rods don't take up a lot of space
Real rod capabilities
Durable and sensitive
Cons
Heavier and bulkier than you might want
If a lot of these rods aren't impressing you, I get it. You want a real fishing rod, and this is about as close as you can get. Telescopic rods won't offer the same power and sensitivity as a regular one-piece rod, but this is about as good as it gets in an emergency situation.
Lixada Pen Fishing Rod and Reel Combo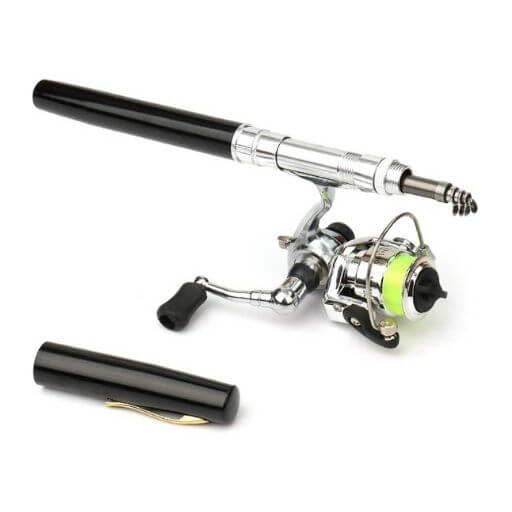 BEST MINI-ROD
Specs
Weight: 9.8oz
Length: 4.5' extended
FEATURED SPECS
Portability is important in survival, and this rod is the size of a pen. It also comes with a reel that is smaller than the palm of your hand.
EXTRA FEATURES
The lightweight collapsible rod and reel combo features a 4.3:1 gear ratio reel with a 2+1 ball bearing copper axis for smooth performance and portability.
BUYING ADVICE
I'm a fan of the reel, but the rod is a different issue. You're not going to get a lot of strength and power out of this, and if you snap it, you might be out of luck. I'd suggest fishing very shallow water with this.
Pros
Highly portable
Lightweight
Comes with a reel
Cons
I might be getting too cute here, but this rod and reel combo is pretty cool. It's the size of a pen, and I'm very impressed by the quality of the reel. It has a smooth operation and should get the job done in a pinch. Just be extra careful with the rod and try not to hook anything too big.
Why Choose a Survival Pole?
One of the big questions you might be asking yourself is, "do I even need a survival rod"? Why can't you just get a regular fishing rod and use that instead? While there's no perfect answer to the question, we can certainly contemplate and play out the situation as it may occur.
So, let's say you're putting together a bug out bag or survival fishing kit full of necessary survival gear. You need to determine what you're going to take with you when you head out. You'll take things like water, dried foods, fire starter, ammunition, and weapons, etc.
But, you'll need a way to get food. Hunting is a clear method, but it's not that easy. It requires dissipating resources in ammunition or arrows. It also requires you to cover ground, which will result in you losing what little calories you may consume.
Fishing, on the other hand, is a great way to bring food in without having to use resources or move around as much. Plus, fish require much less preparation than any meat you would kill.
But why would you want to carry around a big fishing pole that will not only get in your way but could break or damage easily as you're making your way through the woods? The smartest option here is a telescopic rod or something similar because you could throw it in your bag, and it won't get in the way.
Best Survival Fishing Rod: How to Pick the Perfect One?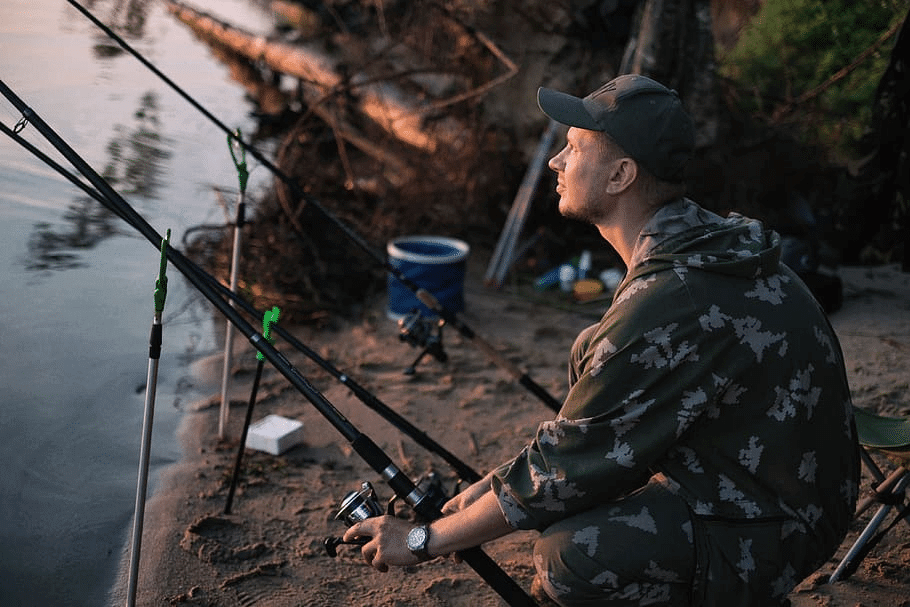 Since you've already seen some of my recommended options, let's talk about some of the criteria I used to choose them as my top picks. Choosing a survival fishing pole is so much more critical than picking a regular fishing rod because you'll need it to perform perfectly if you plan on making it.
Size
The size of your survival rod is important for a few obvious reasons. First, you're not going to want a heavy rod to carry around because it will cause you to get tired faster, and you'll burn calories that you'll need to conserve.
Whether you're bugging out for emergency or because you're sick of your mom yelling at you, having a lightweight and easily transportable fishing rod is the key to your survival. For that reason, I recommended mostly telescopic fishing rods.
Telescopic rods expand and contract, and some are as small as two feet when they're fully closed. This makes it easy to store them in a backpack and pull them out whenever you need them.
Best of all, manufacturers are finding ways to make telescopic rods more durable, and as functional as regular rods, so you don't have to worry about them breaking or not operating properly.
In some cases, you can go with something totally unique if portability is your main buying factor. The Ka-Bar Caster is a great choice because it takes up about as much room as a can of soup, weighing almost nothing.
Just keep in mind that casting and retrieving fish is not the easiest thing, and you never know where you'll end up fishing. If you find yourself fishing a really weedy pond on an empty stomach, you might get frustrated pretty quick.
Weight
Weight goes hand-in-hand with size because you also need a rod that is lightweight, so it's easy to travel with and easy to handle. If you don't have a lot of experience with fishing, a lightweight rod is also a good choice.
While lighter might always seem better, that's not always the case. Light rods are also more flimsy and don't usually have enough power to create a long-distance cast. That said, the Emmrod fishing rod is lightweight and is designed in a way that creates positive energy to help propel the lure in the right direction.
I think when you're looking for unique rods, it helps to find little loopholes in the design to help work to your advantage.
Ease of Use
I've made it clear that this is the most important aspect of choosing a survival fishing pole, and let me tell you why. When you're out in the woods, maybe you're cold, maybe you're hungry; the last thing you want to do is fiddle with a rod that isn't working properly. Simplicity is important.
You need a rod that will work properly when you need it to, and the best way to ensure that happens is by going with something simple and easy. The Emmrod is a nice option because the rod has a simple design but keep in mind, you have to purchase your own fishing reel for it, and reels can act up.
The easiest to use fishing tool would have to be the Ka-Bar Backpacker Caster. It doesn't get any simpler, and while you might not be able to cast well or retrieve easily, it's still the best option because very little can go wrong.
The worst-case scenario is, you get hung up on something, or a fish snaps your line. You brush yourself off, get over it, and keep pushing on. If you end up getting stuck in the woods with a broken reel and no other options, you're out of luck. You'll have to try spearfishing or making your own rod.
Material
The material of your rod isn't as important for survival fishing as it would be in other cases because we're not looking to catch a trophy fish; we're just trying to eat.
The best materials for fishing rods are carbon fiber and graphite. Some telescopic rods use carbon fiber, so if you can find it, I'd suggest going with that. You'll get the most durability and sensitivity out of them. Sensitivity is an important factor that we shouldn't neglect as well.
Since carbon fiber is more sensitive, you'll feel more nibbles. That means you'll have a higher chance of setting the hook and reeling in a fish. The more fish you catch, the better off you'll be, so sensitivity seems pretty important!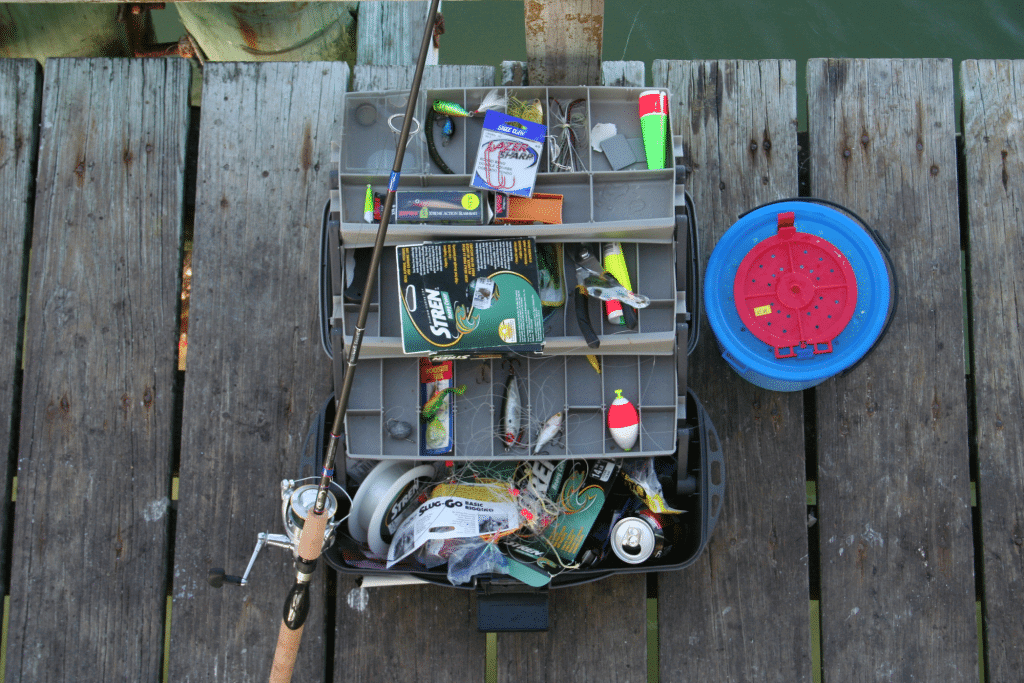 Things to Consider While Choosing a Survival Fishing Rod
Keep in mind that the decision process doesn't end at the rod. It's important that you have the right gear to accompany the fishing rod; otherwise, you won't have much luck on the water. Here are some other things you should bring along with you when you bug out.
Bobbers
Bobbers will become more important than you think when survival fishing. A lot of these rods don't offer much to protect you from rocks, stumps, and vegetation, which means you'll get hung up a lot. You need a way to suspend the bait in the water rather than dragging it across the bottom.
Having a bobber will ensure that your lure stays somewhere in the middle of the water column, which will prevent snags and help you keep more fishing lures.
Knot Tying
Some things you can't put in a bag. Understanding how to properly tie some important fishing knots will be the difference between a fish on the end of the line and your line in the middle of the lake.
Braided Line
Speaking of line, you're going to need some. As a part of your bug out kit, I suggest going with the braided line because it's better in the cold, more durable, and should last longer, so you don't go through it as fast. Just keep in mind that it's also more expensive.
Lures
Do not, and I repeat, DO NOT think you're going to find live bait in the woods. You never know when you'll end up stranded, it could be in the winter, it could be in the summer, but you don't know. Plus, the goal is to exert as little energy as possible, and flipping over rocks doesn't exactly sound like a leisurely activity.
Bring some simple and easy to use lures with you, such as soft plastic worms and grubs with jig heads. These are basic, they work in various situations, and you can hook them up in many different ways.
Final Thoughts
Choosing the best survival fishing pole is a matter of life and death. When the SHTF, you want to make sure you have all the right gear so you can bug out and have the highest chance of survival.
One last thing, don't wait until an emergency happens to practice these principles. When you get a survival rod, test out your survival skills and run practice drills, so you're prepared. Good luck!