---
We independently research, test, and recommend the best products; you can learn more about our review process here.
Whether I'm flipping or pitching, swimming or finessing, fishing a jig ranks right up there with some of the most exciting fishing trips that I've ever been on.
After all, it's how I was able to catch my two heaviest bass ever. But I haven't always been good at fishing with jigs. It's taken decades to perfect this art of pulling bass off the bottom.
Through the years, learning how to use a jig has given me the opportunity to experience the best jig rods.
Along with that experience, I've learned a lot of tips from professional bass anglers and industry insiders about what they look for in a solid jig rod.
Now I've taken my quest to find the best jig rod even further by conducting a hands-on test.
I've taken over 25 rods on a week-long fishing trip to a private pond in Mississippi called Old Egg Farm Lake.
It's there that I was able to look at important qualities like strength, weight, feedback, grip, and sensitivity, to come up with this guide to help you choose the best jig rod.
Top 3 Flipping Rods on the Market
If you're in a hurry you can take a look at my top three choices for the best flipping rods.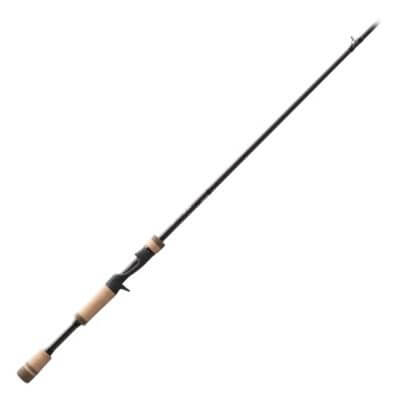 13 Fishing Envy lll Casting Rod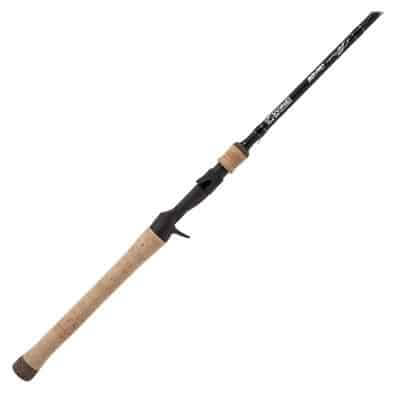 Best Tournament Grade Jig Rod
G. Loomis IMX-Pro Bass Casting Rod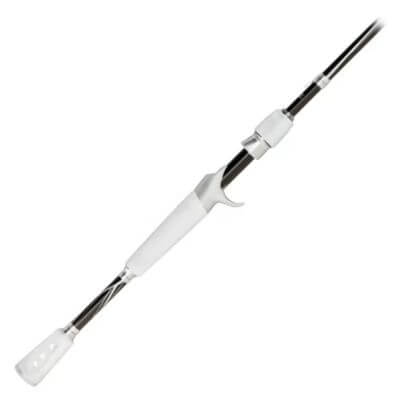 Abu Garcia Vengeance
---
Methodology 
During the five days of throwing swim jigs, flipping jigs, and football jigs I examined several rod's for important qualities. Here are some parameters that we used to come up with our guide to choosing the best jig rods:
Casting Accuracy: Great pitching control is a plus when jigging for bass. Jigging structure won't produce fish if you get hung up in the very structure that you are trying to cast next to. 

It's important to choose a rod that excels in flipping jigs into the exact spot needed. 
Sensitivity:  Jig fishing is the opposite of top-water fishing. Usually you're fishing in at least 8 feet of water and can't see your lure on the bottom.

For this reason, rod sensitivity plays a huge role in letting you know when a bass picks up your jig. 
Action: Rod action is crucial when it comes to jigging. Does it have enough load in the tip to sling your jig underneath a dock?

Is it fast enough to set the hook quickly on a subtle bite? In my years of jigging for bass, I've learned that fishing with a rod with the wrong action can severely hurt your chances of catching bass.
Handle and Grip: When it comes to working a jig on the bottom, there's a lot of physical pressure that's put on the handle. Having a well built, comfortable handle that will stand the test of time is a must when selecting a jig rod. 
Hookup Percentage: When jigging for bass, setting the hook is only half the battle. After the fish is on, there's still a good chance you'll lose it on the way up.

Having a rod that keeps the fish hooked is one of the most important features to look at when deciding on what rod to choose for a jig rod. 
Best Overall Jig Rod
13 Fishing Envy lll Casting Rod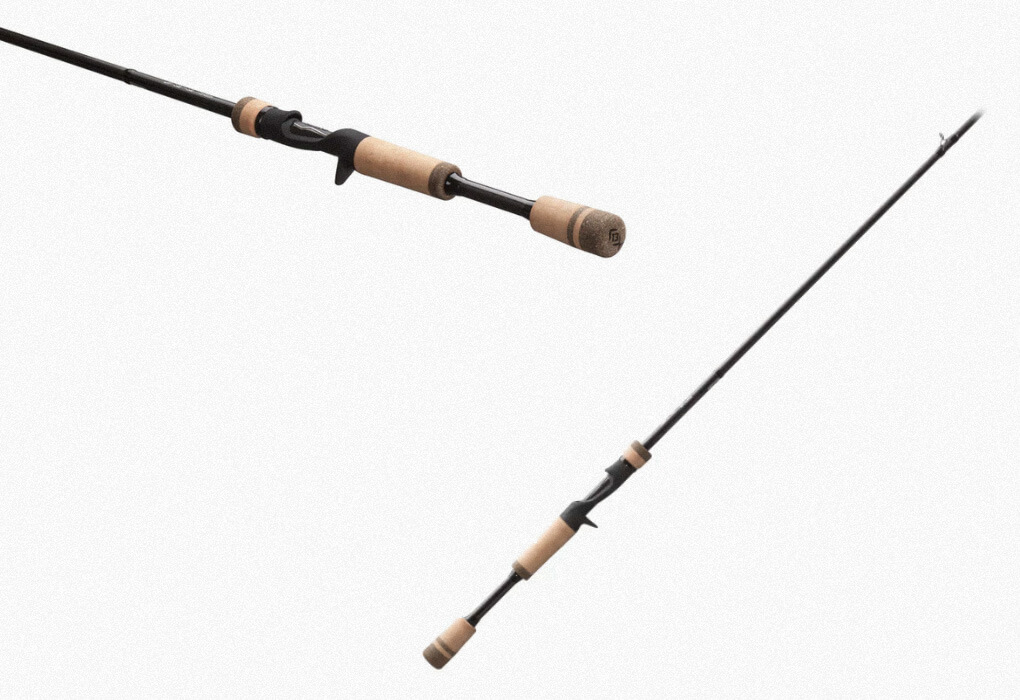 Specs
Rod Length: 6.8, 7.1
Rod Material: Fiberglass
Type: Casting 
Power/Action: Medium/Fast
Why We Chose It
The 13 Fishing Envy lll Casting Rod comes in a wide variety of sizes but the two that sizes that are best for jigging are the 6.8 and 7.1-long rods. (Shorter rods perform best with jigging)
The rod is a single-piece rod that is made of 30-ton T-Glass blank which is tournament-grade stuff!
13 Fishing has always done things their own way, customizing everything from the butt of the rod to the tip.
Let's start with the grip. The grip is made of a combination of cork and EVA which I've never seen on any rod. They are uniquely shaped but they also conform perfectly with your hand.
They really did a great job with the intricate details on this handle. 
Moving over to the guides. They are Fuji stainless steel K-Frame Guides with Alconite inserts which is another nice touch on behalf of 13 Fishing.
I fished for over four hours with this rod and didn't want to put it down.
I tried several jigs and was able to put six bass in the boat with the biggest being 4.5 pounds.
I will say that this rod was stiff enough to set the hook fast on the bass that picked up my jig but one thing I noticed was the tip load.
It was very flexible for the upper 8 inches of the rod then the stiffness set in. It made casting very comfortable which I sometimes struggle with when jig fishing.
The soft tip allowed me to skip my jig underneath docks which is a great option to have when jigging.
The tip was similar to the Lew's Elite Series Casting Rod as far as skipping jigs underneath docks. 
The only downside is that this rod will cost you a pretty penny however, having a great lifetime jig rod is worth it!
So if you're a jig fisherman and are looking for a strong and sensitive jig rod, then look no further than the 13 Fishing Envy lll Casting Rod. It's strong, durable, and will get those monster bass in the boat! 
Best Tournament Grade Jig Rod
G. Loomis IMX-Pro Bass Casting Rod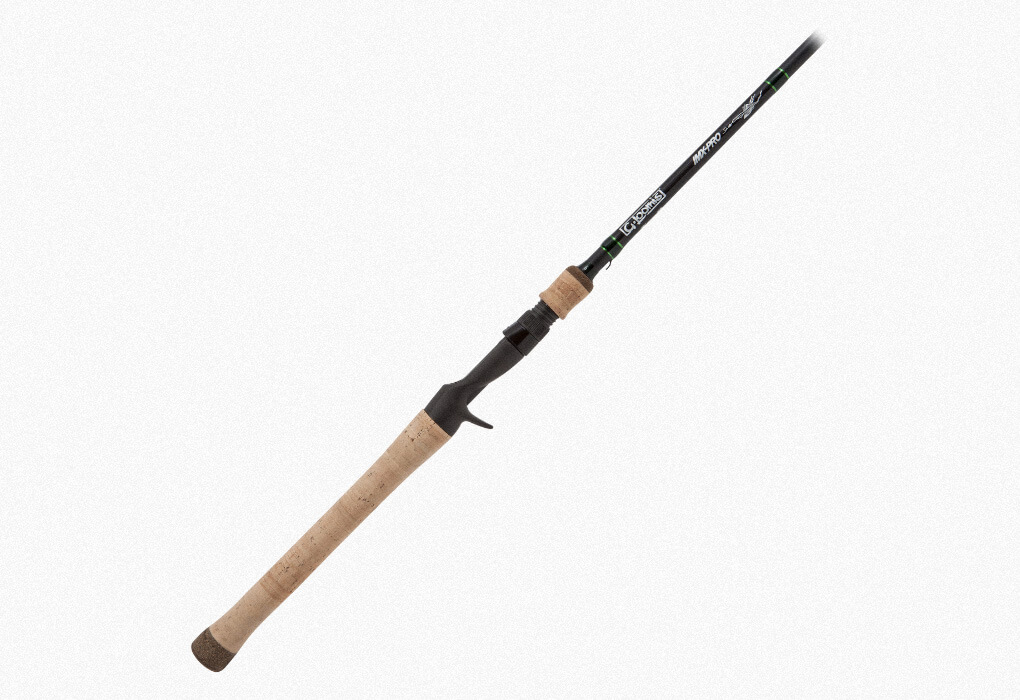 Specs
Rod Length: 6.8, 7.1
Rod Material: Blend
Type: Casting
Power/Action: Heavy/Fast
Why We Chose It
The  G. Loomis IMX Casting Rod comes in two sizes that are suitable for jigging: 6.8 and 7.1 and is specifically made for jig fishing. 
The rod is made with G. Loomis' IMX-Pro blank technology which basically means they are able to pack more graphite into a thinner rod by adding resin to the mixture.
The biggest thing that I noticed about this rod when I used it was the weight. It was the lightest rod I tried out all week and it made a big difference at the end of a long day of working jigs on the bottom.
While testing the rod I noticed that it had great balance and I was able to finesse-fish a Strike King Bitsy Flip Jig without the tip diving down too hard. 
This rod really made an impression on me.
It was incredibly sensitive and I was able to easily feel the bass pick up my Bitsy Flip on the bottom even though it was in over 20 feet of water.
Every jig I threw felt like a million bucks with this rod.
Once again, this company has set itself apart as a superior rod manufacturer. G. Loomis seems to have discovered a method of enhancing strength without the need for additional materials.
This has allowed them to utilize 15% less material compared to their other rods, resulting in their lightest rod ever produced!
When I was flipping my jig the rod hit the target on numerous casts so it checked the box as far as casting accuracy is concerned.
At the end of the day the G. Loomis IMX-Pro Casting Rod shined and that's why we gave it the title of Best Tournament Grade Jig Rod. 
If you're looking for a jigging rod with off-the-chart sensitivity, the IMX-Pro is the rod to take your jig fishing to the next level!
Best Budget Jig Rod
Abu Garcia Vengeance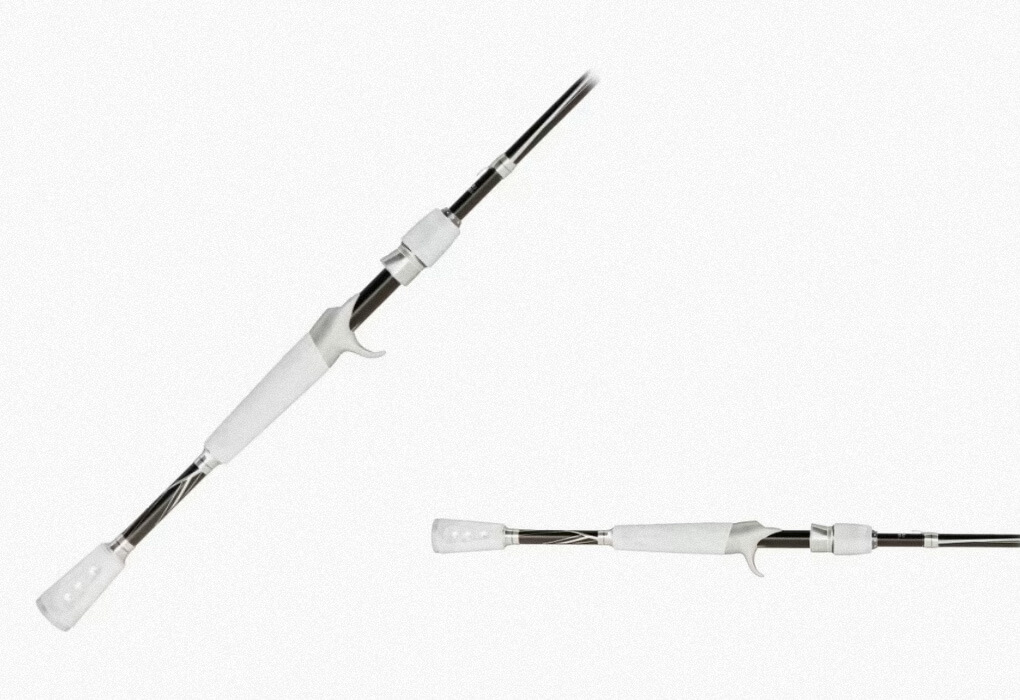 Specs
Rod Length: 6.6, 6.9, 7, 7.6
Rod Material: Graphite 
Type: Casting
Power/Action: Med/Fast
Why We Chose It
The Abu Garcia Vengeance Casting Rod comes in four sizes: 6.6, 6.9, 7 & 7.6.
It's built on a 24-ton graphite blank and that comes in one piece
I'll start out by saying this rod is really affordable for the material that is used to make it.
While 24-ton graphite isn't anywhere near what you get with certain high-end jigging rods, it's definitely better than what you see in other rod that are under $80.
24-ton graphite is a high tonnage. The higher the tonnage is, the stiffer the graphite is.
This enables vibrations to be transmitted readily through your rod.
During my test of the Vengeance I jigged a long bulkhead able to pick up two that smashed my Strike King J-Lee Comeback Jig. 
I was able to boat-flip both bass which were over two pounds without any rod strain.
The rod was nice and stiff and I was able to set the hook and clear the fish from the bulkhead quickly before it got tangled.
Moving on to the handle. It's a split-grip design which made for some really long casts.
The grip itself is made of top-notch foam material, providing a truly comfortable grip in my hand.
The trigger was smooth and fit in between my fingers perfectly.
One concern with this rod is that it seemed tip-heavy which might affect how larger, heavier jigs perform when using them. I found that it performed best with jigs under 3 oz.
On a side note, if you're looking for a little more strength check out the Abu Garcia Vendetta which is about 20 bucks more and has a 30-ton blank instead of 24-ton so that's an option for you if you want to step up in rod strength. 
Overall, this rod delivered the goods and clearly over achieved in strength, comfort, and sensitivity. 
If you're looking for an affordable flipping rod that overachievers in sensitivity, strength, and comfort, the Vengeance is the rod to go with!
Best Jig for Rod Heavy Cover
Cashion ICON Casting Rod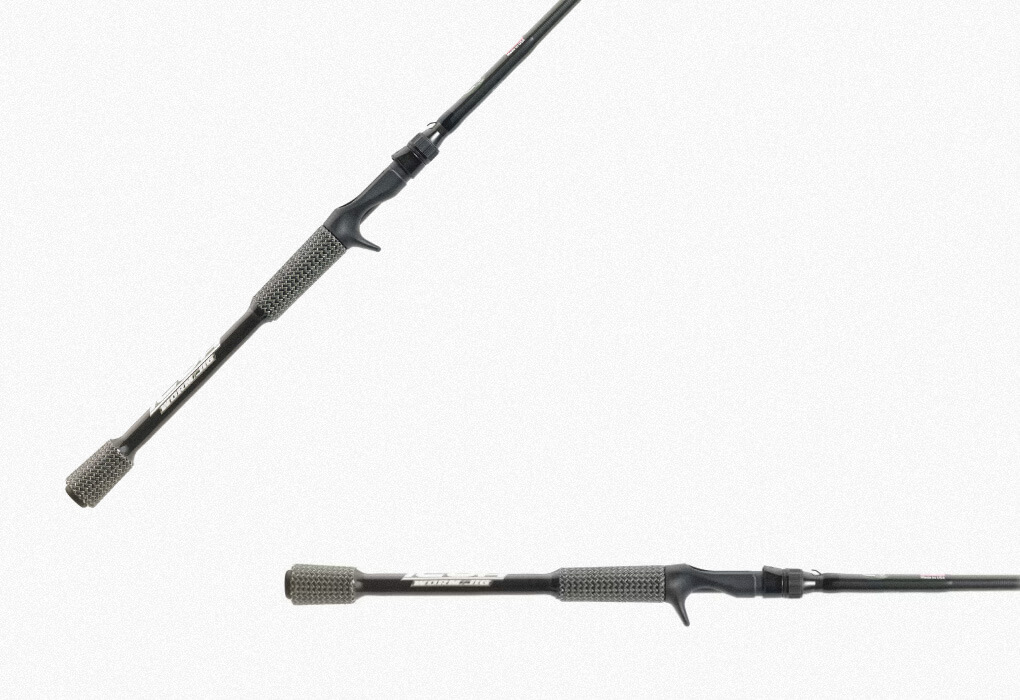 Specs
Rod Length: 7'
Rod Material: Carbon Fiber
Type: Casting
Power/Action: Med Heavy/Fast
Why We Chose It
The Cashion ICON Casting Rod is a 7' one-piece casting rod that is specifically designed to jig baits on the bottom. 
It's made with a strong blank made with carbon fiber which is a ribbon-like form of graphite that is stronger than a 100% graphite blank.
Admittedly I am a rookie when it comes to the Cashion brand of rods but I have to say that this rod blew me away when it comes to jigging for bass in heavy cover.
Here in Louisiana, it can get pretty hot. So I'm forced to fish a lot of what I like to call "junk" which is heavy cover on the bottom.
It's not fun at all but it's where I need to go to catch those bass that are searching for shade and cooler water.
While testing the ICON I ran down a bank and flipped into some really gnarly junk. 
I was throwing a weedless Chompers Eraser Jig and you know what they say huh? It's all fun and games until somebody loses a 10-pound bass! 
Please unclinch..I'll spare you with a "one that got away" story.
I will say that I felt the tick on the line as this gentle giant barely mouthed my jig. The hookset was SOLID and I made the mistake of grabbing the net too soon and let the fish wrap around a log.
I put this rod through so much in this one episode. Sustained rod strain, tip pressure, and guide pressure and it was a soldier.
After losing the fish I untangled the jig and picked right up where I left and was able to recover with three bass that were all caught in submerged wood. This rod was able to rip them out quickly without much of a fight. 
This rod was comparable to the Abu Garcia Vengeance Rod in sensitivity but was more suitable for heavy cover in my opinion. 
Another thing that stood out to me was the Micro Guides on this rod.
They were probably some of the smallest ones that I've ever fished with which made for really smooth flips, however they are so small that you won't be able to use a fluoro or mono leader-to-line knot so you'll have to go braid all the way!
The Kevlar wrapped stood out to me as it was highly sensitive and durable.
At the end of the day the Cashion ICON Casting Rod shined in heavy cover and is the perfect rod to use when jigging "junk" for big bass! 
Best Saltwater Jigging Rod
St. Croix Victory Casting Rod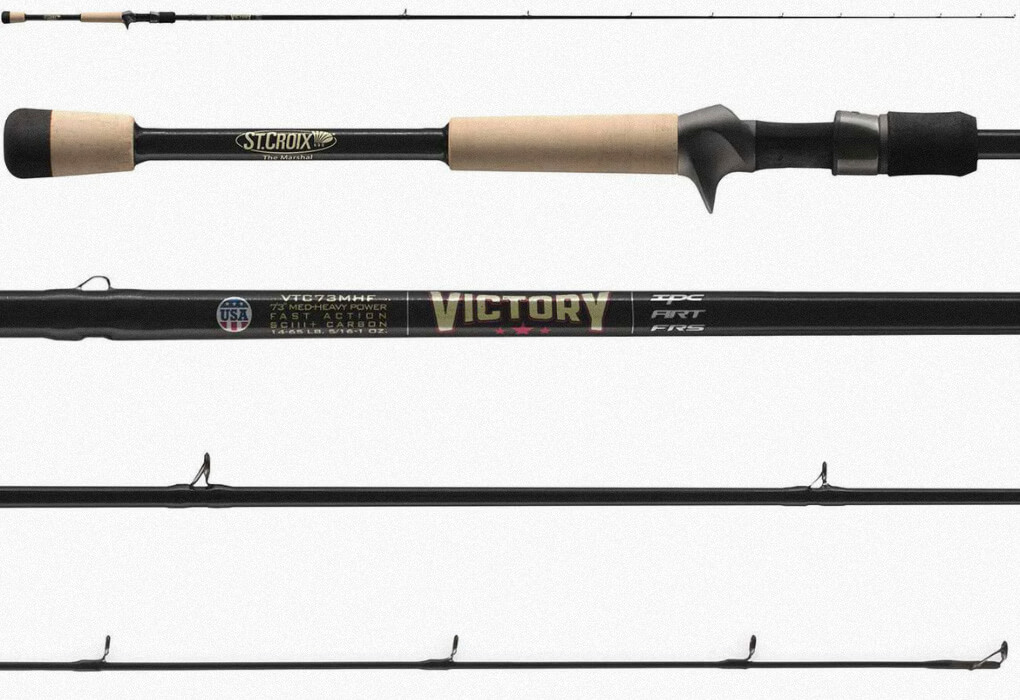 Specs
Rod Length: 7.2, 7.3, 7.4, 7.5, 7.6, 7.10, 7.11
Rod Material: Carbon Fiber
Type: Casting 
Power/Action: Med/Heavy Fast
Why We Chose It
The St. Croix Victory Casting Rod comes in a variety of lengths from 7'.2" to measures  7'.11". 
The rod is made of SCIIl Carbon Fiber blanks which makes the rod ultra strong but in addition to the SClll St. Croix has coating the rod with something called Fortified Resin which increases the rod strength even more.
Most of my saltwater rods are St. Croix Rods but they have a little age to them.
The older rods are made of SCII Mid-modulus graphite which I considered strong. (I've never had a St. Croix break while saltwater fishing)
However, the new Victory line of rods are made with SClll Carbon Fiber which is even stronger hence the 15-year warranty!
The 7'.6" rod is my favorite for saltwater because it can handle both speckled trout, redfish, and other larger saltwater fish.
I love using this rod when jigging the Trestles Train Bridge on Lake Pontchartrain. I use a Matrix Shad on a ⅜ oz. jighead and can usually put together a box of speckled trout by jigging the concrete pilings. 
While the rod is strong, it's also very light.
It seems St. Croix has figured out a way to pack backbone into a slim rod because this rod weighs 4.3 oz. which goes a long way when jigging working a jig on the bottom for long periods of time.
This rod is comparable to the 13 Fishing Envy lll Casting Rod which won best overall rod however the Victory is more suited for saltwater fishing because of the longer rod options. 
If you're looking for a saltwater rod to throw jigs on, the St. Croix Victory Casting Rod is the rod that should be added to your collection of saltwater swimbait rods. 
Best Jigging Rod and Reel Combo 
Abu Garcia Revo X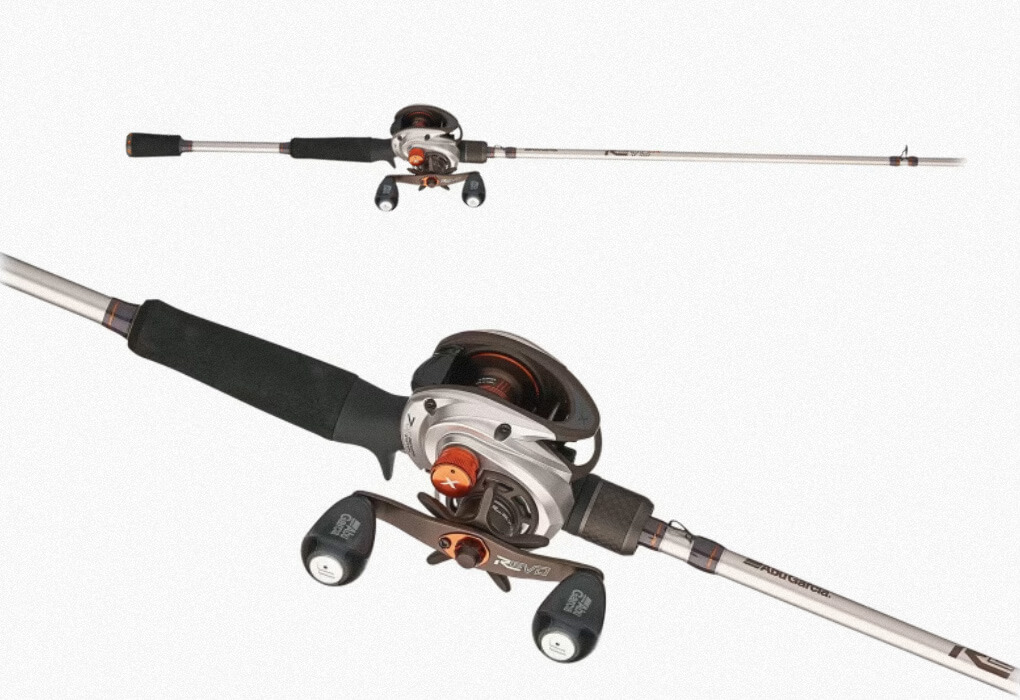 Specs
Rod Length: 7'
Rod Material: Graphite
Type: Casting 
Power/Action: Med-Heavy/ Fast
Why We Chose It
The Abu Garcia Revo X Combo comes with a 7-foot rod.
It's a 30-ton graphite blank that provides the strength and backbone needed when jigging heavy cover.
The first thing I noticed on the rod was the rod trigger which was perfectly placed and provided me with great control of the rod while allowing one finger to remain on the blank where the grip splits.
Moving on to the reel. The Revo X Low Profile Baitcaster was the star of this show. It uses 7 stainless steel bearings which makes for a really smooth retrieve. (The more bearings the smoother the retrieve) 
Coming in at 7.9 oz, this is the lightest jigging combo setup that I tried out all week.
I fished for over three hours with this rod and reel like I could go all day using it even with the 2oz. jig that I was using.
I landed five fish on three strikes with the biggest fish being a 2.6-pound bass which was no match for this rod!
The rod felt great in my hand with a firm but soft EVA rubber handle. While fighting the fish it never slipped once and I thoroughly enjoyed the control I had over it when flipping my jig into tight cover.
The Abu Garcia Revo X LTD came out on top when testing but I will say it was comparable to the less expensive Abu Garcia Max STX Low Profile Combo.
The only negative withrod was that the guides were a little out of line. The first one was set slightly to the right of the rest of them.
Probably a manufacturer's defect on the rod I was using but I thought it needed to be mentioned.
In the end, the Abu Garcia Revo X LTD was a great rod and reel match for using swim jigs, flipping jigs, and football jigs. 
If you're looking to save a little money by purchasing a combo instead of individual rod and reel purchases, this is the jigging combo to add to your arsenal.
How to Choose a Jigging Rod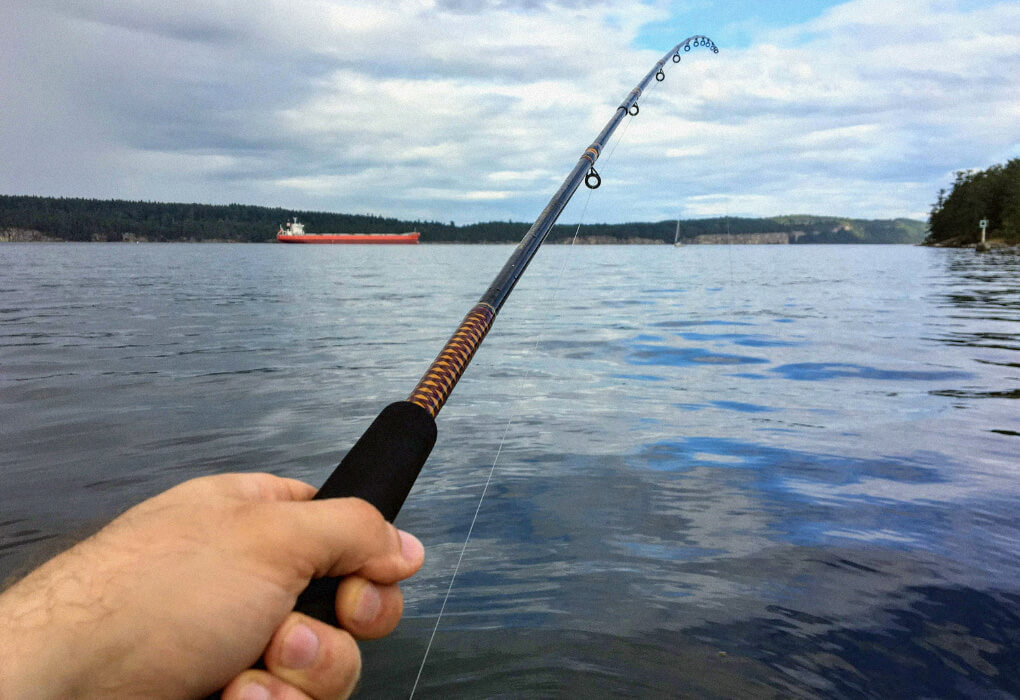 Some of the best professional fisherman will tell you, if you're not using jigs, you're severely hurting your chance to catch big fish. Fact is, big fish are on the bottom!
Sure, everybody likes to beat the bank looking for the shallow water blow-up on a frog, but if you take the time to work a football jig or flipping jig on the bottom with the right rod, it will affect the size of fish you catch.
Jigging the bottom takes a little practice but it's not that complicated if you know what to look for in a rod.
Length 
Jigging is usually done in close distance to the shoreline or wharfs so rod length isn't as important.
Long casts are not as important as they are when throwing swimbaits and cranks, so you'll want to look at rods that are in the 6.9 to 7.2 range.
Plus, it's safe to say that shorter rods are more accurate when casting jigs.
Power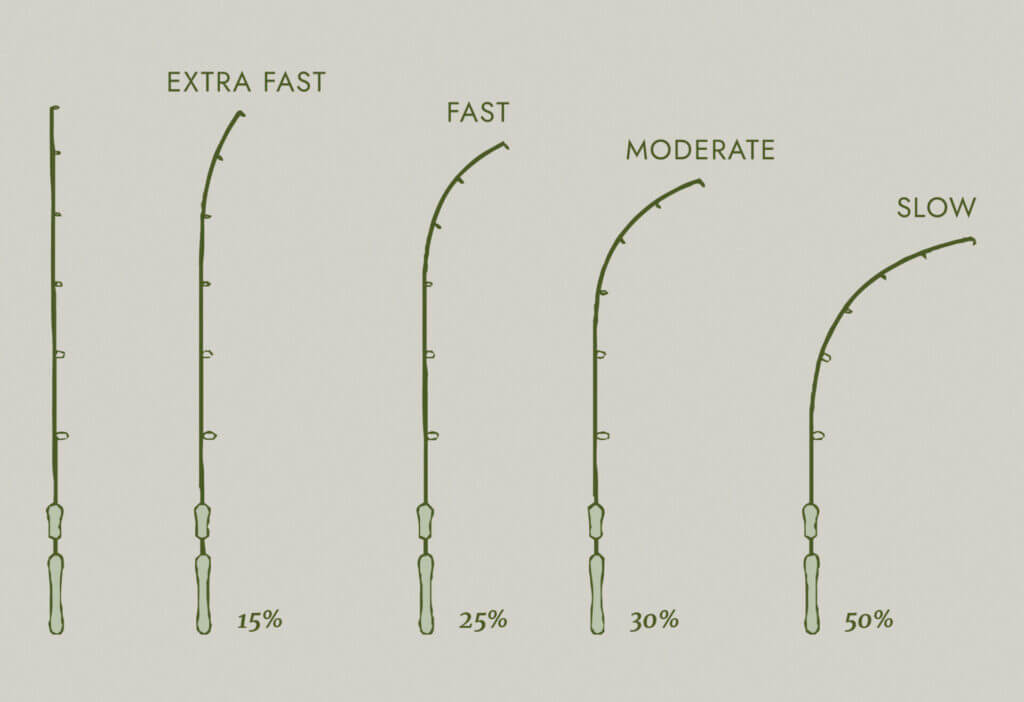 When using jigs, it's arguable that the most important factor to consider is the power of the rod.
You can tell how much backbone a rod has by its power rating.
You want to look in the medium-heavy to heavy range when throwing jigs because you'll need the rid to deliver a stiff hook-set and also the power comes in handy when fighting a big bass to the surface.
You have to remember one thing with jigging; it's very physical even when you don't hook a fish. You're going to get snagged on structure so having a workhorse rod is very important.
Action 
Rod action is important in the jigging world as well. You'll want a fast action rod because it will help you set the hook quicker.
A fast action rod also helps when jigging structure.
When that big fish hits you don't want it wrapping the line around a dock piling so ripping that fish to the boat quickly can mean the difference in catching the fish or losing it.
Line Weight 
When jigging, you'll want to pick line that is 20lb test or above. In addition to hauling in big bass, heavy line will help you work through dense cover.
There's no room for second-guessing after you set the hook on a bass and it makes a drag-pulling run!
Final Thoughts
Jigging can be very productive as far as numbers, but more importantly, size.
There are some really big bass caught every day by anglers who are jigging structure or jigging in deep water.
During my test at Old Egg Farm Lake I was able to try out plenty of different rods and have come up with a list that I'm sure will help you select your next jigging rod.
So let's review our top pick!
For the category of Best Overall Jigging Rod, I choose the 13 Fishing Envy lll Casting Rod.
The rod excelled in all the categories that define a legendary jigging rod including, sensitivity strength,and handle quality.
While the Envy won overall, you really can't go wrong with all the rods mentioned in this best jigging rod guide I've put together.
Give them a try and tell us what you think! We'd love to hear from you!