---
We independently research, test, and recommend the best products; you can learn more about our review process here.
We're always looking for an edge. Who said fish aren't smart? Look at everything we do to try and catch them.
You're reading a review comparing the Humminbird Lakemaster vs Lakemaster Plus because you're trying to catch more fish. Are we admitting defeat or simply trying to impress our friends with all the new tech we bought (and didn't tell our wives about)?
Anyway, there's little separating the Lakemaster vs Lakemaster Plus so I can't necessarily tell you which one is the better choice. You'll have to read the review and find out for yourself!
---
What is the Lakemaster?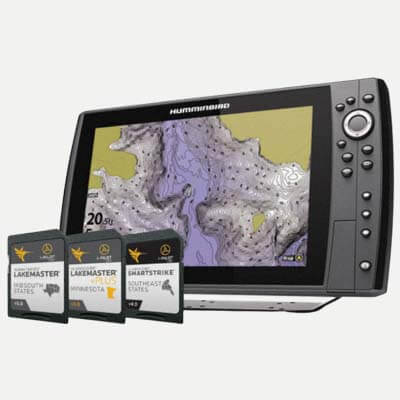 Dozens of options across the country
Averaging 2,200 lakes per card
High-definition overlays
Packed with valuable information to up your game
As most anglers know, purchasing a fish finder isn't always as simple as you think. When you buy a fish finder, there's always an endless list of features that you think you're getting when you buy it.
Soon after you purchase, you realize that most of those features were optional upgrades or additional purchases you need to make.
It's frustrating.
The Lakemaster from Humminbird is an example of this.
It's an SD card that you buy separately from your fish finder unit and once inserted, it provides you with additional mapping of the lakes, ponds, and rivers you fish.
The goal of Lakemaster cards is to help you find fish more easily within a targeted area based on where you live.
There is an extensive list of specific locations that you can purchase mapping cards for. Some examples include:
Florida
Western States
Dakotas+Nebraska
Minnesota
Southeast States
Great Lakes
Mid-Atlantic
Northeast
The list goes on and on to include Canadian Territories and countries like France. There's also an extensive list of coastal maps that you can purchase throughout Florida and the Gulf.
Many of you may be familiar with Navionics which is a similar mapping card from Humminbird. If your fish finder isn't compatible with Lakemaster, I'd highly recommend it.
A popular question many people ask me is, "why do I need lake maps"?
What type of advantage does having a list of maps for the lakes you're fishing provide? When you already have a fish finder, what is the difference between looking at a fish finder screen without a map and with a map?
Keep reading to find out!
Main Features: Broken Down
In the following sections, I want to answer your questions. What do you want to know about the Lakemaster? Hopefully the next thousand words or so clear up any concern you might have about whether or not to buy the Lakemaster.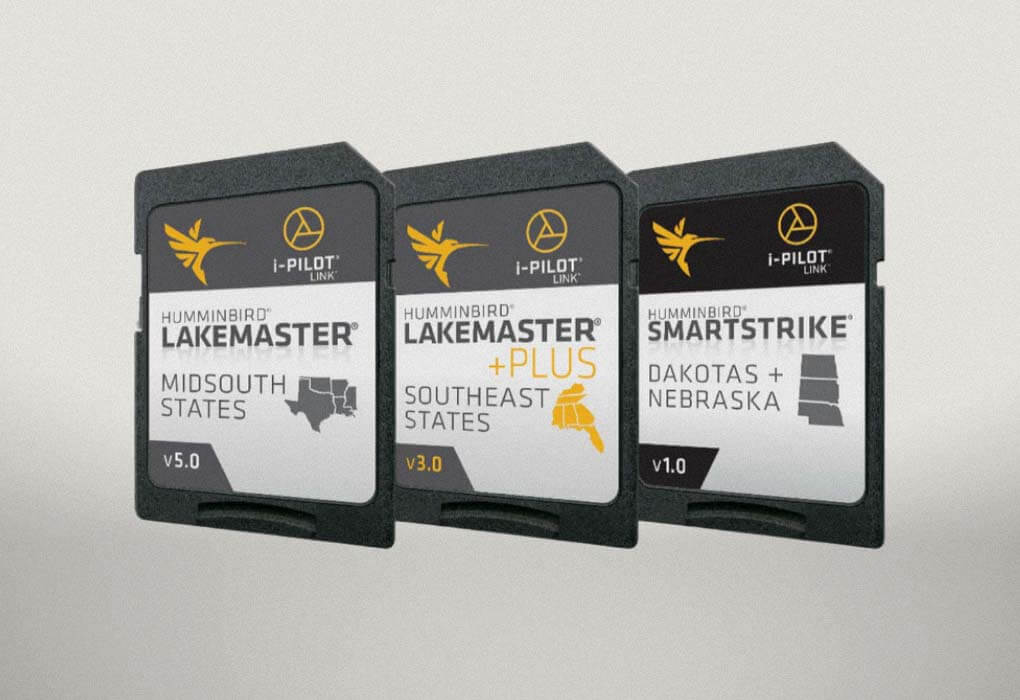 Compatibility
The first thing I think about when buying something for my fish finder is, "will it work"?
A lot of other reviews out there will give you a canned answer saying it'll "work for all Humminbird fish finders," and that's simply not true.
The first requirement is that your fish finder has a GPS feature included.
If you're using the Humminbird Piranhamax, you do not have GPS. As a result, this will not work for your fish finder.
Huh, I guess it doesn't work for all Humminbird fish finders.
The second requirement to ensure it's compatible with your unit is that you have an SD card slot because not every fish finder does. There's an endless list of those that do and don't so I won't bore you with it, but just make sure.
According to the Humminbird website, you stand the best chance of having a compatible fish finder if it meets the criteria above and is a HELIX, SOLIX, APEX, ONIX, or ION model.
Those models are all compatible and will be able to use the Lakemaster chips.
Also, it's worth mentioning that it's not compatible with Lowrance, Garmin, or Simrad fish finders. All the features including upgrades to Autochart and i-Pilot Link are only available with Humminbird fish finders.
Navionics which was mentioned above will work with Lowrance fish finders. 
Related Article: Humminbird vs Lowrance
Area Coverage
Across all the SD cards in various countries, there's over 10,000 lakes that you can access depending on the card you buy.
When you're shopping, you need to keep the area coverage in mind to ensure you get a map card in the places you actually plan to fish. Some are incredibly specific while others are more broad.
For example, states like Minnesota and Florida have a lot of really popular lakes. As a result, they get their own cards but don't expect to cross over into Wisconsin using one of those cards.
There are also a number of cards in Canada. As we get into the Lakemaster Plus review, you'll notice that there is no difference in area coverage even with the upgraded and more expensive card.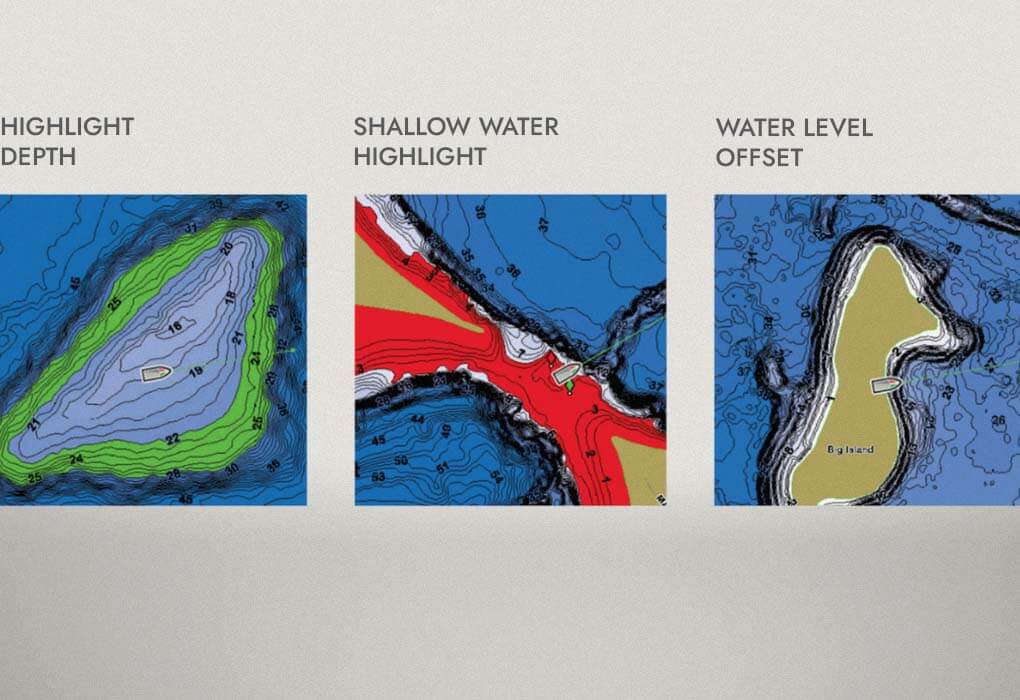 Depth Range
Now let's talk about some of the great features included in the Lakemaster card. Highlighted depth range is one of them.
You can select a specific depth range and the fish finder will only show you what is in that section of the water column.
For example, if you're after walleye and you want to set the fish finder to 20-35 feet, you can do that. It will highlight the range and show you where you need to fish to find them.
There's also something called water level adjust or water level offset that allows you to change your depth range based on the depth of the body of water you're fishing.
Changes in Structure
One incredibly important feature you want to look for in your fish finder is depth contouring. When you first look at it, it looks like a bunch of topographical lines and it's really hard to understand but over time you'll begin to understand what it means and why it matters.
Fish tend to hold to changes in structure, I always say that. When you're fishing open water, this becomes even more true.
The Lakemaster card comes with high-definition detail lakes and standard definition detail lakes. The card you buy will determine which lakes get high-definition and which don't.
The HD maps provide 1-3ft contours. This means that every 1-3ft, it takes a new reading and tells you how much the ground has either dropped off or risen.
The standard definition option does the same at 3-5ft contour lines.
Each card comes with some lakes that are in high-def and others that are in standard-def. It depends on the popularity of the lake and how well Humminbird has scouted it.
Shallow Water Highlight
One challenge of utilizing the best GPS and fish finder combo is reading the shading on a small screen. Especially with a smaller Helix 5 or on a fish finder on a small boat.
The shallow water highlight feature will highlight in red an adjustable range that you set. You can set the depth to however you want it and the display will highlight that area so you can easily locate water that is fishable for you.
The Difference Between Lakemaster and Lakemaster Plus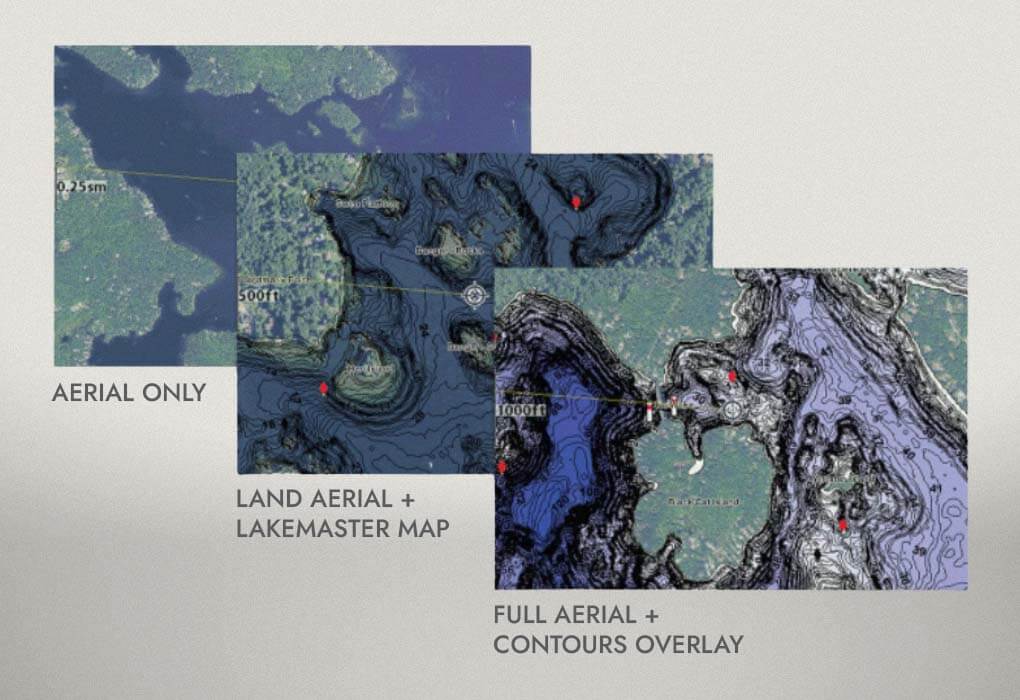 You came here to see the Lakemaster vs Lakemaster Plus, right? So, what's the difference?
Aerial imaging, that's it.
I don't know about you, but I don't see that as a feature worth upgrading to. The main purpose of the aerial photography is to help you get a bird's eye view of the lake to identify areas you might want to fish without having to cart yourself around and figure it out.
While it depends on the specific card, there appears to be about a $20-50 dollar difference between Lakemaster and Lakemaster Plus. So, the price isn't a huge jump and if a feature like this is important to you, it's probably worth the cost.
Humminbird Lakemaster Plus vs Smartstrike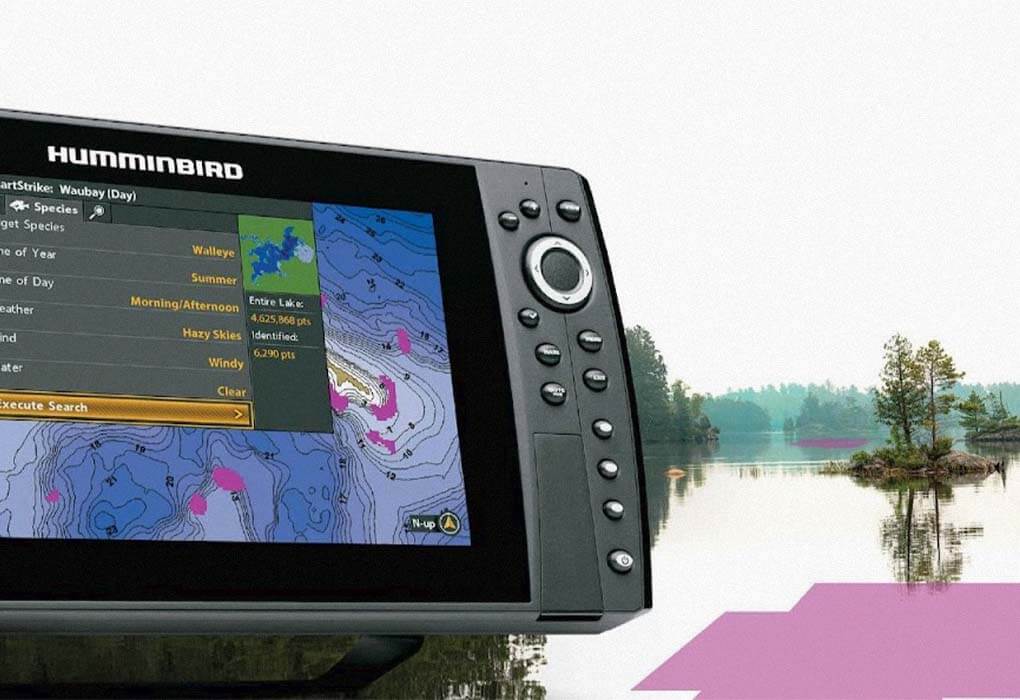 I'm going to do you one better and compare Lakemaster vs Smartstrike as well. Smartstrike is another Humminbird feature that comes optional with the purchase of a separate SD card.
Consider Smartstrike to be the "ultimate" option because it comes with Lakemaster and i-Pilot which is another feature that works with your Minn Kota trolling motor.
Smartstrike allows you to set parameters based on the type of species you want, what time of year it is, what time of day, what the weather is like, and what conditions look like.
You can then add that data to the specific lake you're fishing and where you are on it.
Once you've done that, the fish finder will basically tell you exactly where to cast. It's almost like cheating.
If you can't catch fish with this…well… I won't say what you should probably do.
It's compatible with a wide variety of cards for the Northeast, Southeast, Mid-Atlantic, Great Lakes and more.
The models it works with are a bit more restrictive to include only GPS-equipped HELIX 9, 10, and 12 models and all SOLIX models.
Final Thoughts
I suppose the ultimate question between Lakemaster vs Lakemaster Plus is, "who should use the Plus"? Right?
It's hard to say.
I think this is a situation where you need to make that choice. The cost isn't ridiculous from one to the other so it might be worth it just to treat yourself and go with the Lakemaster Plus.
Personally, if I was going to upgrade to the Lakemaster Plus, I think I'd just go for the Smartstrike card and call it a day. For about $40-50 more, you can get everything bundled into one card.
That's just me! Do you folks and as always, good luck out there!