---
We independently research, test, and recommend the best products; you can learn more about our review process here.
Both Garmin and Humminbird make quality fish finders that are quite popular. Most people with fish finders have one from one of these brands.
Of course, both of these companies have several models. Some are better than others, though they are each suited for certain situations. Which one you choose largely depends on what you're looking for and your budget.
In the past, Humminbird was easily the winner. However, Garmin has made many upgrades over the last few years, leaving us
Below, we'll take an in-depth look at the Humminbird vs. Garmin debate.
---
Product Overview
Each of these companies has several different fish finders. However, for practical reasons, we're only going to look at two from each.
Garmin Striker 4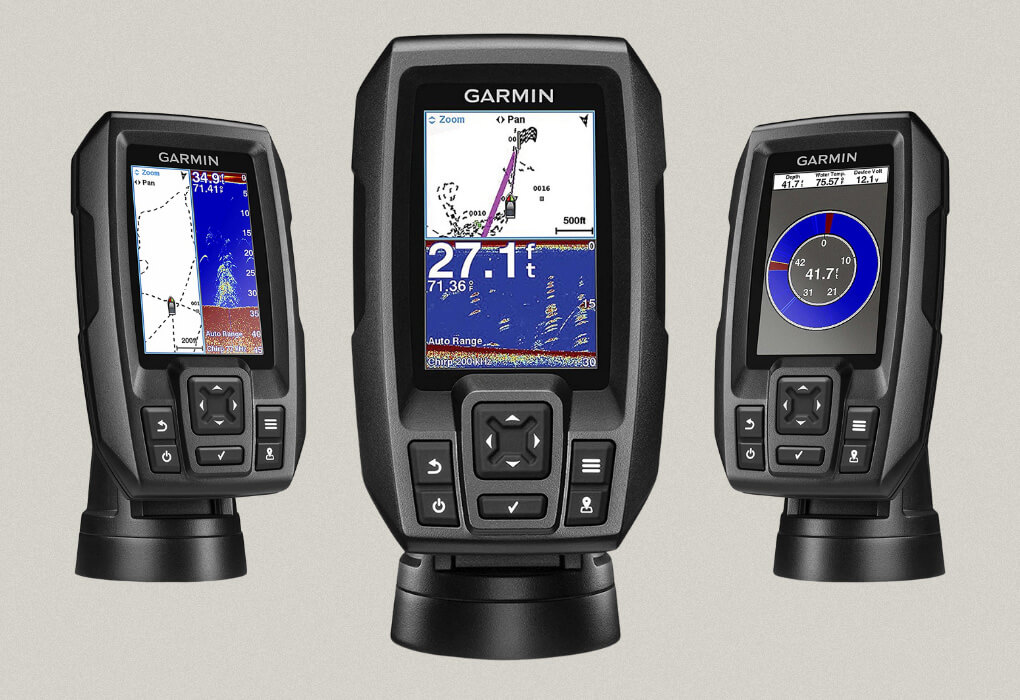 The Garmin Striker 4 is quite popular, using CHIRP technology to release several different frequencies. It can reach up to 1600 feet in freshwater, though only 750 feet in saltwater.
It has a built-in GPS, which is largely why it is so popular. This GPS lets you determine exactly where the fish are in the lake (as well as eliminates the need for another GPS).
Humminbird PiranhaMax4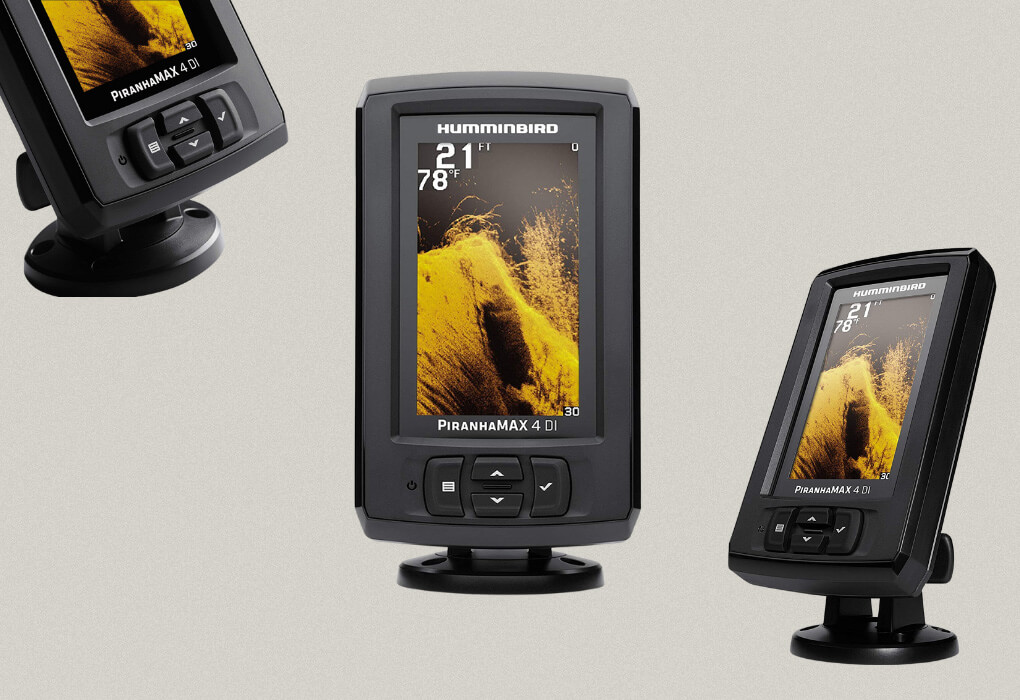 The Humminbird PiranhaMax4 is the most comparable Humminbird model to the Striker 4. It utilizes a dual beam sonar that can reach about 600 feet.
However, it doesn't have GPS and doesn't mention whether the depth is for freshwater or saltwater. (We're assuming it's freshwater, making the beam even shorter for saltwater fishing).
Garmin Echomap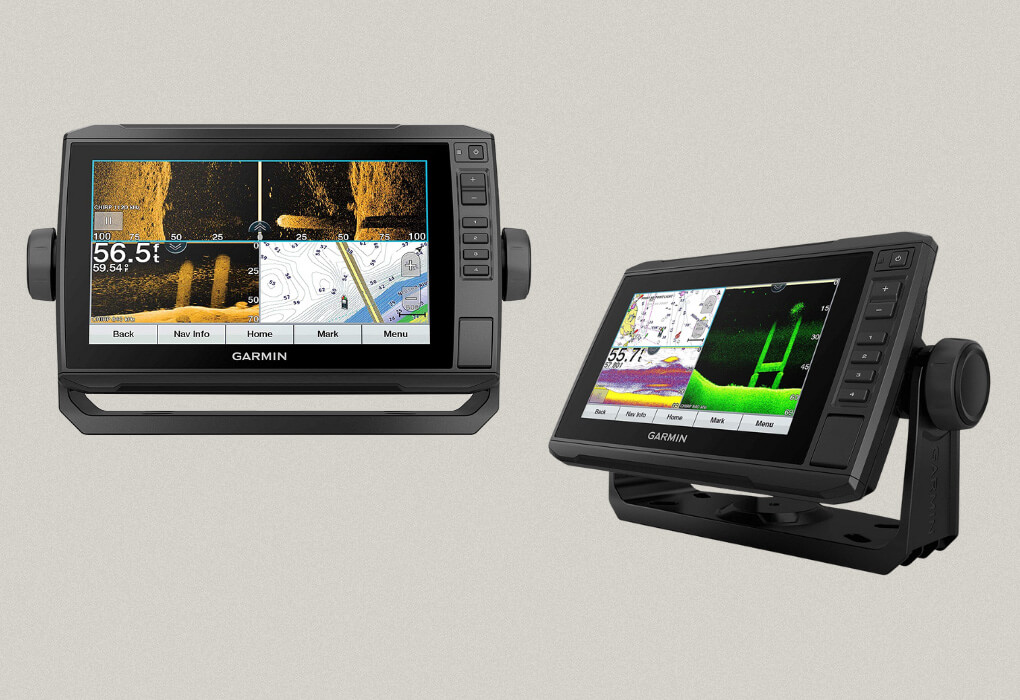 Garmin Echomap is the most expensive, larger Garmin fish finder. It utilizes CHIRP sonar, as well as several other sonars too.
It can release several different frequencies and has a maximum depth of 2300 feet. It also has GPS built-in with 5000 different waypoints.
Humminbird Helix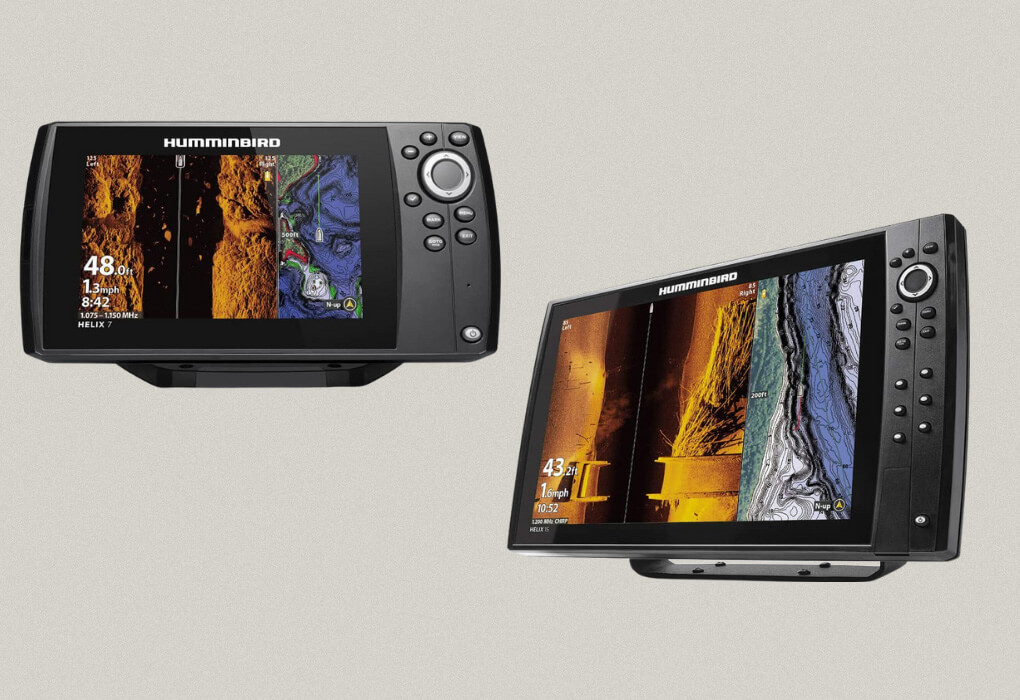 The Humminbird Helix Fish Finder is slightly different, but it also utilizes the CHIRP sonar. It is much bigger than the Garmin option and has a maximum depth of 350 feet.
While GPS is built into the system, it doesn't allow you to set waypoints.
The Garmin Striker vs Humminbird Helix is a continuous debate.
Garmin vs. Humminbird: Key Features
Let's take a look at some of the basic features for both of these brands.
Down Imaging
Practically all fish finders from both brands have down imaging. This is to be expected, especially since down imaging is considered the "traditional" sonar type.
Overall, the down imaging quality of both brands is extremely similar.
However, there are some slight differences. Garmin tends to have a larger maximum depth, largely because their down imaging is stronger. In many cases, they have twice the range as Humminbird models.
Therefore, for deeper waters, you may need a Garmin. Humminbird utilizes "MEGA down imaging" which offers more clarity and detail. In many cases, it's the Humminbird MEGA feature that pushes this brand ahead.
Many Humminbird models come with dual spectrum CHIRP, which can provide slightly better fish arches.
Side Imaging
Only some models from each brand offer side imaging. However, Humminbird may slightly win the Garmin vs Humminbird side imaging debate.
Humminbird offers "MEGA 360 side imaging," which evidently helps with clarity and details.
Garmin offers side imaging as a default feature, commonly referred to as Panoptix due to the transducer they utilize.
Therefore, practically all of their models offer some sort of side imaging. However, the exact quality of the side imaging varies.
In the end, both of these models are pretty even in terms of side imaging on the water.
Related Article: Humminbird 360 vs MEGA 360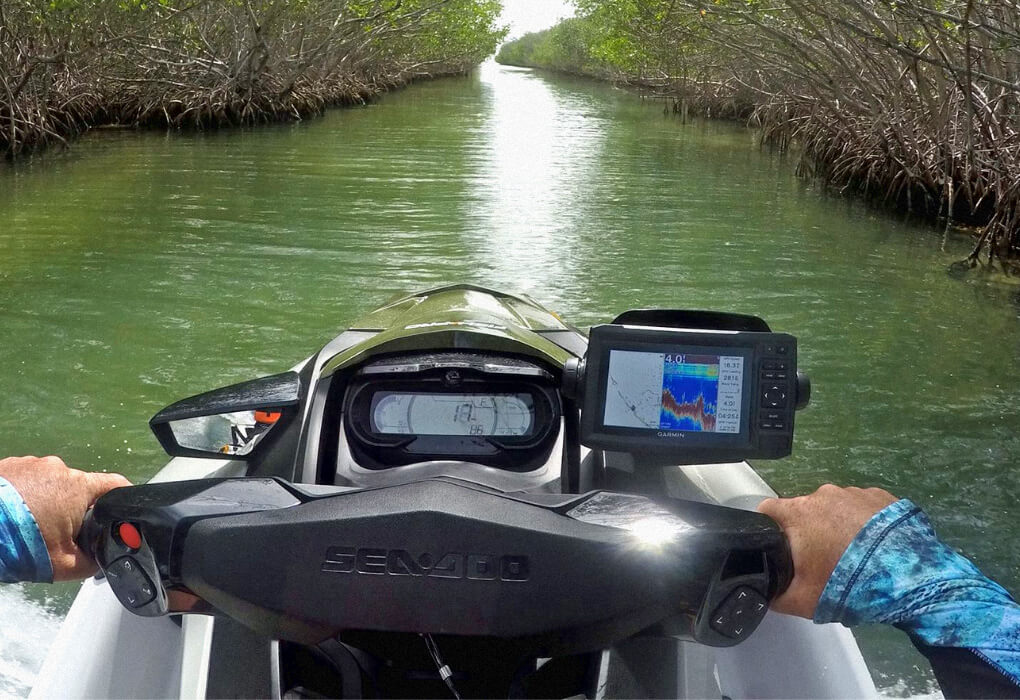 New Technology
Lately, Garmin has been upping their technology game. They have a long history of developing very good GPS technology, and many of their fish finders utilize this technology.
Their settings and display are a bit different from other fish finders, so they do take some getting used to. We found it to be a bit shocking while working on the Lowrance HDS Carbon review.
Garmin often provides many different scanning options, including CHIRP 2D, clearvu, sidevu, and regular CHIRP. Many Garmin units also come with UHD (ultra high definition).
Humminbird has always had slightly better technology, though, especially historically. They have been around for over 30 years with a big focus on fish finders.
They were the first to introduce a waterproof depth sounder, as well as one of the first to use touchscreens.
However, recently, they have started to fall behind Garmin a bit. Still, their newer autochart system has done a bit to compete with Garmin's GPS. Many Garmin units come with a similar feature called chartplotter, though.
Both companies typically offer common fish finder features, such as bluetooth.
Brand Availability
Both of these brands are widely available. You can purchase at least some of their models from anywhere fish finders are typically sold. However, some specific models may be easier to find than others.
The Humminbird Helix 7 is extremely easy to find, for instance. The premium models of both brands may be a bit more difficult to locate.
Model Variety
Both of these companies are constantly coming out with new models. Therefore, which one has the most models varies.
As you might expect, each company is attempting to combat new models released by the other. Each company has similar models for this reason.
Garmin has two main series: the stricker and ECHOmap series. The stricker series is their entry fishing model with smaller screens.
However, they all have CHIRP sonar and GPS installed. Some units also feature quickdraw charting, making it great for areas without maps.
The ECHOMAP feature is their higher-end series that have many different features. For instance, many have CHIRP sonar, chart plotting, and mapping.
These models are only slightly different depending on the transducer they're compatible with.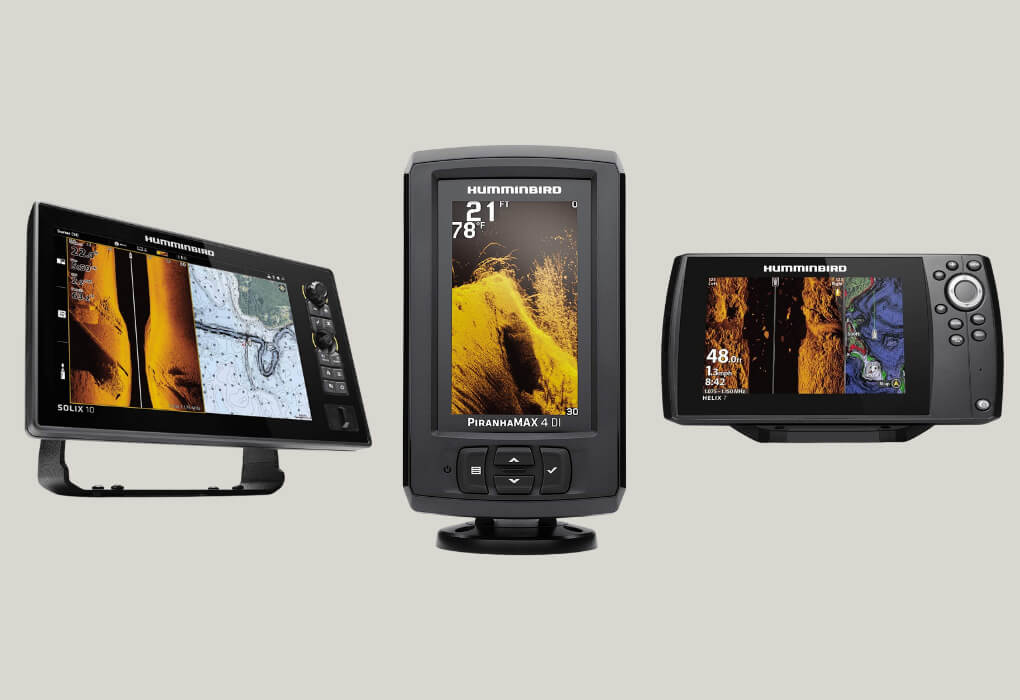 The Humminbird has three main series: the Piranhamax, Solix and Helix. The Helix series is the base for the Humminbird fish finders.
They aren't the cheapest, but they do have great sonar capabilities, including 360-imaging and down imaging.
With the 360-degree imaging, you can view nearly all sides of your boat at once or switch to only side imaging.
The Solix series is the brand's high-end option. They have a large flatscreen display, as well as GPS and incoming weather displays.
It features MEGA imaging and dual-spectrum sonar. Simply put, this line is the best of the best. However, they are also the most expensive.
Piranhamax is the cheapest Humminbird fish finder. They are pretty bare-bones, featuring only down imaging and traditional sonar systems.
These fish finders are typically only for those fishing via kayaks and ice. This option is one of the few ice fishing options on the market.
User-Friendliness
Humminbird tends to be the go-to option, at least historically speaking. Therefore, many expert fish finder users are mostly used to the Humminbird interface.
The Garmin interface is considerably different. Therefore, for those that are used to using fish finders, the Garmin interface may be a bit more difficult to utilize.
However, once you get used to it, it is pretty easy to use.
Garmin has also developed a LiveScope system that allows for easier user setup. For those who haven't set up a fish finder before, this system is much easier to set up than others.
For this reason, many new anglers choose the Garmin fish finder system because of their ease of use. However, arguably, the Humminbird remains easy to use for those that are used to the system.
Reliability, Durability, and Performance
For the most part, both of these brands are very reliable and durable. Both of these brands are known to work even under rougher conditions.
Some of them have stronger sonar than others, as well as better screens. The performance difference is largely the same from brand to brand, though.
For instance, both of these brands create waterproof systems. For the most part, all systems can be submerged for one meter for 30 minutes.
Mapping and GPS
Garmin is known for their GPS. Therefore, many of their fish finders also have GPS built-in. Their GPS systems tend to be very high-quality and feature maps of most lakes. They're about as good as you get.
On the other hand, Humminbird offers very few systems with GPS. Usually, only their highest-quality systems have GPS (which are also their most expensive).
Therefore, you shouldn't expect Humminbird to offer GPS as a default feature.
Humminbird GPS is pretty good, though. You shouldn't notice too many differences between their GPS and Garmin, despite Garmin being known for their GPS.
In the end, if you really want GPS in your fish finder, then we recommend getting a Garmin. However, if you're getting a premium Humminbird fish finder anyway, then you should find their GPS plenty suitable.
Garmin vs. Lowrance vs. Humminbird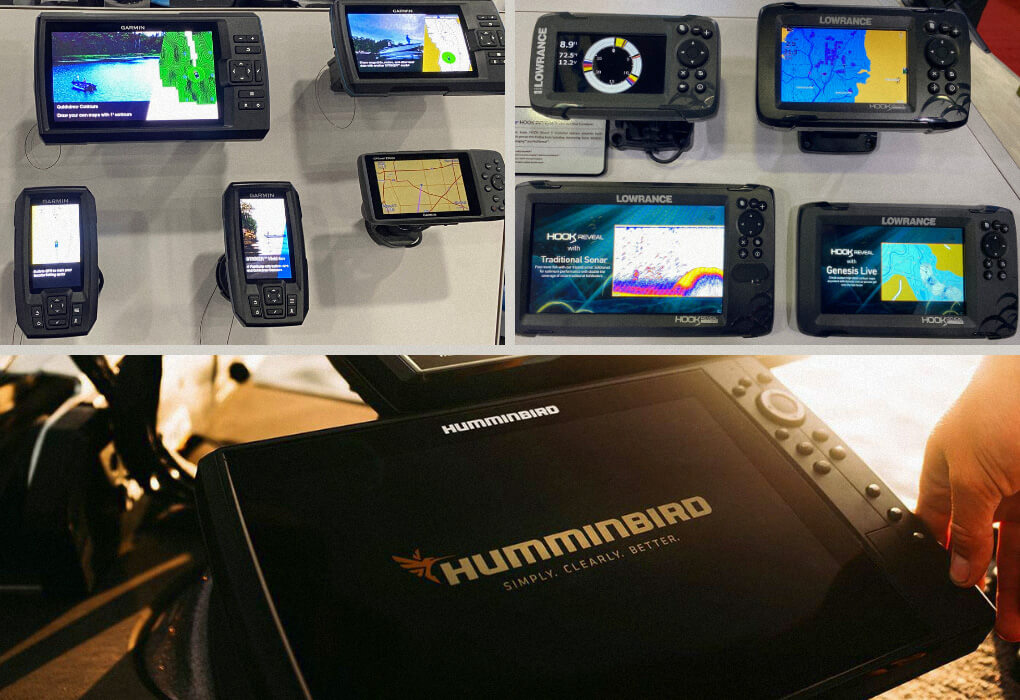 There are several differences between Garmin and Lowrance. The main difference is that Lowrance tends to have very high-quality displays and more model options.
Therefore, if you want a very clear screen (or have trouble using traditional fish finder screens), then we recommend using a Lowrance.
Lowrance even has better screens than Humminbird. For the most part, their screen quality seems to be their main selling point.
All of these companies have very similar sonar performance. Sonar really hasn't changed all that much in the past few decades.
Therefore, most companies use similarly high-quality systems in their fish finder. You won't find many instances of a company's sonar being much better than average.
Lowrance offers pretty inexpensive fish finder options, as well. While Garmin does offer some of these budget options, Humminbird doesn't.
Therefore, if you're on a budget, you probably want to choose a Lowrance or Garmin – with one expectation. Humminbird has some less expensive mid-range options.
Lowrance's premium fish finders are extremely expensive, as well.
Therefore, unless you're really set on their screen quality, you could easily choose Garmin or Humminbird if you're planning on spending a lot on a premium choice.
Garmin vs. Humminbird: Choosing the Better Fish Finder
Once upon a time, Humminbird would have been the obvious winner in this competition. However, Garmin has made some huge strides and practically caught up in the fish finder competition.
Today, their fish finders are high-quality with built-in GPS.
Furthermore, Garmin also boasts an easier setup than most other fish finders. Therefore, for those new to fish finders, it is hard to resist Garmin.
Still, Humminbird is hard to beat. They are considered the best in the industry for a reason. Their fish finders have been the best for a long time – even if they aren't quite as outpacing everyone else as they once were.
If you're looking for a fish finder that you know will work, a Humminbird is the way to go.
Unless you're particularly in love with the Garmin setup or GPS, then we recommend a Humminbird. They're still the best all around, especially their premium models.
Frequently Asked Questions
Is Humminbird Better Than Lowrance?
Humminbird is still often better than Lowrance. While the Humminbird vs Garmin call is pretty close, the Lowrance vs Humminbird really isn't.
While both brands seem similar, Humminbird is the better option for most people. They simply offer more features at a better price point. 
Who Has the Better Down Imaging?
Humminbird is typically considered to have the best down imaging on the market. They utilize low Q CHIRP transducers, allowing you to see the fish a bit better.
These transducers filter out a lot of the noise, allowing you to clearly locate the fish on your screen. 
For this reason, if you're purely focused on sonar quality, Humminbird is easily the best option.
Humminbird also provides dual beam technology, which allows you to see the fish and the bottom of the body of water easier.
You can choose to use a narrow beam or a wide beam, depending on your situation. No longer do you have to choose between them. 
Is Garmin Older Than Humminbird?
Humminbird is older than Garmin. Humminbird was founded in an Alabama garage in 1971. This company started in fishing technology with their Humminbird Depth Sounders.
Therefore, they've been around for decades and focus almost solely on fishing technology. 
They also got their start in fishing technology, while Garmin makes a bunch of different products. 
Conclusion
Humminbird was once easily produced the best fish finders. However, that is no longer the case today. Garmin has made many strides to catch up, though they still aren't quite good enough to beat Humminbird altogether.
Each of these companies has their pros and cons. Humminbird offers slightly better sonar, especially on their high-end models.
Their models don't typically come with GPS, though, while practically all Garmin options do. Garmin also provides an easier setup than the traditional models that Humminbird provides, making them more user friendly.
Humminbird's Helix line is often recommended for newer anglers, as it is cheaper while still providing necessary features.
However, Garmin units are now beating out Humminbird's in some categories, such as GPS. Which option you choose will likely depend on your budget.