---
We independently research, test, and recommend the best products; you can learn more about our review process here.
With the explosion of swimbaits on the market in recent years there has been a trend towards choosing specific rods that are used for specific swimbaits.
Soft plastics, hard baits, glides, wake baits…there's often one best swimbait rod for each one…and we've found them!
I've been gunning for big bass using swimbaits since the 80s.
Through the years I've owned over 40 swimbait rods and have tried out three times as many via ICAST, numerous sportsmen shows, and rod sponsorships.
By combining my personal experiences with owning different swimbait rods and actually trying a few of them out during a bass fishing weekend, I've come up with a guide to help you select the best swimbait rod for your style of fishing.
Top 3 Swimbait Rods on the Market
As a quick summary, here are my top three choices for best swimbait rods based on my research.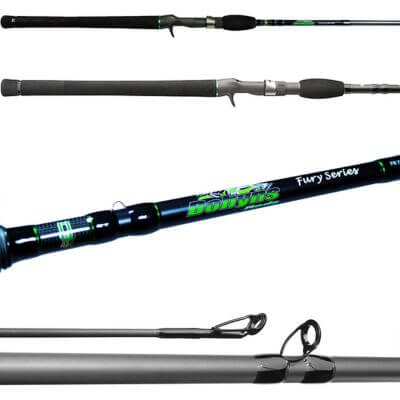 Dobyns Fury FR 795SB Casting Rod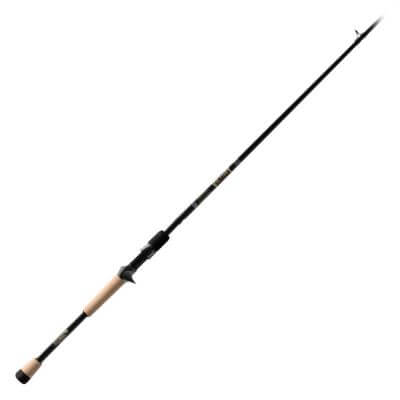 St. Croix Victory Casting Rod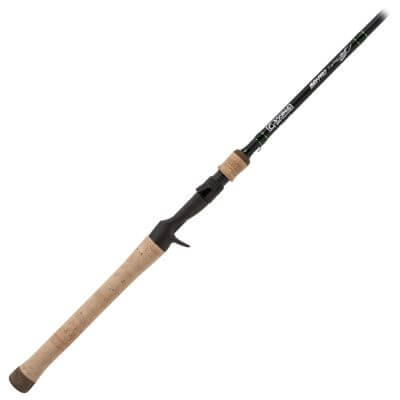 G. Loomis IMX-Pro Casting Rod
---
Testing Procedure
Living in South Louisiana, I have access to a lot of tributaries locally but I decided to make a trip to North Louisiana to fish Toledo Bend.
It's there that I spent a week solely focused on throwing swimbaits of all styles and weights. During my time on the water I specifically focused on these qualities that each rod possessed:
Swimbait Casting: Casting a swimbait can put a lot of pressure on a rod. If you've ever experienced an overweight lure on a rod, you know how much pressure this puts on a rod not to mention the line.

Some swimbaits weigh as much as 5 oz. so having a rod that will be able to handle heavy swimbaits is important.
Handle Length & Comfort: While a rod handle may not be important when fishing with other lures, it is very important when throwing swimbaits.

Having a long handle helps with casting distance. Also, handle comfort plays a huge role when working a swimbait because it's tough on your hands.
Hookup Percentage: Big bass are big for a reason! They are tough to get into the boat even after the hook-set. If a rod can't drive home the hook, what good is it?
Casting Distance: Swimbait rods should be more parabolic than other rods. This means they bend more allowing the rod to use its load action to sling lures farther.

I tested all the rods for how far they were able to cast using various swimbaits with different weights.
Action Feedback: Like most anglers, I like to feel my bait underwater. It helps me understand what is going on with the swimbait beneath the surface.

How sensitive is each rod? Was I able to feel the bass hit mid-retrieve, and was I able to feel the lure go through different types of structure.
Best Swimbait Rod Overall
Dobyns Fury FR7095B Casting Rod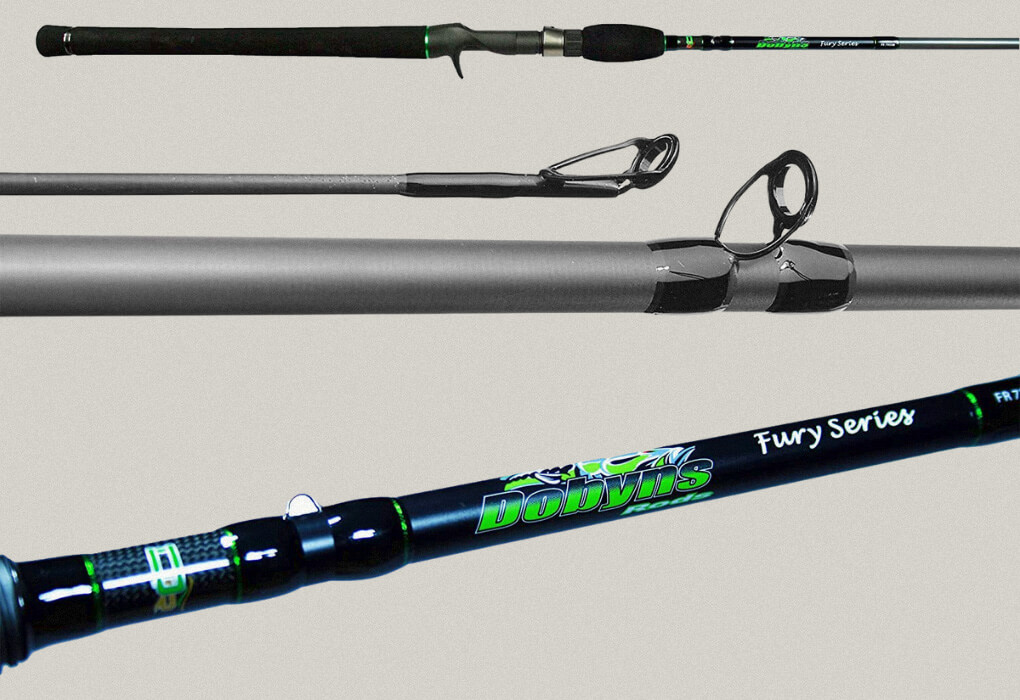 Specs
Rod Length: 7.9
Rod Material: Graphite
Type: Casting
Power/Action: Med/Heavy Fast
Why We Chose It
The Dobyns Fury FR7095B Casting Rod measures 7'.9"
The rod is a single-piece rod that is made of high modulus graphite.
Rods that are made with "High Modulus Graphite" have a higher fiber density which means the graphite is packed into the rod tighter than low modulus rods.
This equals more strength and sensitivity and believe me, I noticed when throwing an assortment of swimbaits.
My casts were smooth and very long which matters when throwing swimbaits. I used a Triton Mike Bull Shad that weighed 3oz to catch a total of four bass on four hits so it had a great hook-up rate.
So many things stood out for me with the Dobyns Fury FR 7095B Rod I hardly know where to start.
For starters, the rod was incredibly balanced for a swimbait rod. That matters because when I throw a swimbait I tend to wear out quickly with the long casts and heavy, long retrieves.
The balance of this rod made a real difference in the time I was able to throw my swimbait. .
I found that the rod was fast enough and with enough backbone to drive the treble hooks home on all of my bass.
The second thing that got my attention was the handle which is made of AA Portuguese Cork.
The handle was nice and long, measuring 20.5" which allowed me to muscle my swimbait farther out for a longer retrieve.
Back to the rod strength. I mentioned it was made with High Modulus Graphite right? Well on top of that, Dobby's went an extra step by wrapping the rod in Kevlar.
I'm sure you've fished with lures made of Kevlar before and will agree that those lures last forever. The same thing could be said for this rod!
My biggest bass caught on my trip was a 4-pounder which I had to drop to my knees to lip. However, all the other bass were between two and three pounds and I was able to boat-flip them because of the fortified Kevlar wrapping.
One thing that I noticed was that the rod struggled when I threw a Spro BBZ1 Slow Sinking Swim Bait that weighed 8oz and I felt like the rod struggled to handle such a heavy lure.
This rod is a lot similar to the St. Croix Victory Casting Rod but was a tad more sensitive than the "Croix".
If you're a swimbait fisherman and are looking for a great rod that can throw lures under 5oz, the Dobyns Fury FR 7095B Spinning Rod is a must-own for swimbait fishermen who want to level up on their next bass fishing trip!
Best Budget Swimbait Rod
KastKing Speed Demon Pro Swimbait Rod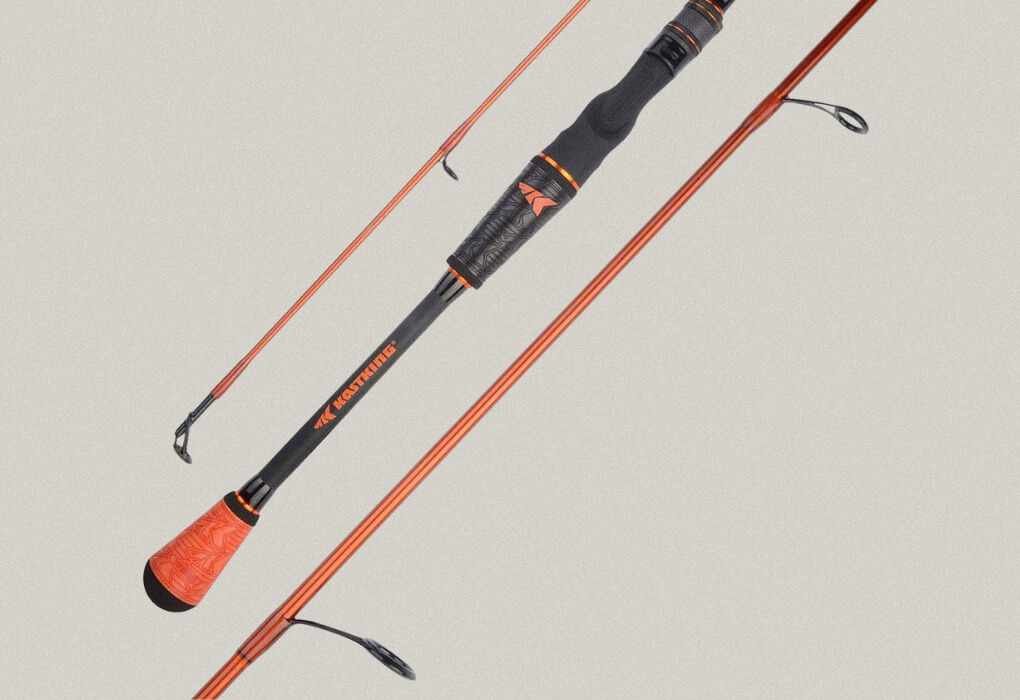 Specs
Rod Length: 8'
Rod Material: Carbon Fiber
Type: Casting
Power/Action: Heavy/Fast
Why We Chose It
The KastKing Speed Demon Pro Swimbait Rod measures 8'
The rod is a single-piece rod that is made of a carbon fiber blank. However the blank is leser quality than other rods that I have tried.
When looking at swimbait rods I'm the most interested in added strength since the swimbaits I throw are generally from 3oz to 5oz. So that's something to consider if you are looking for a rod to throw heavier lures.
The Speed Demon Pro is a strong rod but KastKing went the extra step in adding a carbon tube of resin around the carbon fiber blank making this rod a great rod for launching swimbaits a mile! (Well..not really, but it feels like it!)
I was throwing a 3.1oz Megabass Magdraft and was able to set the hook on 4 fish and missed 2 so the hook-up percentage was ok.
The rod was strong and handled the swimbait fine however I did try a 6oz. lure and it struggled so I would stay under 5oz. with this rod.
The rod was able to make long, smooth casts and was accurate.
Another thing that I really liked about this rod is the Fuji LN model guides which are low profile guides that keep the line close to the rod reducing line slap on the rod.
This made a difference when casting for sure!
If you're just getting into throwing swimbaits and are looking for a really affordable starter rod for under 120 bucks, the KastKing Speed Demon Pro is a solid rod that is more than capable of handling glides, hard baits, and wake baits!
Best Tournament Grade Swimbait Rod
G. Loomis IMX-Pro Casting Rod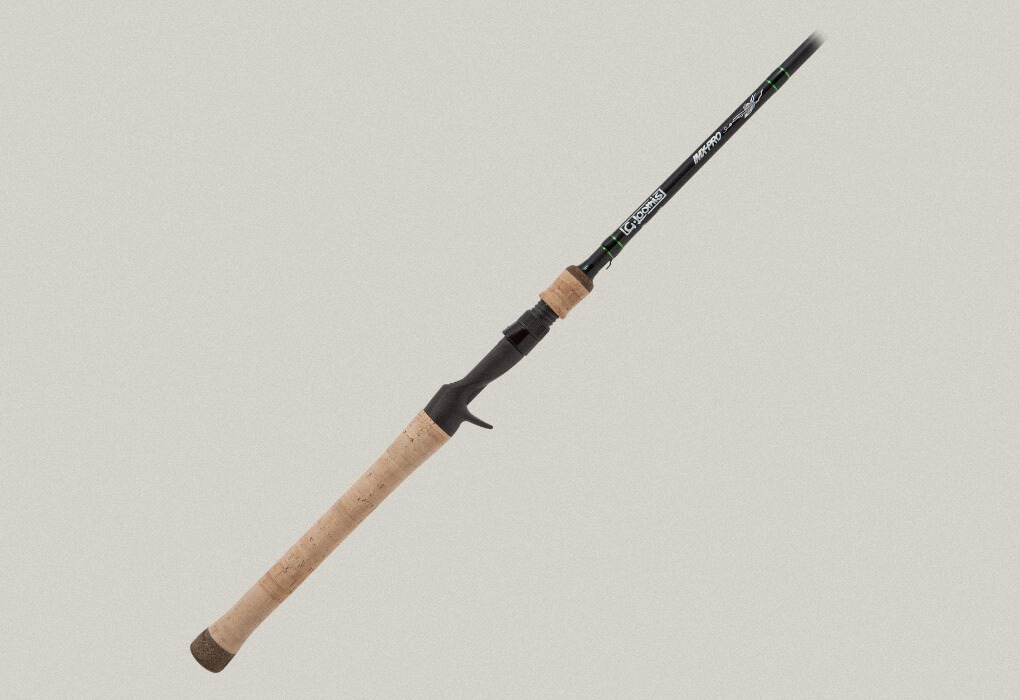 Specs
Rod Length: 7. 6
Rod Material: Graphite
Type: Casting
Power/Action: Medium Heavy/Fast
Why We Chose It
The G. Loomis IMX-Pro Casting Rod measures 7',6"
The rod is a one-piece rod that is made of what G. Loomis calls "GLX Proprietary Blank Materials" which translates to "Graphite Luxury Materials."
The word "Luxury" should be in all caps because this thing feels like a million bucks.
The IMX Rod is made from a combination of graphite and resin, making it very strong and more than capable of throwing any swimbait from 2oz. – 10oz.
The first thing I noticed when I used this rod at Toledo Bend was the weight. It's probably the lightest rod I have ever picked up outside of an ultralight rod. The total weight comes in at 5.6 oz.
This is how you can tell a great rod company from a mediocre one.
The folks at G. Loomis have figured out a way to gain strength without adding material which results in 15% less material used than all of their other rods. This rod is their lightest ever made.
Another thing I noticed while testing this rod is the guides. There was something about my casts. The line didn't seem to flutter inside the guides as much and was virtually silent.
After doing a little research I found that the guides are actually made by FUJI which makes high-end K-frame SIC guides which is basically Silicon Carbide; a really slick ceramic material.
Which makes sense after witnessing no sound from the line traveling through the guides.
The rod was able to make really long casts and my hook-up percentage was 100%. The highlight of my trip came when I made a bomb cast into a line of cypress knees and started reeling in.
I spotted a wake to the left of my 9" Berkley Magic Swimmer, then felt the line stop. I reared back and drove the hooks into the fish on an unbelievably solid hook-set.
I was able to get the fish to turn and reeled in the biggest bass of my trip – a 6.2-pound lunker bass.
Overall this rod is what it claims to be; a high-end tournament-grade rod that tops all other rods.
If you've never experienced fishing swimbaits with this rod you are missing out on something special. It will bring your swimbait experience to the next level!
Best Rod For Heavy Swimbaits
13 Omen Black Swimbait Rod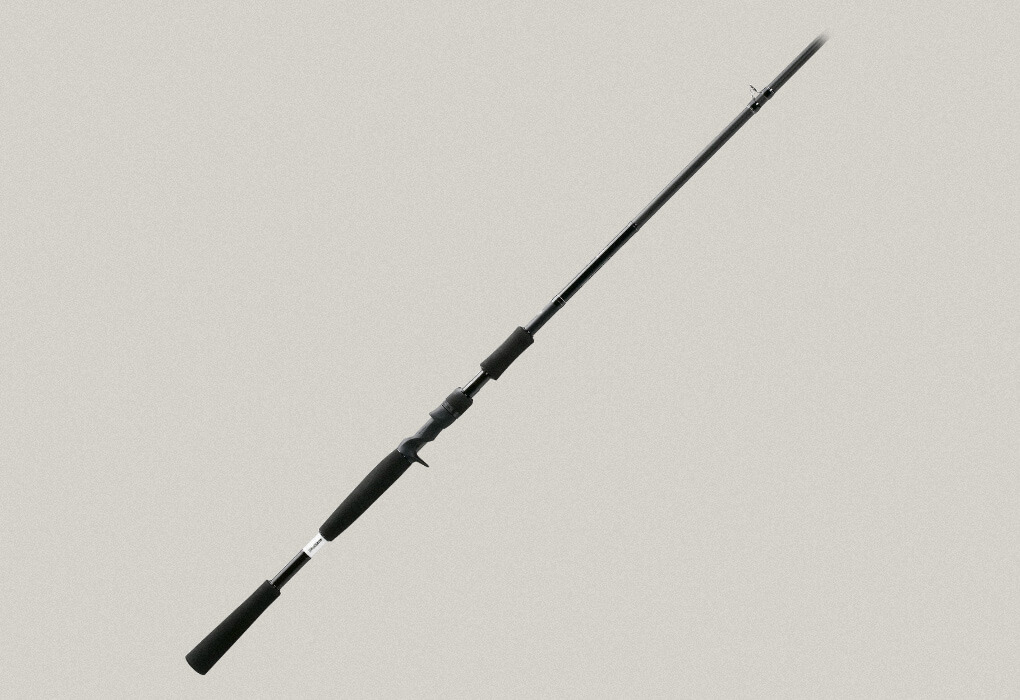 Specs
Rod Length: 8'
Rod Material: Graphite
Type: Casting
Power/Action: Heavy/ Fast
Why We Chose It
The 13 Omen Black Swimbait Rod measures 8'
The rod is a single-piece rod that is made of a Japanese 36 Ton Toray blank which is tournament-grade stuff!
The guides are stainless steel and diamond coated for added smoothness when casting.
I tried out this rod at Toledo Bend and started casting a Megabass Magdraft that was 3oz. but I could barely feel the lure so I switched over to a 7oz. Balam 300 swimbait and that was the ticket!
I was able to feel swimbait better and the rod loaded much easier with the heavier lure. I was also able to drop it exactly where I wanted it so the accuracy was dead on.
I had no problem at all with the rod being strong. One of the bass that I was able to catch was a 2.6-pound bass which I was able to manhandle and boat-flip it with this rod. (That felt really good!)
So if you're a swimbait fisherman and are looking for a heavy duty rod for big swimbaits then look no further than the Omen Black Swimbait Rod!
It's strong, durable, and will get those monster bass in the boat!
Best Saltwater Swimbait Rod
St. Croix Victory Casting Rod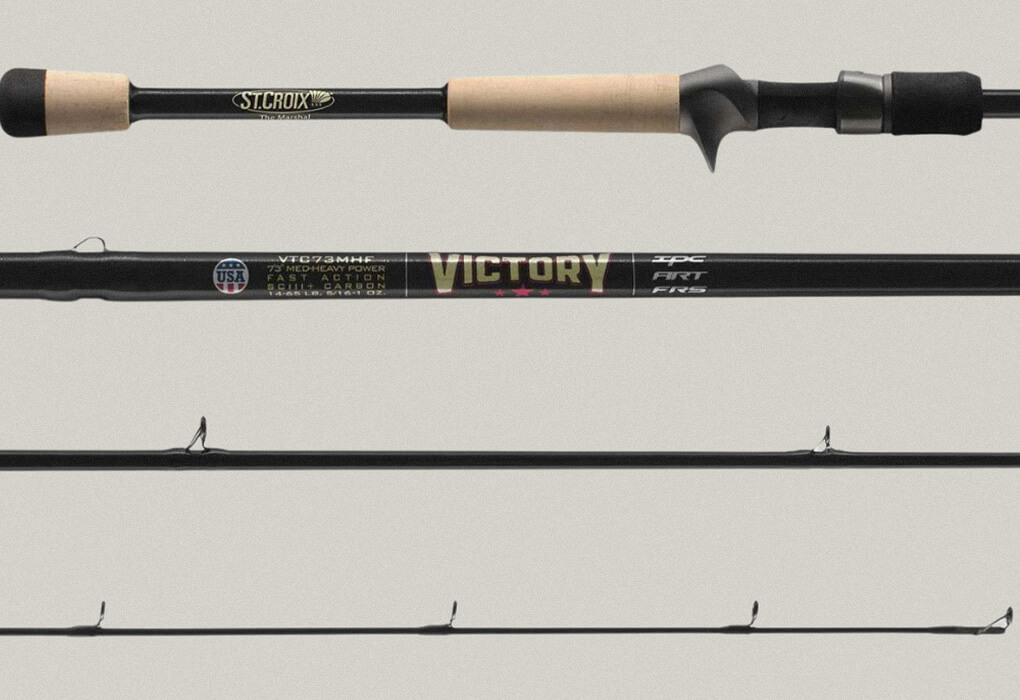 Specs
Rod Length: 7.10
Rod Material: Carbon Fiber
Type: Casting
Power/Action: Med/Heavy Fast
Why We Chose It
The St. Croix Victory Casting Rod comes in a variety of lengths from 7'.2" to measures 7'.10".
The rod is made of SCIIl Carbon Fiber blanks which makes the rod super strong but St. Croix has gone further by coating the rod with something called Fortified Resin which increases the rod strength even more.
Now, I've owned St. Croix Rods which are made of SCII Mid-modulus graphite, so I know how much they can bend without breaking. However, the new Victory line of rods are made with SClll Carbon Fiber which is even stronger.
I have several "Croix" rods that I use for bass fishing and saltwater fishing so it's no surprise that the Victory rod was our top choice for best saltwater swimbait rod.
I've used these rods for years and they catch not only bass, but saltwater fish as well.
The 7'.6" rod is my favorite for saltwater because it can handle both speckled trout, redfish, and other larger saltwater fish.
I used it on my trip to Toledo Bend using a Berkley Gulp Paddleshad on a ⅜ oz. Jighead managed 6 bass on 5 strikes which is typical of this rod. It is very dependable and fast enough to strike quickly and drive the hook home!
It seems as if St. Croix has figured out a way to pack backbone into a slim rod because this rod weighs 4.3 oz. which goes a long way when throwing heavy swimbaits all day!
It's really important for a rod that I use for swimbaits to be parabolic, meaning it bends all the way through which makes for longer casts and lets the rod fight the big fish when the time comes.
This rod does that but the sort tip allows it to have some sensitivity. I'd say the top 12" of this rod is soft and then the backbone kicks in!
This rod is comparable to the Dobyns Fury FR 7095B Rod which won best overall rod.
The only difference is that the handle on the Dobyns is longer and has a higher quality cork handle making it more suitable for throwing heavier swimbaits.
The company even puts their money where their mouth is with an industry leading 15-year warranty!
If you love to throw swimbaits and even use them when venturing into saltwater, the St. Croix Victory Casting Rod is the rod that should be added to your collection of saltwater swimbait rods.
Best Swimbait Rod and Reel Combo
Abu Garcia Revo X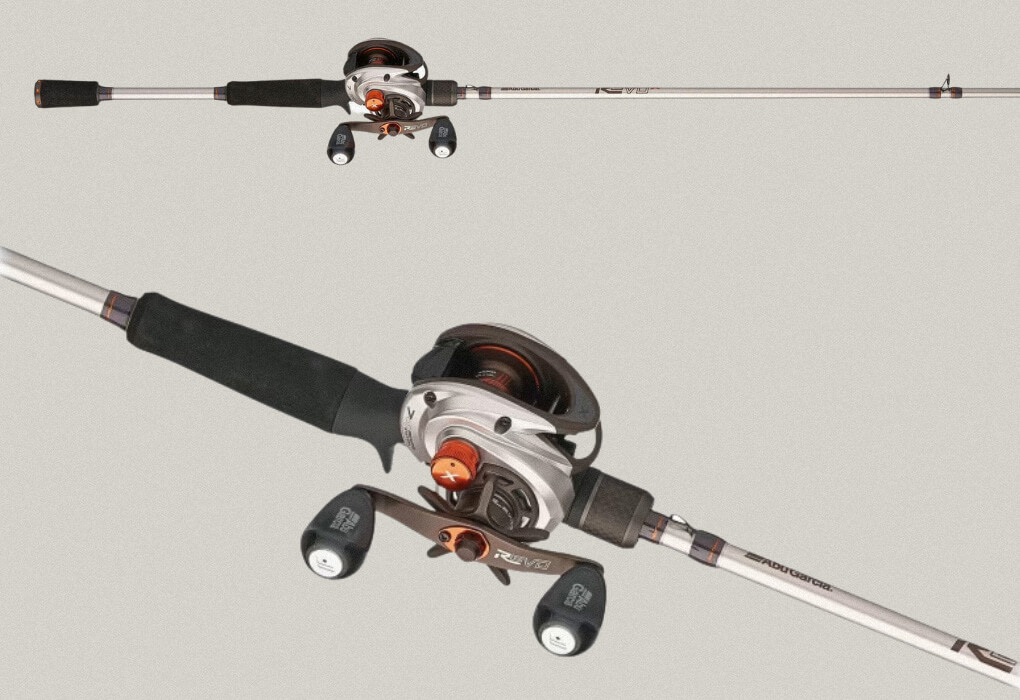 Specs
Rod Length: 7', 4"
Rod Material: Graphite
Type: Casting
Power/Action: Medium Heavy/ Fast
Why We Chose It
The Abu Garcia Revo X Combo comes with your choice of two sizes: 7' and 7', 4"
The rod steps into swimbait territory with its 30-ton graphite blank that provides strength and backbone to whip swimbaits out and reel big fish in.
The Revo X Low Profile Baitcaster uses 7 stainless steel bearings which makes for a really smooth retrieve. (The more bearings the smoother the retrieve)
The rod trigger was perfectly placed which provided me with great control of the rod. (I like to place the trigger in between my fingers with my entire hand cupping the reel)
Another great thing about this combo is its combined weight. Coming in at 7.9 oz. This combo is great for bass anglers who sling swimbaits all day long.
I fished for over three hours with this rod and reel like I could go all day using it even with the 3oz. swimbait that I was using.
The rod felt great in my hand with a firm but soft EVA rubber handle.
As far as hook-up percentage, I landed three fish on two strikes with the biggest fish being a 2.6-pound bass which was no match for this rod!
It really is a great rod and reel to hold in your hand. While fighting the fish it never slipped once and I thoroughly enjoyed the control I had over it when working my swimbait back to the boat.
The Abu Garcia Revo X LTD came out on top when testing but I will say it was comparable to the less expensive Abu Garcia Max STX Low Profile Combo.
The only downside is the rod doesn't come in anything longer than 7',4" which may be a problem for those who like using longer rods to throw swimbaits.
The reel definitely excels with making long casts even with lightweight swimbaits, add to it the strong graphite rod and you've got the perfect recipe for a go-to swimbait combo that may top the list of your favorite rods!
This is a solid setup!
What to Look for When Choosing a Swimbait Rod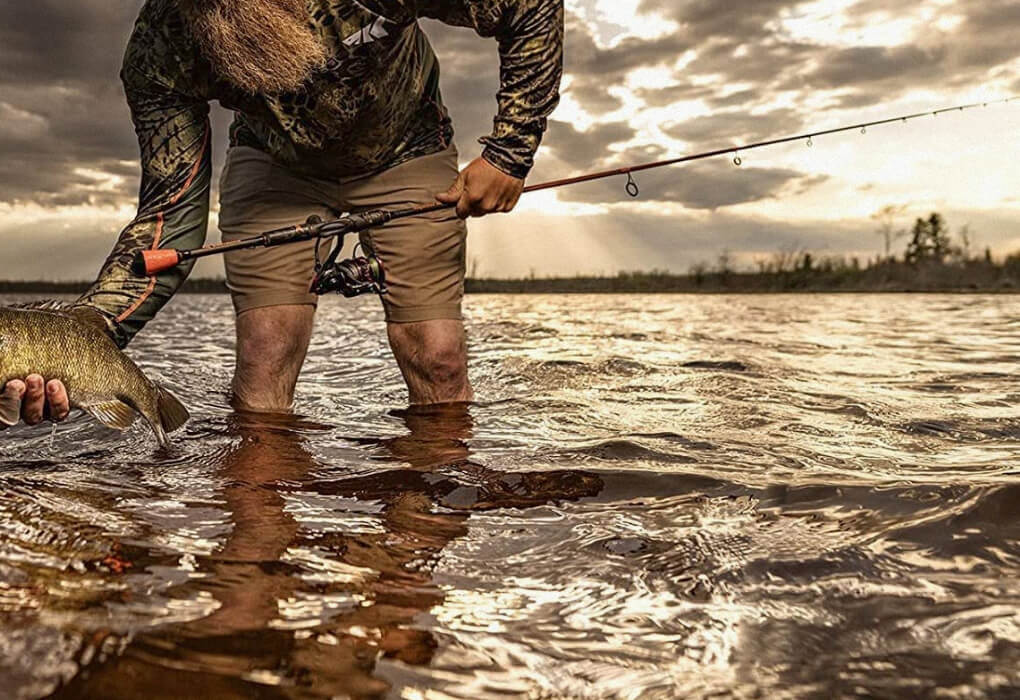 Throughout my review, I have gone through key factors that I look for when choosing a swimbait rod. Here is a quick guide to help you select the best rod for throwing swimbaits.
Parabolic
The most important quality of a swimbait rod is that it is parabolic. This means the entire rod bends when casting and reeling in fish.
When you are casting lures that weigh more than 3oz. You really need a rod that's going to work for you.
By having a rod that bends all the way to the reel, you are allowing the rod to load up and whip the lure out instead of you having to use your strength to muscle it out.
To illustrate, picture yourself trying to cast a swimbait with a broomstick. Then picture yourself trying to make a cast with a flexible fishing pole. Which one do you think will cast the farthest?
Material
When throwing a swimbait it's important to have a strong rod. One reason is that swimbaits are bigger baits that often can weigh over 5oz.
Also, the type of fish you catch on swimbaits are larger as well, so it's important to have a strong rod to haul them in.
While sensitivity is important in all rods, it's less important with swimbaits because you're going to be reeling in the lure and when the fish hits, you'll feel it.
You'll want to examine the rod's material makeup in order to select a rod that's going to be strong and durable.
Rods made with blanks that are above 20-ton are great for using swimbaits. Also, look for key words like added resin and tapered.
Rods with added resin show that the manufacturer is willing to go an extra step in order to add strength to their product.
Tapered rods are rods that the manufacturer adds extra material to in order to make their breaking points stronger. These are two things to look for when selecting a swimbait rod.
Power/Action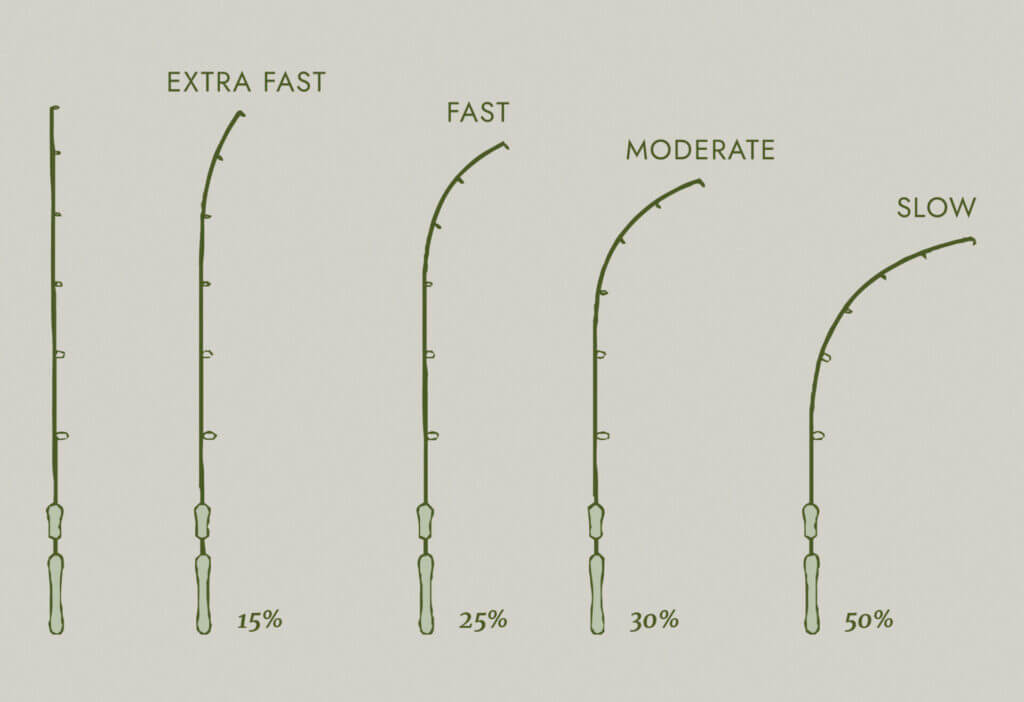 Almost all swimbait rods have a heavy rating. I cannot stress enough how important it is to have a strong rod.
Swimbaits are some of the toughest lures to throw because of their weight, not to mention their resistance while retrieving.
It can be quite a workout casting and retrieving swimbaits all day so having a rod power rating of at least medium/heavy is important.
It's also important to select a rod with a heavy rating because you're probably going to catch a big fish and you'll want that extra backbone to right that big bass.
Final Thoughts
Using swimbaits to catch bass can be very productive as far as numbers, but more importantly, size.
There are some really big bass caught every day with oversized swimbaits.
During my test at Toledo Bend I was able to try out plenty of different rods and have come up with a list that I'm sure will help you select your next swimbait rod.
So let's review our top pick!
For the category of Best Swimbait Rod, I choose the Dobyns Fury FR 795SB Casting Rod.
The rod excelled in all the categories that define a legendary swimbait rod including, parabolicity, power, and material makeup.
While the Dobyns Fury won overall, you really can't go wrong with all the rods mentioned in this best swimbait rod guide I've put together.
Give them a try and tell us what you think! We'd love to hear from you!