---
We independently research, test, and recommend the best products; you can learn more about our review process here.
It's amazing how the ned rig has exploded in recent years.
Since I discovered the ned rig in 2012, it's been my go-to rig when finesse fishing for bass, even beating out the drop-shot rig.
Since learning about this rig, I've used it on over 25 different rods and have put a series of rods to the test at a local private pond where I have had plenty of success using this rig.
During my test, I looked at qualities that are important to choosing a ned rig rod like strength, balance, sensitivity, and comfort.
I've taken my expertise and combined it with the reviews from our team to come up with a list of five of the best ned rig rods on the market.
Top 3 Ned Rig Rods on the Market
If you're in a hurry you can take a look at my top three choices for the best ned rig rods.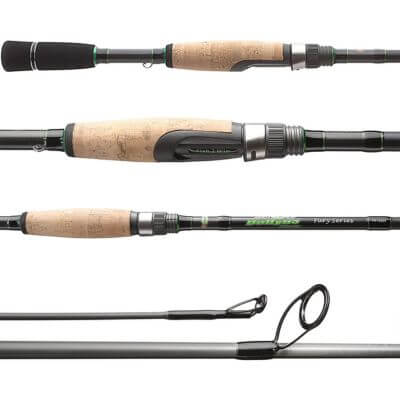 Dobyns Fury 703SF Spinning Rod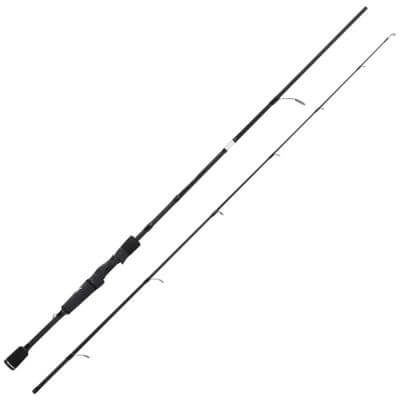 KastKing Crixus IM6 Spinning Rod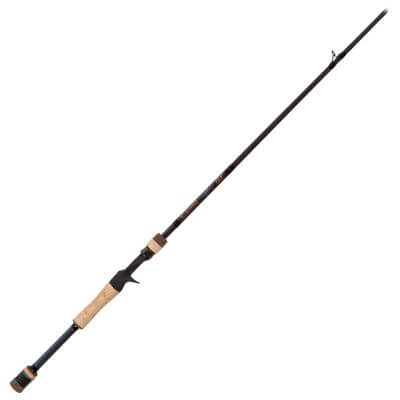 G. Loomis Jig & Worm GLX Spinning Rod
---
Testing Procedure
I spent a weekend fishing a private trophy pond that is owned by a friend. (No I won't tell you the coordinates).
The pond is over 40 years old and has been specifically designed to be able to be fished in all sorts of variations including, flat bottom, cypress knees, eelgrass, lilies pads, and hard ledges.
During my test, I was able to catch over 40 bass using a variety of spinning rods using a ned rig.
Here are the parameters that I looked for while testing each rod.
Action: Feeling the lure on the bottom is important when using a ned rig. I tested all the rods with different lures to see how the lures handled when ripped through structure, tightlined, and its ability to keep the fish on the hook.
Rod Balance: While rod balance may not be important for other types of bass fishing, it can be crucial when using a ned rig.

An equally balanced rod can add an extra second to your hook-set because you can feel the rod load quicker as opposed to a rod with a heavy butt end.
Hookup Percentage: They say "hook-sets are free" and having the first one connect and deliver a bass is priceless! I tested these rods to see which ones delivered from hook-set to the boat.
Casting Accuracy and Distance: I tested all my rods with a combination of lures and rated them each on how accurate they were and how far I was able to cast each lure.
Rod Strength: Even though ned rig fishing is a finesse style of fishing, you're still fishing on the bottom which opens up the opportunity to hook a trophy bass.

I tested all the rods for backbone and strength to get that trophy bass in the boat.
Best Ned Rig Rod Overall
Dobyns Fury 703SF Spinning Rod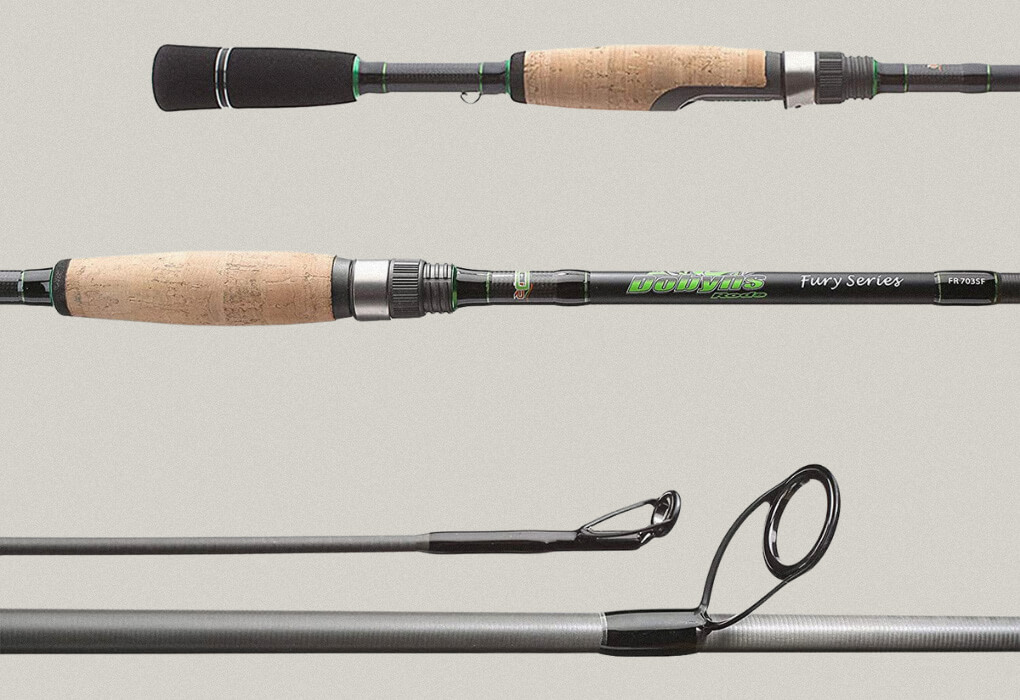 Specs
Rod Length: 6'.6" & 7'.6"
Rod Material: Graphite
Type: Spinning
Why We Chose It
The Dobyns Fury 703SF Spinning Rod comes in two sizes: 6'.6" and 7'.6"
The rod is a single-piece rod that is made of high modulus graphite. Now you might say, "yeah..yeah that sounds like typical manufacturer talk," but here me out.
Rods that are made with "High Modulus Graphite" have a higher fiber density which means the graphite is packed into the rod tighter than low modulus rods.
This equals more strength and sensitivity and believe me, I noticed when fishing my friend's private pond.
Right when I picked this rod up I could tell there was something special about it. I was able to set the hook on a total of eight fish and brought seven of them to the boat which is a fantastic hookup percentage!
So many things stood out for me with the Dobyns Fury 703SF Rod I hardly know where to start.
When I was moving my lure along the bottom I noticed that this rod was incredibly balanced. What does this mean? It means my rod wasn't bottom heavy from an overweight handle and reel.
Often when fishing a ned rig you don't feel the strike because the bass picks up the bait on the bottom.
This happened numerous times while using the Dobyn's Fury and every time I felt the rod tilt forward with ease which told me that a fish picked it up.
The second thing that got my attention was the handle which is made of 5A Portuguese Cork.
Now I'm not a huge fan of cork handles but there was something special about this one. I can describe it best as firm but soft to the touch.
If I had to use an example it would be like pressing down on a memory foam mattress but on a smaller scale.
Back to the rod strength. I mentioned it was made with High Modulus Graphite right? Well on top of that, Dobby's went an extra step by wrapping the rod in Kevlar.
I'm sure you've fished with lures made of Kevlar before and will agree that those lures last forever. The same thing could be said for this rod!
I only wish the rod came in more sizes. I prefer a 7-foot rod when ned rigging but the 7.6 worked fine while testing at the pond.
If you're a "Ned Head" and consider yourself primarily a ned rig fisherman, the Dobyns Fury 703SF Spinning Rod has got to be one of the rods, if not THE ROD, in your arsenal!
Best Budget Ned Rig Rod
KastKing Crixus IM6 Spinning Rod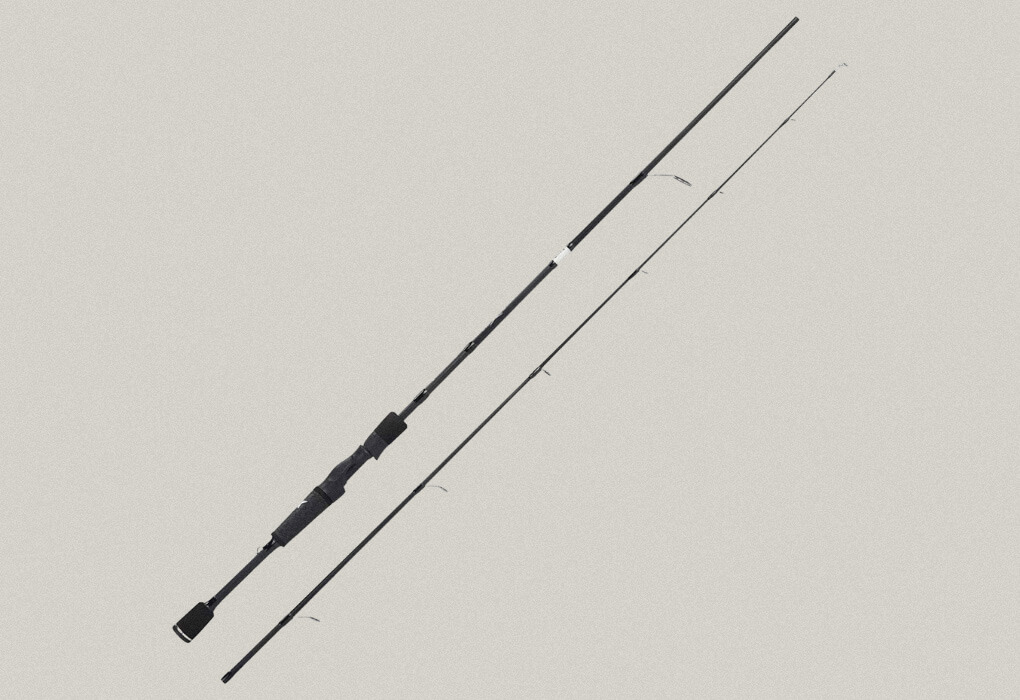 Specs
Rod Length: 6', 6'6", 7'
Rod Material: Graphite
Type: Spinning
Why We Chose It
The KastKing Crixus IM6 Spinning Rod comes in three sizes: 6', 6'6" and 7'
The rod is a two-piece rod that is made of KastKing's patented Kastflex IMA Graphite which is simply graphite with a resin binder mixed in the graphite fibers.
This supposedly adds strength to the rod on paper but did it hold up under pressure?
Well, when I was testing this rod I was able to catch four small bass under 12 inches, which wasn't much of a test. However, like most anglers, I do a "one more cast" scene that lasts for several casts in actuality.
It's a good thing because during my series of "one last casts" I felt my rod bend and I set the hook on what felt like a stump with a tailfin.
This thing took off in the opposite direction and pulled drag for about a good 30 seconds before I was able to turn him and get him in the boat.
So, I can honestly say that the rod performed well enough to haul in a 5.2-pound bass which was the highlight of my trip!
Now don't get me wrong, while this is a strong rod it is a step down from our Overall Best Ned Rig Rod the  Dobyns Fury 703SF.
Another thing I noticed was the zirconium oxide rings that coated the stainless steel guides.
I was able to make long bomb casts using this rod and I think it's because of the ultra smooth zirconium rings that allowed the line to flow through without a hitch.
The grip was a split grip which I really like when throwing a ned rig because I like to be able to leave one finger touching the rod blank in between the split grip.
I find that this lets me feel the fish on the other end quicker without the vibration having to travel through the handle material.
The only downside I can see is the golf style grip. While it was comfortable, down here in South Louisiana we deal with really hot temperatures during the summer months.
A small piece of the grip was starting to peel from the rod and I think this is going to get worse over the years of casting and reeling in fish.
I put this rod up against the Cadence and Perigee II rods and it was comparable with them but with half the price tag which is why I gave it the title of "Best Budget Rod".
If you're just getting into using the ned rig as a beginner or at even an intermediate level, the KastKing Crixus IM6 Spinning Rod is the rod to go with as far as being a solid combination of strength, sensitivity, and comfort.
It's really a can't miss if you're looking for a ned rig rod for under 50 bucks.
Best Tournament Grade Ned Rig Rod
G. Loomis Jig & Worm GLX 853S JWR Spinning Rod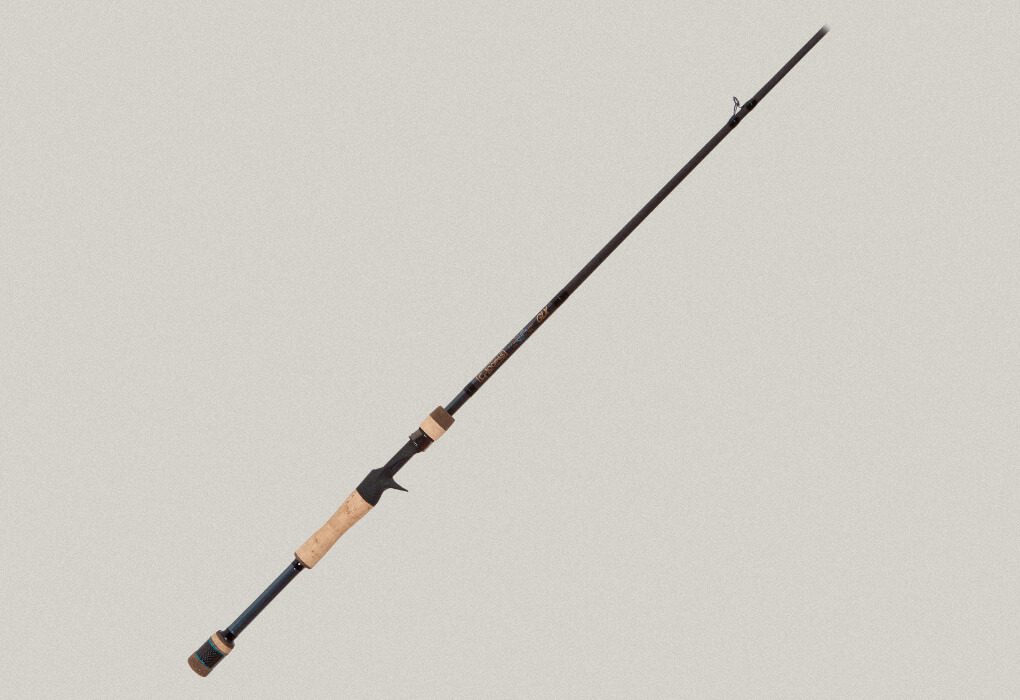 Specs
Rod Length: 6'.8", 7'.1" & 7'.5"
Rod Material: Graphite
Type: Spinning
Why We Chose It
The G. Loomis GLX Spinning Rod comes in three sizes 6'.6", 6'.8" & 6'.10"
The rod is a one-piece rod that is made of what G. Loomis calls "GLX Proprietary Blank Materials" which translates to "Graphite Luxury Materials."
Now you may ask, what the heck is Graphite Luxury Materials?
Well, you'll just have to take their word for it because the specific composition of the materials is not publicly disclosed by G. Loomis, however, it's safe to say that much like other high-end rods, the GLX Rod is made from a combination of graphite and resin.
The first thing I noticed when I tested this rod was the weight. It's probably the lightest rod I have ever picked up outside of an ultralight rod. The total weight comes in at 5.6 oz.
The reason is that G. Loomis has figured out a way to gain strength without adding material which results in 15% less material used than all of their other rods. This rod is their lightest ever made.
While testing the rod I noticed that it had great balance. This made a real difference for me as rod balance is an important factor when I am using a ned rig.
The folks at G. Loomis have also used a Multi-Tapered design with a series of what they call "Micro-tapers" which simply means more rod material added to potential breaking points.
This rod is so over the top with features.
Another thing I noticed while testing this rod is the guides. There was something about my casts. The line didn't seem to flutter inside the guides as much and was virtually silent.
After doing a little research I found that the guides are actually made by FUJI which makes high end K-frame SIC guides which is basically Silicon Carbide; a really slick ceramic material.
Which makes sense after witnessing no sound from the line traveling through the guides.
During my test I had six bites with a total of 6 bass brought to the boat so we're looking at a 100% hook-up rate.
The biggest bass was 1.6 pounds so I wasn't able to test the rod strength with a lunker but the rod is strong. (I bowed it over by grabbing the tip and the butt to test its strength).
If there is one downside to using this rod it's that it spoiled me.
When I went back to using lower quality rods they felt mediocre at best, so if you decide to get this rod, be prepared to sell all the other rods you use when ned rigging!
Overall, this rod is what it claims to be; a high-end tournament-grade rod that tops all other rods.
If you've never experienced fishing a ned rig with this rod you are missing out on something special. It will bring your ned rig experience to a new level!
Best Ned Rig Rod and Reel Combo
St. Croix X-Trek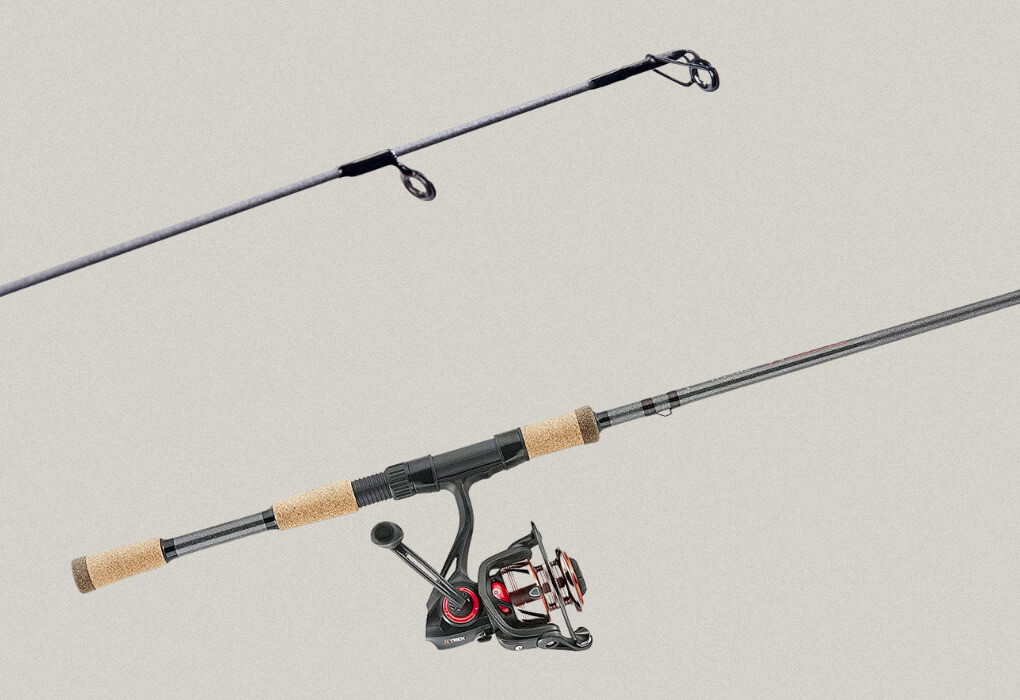 Specs
Rod Length: 6.6' and 7'
Rod Material: Carbon Fiber Graphite
Type: Combo
Why We Chose It
The St. Croix X-Trek Combo comes in either a 6.6' or 7' rod with an X-Trek spinning reel.
The rod is made of SCII Carbon Fiber blanks which makes the rod super strong but St. Croix has gone further by coating the rod with something called Fortified Resin which increases the rod strength even more.
As I said before, when using a ned rig it's important to have a well built rod because it's always a possibility that you will catch your fish of a lifetime. (A "fish of a lifetime" story is always better than a "one that got away" story)
There is a 2-piece model or a 1-piece model to choose from and the handle is a split grit great for those who like to touch the rod blank to feel subtle bites when throwing a ned rig.
The X-Trek Reel has 5 stainless steel ball bearings which makes for a smooth retrieve. It's ambidextrous so it can be used by righties or lefties.
It also comes pre loaded with 10-pound braided line.
Now, I've owned St. Croix Rods which are made of SCII Mid-modulus graphite, so I know how much they can bend without breaking.
It's actually my favorite thing about St. Croix Rods because I find that they have a higher strain rate than other rods made with other materials.
On my bass fishing trip I was able to catch four bass while missing one so the hook-up rate was good.
My biggest bass caught with this rod was only a two pound bass but on a side note I did hook a Bowfin (or Choupique for the cajuns).
The bowfin made several hard runs but I was able to get it to the boat and boat flip it in. This rod is a true soldier!
I've used these rods for years and they catch not only bass, but saltwater fish as well.
One thing that I noticed about the reel is it is a bit on the heavy side weighing just under two pounds which threw off the balance of the rod a bit.
Overall, I think this combo is the one to go with if you're looking for a great blend of strength and sensitivity with smooth casting ability.
The spinning reel matched perfectly to the rod and was a pleasure to use, even when I wasn't catching bass.
This combo is great for beginners to intermediate anglers, and would compare it to the PENN Battle lll Combo for those who use a ned rig.
Best Ned Rig Rod for Heavy Cover
Abu Garcia Veritas PLX Spinning Rod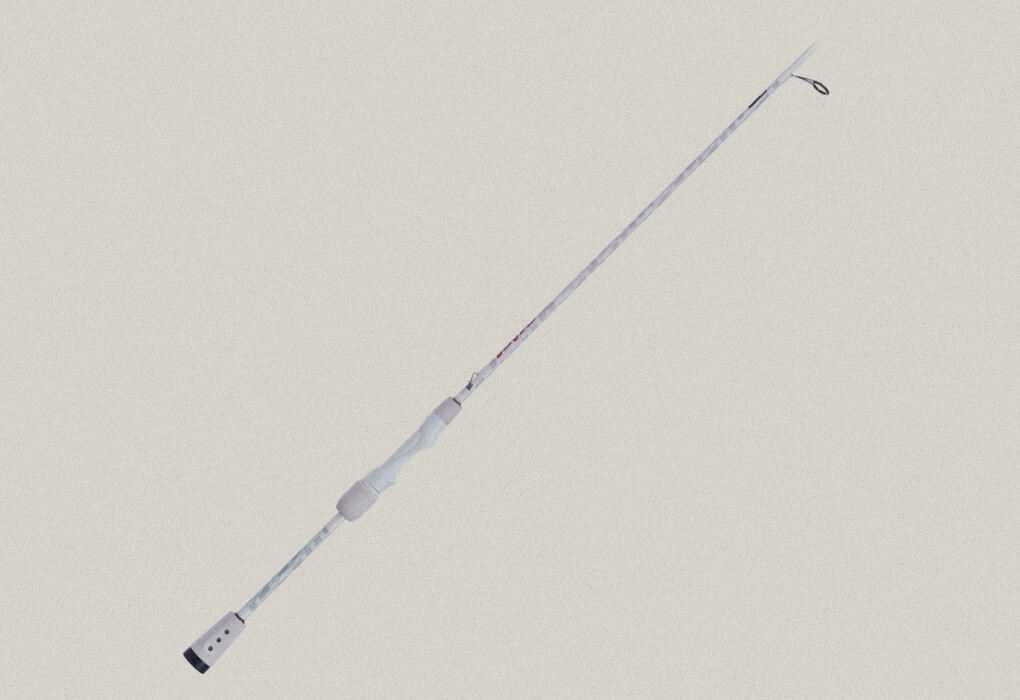 Specs
Rod Length: 6'.10", 7', & 7'.6"
Rod Material: Graphite
Type: Spinning
Why We Chose It
The Abu Garcia Veritas PLX Spinning Rod comes in two sizes: 6'.10", 7', & 7'.6"
The rod is a single-piece rod that is made of 30-ton graphite which played a huge role in selecting this rod because it's nice to be able to fish through heavy grass and not worry about pulling a bass through the weeds.
In addition to the 30-ton graphite Abu added something called 3M Powerlux 100 resin, which is considerably lighter than competitive resins.
When I picked up this rod I wasn't sure it would do the job because of its weight.
Generally when I'm fishing in cover my rods are heavy, so this was nice to be able to fish with a heavy duty rod that was so light.
Keep in mind that anglers who fish with ned rigs generally work the lure along flat bottoms but here in the south we have stretches of rivers and bayous with eel grass which a ned rig works great in.
The problem is that when you catch a fish it's often hard to rip them from the grass. This rod pulled 6 bass out without hesitation!
In addition to the 30-ton blank and added Powerlux Resin, Abu added more rod material to specific breaking points. Can you see a pattern here? This rod is a beast built for ripping fish from cover!
The rod was also well balanced which makes a huge difference when throwing a ned rig.
The down side was that it is on the expensive side costing over 150 bucks, but overall the rod is worth the price of admission.
If you're a seasoned fisherman looking for a powerful rod for using a ned rig in grass, the Abu Garcia Veritas PLX checks all the boxes and should be on your lists of next buy's!
What to Look for When Choosing a Ned Rig Rod
Throughout my review I have gone through key factors that I look for when choosing a rod to use when fishing with a ned rig. Here is a quick guide to help you select the best rod for throwing a ned rig.
Material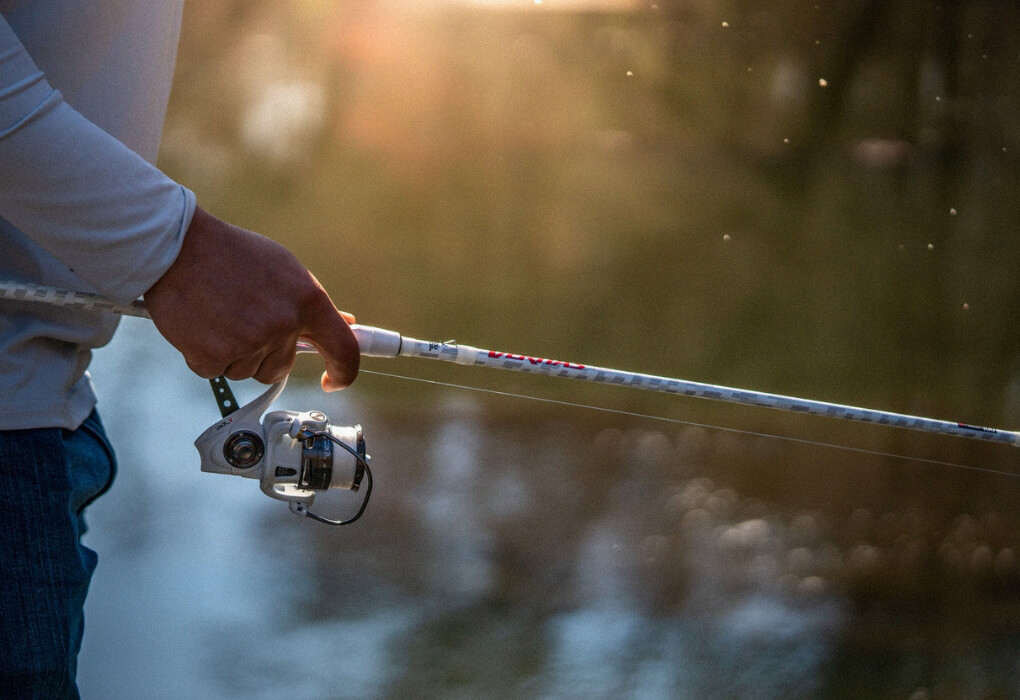 When throwing a ned rig it's important to have a rod that is going to hold up to big fish. You'll want to examine the rod's material makeup in order to select a rod that's going to be strong and durable.
Rods made with blanks that are above 15-ton are great for fishing with a ned rig. Also look for key words like added resin and tapered.
Rods with added resin show that the manufacturer is willing to go an extra step in order to add strength to their product.
Tapered rods are rods that the manufacturer adds extra material to in order to make their breaking points stronger. These are two things to look for when selecting a Ned Rod.
Sensitivity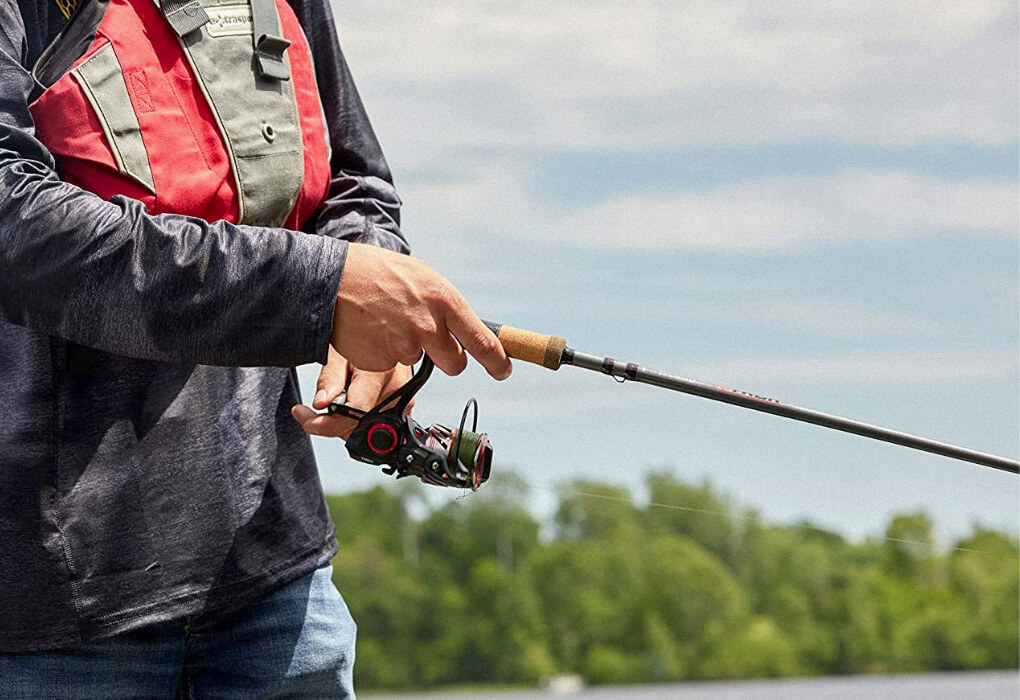 Having a sensitive rod isn't as important when using a ned rig as, let's say, using a drop shot rig simply because the fish tends to hook itself most of the time.
However, there are times when I've felt the lure being picked up off the bottom and was able to set the hook properly and it's because I was fishing with a very sensitive rod.
Once again, having a well built rod with technology that allows for it to be not only strong but sensitive is what you need to look for.
Balance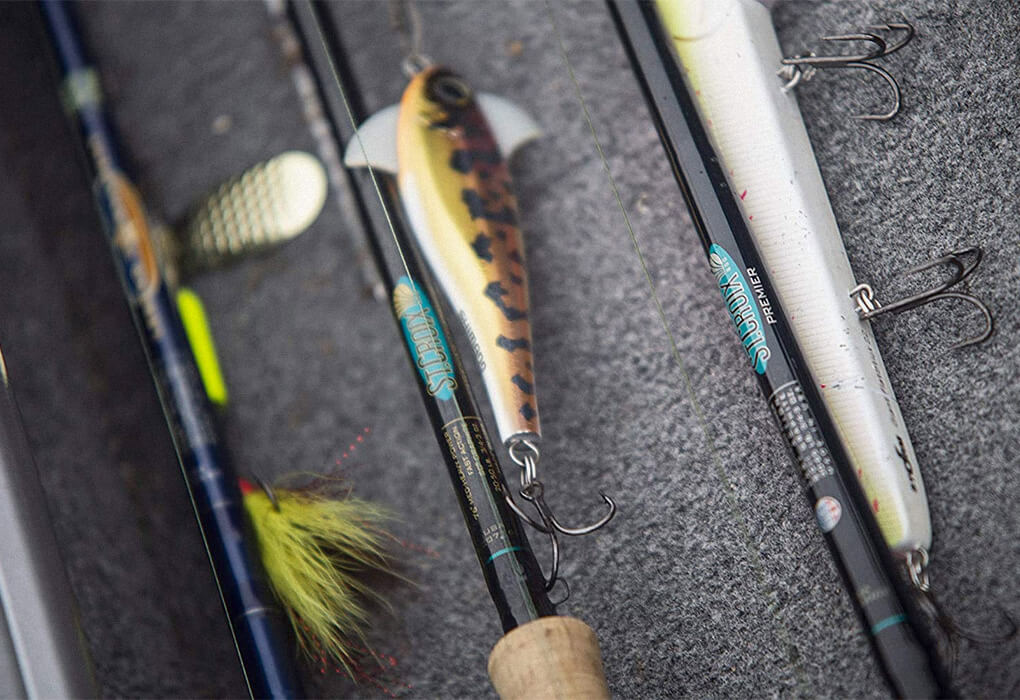 Having a well balanced rod is a very important component to fishing with a ned rig for me.
When I'm working my lure across the bottom I want to be able to feel my rod tip dip as soon as something touches that lure.
A well balanced rod is key for doing this because it allows the rod tip to dip down with ease.
A rod that is bottom heavy will throw off the ability for the upper section of the rod to laid properly.
A well balanced rod helps with casting as well which can make a difference when fishing long days.
If your rod is out of balance, you'll be fighting gravity with every cast which will make you tired much more quickly.
Final Thoughts
Let's face it. The ned rig isn't going anywhere! It's gaining in popularity and it's even being used more than the drop-shot rig.
It's completely changed the way I bass fish, leading to more fish and bigger fish because it allows me to fish deeper water.
During my test I feel I was able to sort through some rods and bring to you the best of the best through a thorough trial and have learned a ton by examining so many rods.
So let's review our top pick!
For the best rod overall for fishing with a ned rig, I choose the Dobyns Fury 703SF Spinning Rod. It was a pure joy to fish and checked all the boxes that I look for when throwing a ned rig.
While the Dobyns Fury won overall, you really can't go wrong with all the rods mentioned in this best ned rig rod Guide I've put together.
Give them a try and tell us what you think! We'd love to hear from you!