We independently research, test, and recommend the best products; you can learn more about our review process here.
Choosing a sonar fish finder for those occasional shore fishing trips sounds like a great idea. But, a high-end device might be bad for your wallet.
That's where the iBobber Fish Finder from Reelsonar comes in.
When I first took a look at the iBobber fish finder, I wasn't that impressed. Compared to a lot of other portable fish finders, this puny bobber looked a bit… inadequate.
After stacking it up against a few others, I realized that it does a little more than meets the eye.
In this iBobber fish finder review, we will take a closer look at this product from Reelsonar to help you decide if it's the right choice for you.
---
Overview of the iBobber Fish Finder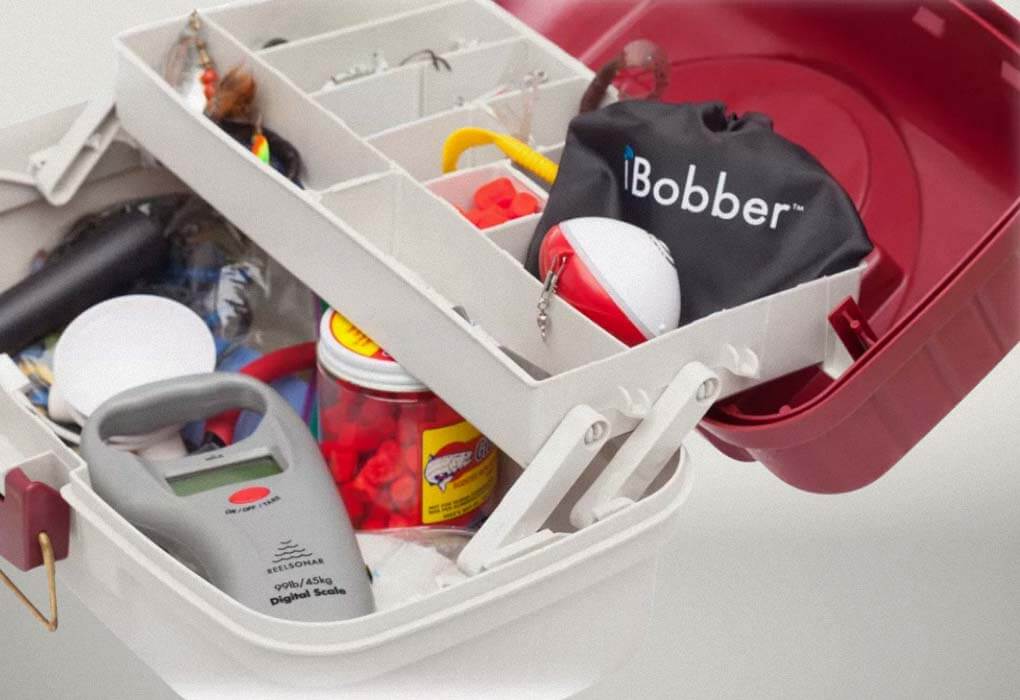 The first thing you notice about the Reelsonar iBobber is how small and light it is. The white and red dome looks plain and has two eyes for connecting to the line. In terms of accessories, you get a carry pouch and a USB charger.
Packed inside the dome is a sonar fish identifier technology that connects with a iPhone or Android smartphone by using an app. Once you attach it to the fishing rod and cast, the smartphone screen is your fish finder display.
When connected to a smart device by Bluetooth, the device will provide you with real-time data on on fish location. It will also provide waterbed contour mapping to help you identify the hiding spots of fish.
Since it works on Bluetooth connectivity, you can use it even if you're out of cell tower range.
But that's not all.
The iBobber app is loaded with features like a fish strike alarm, GPS location, water temperature, and trip logs. It also has a LED beacon that's useful for night fishing.
Obviously, it won't offer the superior accuracy and capabilities of high-end fish finders. The sonar range of the device is limited to 135 feet. But if you want to add some edge to your fishing without shelling out top dollar, it's a solid option.
A portable and versatile device
Easy to use
Bluetooth smart sync up to a distance of 100 feet
Fish tagging based on size and feature
Rechargeable battery with a charge status indicator
Interactive map and spot tagging
The sonar range is limited
Battery life isn't the best
Not the right choice for oceans
Things to Consider Before Buying a Castable Fish Finder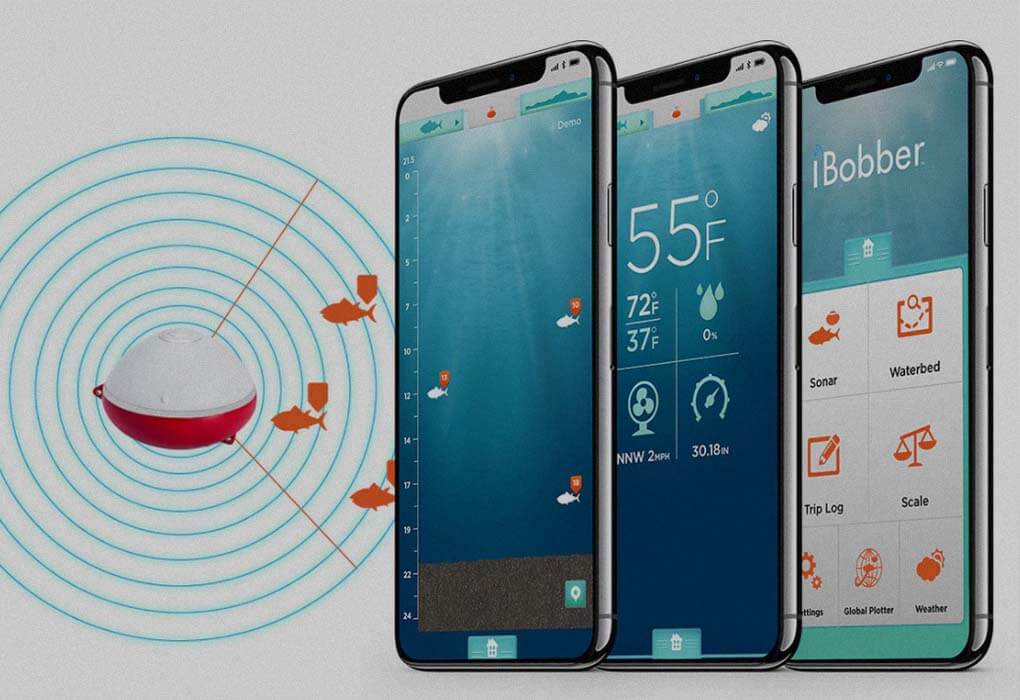 Castable fish finders come with a transducer that uses sonar technology to help anglers identify fish. But before you choose, there are a few points you need to keep in mind.
Connectivity and Range
A wireless portable fish finder that can easily connect with your smartphone and tablet is the best choice. Wireless devices can work on the basis of Wi-Fi and Bluetooth.
Wi-Fi connections are stronger and work over longer distances. In my opinion, a stronger connection is always the better option. On the other hand, Bluetooth connections consume less power. It all comes down to your requirements and personal preferences.
When it comes to range, the higher the better. But go for a minimum distance of 100 feet. Bluetooth connectivity is limited to around 130 feet. Wi-Fi connectivity can work at much longer ranges.
Frequency and Depth
The performance of the castable fish finder and its depth capacity will depend on two factors. The frequency of the sonar impulses and the capacity of the transducer.
While a high-frequency device will provide accurate information, it won't penetrate deeper. On the other hand, lower frequencies can penetrate deeper. Some units use multiple frequencies to provide more accurate results.
Choosing a device that provides you mapping and water depth information is helpful. Within the app, you'll get these features but they're really limited compared to advanced GPS fish finders.
Ideally, pick a fish finder that can scan deeper than your requirements.
Size
While most portable fish finders aren't too big, they should have the right weight. Heavier units will travel further when cast, but it might affect portability.
And you won't want a large and heavy device that's difficult to carry while hiking to a remote alpine lake. Generally, the weight range of 2oz to 6oz works well for most anglers.
Portability is a primary reason why people resort to castable fish finders.
Charging and Battery Life
When you're heading out with a fish finder you need the batteries to last. Rechargeable batteries are a great option as you can charge them up any time you want. Make sure the device comes with cables and adaptors that allow you to connect to a wall socket or a power bank.
Durability
With any castable fish finder, durability is one aspect you can't overlook. No matter how gentle you try to be, accidental drops can always happen. The outer covering of the device should be durable enough to keep the sensitive electronics protected.
Price
The price of a fish finder will be directly related to the features and the accuracy that it offers. Even so, there are plenty of affordable fish finders in the market that offer great value. Make sure you do the right research to balance your requirements with the budget.
ReelSonar iBobber Review: Features and Benefits
Time to take a look at the specifics.
What I really liked about the iBobber fish finder is the range of practical features that it packs. No matter if you're a veteran angler or a newbie, you'll be impressed by the tech packed in this small, plug and play device
Let's take a closer look.
Sonar Capabilities
The iBobber uses a single sonar beam that has a spread of 90 degrees. That means the sonar angle ranges 42.5 degrees on each side from the center. The device has a 118 kHz transducer.
Once the transducer receives the reflected signal, the display is generated. The live images are plotted on the right side of the display screen. The image moves to the left at every 0.5-second interval. It also displays the echoes returned from any object, like fish, between the surface and bottom.
The patented Sonar Fish Identifier Technology allows you to choose between the raw sonar and a fish-tagging view. With the fish tagging view, fishes of different sizes are marked with orange and green colors.
Since the depth range is limited to 135 feet, the iBobber isn't suited for oceans. Also, the sonar isn't strong enough to deliver the right accuracy in choppy waters. But it's good enough for weekend fishing on lakes or a slow river.
Keep in mind, the minimum depth for the sonar to work is 4 feet. I found that it works best when the bottom is 6 feet or deeper.
Overall, the iBobber doesn't offer sharp accuracy like high-end transom-mounted fish finders which are much more expensive. In murky conditions, the device can get tricked by underwater debris.
But will it help you to catch more fish?
Absolutely.
Contour Mapping and GPS Spot Tagging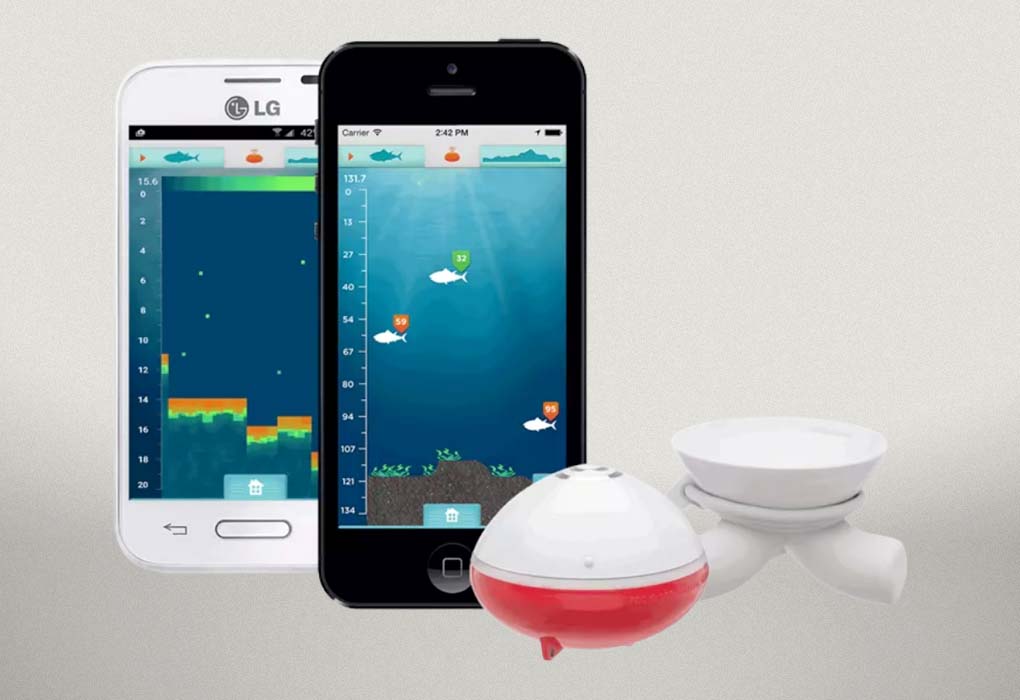 Once the iBobber is connected to your smart device, you can map the lake or river bottom. This allows you to locate the fish, underwater structures, and flora. That makes it easier to avoid underwater obstructions and make the right cast. I found the app super easy to use.
In addition, you can also locate any holes and ledges at the bottom. And when it comes to open water fishing, knowing the right depth is crucial for using the right baits.
As you know, fish will hardly go down to get bait. But they will come up to get one. So, you need to pick the right depth for your bait.
With iBobber, you can know if the fish are tight at the bottom or suspended. That allows you to choose between fishing deep or shallow.
The device also allows you to log your trip details and pin the location from the GPS. So, coming back to your favorite fishing spot is easy. You can add other details like the species of fish, water temperature, etc, and upload the information is social media.
Lunar Calendar
The lunar calendar in the app provides you with a wide range of data like temperature, wind speed, barometric pressure, and more. The ability to track various aspects of the weather, including rain forecasts is a big plus.
This is a super interesting feature to me because it's something you don't find in a lot of fish finders, especially ones in this price range.
Battery Capacity
The iBobber comes with a lithium-ion battery that can be recharged via USB. Reelsonar mentions that the device offers 10+ hours of battery life.
However, in the real world, the battery loses charge pretty quickly. So make sure to charge it fully before you go out for a trip. I must say, battery management is one area where iBobber needs to improve its game.
Versatility
Compared to a fixed fish finder unit, iBobber offers tons of versatility. You can use it for bank fishing or connect it like a fish finder for a small bass boat, canoe, or kayak.
Since it has no problems working in sub-zero conditions, you can use it for ice fishing as well.
Besides, the LED beacon and fish strike alarm are helpful features for night fishing trips.
As iBobber uses your smartphone, you need not worry about the quality of the display. However, dropping your iPhone in the water is a risk that you need to be careful about. I wrapped mine in a waterproof case.
Portability
One of the biggest advantages of the iBobber is its excellent portability. The compact size and lightweight wireless design allow you to pack it easily in a backpack or store it on a small boat.
Considering the lightweight design, I would say that the outer shell of the iBobber is fairly durable. Still, I wish Reelsonar had mentioned the use of ABS plastic like the Deeper Smart Sonar. I'd be careful not to drop it on rocks and risk cracking the outer shell.
While tracking big schools of fish along a riverbank, mobility is an important aspect. I found the IBobber an excellent choice for that.
Connectivity
In "good conditions" the device can connect up to a distance of 100 feet. While that's good enough for shore fishing, conditions aren't ideal in many cases.
I have noted that connectivity drops down when the charge of the device or my phone drops. When there are no clear sightlines, especially in heavily wooded areas, the range can drop to 60 or 70 feet.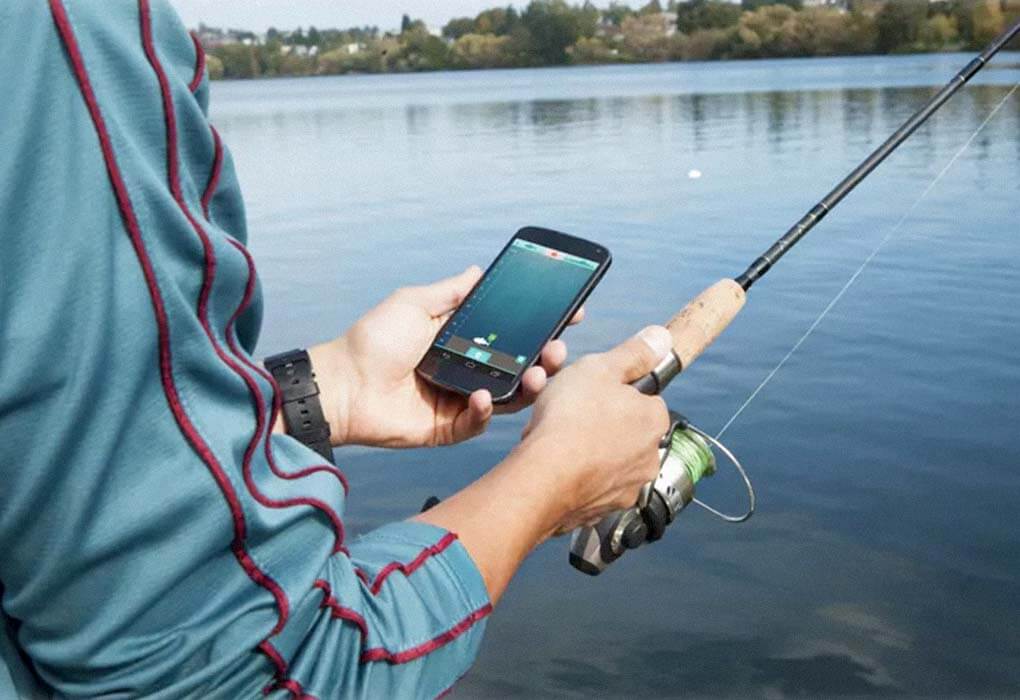 However, I never experienced dropouts within the 50 to 60 feet range. The good news is, the unit reconnects automatically if the signal is broken.
Price
Anyone looking for an affordable fish finder will find the iBobber a simple and practical device. It lacks a dual beam sonar and a more advanced transducer. But at this price, I am nitpicking. The device works great when all you want are basic features like marking the depth and locating the fish.
It's also much more affordable than premium casting fish finders like the Deeper PRO+.
What Are People Saying About the iBobber?
Apart from discussing with a few fellow anglers, I went through a whole range of reviews to find out the general opinion about the iBobber. And the reviews are mostly positive.
Here are a few of them.
What impressed most users most was the excellent portability and the easy to use features of the device.
While you can't compare the device with an advanced product like the Humminbird Helix 10, it costs only a fraction of that and offers superb versatility.
Whether you want to attach it to your boat or go for bank fishing, both the above users found the iBobber is a solid option. However, while on a boat, make sure that you move slowly to get the best results.
One thing is, I read some conflicting reports about the Reelsonar customer service. While some users were happy, others were not so impressed. Here's one such review.
Alternatives to the iBobber Fish Finder
In case you're looking for some other options among castable fish finders, here are a few choices.
Deeper Smart Sonar PRO
The Smart Sonar fish finder from Deeper comes with a rugged design and uses a dual beam sonar that can work up to 330 feet. It's a versatile device that acts as a Wi-Fi hotspot to connect with your smart device. On the downside, it's a price option.
Garmin STRIKER Cast Castable Sonar
If you're looking for a dependable castable fish finder that offers detailed mapping, the Striker Cast is a solid choice. It's an easy-to-use device that has a sonar range of 150 feet and supports two sonar frequencies. Overall, a nifty device with an affordable price tag.
Deeper Smart Sonar CHIRP
Anyone looking for a castable fish finder that offers top-notch precision will find this unit an excellent choice. The CHIRP technology offers great target separation and reduces noise at higher depths. All in all, a nifty gadget for anglers with a higher budget.
Final Thoughts
There you have it. The Reelsonar iBobber fish finder is an affordable but effective choice when it comes to shore anglers looking to step up their game.
To be honest, no castable fish finder will guarantee a great catch. But the right tool will definitely help you to find the best fishing spots.
In short, the iBobber is a Bluetooth-based smart fish finder that offers the right balance of practical features and versatility at a pocket-friendly price.
Perhaps you don't want your tech to complicate your fishing experience. Then the iBobber is an easy-to-use tool that fits the bill. From weekend freshwater fishing trips to ice fishing, it's a versatile device that offers great functionality.
If you have any other points to make on the iBobber, I'd love to know your thoughts.
iBobber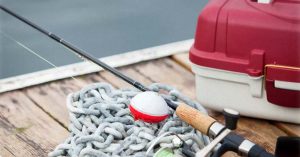 The iBobber fish finder is a great portable option for shore anglers on a tight budget. Click here to read our review of the iBobber fish finder.
Product Brand: Reelsonar
Pros
A portable and versatile device
Easy to use
Bluetooth smart sync up to a distance of 100 feet
Fish tagging based on size and feature
Rechargeable battery with a charge status indicator
Interactive map and spot tagging
Cons
The sonar range is limited
Battery life isn't the best
Not the right choice for oceans