Bass love crawfish. Who can blame them? A good crawfish boil would hit the spot right now. Crawfish lures for bass fishing have come a long way over the years, like most things.
Though the aesthetics are ever-changing, the function and action are always being tweaked for the ultimate performance capability.
Of course, not all crawfish lures are created equal and some just perform particularly well when it comes to bass fishing.
It's also a good idea (for those beginner anglers out there) to understand the difference between aesthetics and performance.
Crawfish baits might look different, in terms of color, size, shape, etc, while performing similarly. Or, it could be the exact opposite, depending on your setup.
There are also three distinct types, which we'll get into shortly. The important thing is to match technique to type, which is the entire purpose of this crawfish bait list and breakdown.
---
Types of Crawfish Bass Lures
Crawfish lures aren't one-trick ponies. They're also a good choice for trout, steelhead, and catfish. With bass fishing, it's a seasonal thing.
You can get lucky and reel 'em in all year with a crawfish bait for bass but it's best for late winter to early spring and early fall.
You want to hit them before they start schooling and choose the color according to water clarity. After all, creature baits work best when they appropriately imitate their very real cousins.
Soft Plastics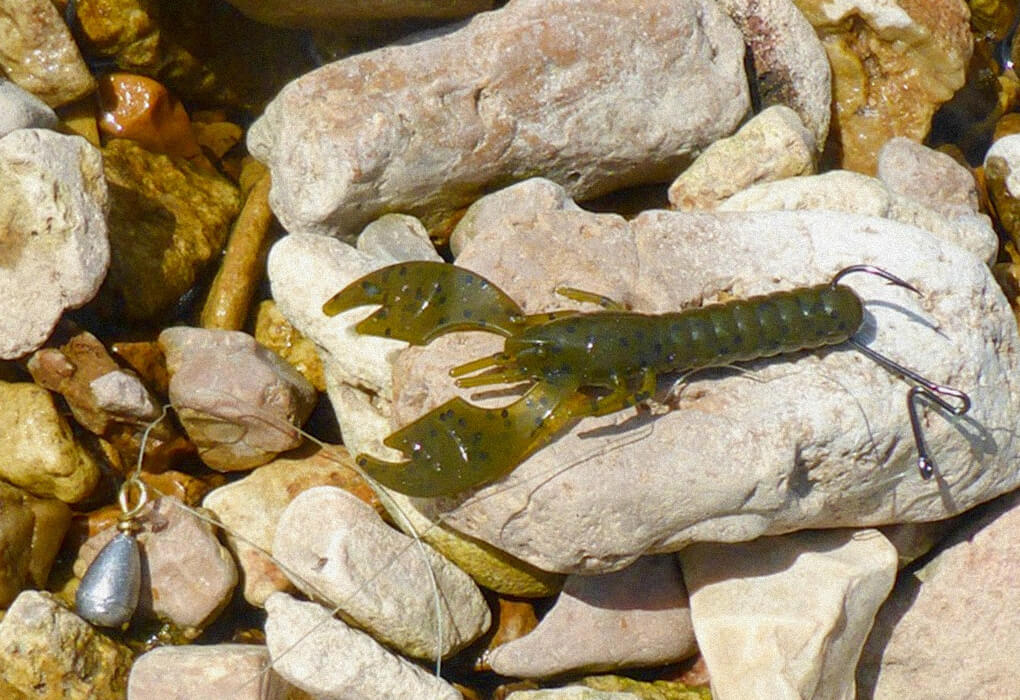 Soft plastic crawfish lures are the best "all-around" choice. They look more realistic than crawfish jigs and crankbaits. However, just like most things when it comes to fishing, there's a time and a place for soft plastics.
For instance, if you're casting into heavy cover, there are plenty of soft plastics to choose from, with the Crawbug and Wooly Hawgcraw standing out the most.
With vegetation, you want streamlined lures that still perform realistically.
The Texas Rig, Jig Head, Punch Rig, and Jig Trailer are some of the best rigs for soft plastic crawfish. They all cover a variety of scenarios and you don't have to get too crazy with your technique.
Soft plastics also make great "comeback" lures if you get them back out there after a miss.
Soft plastics are incredibly versatile. Whether you're finesse fishing, punching, pitch skipping, or you want to split-shot a small crayfish, soft plastic crawfish have you covered.
While you may not get the kind of movement activities with soft plastic, the way you can with crankbaits, they're the most realistic looking of the bunch.
Soft plastics are also suitable for adding to jigs or chatterbaits (like a skirted Strike King Rage Craw) as a soft trailer. For instance, crawfish trailers on weedless jigs for working the bottom are very popular.
Jigs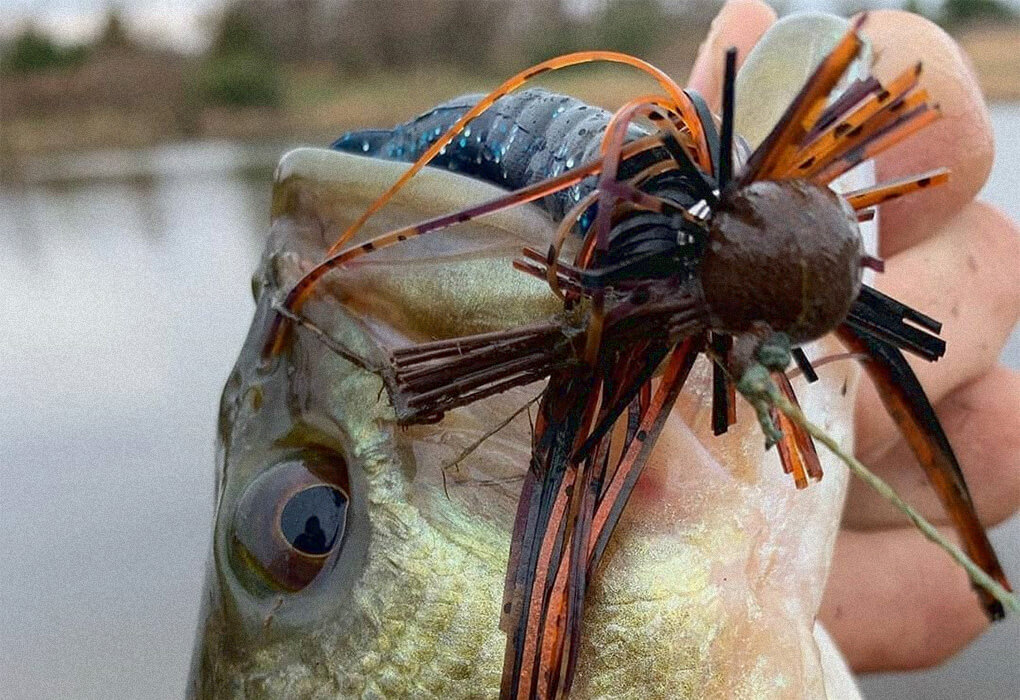 The best thing about jig fishing is it's every bit as versatile as soft plastics, perhaps even more so. A variety of craw jigs will cover just about any scenario or technique, so long as you go with the right one for the circumstance.
Keep in mind that "jig fishing" lures are kind of non-specific. That's because there are specific jigs for bass and then there are lures that everyone calls jigs, just because.
There are 8 or 9 different bass fishing jigs, depending on who you ask, and all of them revolve around the presentation.
If you were to break down a jig, you would find that it's essentially a sinker and a lure. The body surrounding the sinker and hook is window dressing, meant to imitate prey.
Jig fishing typically involves a series of snaps that imitate a wounded baitfish (in this case, crawfish).
The Livetarget Hollow Body Crawfish Jig is a good choice for any tackle box. Since crawfish jigs have been around for so long, they're nearly perfected in how well they mimic the real deal.
With all of the different lures out there, it's easy to assume that bass fishing lures are overly complicated.
Crankbaits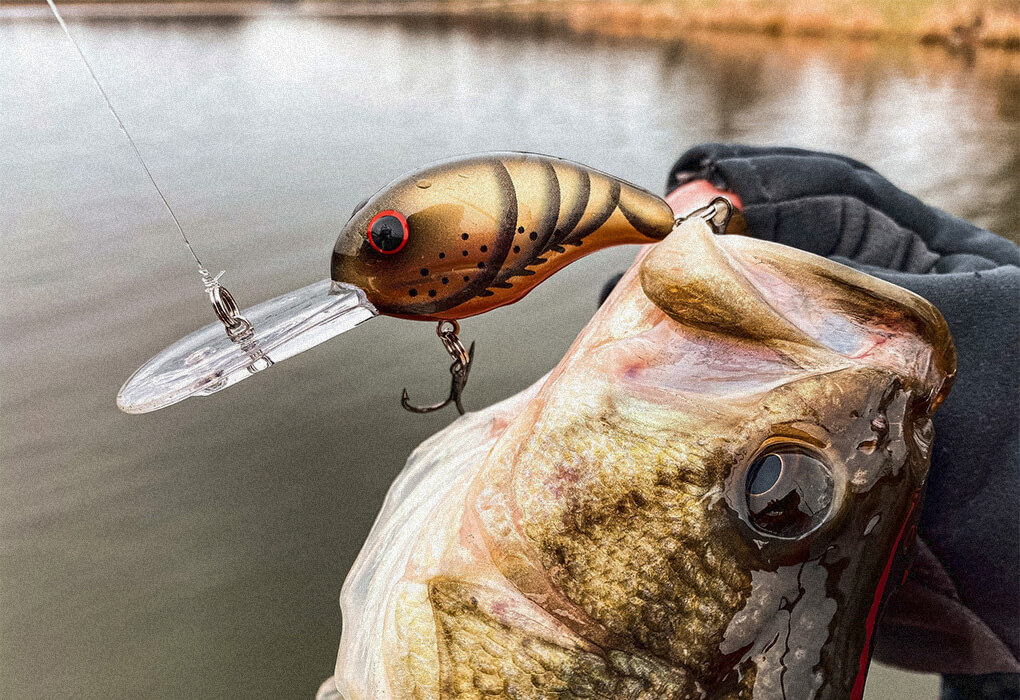 Lipped, lipless, diving depth and sound production define the various crankbaits available.
In terms of pure crawfish imitation, it's hard to argue with crankbaits since they provide anglers with the best method for accurately mimicking a crawfish.
This is especially true when you're fishing over areas with a rock bed.
You can bounce the bait along the rocks, perfectly imitating how a crawfish would act over rocks. In other words, crankbaits are fantastic for rocks and other structures.
Crankbaits take advantage of the water columns where depth is concerned. Unlike the "wounded bait" mimicry of jigs, crankbaits simply imitate moving bait at various depths in the water column, which you control.
When baitfish are inactive, bass will often do the same.
Catching suspended bass (bass floating around and being lazy because breakfast, lunch, and dinner are less cooperative) is a difficult proposition.
They head out to deeper water and find themselves a nice structure to be lazy in. Crankbaits are your primary weapon to counter that behavior (along with a good fish finder).
5 Best Crawfish Lures for Bass
With all of that information in mind, some crawfish lures are better than others. Some are simply serviceable and whether you're on your first bass fishing trip or you're a veteran angler, you always want the best.
1. Big Bite Baits' Real Deal Craw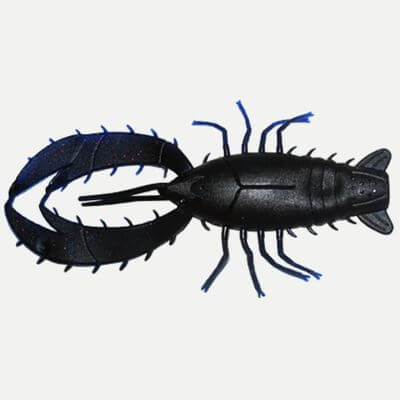 Pros
A versatile lure that works on a number of rigs
Realistic look and action in the water
Arms function connected or apart
Includes Big Bite Baits' Big Juice Formula
Cons
If you can say "big bite baits" three times really fast, you should get a free Big Bite Bait's Real Deal Craw.
Regardless, the Real Deal Craw is as close as you can get to sticking a real crawfish on the hook. It's an ultra-realistic soft plastic that comes with two, built-in presentations (claws connected and claws separated).
Either way it provides an excellent and realistic movement, especially as the bait drops through the water column.
Its realism is impressive, with huge claws, a flat body, and even small legs, antennae, and ridges along the abdomen, just like a real crawfish.
It works great as a trailer on a Texas rig or a Carolina rig or you can use it all by itself with a drop-shot.
Hop it along the bottom and (if you could put a camera down there) you would see it imitating a crawdad, with realistic claw movements.
Needless to say, it's a very attractive, big bass bait, with 4" and 5" variations.
Swimming jig presentations are where this lure truly shines. They come in seven colors, four of which are Big Bite Baits' HD versions. Each bait comes with an admixture of what Big Bite Baits calls its "Big Juice" formula.
It's often difficult to find realistic-looking baits that equal their aesthetic in action. The Real Deal Craw is one such bait.
Keep it in its original packaging or in your tackle box or it might accidentally end up in the pot on your next crawfish boil.
2. Rebel Lures Craw Crankbait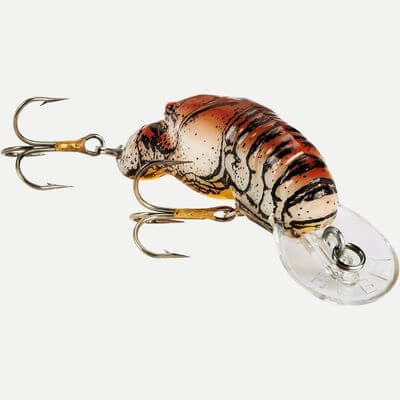 Pros
Multi-species finesse lure
The presentation is as realistic as it gets
Fantastic aesthetics
A number of colors and sizes to choose from
Cons
The front treble hook tends to hook itself on the smallest option
A lot of craw lures tend to go with realism or as a trailer, rather than a primary, highly effective lure on its own.
What makes the Rebel Lures Craw Crankbait such an efficient fishing bait is it's completely natural to use. It doesn't try to be anything else or bring up the rear as a complimentary setup.
It does what it does all on its own and it does so very effectively. For that reason alone, Rebel Lures hit the sweet spot with their Craw Crankbait offering, and it's a very popular crawfish lure.
If you're bringing it in slow, you'll feel the side-to-side action of the Craw but nothing obscene or over the top.
This particular crankbait is often used over shallow areas, especially with rocky bottoms as it does a good job of imitating a defenseless crawfish bouncing from rock to rock.
Depending on the weight, it dives anywhere between 3' and 10' making this an excellent choice for muddy waters where you can go shallow.
The aesthetics aren't purely realistic but the crankbait still looks incredible and there are fourteen colors and six sizes to choose from.
It's also a great lure for just about any freshwater body—lakes, rivers, reservoirs, creeks, ponds, etc.
The escaping crawfish presentation is accurate and very enticing. The best part about this lure is that it's not just a "one size fits one".
Everything that hangs out in shallow water areas is likely to hit this craw. The rattle chamber is succinct but not overly done and it's an effective lure any time of the year.
3. Chasebaits' MUDBUG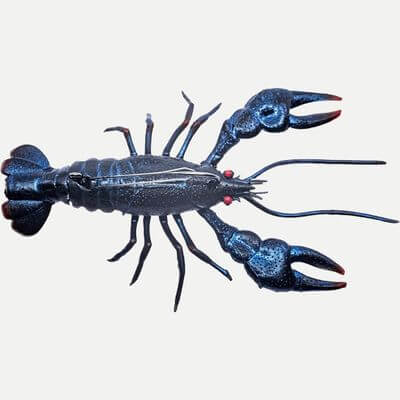 Pros
One of the most realistic lures on the market
Perfect finesse lure
Acts like a crawfish when you let it sit
A good variety of colors to choose from
Cons
TPE material has to be stored alone or with other TPE (melts in high temperatures)
The Chasebaits MUDBUG is one of those soft plastic craws that is designed to be and do everything. The fact that Chasebaits constructed a crawfish lure that accomplishes everything it's designed to do is phenomenal.
The MUDBUG is probably the most lifelike crawfish bait on the market today. The level of detail and performance capability that went into this lure is second to none.
The MUDBUG comes in 2.75" and 3.75" lengths with six color variations to choose from.
While it's primarily targeted at smallmouth bass and largemouth bass, trout, catfish, panfish, bowfin, walleye, and a handful of saltwater fish will absolutely thrash this thing.
It also comes with a wire weed guard for fishing in heavy cover.
The claws, feet, and tail all have realistic movements in the water and the MUDBUG is at its best when finesse fishing. Bring it in nice and slow.
You can also simply let it drop to the bottom. It's designed to land in a way that resembles a crawfish on defense.
Despite the wire guard feature requiring a subtle touch in its construction, it holds up fairly well, though you might have to make an adjustment or two once you bring in your second or third catch.
4. Strike King Rage Tail Craw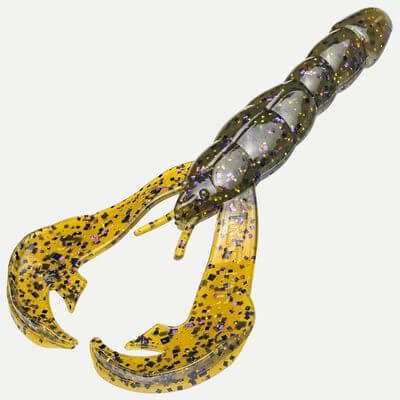 Pro
Works in various water clarities
Excellent movement action in the water
Makes an exceptional trailer on just about any rig
High durability
Cons
The Strike King Rage Tail Craw is one of the more popular lures among bass anglers and for good reason.
When it comes to appearance, it really doesn't look like much, especially when compared to the aesthetics of the MUDBUG and Real Deal Craw.
The term "Rage Tail" comes from the ridges specifically designed to create realistic tail movements in the water. Since bass seem to love these things, it's a considerable success.
Another thing that makes the Rage Tail so successful is its durability, which is exceptional for a soft plastic lure.
However, the Strike King Rage Tail is at its absolute best when it's used as a trailer, especially on a swim jig.
The reality is, the Rage Tail is fantastic on just about any setup you can come up with while sitting out on the water, trying to outsmart the local bass population.
It's also effective in a variety of water clarities, be it clear water or so muddy you can't see anything farther than an inch below the surface.
The most effective lures have a high level of aesthetic appeal and capability in the water and the Rage Tail checks all of the boxes.
5. Live Target Hollow Body Craw Jig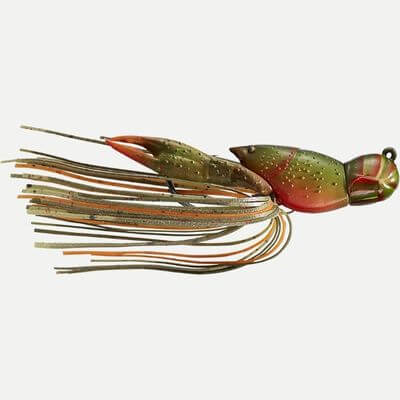 Pros
Incredibly detailed realism
Customizable
Very strong hook
Custom built head
Cons
This is one, nice-looking craw jig but the question is—does it work? Well, it wouldn't be on this list if it didn't.
Live Target's Hollow Body Craw Jig is another one of those lures that looks so aesthetically pleasing you're itching to get it in the water as soon as you tear the bag open.
Live Target is known for making realistic jigs and this one happens to be one of the best-performing jigs, as well as realistic-looking, they've put out in years.
If it weren't for the skirt, you would think you're holding a dead crawfish.
It comes in three lengths and three weights, along with eight, incredible designs/colors. The internal jig head creates a perfect combination of clicks and taps. The best part is the customization.
The hollow body allows for the addition of rattle tubes if bass anglers are looking for more sound. You can also infuse it with some of the various scents on the market.
It's one of the most functional and customizable jigs available making it a fantastic option for just about any challenge or obstacle.
Best Bass Rigs for Crawdad Baits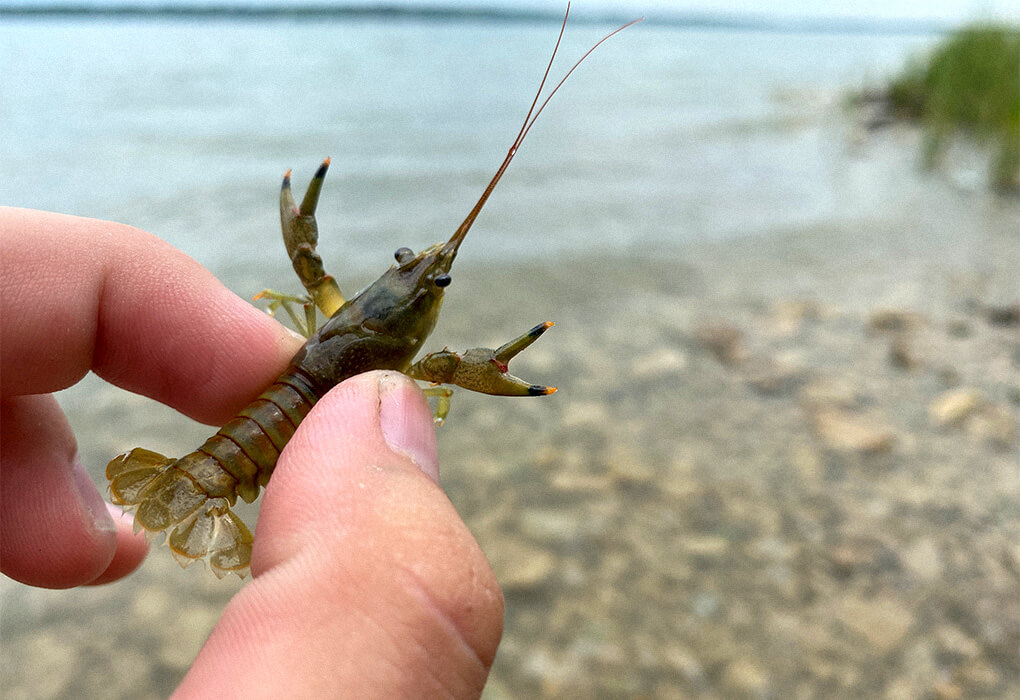 There are so many different types of rigs for bass fishing we could write a book on it. Regardless of the rig, it's all about the subtle nuances—getting it just right—to get the most out of it.
Texas Rig
The Texas rig is easily the most popular rig and term when it comes to bass fishing. As a newbie angler, it's probably one of the first you will learn.
At its most basic function, a Texas rig is designed to avoid entanglement. The key is to insert the hook so that it doesn't deform or bend the lure.
A Texas rig includes a bullet weight and an extra wide gap hook.
Carolina Rig
Right behind the Texas rig is the Carolina. A typical Carolina rig includes a 1/2 to 1 oz bullet or egg sinker, with a bead to keep it in place.
Tie on a swivel, followed by a leader and your hook. As far as the soft lure is concerned, it's all about getting the hook situated without deforming the bait.
Dropshot Rig
This is an interesting rig for crawfish because it makes your crawfish lure act like it's not a crawfish. In other words, it's a rig for suspending baits, sort of like you would expect from a bait fish, just not a crawfish.
The best way to make it look as if a crawfish just bolted off the ground and is in the process of sinking back down, use a short leader.
The drop shot rig is designed to suspend your bait above the weight, which is a very specific thing for crawfish. Somehow, bass love it though, so you should include it in your bag of tricks.
Frequently Asked Questions
What time of year do bass eat crawfish?
Late winter, early spring, and early fall. From late winter to early spring, keep your crawfish moving and slow it down with some finesse fishing in the early fall.
What color crawfish to use for bass?
It all depends on water clarity. Keep it as natural-looking and slight as possible when the water is really clear and go with vibrant, popping colors in muddy water.
Is a crawfish lure good for bass?
Crawfish are a natural prey for bass and they definitely love it.
However, just like most people don't eat hot chili in the summertime, bass prefer crawfish more during certain times of the year and less in others.
Bottom Line
Crawfish lures for bass are an excellent choice, if you know when to use them and, more importantly, how to use them.
Bass prefer to dine on these little lobster wannabes at various times throughout the year and having the best crawfish lures in your tackle box makes all the difference in the world.
The soft plastic version is the most common, so brush up on your various rigs. For the seasons when crawfish aren't putting bass in the cooler, have yourself a backyard crawfish boil. Either way, you win.