---
We independently research, test, and recommend the best products; you can learn more about our review process here.
Choosing the best night fishing lures takes some experience, a little bit of biology, and a glimmer of luck. When it's dark out, the bass can't see your lures as well – as a result, you need to make a little more noise and wind them up a bit more.
The best lures for bass fishing at night all have one thing in common, they do something "different" to capture the attention of the fish.
I've spent what feels like decades on the water at night, and I can tell you, there's nothing more exciting than the sound of fish jumping out of the water with the moonlight shining down across the pond. Let's take a look at some good night fishing lures.
Comparison Table – Of the Best Night Fishing Lures for Bass
Image
Product
Rating
Price

Best Overall

Type: Chatterbait
Size: ½ ounce to ⅜ ounce
Color: Candy Craw

Amazon

Best Moonlight

Type: Spoon
Size: ¾ ounce
Color: Silver

Amazon

Best Night Worm

Type: Soft Plastic Worm
Size: 4-7 inch
Color: Black Blue Flake

Amazon

Best Buzzbait

Booyah Counter Strike Buzzbait

Type: Buzzbait
Size: ½ ounce - ⅜ ounce
Color: Luna

Amazon

Best Frog Lure

Type: Topwater Frog
Size: 6 ¼ inches
Color: Black

Amazon
---
In Depth Reviews Of Our Favorite Lures for Night Bass Fishing
Z-Man Original Chatterbait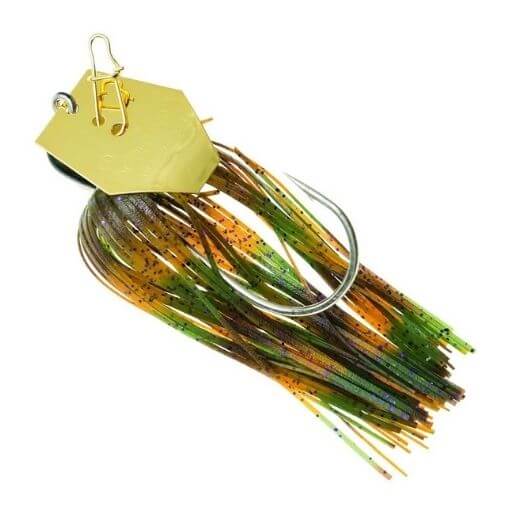 BEST OVERALL NIGHT FISHING LURE
Specs
Type: Chatterbait
Size: ½ ounce to ⅜ ounce
Color: Candy Craw
FEATURED SPECS
Includes a hex-shaped blade at the top that acts as the noisemaker
EXTRA FEATURES
Offers plenty of vibration and flash which is what gets the bass's attention at night
BUYING ADVICE
Make sure to go with the candy craw color in low light. If it's a bit brighter out, you can choose something else.
Pros
Plenty of noise and vibration
Great color options
Durable skirt
Heavy jig head helps with casting precision
Cons
Not the best for inexperienced anglers
If you're looking for the best night time fishing lure, you've found it. Chatter baits act similar to spinnerbaits. You get everything you need in one package. The hexagon head serves its purpose by providing noise, vibration, and reflection in the water, and these three factors combined are what will catch bass at night.
Johnson Silver Minnow Spoon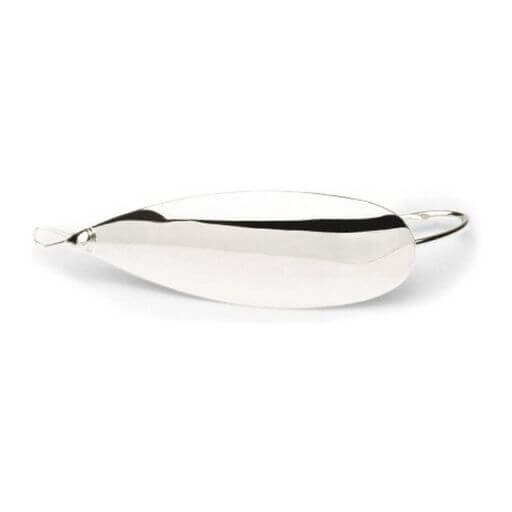 BEST MOONLIGHT LURE
Specs
Type: Spoon
Size: ¾ ounce
Color: Silver
FEATURED SPECS
Comes with a built-in weed guard
EXTRA FEATURES
Brass blade adds a bit more weight and helps you cast more precisely
BUYING ADVICE
I only recommend this lure on nights when the moon is bright, and the sky is clear
Pros
Great for full moon nights
35-degree wobble helps create more disturbance in the water
Long-distance casting
Easy to use
Cons
Sometimes poor quality
Not durable
Spoon fishing at night is another one of those things that you won't realize is brilliant until you try it. You can only do this when the moon is shining bright on the water because you need that reflecting action to catch bass.
Yamamoto Senko Worms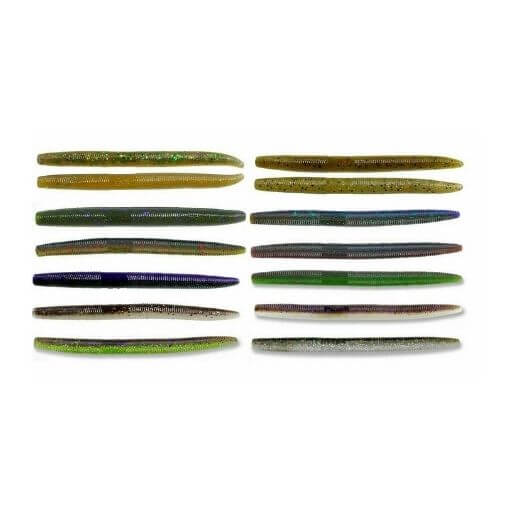 BEST WORM FOR NIGHT FISHING
Specs
Type: Soft Plastic Worm
Size: 4-7 inch
Color: Black Blue Flake
FEATURED SPECS
The best worms in the business work with a variety of rigs
EXTRA FEATURES
The dark color is perfect for low-light nights in the shadows
BUYING ADVICE
I'd recommend rigging this up wacky style and bouncing it around the shoreline. Texas style
Pros
Easy to use
Durable worms
Rig it with your style
Cons
Not going to create as much attention as the other options
This wouldn't be a buyers guide if I didn't recommend at least one worm. These are versatile options that will work no matter what, even if you're fishing at night. The night worm just needs to be a dark color, and you should rig it in a way that creates the most disturbance.
BOOYAH Counter Strike Buzzbait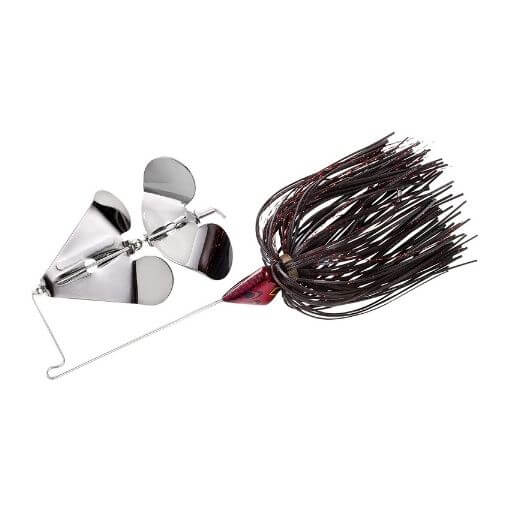 BEST BUZZBAIT
Specs
Type: Buzzbait
Size: ½ ounce – ⅜ ounce
Color: Luna
FEATURED SPECS
Counter-rotating blades create a loud noise that can't be replicated
EXTRA FEATURES
Uses a strong and sharp XCalibur hook that won't let go
BUYING ADVICE
Luna is the name of the color for a good reason, use it
Pros
Creates a loud disturbance in the water
Great topwater night fishing lure
An excellent choice for dusk or dawn
Cuts through cover nicely
Cons
If you're looking for another lure that will make quite a bit of noise at night, this is a great option. Buzzbaits operate similarly to chatters, but they have two blades that spin in different directions as they cut through the water. This one is primarily a surface lure, but if you present it slow enough, it'll stay right beneath the top of the water.
Strike King KVD Sexy Frog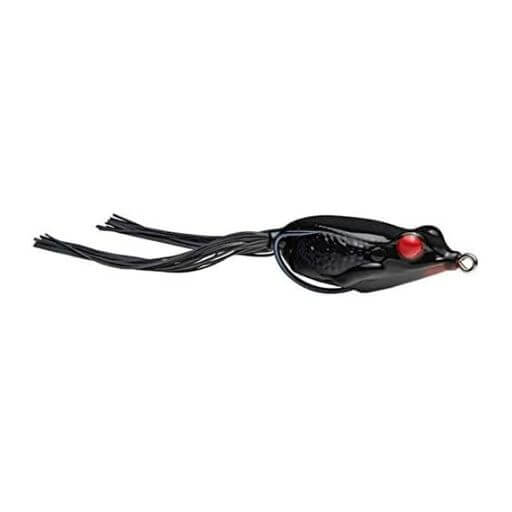 BEST FROG LURE FOR NIGHT
Specs
Type: Topwater Frog
Size: 6 ¼ inches
Color: Black
FEATURED SPECS
Fully sealed nose minimizes water entry
EXTRA FEATURES
Comes with a free-floating rattle to light up the night
BUYING ADVICE
Great topwater frog for fishing heavy vegetation and cover
Pros
Great for weedy waters
Easy to fish
Dual hooks
The black color with red eyes is perfect for dim light
Cons
A little large for smaller bass
Issues with paint chipping off
When you're fishing the muck and mud, you need something to glide right through it, and this topwater frog is the right choice. It's designed to make noise, which draws the attention of bass who might not be able to see the lure. Overall, this is the best night time lure for fishing cover and heavy vegetation.
How to Choose a Night Fishing Lure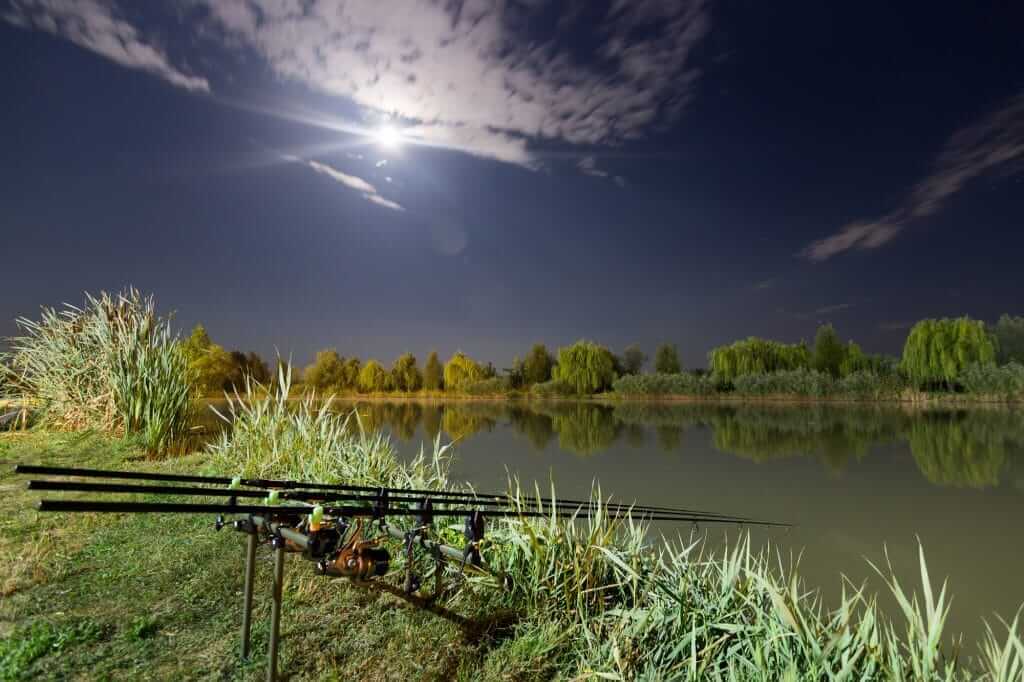 So, you've read through the products, and now you're wondering how I chose them. Fishing at night requires a unique strategy, and you need to keep in mind how the fish change their mentality at night.
Size Down
You want to decrease the size of your lures at night a little because bass aren't typically feeding throughout the night. When it's not their time to eat, they won't chase your huge lure halfway across the pond to get a bite. They'll inspect it, decide if it's worth it, and then pass if they think not.
By decreasing the size of your lure, you're creating an opportunity for them to get an easy meal. It also helps to have a little red on the lure, like many of the options recommended above. It mimics an injured baitfish like shad, which makes the fight seem that much easier.
Darker Colors (sometimes)
This point is a two-parter. When you're fishing low-light when the moon is dim, or there is a lot of cloud cover, you want to go dark as the night with your lure color. Black, dark blue, or pumpkin works well.
That said, when the moon is out, you can use it to your advantage. Remember, bass can't see the lure, so they need to hear it or "make them" see it. For example, spoon fishing at night is useless if you don't have any light. But, if you can get a little glimmer of light to reflect off that spoon, you will capture every fish's attention within 100 feet of you.
Make Some Noise
The most important thing you can do with your nighttime bass lures is find some that make a lot of noise. That's why I recommend chatter baits, buzz baits, and frogs. They all make noise, so they don't have to rely on visibility to catch fish.
Instead, you're using the lure's noise paired with a little bit of light refraction to draw attention to yourself. If you factor in this with all the previous points, you've got yourself a recipe for success.
Night Fishing Tips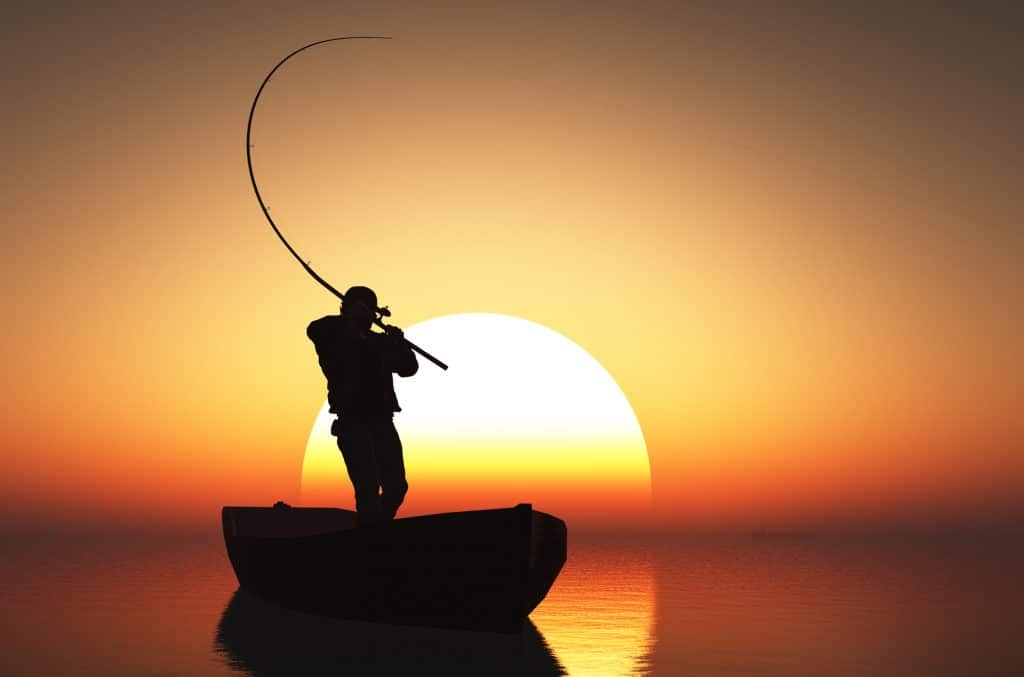 Here are some of my best tips to help you catch more bass at night. Let's give them a look!
Slow It Down
In addition to reducing the size of your lures, you also want to slow down your presentation. Remember that we're not trying to get the bass to chase us quite as much because they won't do it.
If you present them something right in front of their face and it doesn't look like a challenge, they'll strike it. They're opportunistic, and they'll always feed when the right opportunity comes their way.
Don't Get Lazy
This is important for your presentation. I can't stress it enough. You need to keep the lure moving and stay active throughout the night. You need to cast and retrieve consistently, so you're creating the noise and capturing attention. You're making your presence known and causing the bass to become curious as to what is going on.
Always Stay Safe
On a note separate from fishing, safety is also an important factor when fishing at night. Make sure you have plenty of safety gear, including:
Flashlights
First Aid Kit
Headlamp
Life Preservers
One of the dumbest mistakes I've ever made and you are liable to make the same one is to forget to rig everything before you get to the water. DO NOT stand there on the boat trying to rig up two rods while holding a flashlight in your mouth (like I did).
Always remember to close your tacklebox too because even the best tackle boxes will fall over, and you do not want to have to clean that in the dark.
Other Lure Choices
This list is not limited to the options I provided. There are plenty of great night bass catching lures. Consider looking into jitterbugs; they're a great option for largemouth bass. Crankbaits work too as long as you use the right color and size them down.
Spinnerbaits are also a solid choice with a Colorado blade. They'll create a mild vibration and reflect light like the chatter baits. They work well in the daylight hours too.
Final Thoughts
The best night fishing lures all make sense when you think about it. You need noise and light, simple as that. When you have those two factors, you can basically catch all the bass you want at night.
Next time you're thinking about hitting the water after dark, consider grabbing some of the lures reviewed in this buyer's guide. Until next time, good luck out there!