Crankbaits get a lot of love in bass fishing circles, and for good reason. They work very well without the boring traditionalism of a hook and a worm.
Their effectiveness makes lining up the best crankbaits for smallmouth bass somewhat difficult.
Fan-casting crankbaits gives you the kind of rapid coverage that's hard to replicate with other types of lures, whether on a massive lake or a small, winding stream.
Aesthetically, you couldn't ask for better diversity in colors, sizes, and shapes.
Crankbaits are either lipless or have some form of lip on them in a variety of shapes and sizes, depending on the kind of presentation the crank is designed for.
A ton of aspects make cranks exceptional, but only a few separate the good from the best.
---
Lure Them In: Our 10 Favorite Crankbaits for Smallmouth Bass
Crankbaits are great for smallmouth bass fishing in rivers, but they're phenomenal on larger bodies of water.
For obvious reasons, it's harder to locate bass in lakes and reservoirs, which is where crankbaits truly shine. You can cover so much liquid real estate so fast with quality crankbaits.
They're highly versatile, feature realistic action, generate sound, vibrate, and cover a wide area quickly. Once you get a handle on how to work crankbaits, it opens a door to a huge realm of possibilities.
The kind of hair-trigger reactions you can get from a good crankbait will drive the smallies crazy.
Outside of a quality fish finder, it's hard to think of a better way to locate smallmouth bass in the open water.
Plus, they're attractive lures on their own, and even when you know where the bass are, crankbaits work exceptionally well. With that being said, here is our list of the best crankbaits for smallmouth bass.
1. Rapala Shad Rap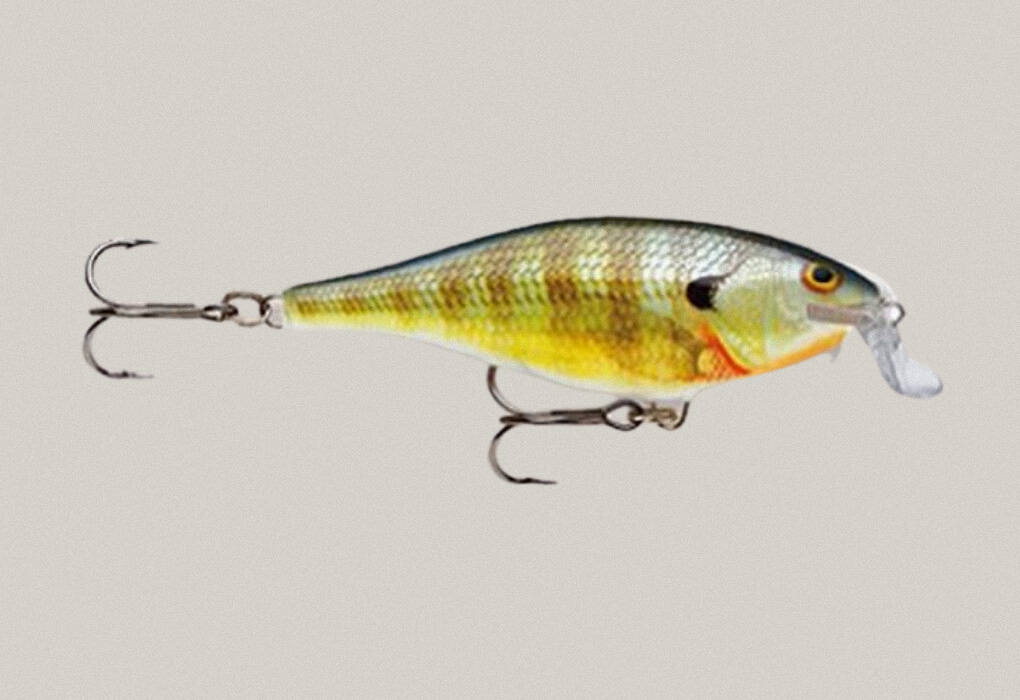 Pros
Classic crankbait from a trusted brand
Fantastic for cold weather fishing
Performs well with slow or fast retrieval
Excellent depth flexibility
Cons
The Rapala Shad Rap is probably one of the most ordinary-looking crankbaits—ordinary insofar as crankbaits go—on the market. It's also frequently listed as one of the best cranks out there.
The design feature is four decades old, but you don't fix something that isn't broken.
Its imitations are generic, covering a lot of baitfish. However, they're highly effective. The Rapala Shad Rap is especially loved for its cold water efficacy.
The Shad Rap is constructed from balsa wood and features excellent side-to-side movement.
It's also great as a trolling option, and its best feature is its retrieval versatility. Whether you work it fast or slow on retrieval, it performs like a natural baitfish.
It casts easily and works in a variety of depths. It's tough trying to contemplate a negative on the Shad Rap, and every angler should have one of these in their tackle box.
2. Rebel Teeny Wee Craw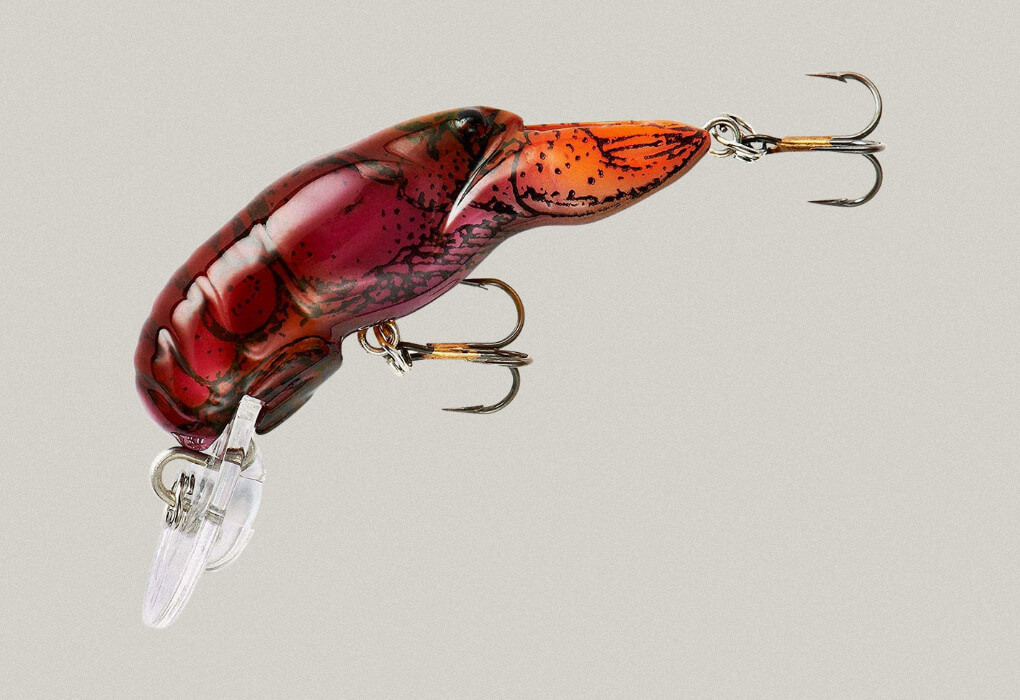 Pros
Anytime and anywhere crankbait
Highly detailed and realistic appearance
Great for more than just smallmouth bass, versatile
Wide variety of colors for different situations
Cons
Factory hooks are smallish
The Rebel Teeny Wee Craw is a favorite when it comes to smallmouth stream gear.
It's not much use out in the middle of a lake, but it's fantastic for what it's designed to do—catch smallmouth in streams and shallow water environments.
It's also very easy to learn. Its small size helps it avoid potential snags, and a moderate retrieval speed creates the perfect, rapid vibration.
Crawfish lures are designed to imitate a real crawfish as it bounces from rock to rock, and this one is incredibly real-to-life.
Smallies can't help themselves when the Rebel Crawfish crosses their path, no matter the season, whether it's the spawn or just a regular day on the river.
Crayfish lures are not all created equal, and Rebel's line of Rebel Crawfish truly stands out from the rest.
3. Bomber Fat-Free Shad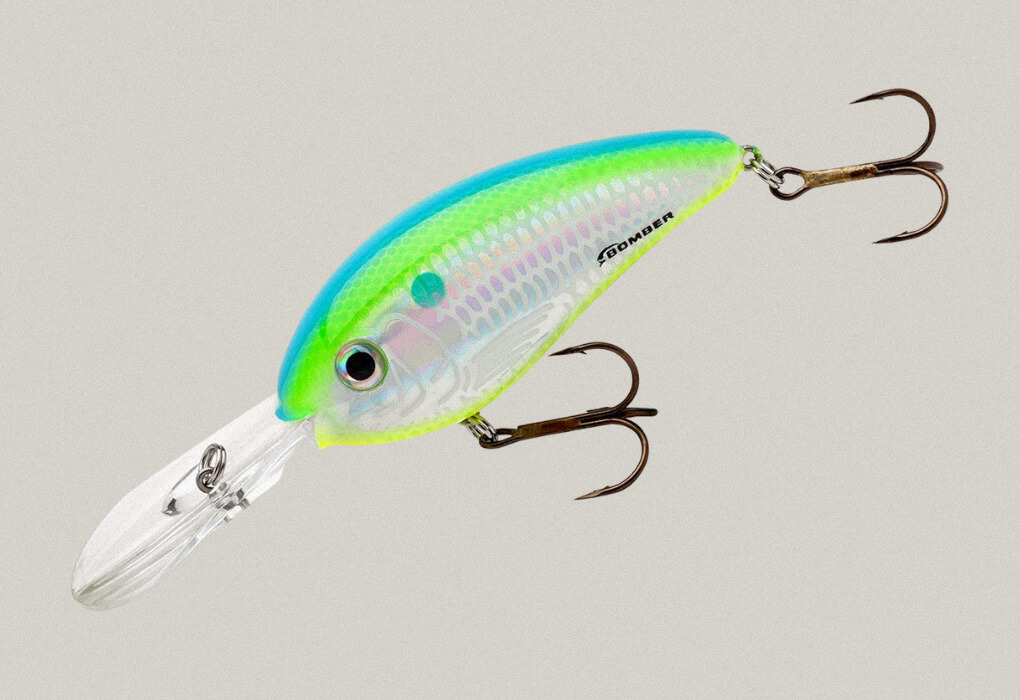 Pros
Easy to Cast
Square and rounded lip designs shrug off obstacles
Rapid recenter on impact
Wide variety of colors
Cons
Can kick over-aggressively right after impact
It's hard not to get cracked up reading the name of this impressive crankbait. Fat-free? Is there a sugar-free option as well? Fortunately, this is one of the best smallmouth bass lures on the market.
The Bomber Fat-Free Shad comes with a square or rounded lip, depending on what you prefer for dealing with a thick cover.
It has a highly effective profile, sound, and presentation when you're retrieving it. This is primarily a medium water crankbait that dives 6' to 12' down the water column.
Its best feature is its ability to re-center when it strikes something underwater.
It makes finesse fishing so much easier when you're working your lure over structures or around heavy cover. Either lip design is highly effective at shrugging off weeds and other vegetation.
The Bomber is also easy to cast and one of the most durable designs out there, with multiple colors for clear water and muddy water conditions.
4. Norman Deep Little N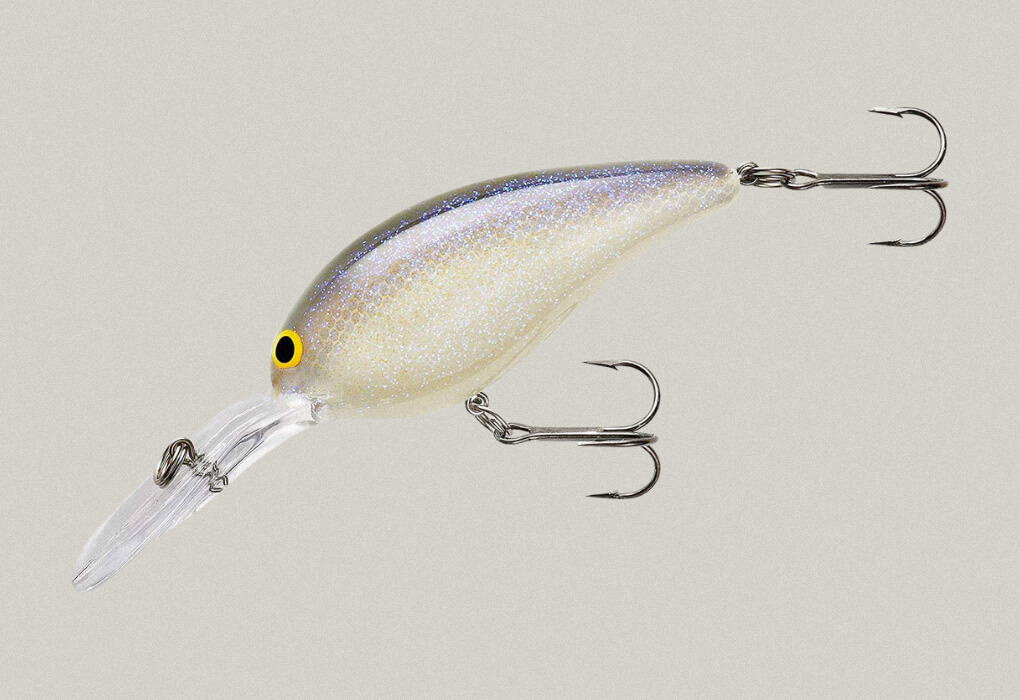 Pros
Medium-wide wobble
Excellent deflection qualities
High-quality colors
Accurate dive depth
Cons
Its rapid, deep dive can get it stuck on large structures
The Norman Deep Little N is a fantastic budget crankbait you can grab for around $3 to $5. New anglers, not looking to drop a fortune putting together a versatile tackle box, will love to get their hands on a few of these.
The medium to wide delivery of the Norman, the precision angled round bill, and the 9' to 12' dive make it an instant classic for anglers looking for the big bass.
It's often said that 9' to 12' is the sweet spot, and the Norman will effectively get you there and remain consistent over time as well.
The rounded bill is precision designed for deflective properties and, in practice, it's very true to form. With 17 color schemes to choose from, you're covered regardless of the weather and water clarity conditions.
5. Bandit 100 Series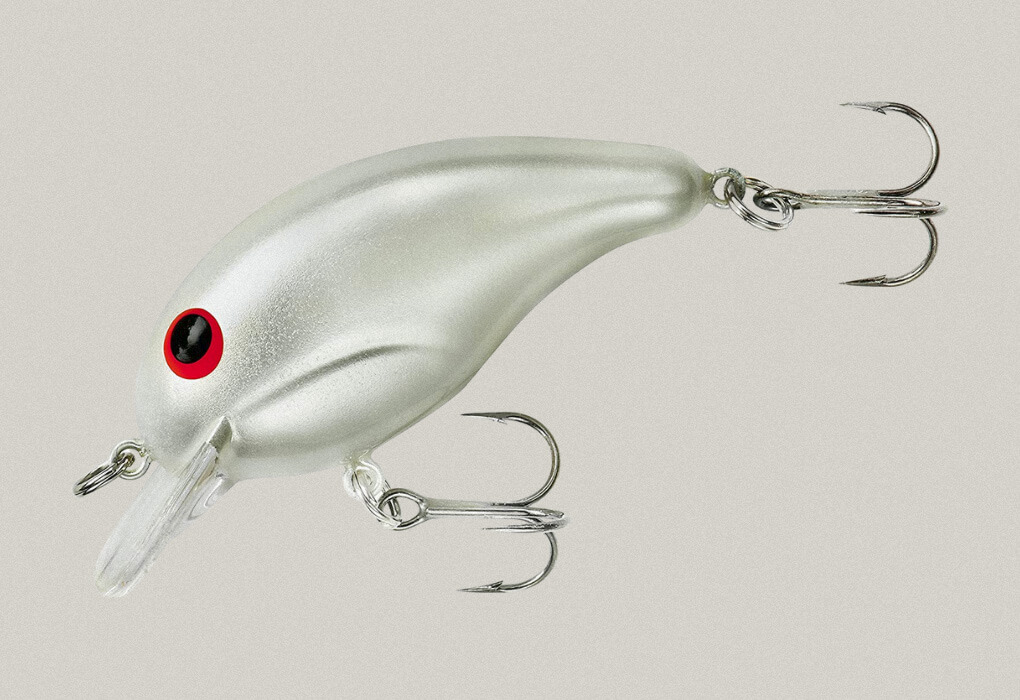 Pros
Massive color selection
Quality, all-season crankbait
Perfect size and weight (doesn't spook fish)
Stout, durable split rings
Cons
Since smallmouth bass don't just hang out in deepwater, it pays to have an excellent lure that's built to perfection for shallow dives.
The running depth for the Bandit 100 Series Crank is between 2' and 5', and there are more colors to choose from than any other lure on this list.
Its simplicity is its greatest strength because you don't have to tune it. It's ready to hit the water the moment you pull it out of the packaging. It's also incredibly durable—one of the longest-lasting crankbaits on the market.
It's a perfect, all-season option—sun-baked and gravel banks in the winter, laydowns in the summer, and pockets or various shallow sections in the fall and early spring.
The Bandit 100 Series is an affordable crankbait that will bring in the fish every season (unless your lake freezes over).
6. Cotton Cordell Big-O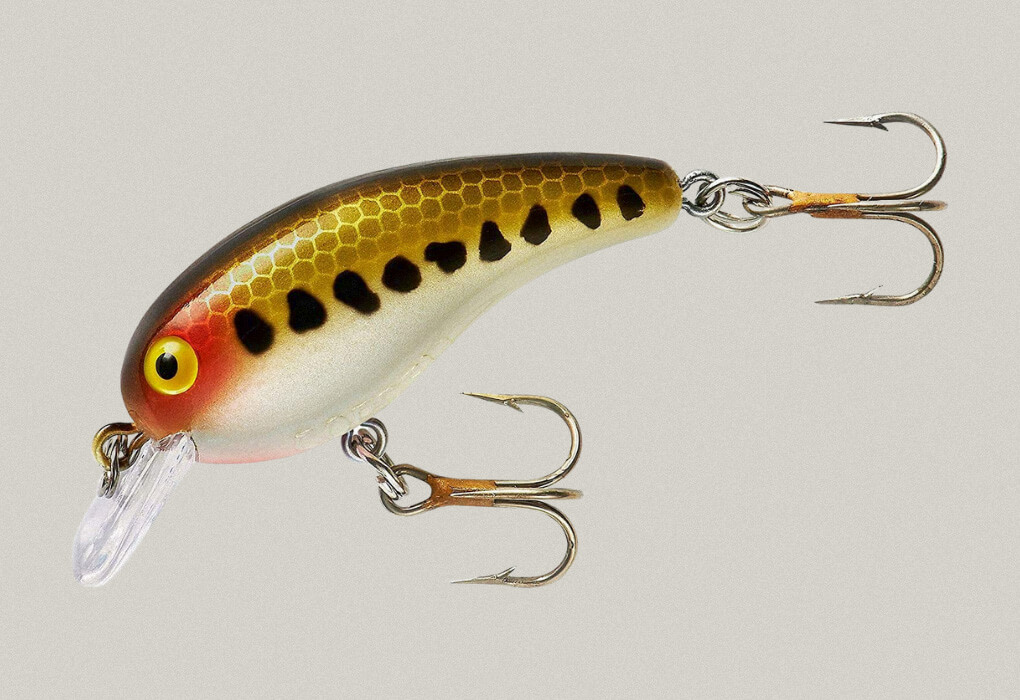 Pros
Improved square bill
Best crank for river smallmouth
Excellent cover deflection
Excellent rock and wood deflection
Cons
Largely overlooked by younger anglers
That last con is not really a con because there's not much in the way of bad things to say about the Cotton Cordell Big-O.
There's no such thing as a seasoned angler who hasn't at least heard of the Big-O. These cranks have been a staple in tackle boxes for a long time, which is always a hint that you've stumbled upon an excellent option.
The Big-O has everything going for it, including a precision profile, excellent deflection (for rocks, wood, and heavy cover), and swimming action.
There are three sizes to choose from, with the smallest covering creeks and streams and the largest covering large, sluggish-moving rivers.
The original bill has been completely redesigned for a higher degree of versatility, durability, and capability, transforming the Big-O into one of the best at deflecting light to moderate impacts with ease.
If you spend a lot of time fishing rivers, the Big-O is simply the best option on the market. Grab all three sizes, and you'll have any river in the United States covered.
7. Strike King Pro-Model 5XD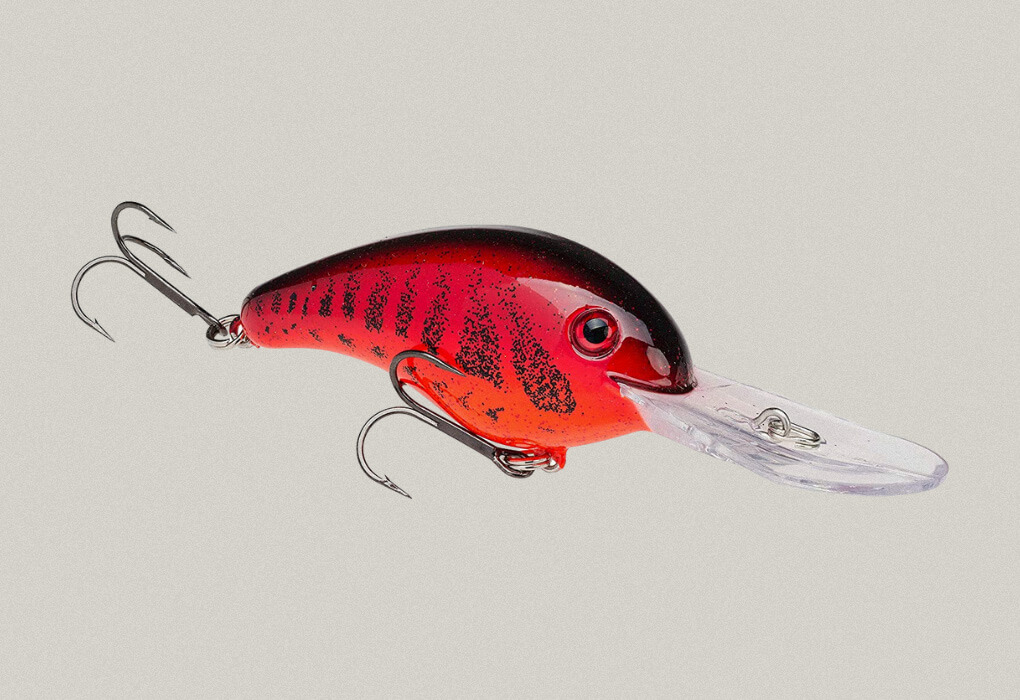 Pros
Dives hard and fast
15' depth
Large diving lip deflects well
Controlled casting determines the depth
Cons
No list would be complete without a Strike King. The Pro-Model 5XD is one of four, with each one only differing in how deep it goes.
Not only does the 5XD hit 15' depth rapidly, but it also stays there, thanks to its unique bill design.
Strike King offers a standard, rattling model and a more stealthy variant. Keeping both with you is a good idea, as the stealth is designed for mop-up duty after you spend the day killing it with the rattling version.
The farther you cast out, the more rapid and deep the dive, giving you a sense of control based on your casting distance.
Though it doesn't come in the widest array of color options, the existing ones are natural colors and look fantastic.
8. Savage Goby Crankbait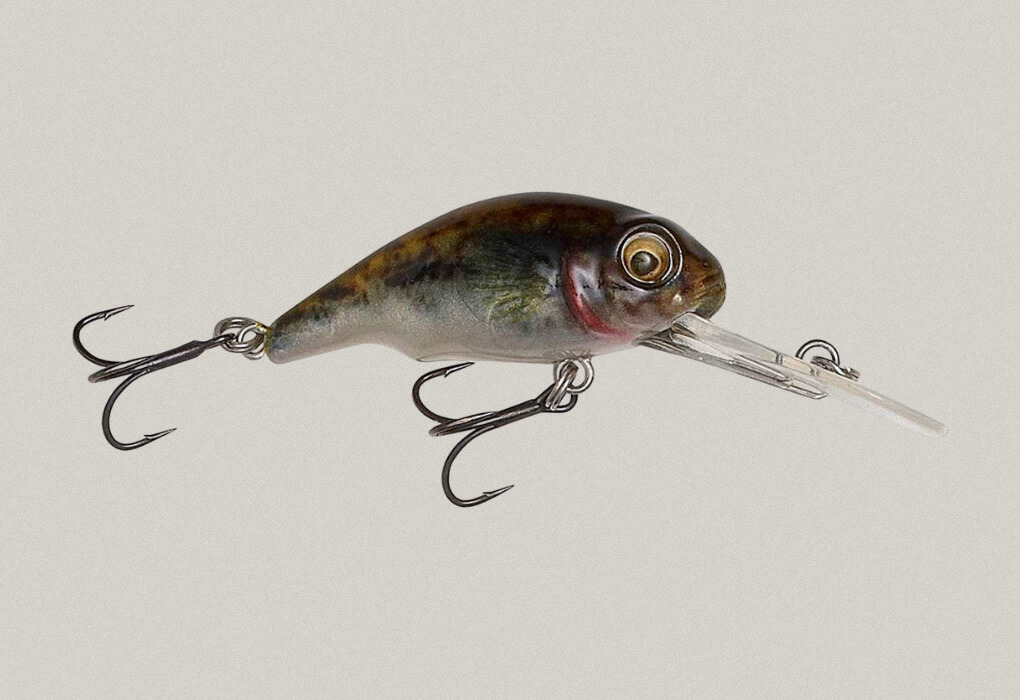 Pros
Photorealistic scanning
Very lifelike, erratic action
Excellent, natural deflection
Tubular rattle chamber
Cons
This is one of those crankbaits that requires some finesse. You don't need to bring it in hard and fast. According to Kevin VanDam (KVD for short), "Slow it down. Don't reel it so fast. You'll get a lot more bites."
A surprising twist of logic that comes from a guy who made his name with speed.
Savage Goby Crankbait bodies are the direct result of 3D scanning gobies, which gives them an eerily realistic look and vibe, especially when you slow-reel it and watch the underwater action.
It doesn't get any more "real" than this.
The wide bill design is excellent for bouncing off of rocks, imitating a real-to-life cause and effect that draws the smallmouth (and largemouth bass as well) in like nobody's business.
The only shame here is that Savage could only manage four color variations. The more the better in this line of business.
9. Spro Little John MD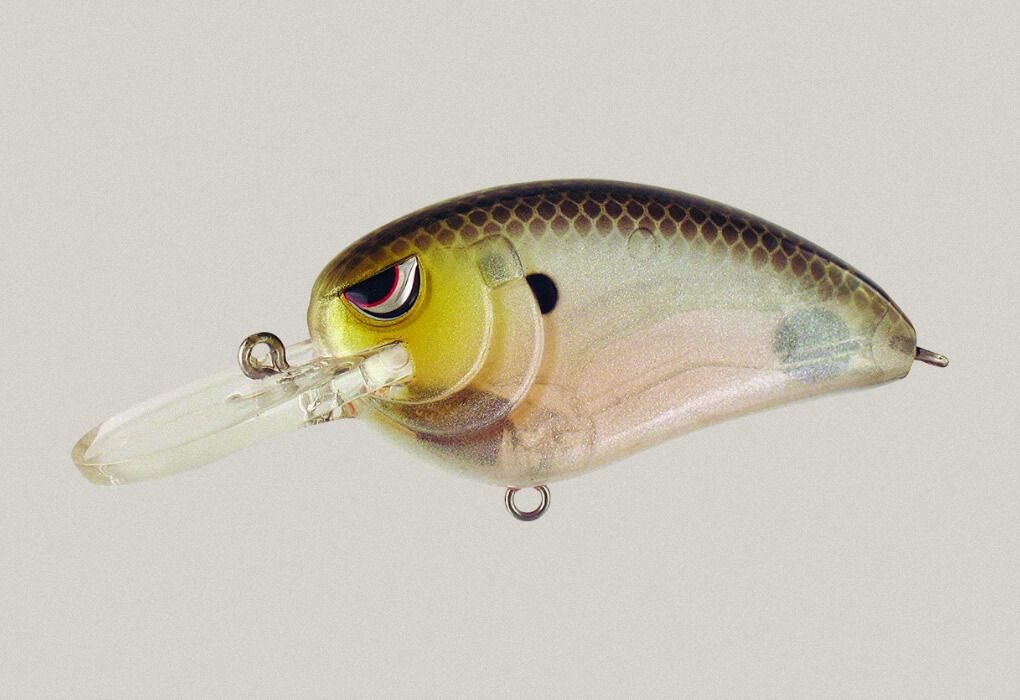 Pros
Low-pitched, highly attractive humming effect
Outstanding casting performance
Computer chip board lip
Tight, controlled wobble with excellent deflection
Cons
Spro makes outstanding hooks but sells them separately
This is an angry-looking Spro Little John crankbait. Though the color options are varied, both natural and vivid in detail, Spro went with a decidedly angry fish face for their medium diver.
Fortunately, smallmouth don't really care if their prey is angry—they'll eat it anyway.
On the downside, this lure is unfairly flying under the radar, and that's a shame. It puts out one of the most unique sounds in the crankbait market, thanks to this little plug's tungsten weight transfer design.
Though it's labeled as "silent," it's decidedly not.
Instead, the weight transfer, designed to allow you to outperform any of your previous casting capabilities, also gives off a low-decibel hum.
Whether it's inadvertent on the side of the manufacturer or not, it certainly works well beyond expectations. With its other, more intended features aside, this is one of the best fishing lures on the market.
10. Berkley Dredger Crankbait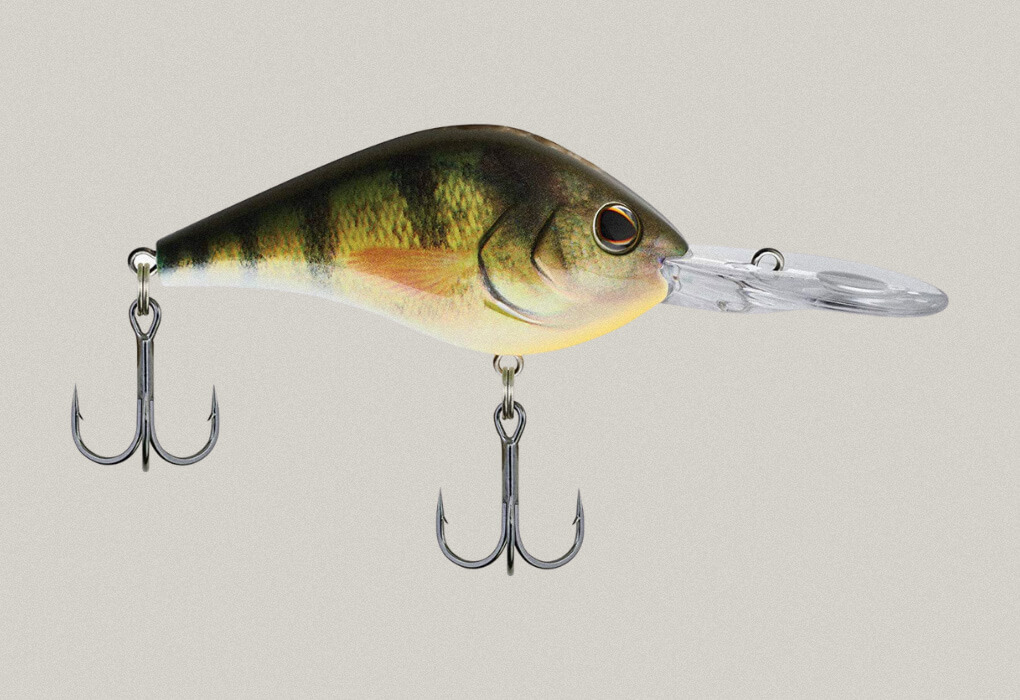 Pros
Smaller but capable of diving deep
Stays suspended exceptionally well
Year-long production testing on high-quality paint jobs
Less resistance equals more fishing
Cons
Not as useful in muddy water
We threw Kevin VanDam's name in the ring up above, so it's only fair to add David Fritts to the lineup, if only because he speaks very highly of this particular plug.
With its smaller profile, it's stunning how easily the Berkley Dredger reaches the depths. The largest size reaches 26'.
If everyone around you is suspending jerkbaits, using jigs, and plastic worms, you can compete with a crankbait.
Likewise, if everyone is working crankbaits, you'll have a distinct advantage when the smallmouth hang out in the lower end of the water column.
Not only that—you'll also be out there longer. The narrow profile and lightweight make this crankbait a breeze to work all day long. Fatigue will quickly become a historical footnote.
The variety of colors is excellent as well, including the well-tested, in-depth paint jobs that hold up well, even when the Dredger is a battle-hardened veteran.
Frequently Asked Questions
What color crankbait is best for smallmouth bass?
The best color crankbait for smallmouth is a simple one. Everybody has their own opinion on the best crankbait colors for smallies. That means sticking with bright, vivid colors. 
A natural variation of bright colors is best in clear water, while something wild and crazy is better for cloudy or muddy water. 
What is the best smallmouth bass lure for fishing?
The best is dependent on conditions. In clear water, a ned rig (small, plastic bait with a light jighead) works very well.
Jigs cover a wide range of water conditions, while topwater lures are effective in the summer months. 
Drop shot rigs often bring success in pressured waters, and spinnerbaits do well in murky water conditions. 
What are the best fall crankbaits for smallmouth bass?
Bottom Line
These ten weren't randomly chosen. Even the lesser-known Savage Goby and the sadly underrated Spro Little John are carefully selected based on what they do and how well they do it, not on some infomercial.
There's too much versatility to ignore, and these ten crankbaits have a lot of that to offer. Better yet, they're durable and long-lasting.
It doesn't matter how fantastic it works if your crankbait goes in the garbage after your first catch.
Crankbaits shouldn't be the only thing in an angler's tacklebox when it comes to fishing for smallies. But not having any is akin to tackling a house-building project and only bringing half your tools to the job.
Have a favorite? Let me know in the comments!