---
We independently research, test, and recommend the best products; you can learn more about our review process here.
If I asked you, what brand comes to mind when you think of the "best fish finder" you'd probably say Humminbird, Lowrance, or Garmin, right?
Those are the three brands that tend to stand out. Raymarine is more known for its popularity in the boating community.
When you look at the Raymarine Element S, you'll understand why.
But, if you stick around, you'll read my review of the Raymarine Element HV.
Folks, this may be the best fish finder I've ever seen.
It's a $2,000 fish finder priced less than $1,000.
In this Raymarine Element review, we take a look at a serious underdog in the world of marine electronics and fish-finding tech. Do yourself a favor and read through this in its entirety.
When you're done you'll have enough ammunition to call over your wife and explain why you should get this fish finder immediately.
Comparison Table – Raymarine Element Review
Image
Features
Rating
Price

7,9, or 12-inch screen size
Equipped with Raymarine LightHouse charts and Navionics
Quantum Wireless radar
Fast and accurate 10hz GPS/GNSS sensors
Compatible with high CHIRP transducer for transom or thru-hull

Check Price

7,9, or 12-inch screen size
Equipped with RealVision 3D for contour changes
Superior HyperVision for high-resolution imaging
Fast and accurate 3D imaging
Includes all-in-one transducer for transom mount

Check Price

Element fish finding unit sold separately
Comes with a 350kHz CHIRP CPT-S ice transducer
Pre-drilled for mounting your Element HV
Comes with extra storage for tackle
Waterproof bag, battery with charger, base, and clips

Check Price
---
Raymarine Element Review: By Model
As a recreational angler, Raymarine has never been my "go-to" model when it comes to fish finders. That said, it seems like they're finally listening to the needs of the people. Raymarine is more known for its GPS units rather than its fish finders. You'll see that become more and more obvious as you get into the review below.
As you make your way through these Raymarine reviews, take notice of the various features of each model. There are three main offerings, the S, HV, and ice fishing models. If you're short on time, read the HV review above all else.
Raymarine Element S Review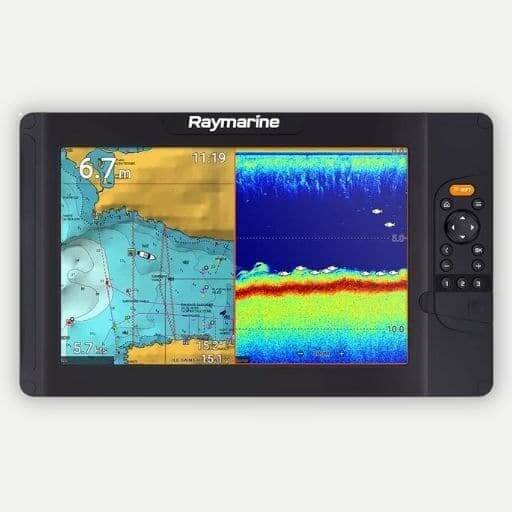 Specs
7,9, or 12-inch screen size
Equipped with Raymarine LightHouse charts and Navionics
Quantum Wireless radar
Fast and accurate 10hz GPS/GNSS sensors
Compatible with high CHIRP transducer for transom or thru-hull
The first model we'll look at is the Element S. I guess you would consider this the "base" Raymarine Element model since it's the most affordable option.
This unit combines GPS navigation, charting, and CHIRP sonar into one unit of various screen sizes.
You can choose between a 7,9, or 12-inch screen size and all the features remain the same regardless of what size you choose.
The Element S really seems to excel as a saltwater fish finder because it offers personal sonar mapping, autopilot, and a waypoint key. The waypoint key helps you navigate by indicating things like wind speed, water depth, direction, and boat speed. You can program the menu to display what information is important to you.
I would go out on a limb to say that the Raymarine Element S isn't really a fish finder at all. It's more of a navigational tool for sailing and boating in the ocean. While you can use it to identify contours and structure, there aren't too many features to actually help you find fish.
You should also understand that you need to purchase the transducer and hardware separately. In addition to the cost of the unit, you'll need to buy whichever transducer you plan to use with the fish finder based on what type of boat you have.
This can become confusing and it's something that frustrates the heck out of me. For those who don't have a ton of experience, reading through manuals and trying to figure out two separate pieces of equipment can be difficult.
Who is it for?
The Raymarine Element S is for anglers who would also consider themselves boating enthusiasts. This unit is honestly a navigational device first and a fish finder second. It comes with a large number of mapping options as well as features you can use for sailing and operating your boat at sea.
If you're looking for something more dedicated to fishing, you'll want to continue reading about the Raymarine Element HV. That's the unit designed specifically for finding fish.
Raymarine Element HV Review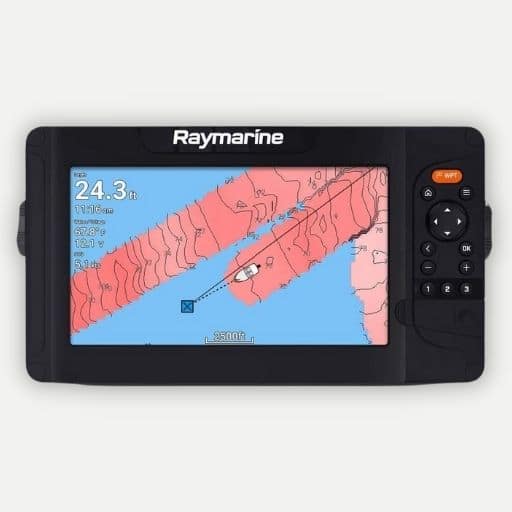 Specs
7,9, or 12-inch screen size
Equipped with RealVision 3D for contour changes
Superior HyperVision for high-resolution imaging
Fast and accurate 3D imaging with quad-core processor
Includes all-in-one transducer for transom mount
Now we're talking. The Element HV is the fish finder you're looking for if you're not simply out for a day on the boat. It offers a crisp and clean view with Element HyperVision which I believe is one of the clearest sonar images on the market right now.
Plus, you get options. You can choose between DownVision, SideVision, and RealVision 3D which offers advanced three-dimensional imaging of everything including structure, vegetation, and fish.
I get excited just talking about it because I know you're going to love this one.
The HyperVision 1.2 MHz imaging is impressive and they do a really nice job of marketing it. According to the manufacturer you can view up to 100 feet in high resolution. This includes both down and side imaging. Having that type of range is incredible if it holds up to the claim.
As always, I suggest taking some distance off because by the time you reach 100 feet you'll have lost a lot of the quality they claim to provide.
As for the more typical down and side imaging, you get a 380kHz frequency which is lower than a lot of other fish finders that offer 455kHz.What does this mean?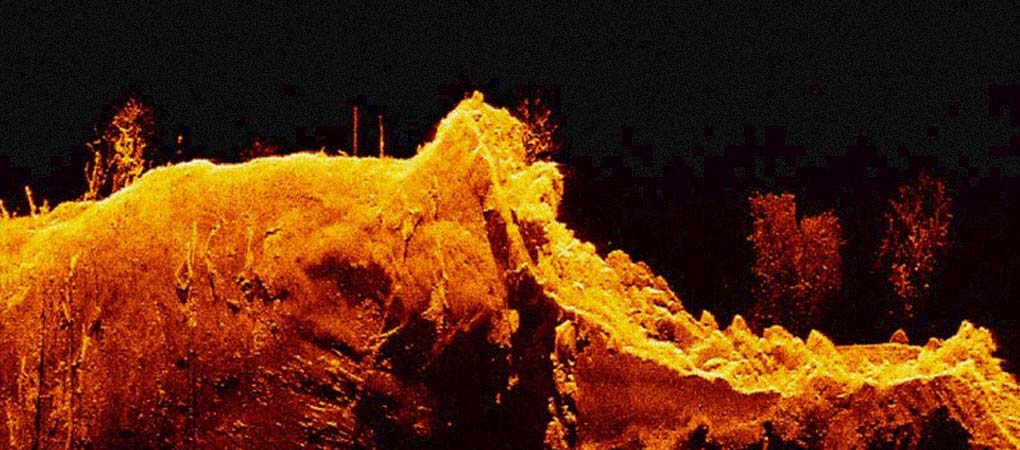 It means that the fish finder is designed to provide a more crisp image at further distances and depths. The sidevision feature offers up to 300 feet and the downvision offers up to 600 feet. These are very high ranges compared to other fish finders at this price point.
For example, the Garmin Echomap UHD is higher in price but only offers 125-foot sidevu and 200-foot downscan. That should give you an idea of how much of an improvement you get with the Element HV.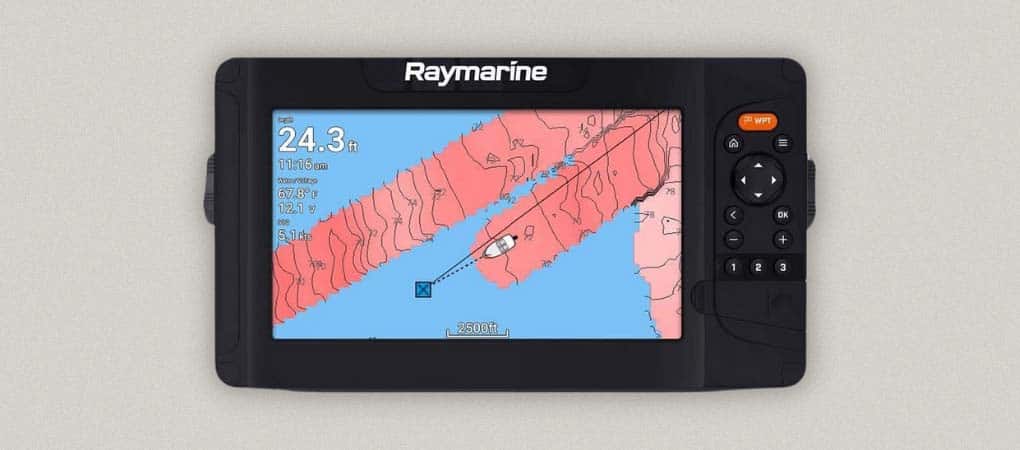 In addition to all the fish-finding sonar, you also get mapping options through LightHouse, Navionics, C-Map, and more. Of course, these are all optional upgrades that will cost you more but you get to pick and choose what mapping you'd like based on where you live.
If you're a freshwater bass angler like myself, you'd want Navionics because it offers the most freshwater applications.
Raymarine RealBathy is another feature unique to these models. (it also sounds kinda funny) It's short for bathymetric which measures the depth of the water. You can create contour maps in real-time completely unique to your unit. This is another feature not found in very many fish finders and especially not for units under $1,000.
The Element HV comes in three sizes ranging from 7 to 12 inches. If I could, I would've done a complete Raymarine Element 9HV review because that's the size I would go with. Split it right down the middle, not too big, not too small.
Who is it for?
The Raymarine Element HV is for everyone. It's really a fish finder that has something for everyone without having too much. It has basically every GPS and mapping option you could want and you get to pick and choose which options to keep and which to omit.
Plus, you get industry-leading resolution and clarity. It's hard to beat the quality of the image this fish finder provides at its price point. Plus, there aren't too many 7-inch screens that offer down, side, and 3D imaging at this price either.
What I'm trying to say is, this is the fish finder you want to call your wife and tell her about right now because you're sure she'll say yes.
Element Ice Fishing Kit Review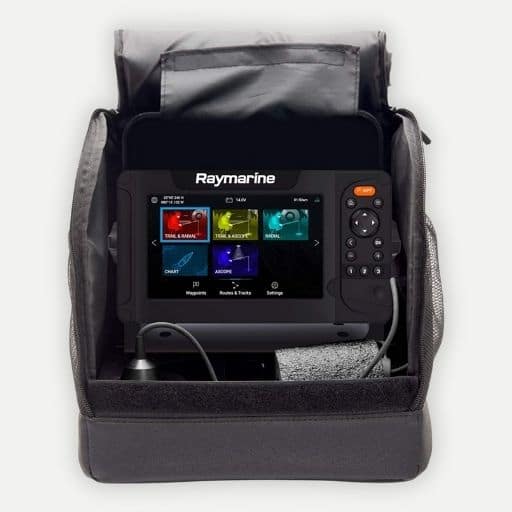 Specs
Element fish finding unit sold separately
Comes with CHIRP CPT-S ice transducer
Pre-drilled for mounting your Element HV
Comes with extra storage for tackle
Waterproof bag, battery with charger, base, and clips
This is an ice fishing kit that you can purchase alongside your Element fish finder. Keep in mind that the fish finder does not come with the ice fishing kit, you need to buy that separately.
What does come with it is a high-frequency ice fishing transducer which is pretty cool. The kit contains a waterproof bag, pre-drilled base, extra storage for tackle, base, and battery charger.
The fish finder itself also features an ice fishing flasher which will be especially useful for ice anglers.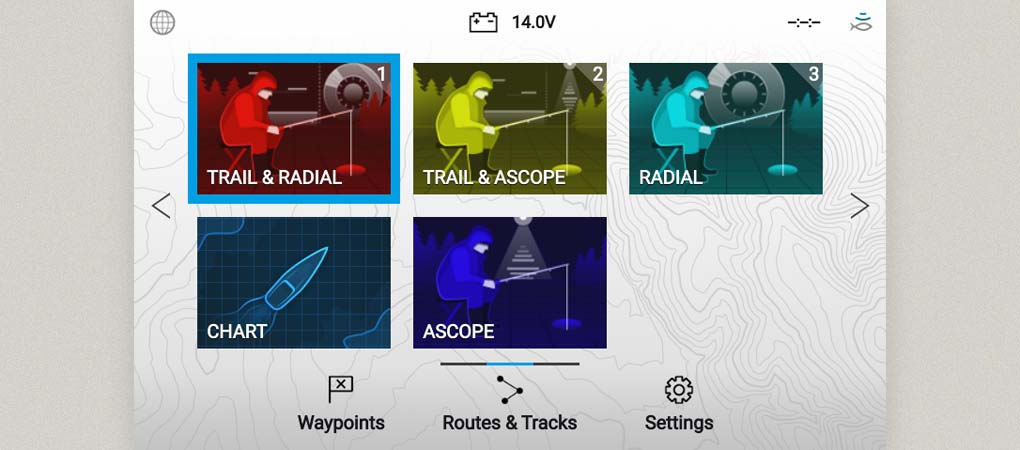 You can also choose between five different settings that allow you to customize your display.
Trail & Radial – Livescope view of underwater plus the flasher
Trail and Ascope – Livescope view with current directional tracking
Radial – Just the flasher
Chart – GPS and chartplotter
Ascope– Just directional tracking
Who is it for?
This is a simple one, this kit is for ice anglers. If you go ice fishing once per season, you should be able to get by without this but if ice fishing season is a popular fishing time, you'll want to consider this upgrade. Like everything else from the Element Series, it's relatively affordable compared to the market.
Plus, it's one of the most complete ice fishing kits I've ever seen. They provide you with everything you need in one purchase so you're not left piecing together everything you have and buying aftermarket parts because something was left out. Raymarine does a nice job of including everything you need in the kit.
Breaking Down the Main Features
We've talked a bit about the features throughout this Raymarine fishfinder review but I want to elaborate a little more on some of the things that make this fish finder stand out from the rest. At first glance, it's truly a premium unit balled up into a package that almost makes it look like a budget fish finder.
I'm here to tell you, the features are anything but "budget."
Display/Screen
First, let's look at the screen itself. It comes in three different sizes, 7, 9, and 12-inch options. They're all the same with the exception of the screen size and this is the main feature that determines the price as well.
If you're on a lower budget, you can sacrifice by choosing a smaller screen, no big deal. It comes with an LCD 800×480 pixel resolution screen with 1,500 nits. This makes the screen bright and highly visible no matter what the lighting situation is outside.
These screens have a 70-89 degree viewing angle which is some of the best on the market and they come with my favorite, keypad controls only. There is no touchscreen which makes navigation simpler and I believe it increases the longevity of the unit.
As for connections you get two round IP67 connectors, a 15 pin connector for the sonar and an 8 pin for the power with NMEA2000. It comes with Wi-Fi, Bluetooth, and a SeaTalking radio networking connection as an optional upgrade. This is more of the boating element coming into play here.
The units also feature a microSD slot which is important for storing and transferring mapping data. You'll also use this for software updates to sonar technology.
Sonar
I want to focus entirely on a Raymarine Element 9HV HyperVision fish finder review here. It's the middle-ground option and the best choice for anglers.
It comes equipped with the HV100 transducer that offers literally everything you could want in a fish finder transducer. You get downvision, sidevision, hypervision, realvision, and CHIRP sonar. Securing it to the boat isn't too difficult because they provide you with all the hardware you'll need.
As for the sonar itself, it's pristine. Let's talk about the flagship feature which would be the 1.2 MHz HyperVision imaging.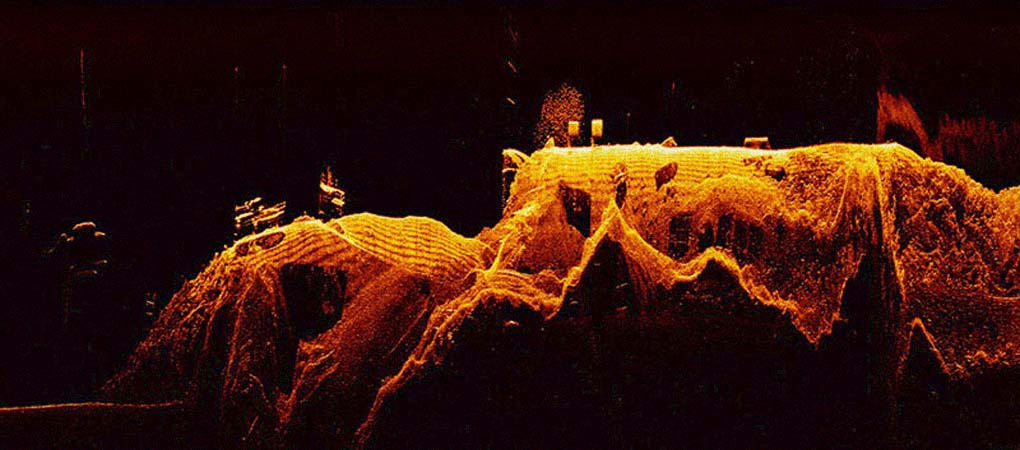 This is what you'll see on your unit if you have it set to hypervision down imaging. This is some of the best imaging I've ever seen from a fish finder under $1,000… under a grand folks! Look at it! The quality of the image is unmatched and it really does all the talking for me.
As you can imagine, the range on this type of image is pretty low at least than 100 feet but that's okay. You can use the wideband long-range imaging to scout the water and then narrow it down when you feel like you've found where you want to fish.
The Raymarine HV models also have a longer range than most other units I've ever seen at 600 feet down and 300 feet on each side.
Mapping and GPS
Since Raymarine was a GPS company first, their mapping and plotting is next level too. All the Element models come with Raymarine LightHouse, fishing hotspots, Navionics, or C-Map. You can pick and choose which of these options you want.
The navigation is of course more comprehensive on the Element S model because it's designed for boating enthusiasts and not fishermen but what you get on the HV should be more than enough for most anglers.
Alternatives to the Raymarine Element
I've said a handful of times throughout this Raymarine Element that many features surpass the competition. So, I figured what better way to make this comparison than to actually compare the Element side by side with some other fish finders.
I've used and reviewed all three of these alternatives and they're pretty popular household names so let's take a look.
Humminbird Helix 7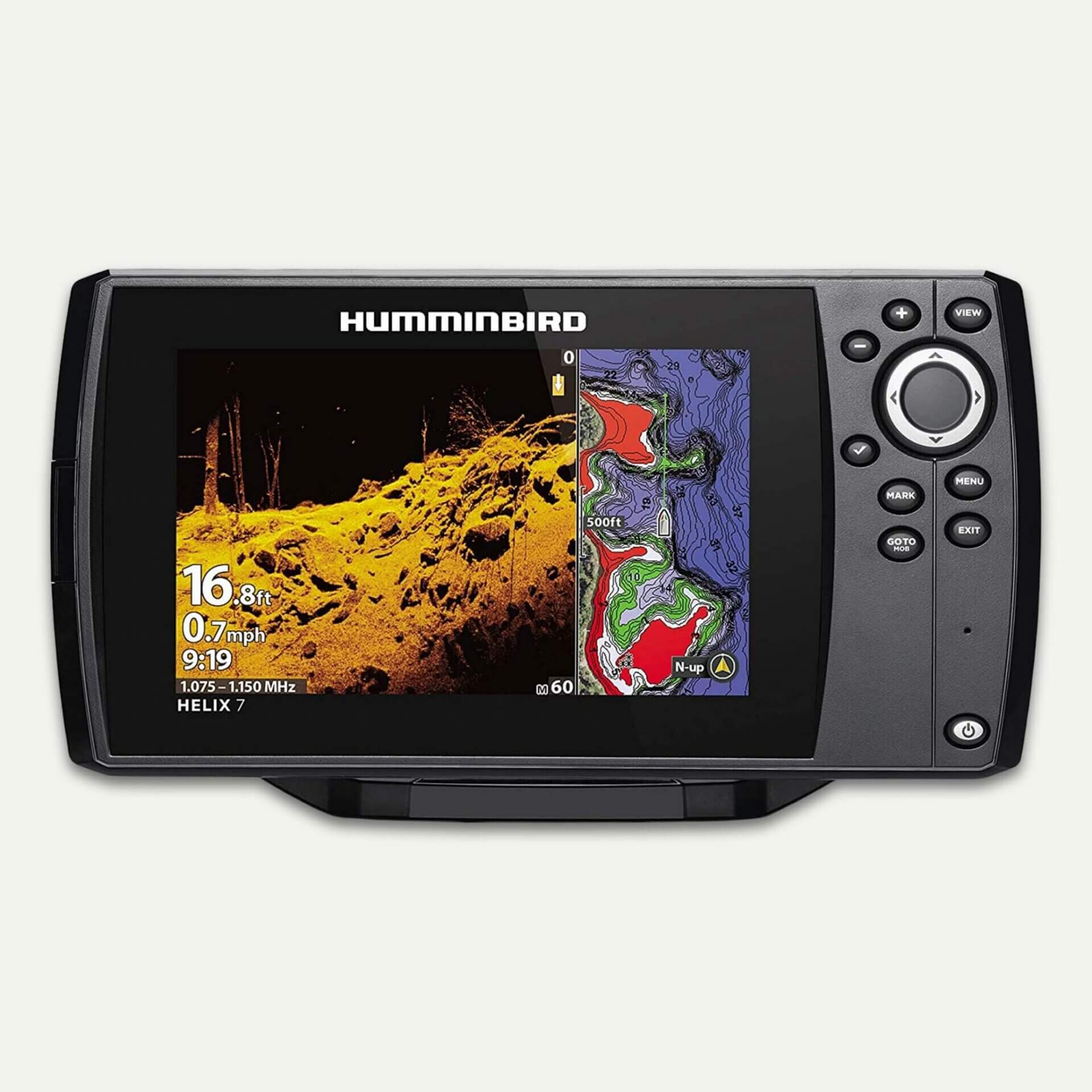 The Helix 7 is one of the most popular fish finders on the market right now and it offers many of the same features as the Element HV. It's got 800x480 pixels and a 256 color palette so image quality should be around the same. The Helix does come in a 5, 7, 9, 10, and 12-inch option so you can choose between five sizes instead of only three.

I'm also a fan of the fact that you can pick and choose a lot of features such as GPS and mapping. You can get as much or as little as you want and they also offer GPS models designed for saltwater and others designed for freshwater just like the Element.
Comparing the Raymarine Element vs Humminbird Helix comes down to the imaging. The Helix 7 does offer side, down, and "mega" which is their equivalent of the HyperVision but the image quality simply can't compare to the Element HV. Plus, it's more expensive by as much as $300 in some cases.
Click here to read my full review of the Humminbird Helix 7.
Garmin Echomap UHD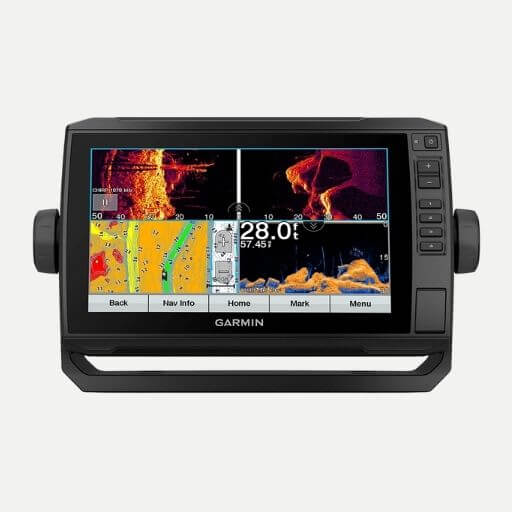 I've made a few comparisons to the Echomap UHD throughout this Raymarine Element review and it's definitely one of the closest models in terms of quality and price. The Echomap has a ton of options including about 14 different models ranging in size, features, GPS, and sonar.

Depending on what model you choose you'll get either ClearVu or SideVu. Again, this is one area where other manufacturers are lacking. They don't provide an all-in-one transducer like the Element HV does. One price, you get everything, it shouldn't be that hard.
ClearVu would be the closest thing Garmin has to the Raymarine HyperVision. Let me include a screenshot to help you compare.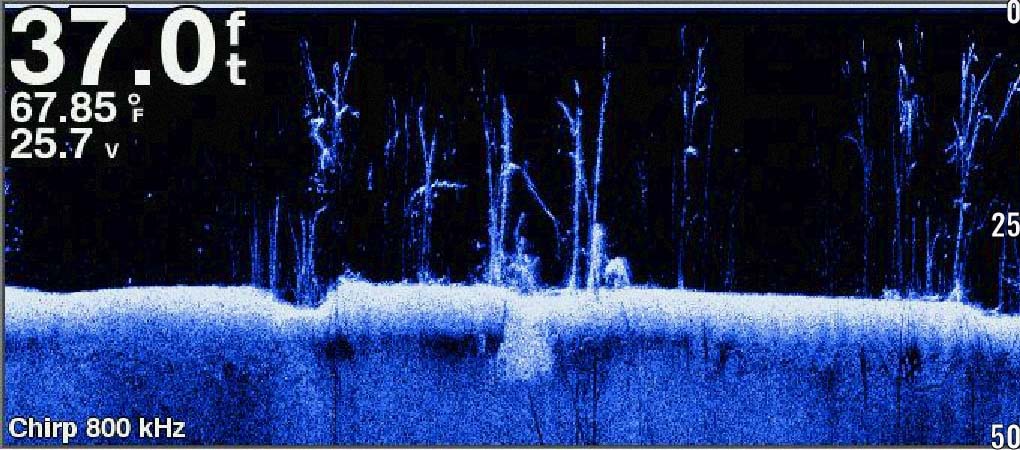 Can you hear me making a fart sound with my mouth? It's not as good as the HV and that's pretty obvious. Plus, to get the Echomap with both down and side imaging you're looking at well over $1,000 which is double the price of the Element HV.
Click here to read my full review of the Garmin Echomap UHD.
Lowrance HDS Live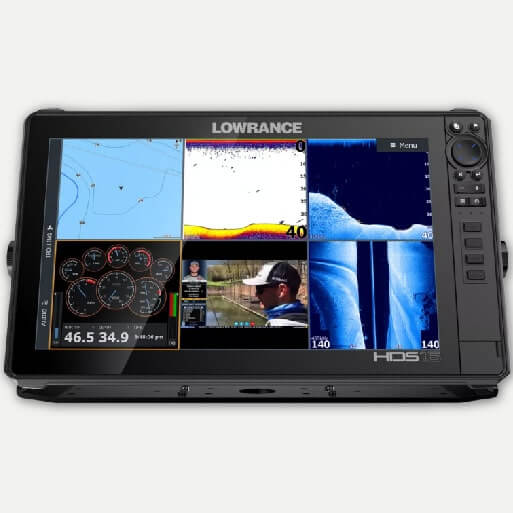 Please! I need to find something that can stack up to the HV! Could it be the Lowrance HDS Live with some of the best imaging ever created? For starters, you can choose between four different models. There is the Live 7, 9, 12, and 16. The 12 and 16-inch models come with a 6-fold split screen so you can basically view everything the fish finder does at one time.

It comes with the SolarMAX HD touchscreen which is the highest resolution screen on the market right now. It's clean, crisp, and the split-screen is a pretty great feature.
Now for the meat and potatoes. The HDS Live offers a feature called "FishReveal" which is a step up from the HyperVision sonar in my opinion. Here it is: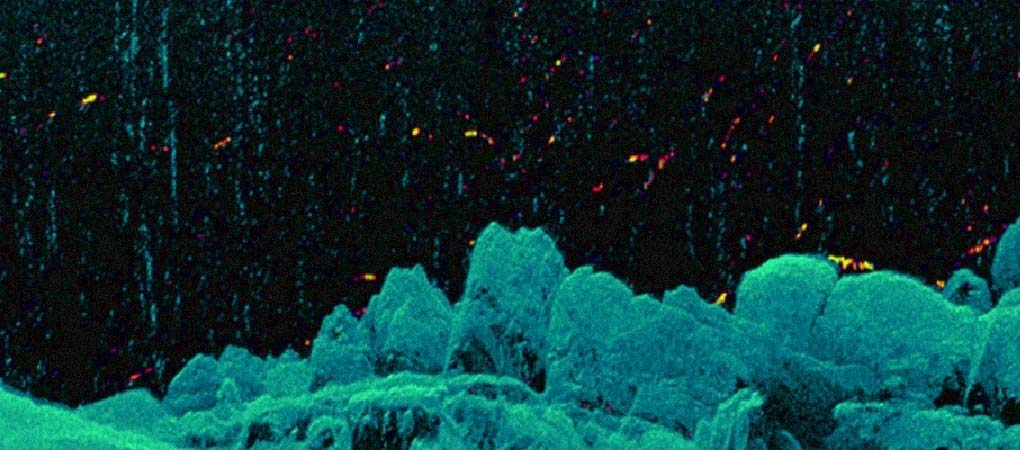 Pretty sweet, right?
The FishReveal feature offers the same depth as the Element HV and definitely a clearer and more comprehensive sonar view. Ready for the nail in the coffin?
This is a live image.
You can actually view your bait sinking in the water and see a fish moving towards it. When you feel a nibble and see on the unit that they're near your bait, you can be certain that you have a fish on the end of your line. Technology like this is pretty much unmatched at this point and it's about the only thing I've seen that rivals the Element's HyperVision.
Want to know the downside? This fish finder will run you over $2,000… It's more than triple the price of the Raymarine Element HV. Bummer…
Click here to read my full review of the Lowrance HDS Live.
Final Thoughts
Are you as impressed by the Element as I am? This was one of the most enjoyable fish finder reviews I've ever done because I feel like a lot of you will fall in love with this unit. It's almost confusingly affordable for what it offers.
In this Raymarine Element review, I think we really discovered one of the most slept on fish finders out there right now. This unit may have been on the market since 2019 but I don't think enough people know about it.
If you're interested in knowing more, click here to check out current prices and specifications. Tell your friends, tell your wife, and tell your uncle from Wisconsin. The Raymarine Element HV is the fish finder we've all been looking for.