---
We independently research, test, and recommend the best products; you can learn more about our review process here.
This Lowrance Elite TI review covers the three different Elite TI models including the 7,9, and 12. These top of the line fish finders offer total scan technology, mapping, chartplotting, and a high visibility touchscreen.
---
Our Take on the Lowrance Elite TI Models
Extremely high-resolution imaging
Variable scanning methods
Pre-loaded mapping
½ foot contours
Software sharing has a learning curve

The Lowrance Elite TI models offer a large display with Fishreveal smart targeted view. This makes it easier for you to see fish using the Lowrance Elite 7 TI downscan technology. With more than 4,000 pre-loaded lakes with one foot contours you're sure to find whatever fish you're chasing no matter where you go in the country.
Quick Facts
The original Elite TI models have been replaced with the new Ti2 models. Most of the features are the same with minor upgrades outlined below.
The Elite 9 is the only fish finder of its kind with wireless sharing of waypoints and sonar
You can receive notifications of incoming fish on your smartphone
It comes with active imaging paired with CHIRP for clarity and high-quality imaging
Features Structurescan which using sidescanning to help pick up on ideal fishing hotspots
SolarMax display is crystal clear and easy to read
Lowrance Elite TI Reviews: By Model
Lowrance Elite 7 TI Review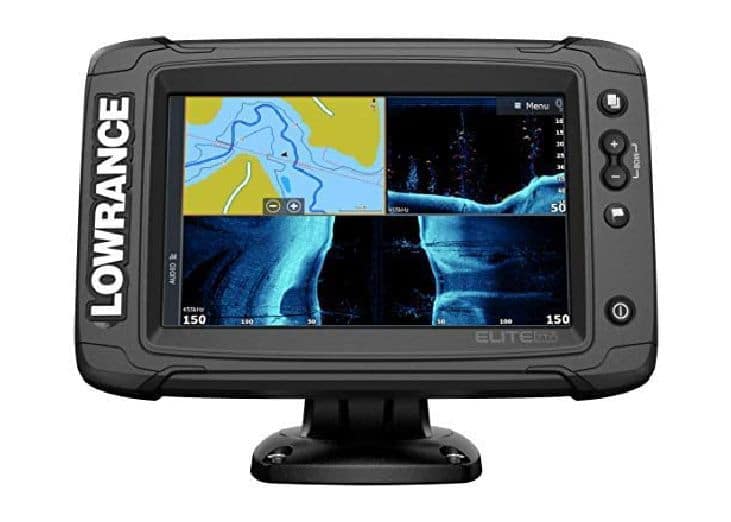 The Elite 7 model is the lowest base model available and it comes with a touch screen fish finder with chartplotting technology. You get a ton of high-end features with this one at a relatively affordable price in comparison to some other options.
Display/Screen
It offers a 7-inch high resolution split screen with LED backlight and easy accessibility to features and functionalities for people who might not be as tech-savvy. One of the issues that a lot of people run into with fish finders is being able to navigate them easily on the water.
You won't have to worry about that in this Lowrance 7 TI reviews because they're all easy to use, simple to set up, and pretty powerful if you can make the most of the features.
Sonar/Scanning
The Lowrance Elite 7 TI transducer is top of the line technology offering balanced sonar with low, mid, or high CHIRP. Plus you get the Structurescan technology offering up to 800 kHz frequency. The Lowrance Elite 7 TI totalscan transducer is really what makes this such a great fish finder.
Many anglers call it side imaging on steroids but it's an all-in-one transducer offering basically anything you could need when it comes to fish finding technology. You get downscan imaging, side scan, structure scan, CHIRP, broadband sonar, fish ID; I mean everything.
Most fish finders come with one or maybe two of these types of sonar but this fish finder has managed to bundle it all into one transducer which makes installation and maintenance that much easier as well.
Mapping
We're also bringing you a chartplotter in this Lowrance Elite 7 review. The fish finder comes pre-loaded with 4,000 lakes and 1-foot contours so you can narrow down your search, find the best water, and spend more time catching fish rather than chasing them.
The chartplotting technology is great because it allows you to map specific locations that you've fished before so you can revisit them. In the event that you aren't able to hit a certain spot, you could always check it out next time.
Best of all, with the wireless connectivity of the Elite TI series you can share your charts and sonar imaging across all your Elite TI fish finders.
Ease of Use
Being able to quickly install and use a fish finder of this level is never an easy task. There are a lot of components, installation steps, and technology involved especially for those who aren't tech savvy or that great with a wrench.
A lot of anglers still have some issues navigating the interface on the Lowrance Elite TI models. One big complaint I see a lot is the fact that you can't enable CHIRP without first disabling sidescan which requires you to go through a variety of different menus. When you're dealing with a touchscreen, this can become tedious and annoying when you'd rather be fishing.
I'm a huge fan of anything that isn't a touchscreen fish finder so I understand the frustration here. When Lowrance upgraded from the original TI to the TI2 models it looks like they got rid of most of the button interface so you have to do the majority of your navigating on the touchscreen.
Installing the transducer can also be a taxing chore. The box doesn't come with a manual so I went ahead and found you an installation guide online in case you purchase this one. This guide will work for all of the TI models.
Lowrance Elite 9 TI Review

It's important to mention before getting too far into this review that most of the features from the Lowrance Elite 7 carry over into the Elite 9. The main difference between the two is the fact that you get two-inches of screen and an upgraded GPS plotting feature. Nonetheless, let's dive into the Lowrance Elite TI 9 review!
Display/Screen
The display on this fish finder is amazing. It uses SolarMax technology which offers one of the most vibrant color images we've ever seen. It offers a resolution of 800 x 480 pixels and this rivals some of the best and most expensive models on the market.
One big complaint that a lot of anglers have is being able to see the screen if there is a glare. When you're out in the sun, you need to remember that identifying fish from structure isn't always the easiest thing so having a fish finder that offers the clearest and brightest display can make a big difference.
This is exactly what Lowrance realized when they included a pure white LED backlight which helps the colors pop even when the sun is shining directly on the screen.
Once again, we are dealing with a touchscreen and it has its own set of problems but you will likely get used to it after a while.
Sonar/Scanning
As you can likely tell by now, this is a versatile fish finder model. It comes with a vast assortment of different sonar and scanning technology including CHIRP, downscan, sidescan, and structurescan.
The CHIRP imaging is the most basic technology but it's been used for ages. What modern fish finders have done is expanding upon the single sonar technology to implement multiple frequencies at the same time which produces a much higher quality image.
Downscan is another industry standard that we would expect of a fish finder in this price range. It offers better lake insight of what's happening beneath the boat and you have the choice to use the CHIRP sonar or fish ID technology depending on how knowledgeable you are on fish finding technology.
Mapping
One of the only real upgrades besides screen size from the Lowrance Elite 7 to the Elite 9 is the mapping technology. Not only do you get the 4,000 lakes but you also get C-MAP Genesis Live which displays your maps in real-time. The technology will automatically update with ½ foot contours and the map moves with you so you don't have to constantly refresh.
This is some of the most advanced mapping technology i've ever seen and frankly haven't ever seen anything that rivals it. If you want to stay on the move and find drop-offs and points where fish are hanging out, this is the ideal GPS and chartplotting fish finder.
Ease of Use
Whether you're using a fish finder for the first time or you're on your 15th upgrade, you still want something that is easy to use. I personally like the quick control bar on the Elite 9 TI. I find that it helps make navigation a bit easier and I've never been a fan of using a touchscreen with dirty fingers.
The Quick Access control bar puts all the settings you need in one place. The only thing I wish they would have done is allowed you to customize the control bar based on preferences. I imagine this is something that will come in future models.
Lowrance Elite 12 TI Review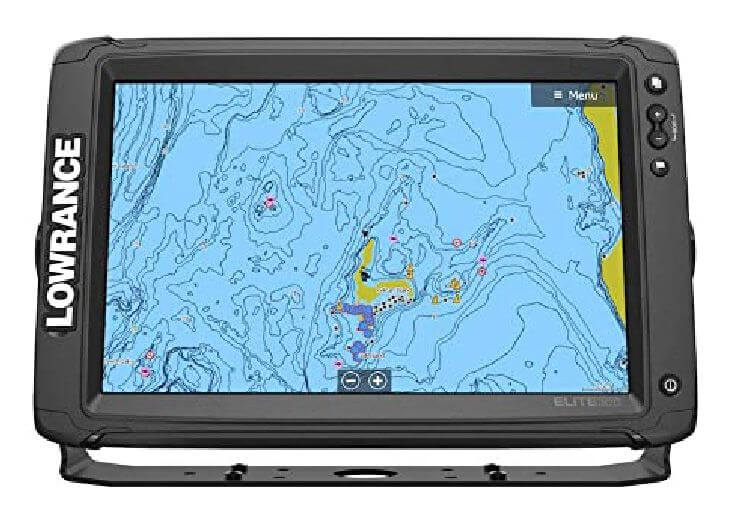 The Elite 12 TI is amazing technology that is revolutionizing fish finding technology. This review is going to be a bit shorter than the rest because there isn't as much to cover. Many of the features are the same but with the 12 TI you get a 12-inch screen which is a 3-inch increase from the 9 TI.
Plus, with the larger screen you can now see literally every angle of the water by looking at a single screen. They even include the mapping and chartplotting image on the screen as well.
This means you get the SolarMax screen clarity, advanced scanning, and C-MAP live Genesis mapping on one screen. Of course, this does come at a premium cost but it's so worth it when you install this fish finder and realize you'll never have to question a cast ever again.
To wrap this up, the Lowrance Elite 12 TI2 is worth a look. If it's outside of your budget, that's fine but this is a fish finder that isn't going anywhere for a long time and it's currently leading the way for fish finding technology. Give it a look and see for yourself.
FAQs
What's the difference between Lowrance Elite TI and Ti2?
Lowrance has recently upgraded all of their models to the Ti2 now so that's what you'll find in this Lowrance Elite TI review. That said, many of the changes they made are relatively minimal.
One of the new features is the wi-fi sharing technology. You can share sonar and waypoints between devices. So, if you have two fish finders or you want to share a waypoint with someone else, you can do that.
Sidescan is the only additional feature that's any different from the TI. You get high-quality sidescan technology and structurescan with the new models. The big difference here is the Trackback feature that allows you to go back and review sonar history in the event that you missed a fish at a certain spot. The Ti2 is a step-down from the advanced HDS model.
Does the Lowrance Elite 9 TI have GPS?
All of these Elite TI models feature mapping and chartplotting technology but they're not your typical GPS that you may expect. That said, you can use them in the same fashion but you'll have to do a lot of your own navigation because they don't have the Navionics app like some other GPS fish finders. These products do have the GoFree feature though that allows you to look up other anglers mapping to find hotspots. 
Does the Lowrance Elite 7 TI have side imaging?
The Elite-7 TI review offers side imaging and structurescan. All of the Elite TI models offer the totalscan transducer which includes sidescan, downscan, and structurescan.
Is Lowrance a reputable brand?
Yes, Lowrance is considered one of the most reputable fish technology brands. They're also one of the oldest. Some of their competitors are Garmin and Humminbird. You'll find other models from there such as the Insight Genesis, Insight Pro, NMEA 2000, Max-N, and more.
Can you use these fish finders for kayak fishing?
Yes, you might be better off going with a smaller option like the Elite 7 or one you could mount to a trolling motor. When fishing in shallow water, getting a dedicated kayak fish finder might be the best option. 
Final Thoughts
To wrap up this Lowrance Elite TI review, we're left with a choice. Do we want to purchase a fish finder, or not? Fish finding technology doesn't make a good angler but it offers a great way for you to hit the water and find fish much faster.
If your goal is to catch more fish this year, then you owe it to yourself to at least check out some of the fish finders in this review. They're top of the line products and sure to not disappoint.