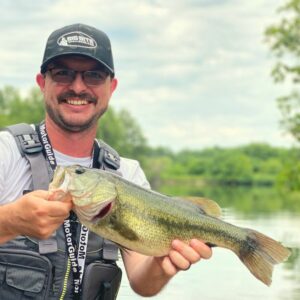 Wesley Littlefield lives in Northeast Oklahoma where he has spent the majority of his life in pursuit of the outdoors.
Growing up he was introduced to several different styles of fishing by his dad. In college he joined the bass fishing team where he learned competitive fishing is not for him.
However, he discovered how much he simply loved being on the water.
He has followed in his fathers' footsteps, introducing his wife and daughter to the incredible adventures the great outdoors offers!
Wesley Littlefield was born with a fishing pole in his hand, well, almost. As soon as he was old enough to reel in a fish, his dad was handing him the rod. This sparked a love for fishing for all species that Wes has never forgotten.
Fishing farm ponds as a kid evolved into joining the bass fishing team in college, where he learned competitive bass fishing was not for him. However, he loved being on the water, so he continued to fish and bought a kayak after a friend reintroduced him to kayak fishing.
Now Wes follows in his dad's footsteps, teaching his daughter to fish while pursuing every fish he can from his kayak and the bank, but he rarely turns down an opportunity to fish from a buddy's boat.
Wes has a B.S. in Environmental Conservation/ Wildlife Management. He learned to fish by picking up tips from his dad, grandpa, friends, and professional anglers on YouTube.
You can also find Wes's writing on other outdoor sites such as Kayak Angler Mag, Hiking & Fishing, Best Fishing in America, Sport Fishing Mag, and his personal Youtube channel, "The Kayak Kid"
Popular Articles by Wesley
Sorry, we couldn't find any posts. Please try a different search.
Latest Articles by Wesley