Whether you've fished for 40 years or 4 years, someone you know is out there catching more fish because they're using the best fish finder.
I've been fishing with and without fish finders for decades, and I'll tell you what, having a crappy one will hurt you more than having none at all.
If you're a fan of the endless goose chase of tailing fish all day, then, by all means, proceed. If you want an honest review of the best fish finders in 2023 so you can catch more fish and catch them faster, then keep reading!
Comparison Table – Best Fish Finders on Today's Market
---

In-Depth Reviews Of The Best Fish Finders
Garmin Echomap UHD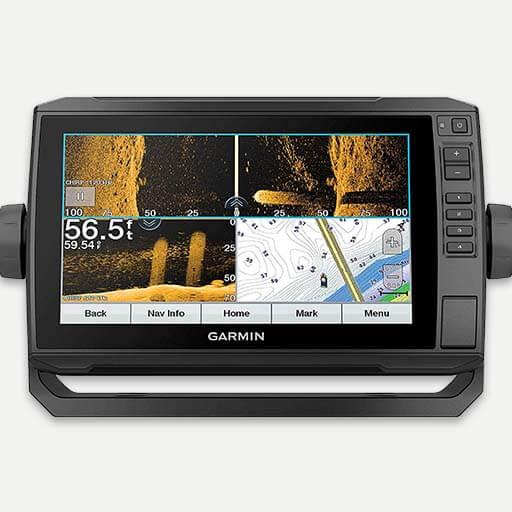 BEST OVERALL
Specs
Model: Echomap UHD
Type: CHIRP, Clearvu, Sidevu
Display: 4.3″ – 9.0″
Resolution: 800 x 480 pixels
Pros
Offers great mapping capabilities in both fresh and saltwater
Wide variety of models, prices, and sizes
Various sonar views
Cons
Large quantity of models can make it difficult to understand
Why We Chose It
Variety is the spice of life, right? Sometimes, but I don't know if that's the case when it comes to fish finding technology. You'll need the best brand fish finder you can afford.
Garmin is that brand.
The Garmin Echomap UHD offers a lot of options with a ton of different features.
Sometimes when you have this many options to choose from it can do nothing more than complicate things and make you pass the choice off onto a different fish finder.
That said, the feature that stands out most here is the mapping technology of the Echomap UHD. They offer Worldwide Basemap, US Lakevu G3, and Bluechart G3 which is the one I want to focus on.
Most fish finders offer US Inland Lakes on their mapping but very few fish finders offer coastal mapping and charting capabilities.
You'll get that if you opt for the Bluechart G3 in the Echomap UHD. It comes with access to fishing information and maps for all coastal fishing, canals, and ocean water.
You'll get data with 1-foot contours off the east and west coast as well as the Gulf of Mexico and Canadian Great Lakes.
I've never reviewed a fish finder with this feature and I find it to be the main standout and purchase point of the Echomap.
If you're a coastal, canal, or saltwater angler, you'll want to give this one a deeper look. You can check out our complete review of the Garmin Echomap UHD here.
Garmin also recently expanded it's Echomap model with the Echomap UHD2 Series chartplotter with Garmin Navionics+.
This includes a 6, 7, and 9-inch touchscreen with mapping that is preloaded into select Echoamp Ultra and UHD2 series units.
This new addition provides crystal clear imaging with the ultra high-definition GT54UHD or GT56UHD transducer with ClearVu and SideVu scanning.
Navionics+ is also now available as a preloaded option for those who purchase a new Echomap UHD2 or Ultra. That's the keyword, new.
This is not in the form of a model update but is now a standard offering in all new Echomap units that meet this criteria.
Side Note: If you don't have a ton of money to drop on a fish finder, then I highly suggest checking out the Garmin ECHOMAP Plus.
In my opinion, it's the best Garmin fish finder.
Bass Pro (See Price)
Cabelas (See Price)
Tackle Direct (See Price)
Garmin Striker 4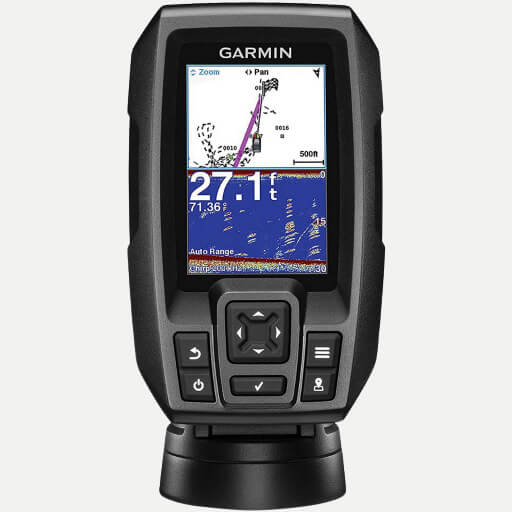 BEST DEPTH FINDER FOR THE MONEY
Specs
Model: Striker Plus 4
Type: Dual-Beam Transducer
Display: 4.3"
Dimensions: 3.9 x 1.8 x 6.9"
Pros
Priced less than $200
Simple to use interface is great for beginners
Features a split-screen GPS
Cons
The Garmin Striker 4 is one of the most popular fish finders on the market and has been for quite some time.
Part of the reason why it's so popular is because it combines a lot of great elements that you'd find in premium units but reduces the overall price due to it's small screen size.
This not only makes it a highly affordable unit, but it also makes it easy to mount on small boats and kayaks for a top-notch Garmin depth finder.
It's a great entry-level unit because it features an easy to program GPS and simple to operate interface with button operation.
Stacking it up against a similar unit in the Humminbird Piranhamax, it's night and day. The Piranhamax reminds me more of the type of unit you'd get in this price range.
The resolution is much lower, it doesn't offer as many options, and it even lacks accuracy. The Garmin Striker 4 is one of the best value fish finders on the market.
Bass Pro (See Price)
Cabela's (See Price)
Tackle Direct (See Price)
Garmin Striker Vivid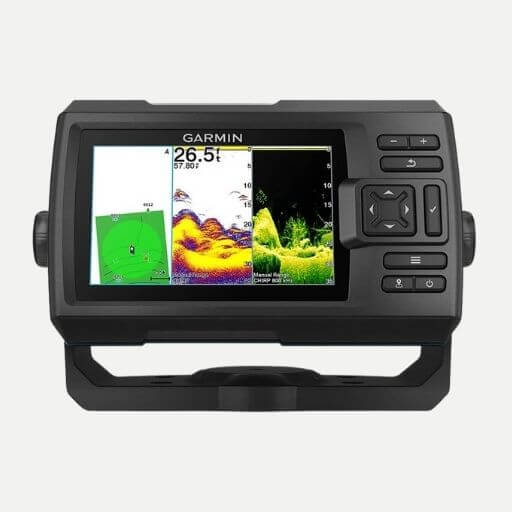 BEST VALUE
Specs
Model: Garmin Striker
Type: ClearVU
Display: 5″
Pros
Quickdraw contouring mapping
Enhanced visuals for improved imaging
ClearVu and SideVu sonar
Cons
You might look at this and right away see that it's not the cheapest on this list and that's alright because it's still the best fish finder for the money.
This one made the cut as the best value because of how many features it packs into a fish finder of this price range.
For less than $400, you get industry leading GPS, high-quality imaging, a five-inch screen, and button-controlled interface which makes it a lot easier to operate than the touchscreen options.
This fish finder is easy to mount, simple to use, and a great choice if you're shopping at this price point.
As for the sonar, it also offers clearvu and sidevu which are two premium features as well. These allow versatility in terms of the type of imaging you do.
Now, you can not only see what is happening beneath the boat but on the sides as well.
If you're struggling to find an affordable GPS unit that has a little bigger screen than the Striker 4, this is the fish finder you want.
Bass Pro Shop Fish Finders (See Price)
Cabela's (See Price)
Tackle Direct (See Price)
Lowrance Hook Reveal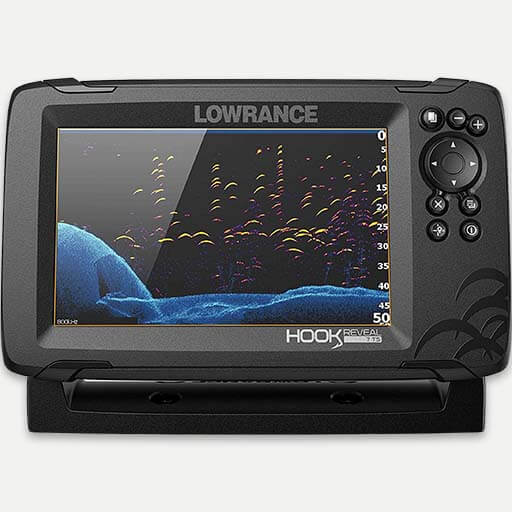 BEST FISH FINDER FOR RIVER FISHING
Specs
Model: Lowrance Hook Reveal
Type: DownScan, SideScan, TripleShot
Display: 7″
Resolution: 800 x 480 pixels
Pros
Newly Upgraded FishReveal Sonar
TripleShot 3-in-1 transducer offers everything you need
Highly customizable sonar settings make this beginner-friendly
Great price tag for the average angler
Cons
No networking or Bluetooth
No touchscreen (not that big of a deal)
Why We Chose It
The Lowrance Hook Reveal hit the market in early 2020 with the main flagship upgrade being to their sonar technology.
They added FishReveal technology which is really something we've never seen for a fish finder sub $1,000. The feature offers great target separation, imagery, and more accurate fish arches.
The goal here is to help you better separate the fish from everything else.
Ideally, you'll have an easier time identifying pockets of fish as well as the structure around them to verify why they might be holding to a specific area.
In addition to that, you also get Genesis Live Mapping which is very similar to the aforementioned Humminbird AutoChart.
The mapping offers great contouring with a variety of different displays so you can play around and see which one you prefer.
The granddaddy feature of this fish finder is the optional TripleShot transducer which you've likely heard of before.
Essentially, you get the choice to decide whether you'd prefer downscan, sidescan, both, or all of them including dual scanning CHIRP.
I have to say, for the best sonar fish finder that comes fully loaded with the latest technology, it's really affordable.
Even if you decide to knock yourself out and go with the TripleShot transducer, you're still coming in around $600 or less.
If you'd like to learn more about this fish finder – give my Lowrance Hook Reveal review a read.
Bass Pro Shop Fish Finders (See Price)
Cabela's (See Price)
Tackle Direct (See Price)
Lowrance Elite FS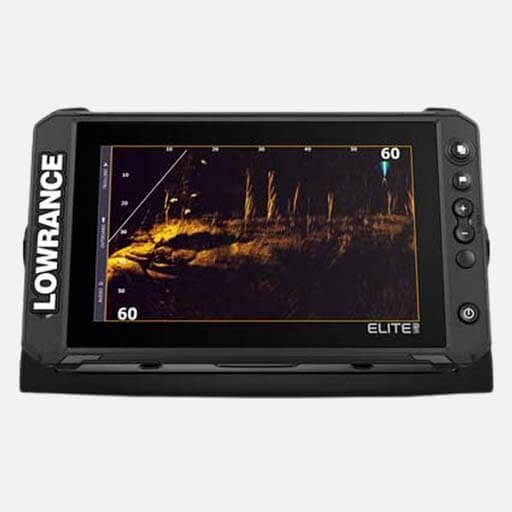 BEST NETWORKING FISH FINDER
Specs
Type: Active Imaging 3-in-1
Display: 7-9″
Dimensions: 3.05″ x 7.04″ x 11.02″
Pros
Wide range of networking capabilities
Active Imaging 3-in-1 sonar
C-Map with Navionics
Cons
Hefty price tag
Mapping is limited to US and Canada
Why We Chose It
The Lowrance Elite FS is the cream of the crop when it comes to next-generation fish finders.
It comes with full networking capabilities so you can share data between fish finders and other compatible devices.
It comes loaded with pretty much any type of sonar you can think of including active imaging, downscanning, and sidescanning.
Plus, you get C-Map and Navionics mapping and chartplotting.
Active Target is probably the main standout feature though. This allows you to actually see the fish moving in real-time. A lot of fish finders advertise this but very few implement on it.
Lowrance actually offers live sonar in the Elite FS. If you have pockets deep enough, I'd highly recommend giving this fish finder a more in-depth look.
Bass Pro (See Price)
Cabela's (See Price)
Tackle Direct (See Price)
Lowrance HDS Live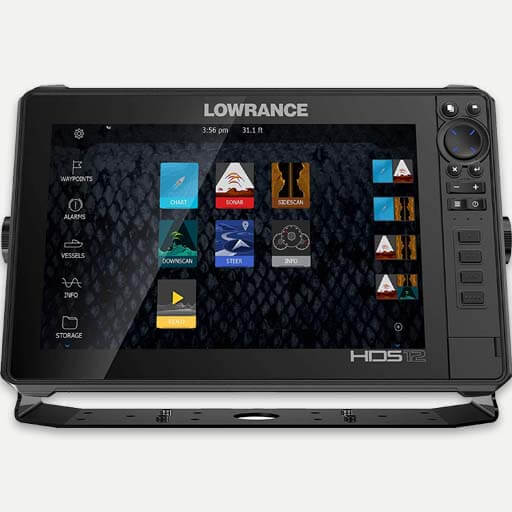 BEST HIGH-RESOLUTION SCREEN
Specs
Model: Lowrance HDS Live
Type: DownScan, SideScan, StructureScan
Display: 7.0″-16.0″
Resolution: 1280 x 720 pixels
Pros
Incredible screen size and resolution
3-in-1 transducer standard
Live Bluetooth compatibility
C-Map Genesis feature
Cons
Why We Chose It
If price is of no object and you simply want the best fish finder money can buy, you've pretty much found it in the Lowrance HDS Live. The feature that stands out most is the incredibly impressive high-resolution screen.
It comes with a wide viewing angle, super clean display, and the SolarMAX HD screen comes with a backlight that provides a clear view no matter what the conditions are.
You also get a 6-fold splitscreen if you upgrade to the HDS Live 12 or 16 models. This means you can have up to six different views on your screen at the same time.
The 3-in-1 transducer is another great feature and something we would expect of a fish finder in this price range. It comes with downscan, sidescan, and structurescan.
Best of all, you get the latest and greatest FishReveal technology just like in the Lowrance Hook Reveal.
Last but not least, the Lowrance HDS also comes with some of the best mapping on the market.
C-Map Genesis Live allows you to make changes to the maps and save them to your own personal SD card.
You can also share them between other fish finders, smartphones, and other devices synced with your fish finder using Bluetooth compatibility.
I have barely scratched the surface of what this fish finder can do. If you'd like to learn more, be sure to read the complete Lowrance HDS Live review.
Bass Pro (See Price)
Cabela's (See Price)
Tackle Direct (See Price)
Garmin Panoptix Livescope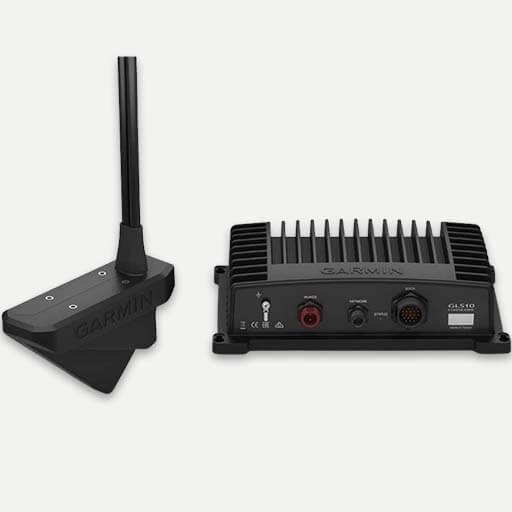 BEST FISH FINDING TRANSDUCER
Specs
Model: Garmin Panoptix Livescope
Type: DownScan, SideScan, Structurescan
Display: N/A
Resolution: N/A
Pros
Great range up to 200 feet
Image stabilization provides high-quality imaging even in bad conditions
Many viewing options
Cons
Requires you to purchase a separate unit because it doesn't come with a screen
Compatibility could be a challenge
Why We Chose It
Here we're taking a look at something a little different than the norm with some of the newest fish finder technology on the market.
The Panoptix Livescope is a transducer-only fish finder that you can pair up with a large assortment of Garmin fish finders.
The list of compatible devices is seemingly endless with the Echomap being one of the most popular options.
The main thing that separates this unit from the competition is the promise of real "live" imaging.
Many fish finders will use the term "live" but they're not actually 100% live.
I can say, this fish finder offers completely live imaging of exactly what is happening beneath the surface, and it's pretty amazing, to say the least.
It comes with three modes including downscan, sidescan, and structurescan. You're pretty much left with nothing to be desired besides an actual screen to view this on.
Compatibility can be a problem when things don't work properly and if you're not the most tech-savvy, you might have a hard time getting everything to work together.
That said, if you have a compatible fish finder already. The Panoptix Livescope is a great way to upgrade your equipment without having to replace everything.
To learn more about the best Livescope fish finder, check out our Garmin Panoptix Livescope review.
Bass Pro (See Price)
Cabela's (See Price)
Tackle Direct (See Price)
Humminbird Solix 10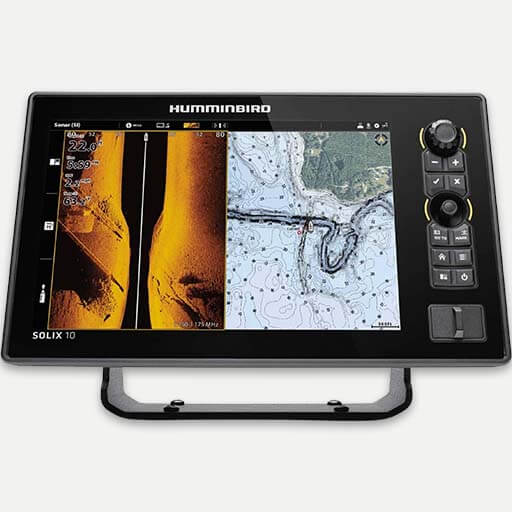 BEST HIGH-END UNIT
Specs
Model: SOLIX 10 G3
Type: HD Down/Side Imaging Chirp Sonar
Display: 10.1"
Dimensions: 11.81 x 7.89 x 4.45"
Pros
10″ touchscreen
Customizable dashboard with a large quantity of combinations
Support for Mega SI, DI, and Dual Spectrum Chirp
Ethernet and Bluetooth compatibility
Cons
Expensive
A lot of premium features require additional purchases, transducers, etc.
Why We Chose It
All in all, you're looking at one of the best fish finders to ever grace the wonderful world of fishing. It's nothing less than what I would have expected though from a company like Humminbird.
The 10″ display is premium and it has one of the best touchscreens I've ever seen.
I'm a well-known "touchscreen hater" but the screen is responsive, easy to navigate, and it holds up pretty well in the weather.
If you have to get away from it, it also comes with a joystick that I find much easier to use than your traditional buttons or keys.
The sonar is excellent as expected of a Humminbird fish finder for a bass boat in this price range. You get dual-spectrum CHIRP, down imaging, and side imaging as an optional purchase.
If you don't want to shell out for it, you can pick one or the other which I think is nice. You can also upgrade to the MEGA 360 transducer which will give you a 360-degree angle view around the boat.
The Solix also features the Humminbird Basemap offering over 10,000 inland lakes with a chartplotter and GPS.
AutoChart is known as one of the best mapping features ever made. It offers precise contouring, hardness, structure, and vegetation scanning.
As I said, you'd be hard-pressed to find a more comprehensive fish finder offering the latest and greatest features.
The Solix 10 is near perfection, buttoned up with a nice bow on top. It's geared towards tournament anglers for sure with the hefty price tag. If you have the deep pockets for it, this fish finder is sure to impress.
This down scan fish finder is the Rolls Royce of its kind. It comes with optimal display size with both side and down imaging. The chirp displays arches and offers clear views of where they are and what they're holding out in.
If you'd like to learn more about these Solix models then I recommend reading our solix vs helix article which goes more in-depth.
Bass Pro (See Price)
Cabela's (See Price)
Tackle Direct (See Price)
Deeper PRO+ 2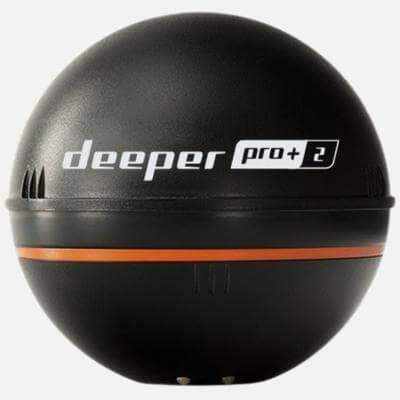 BEST CASTABLE FISH FINDER
Specs
Model: Deeper Pro+ 2
Type: Castable sonar
Display: n/a
Dimensions: 3.2 ounces
Pros
Easy to use, displays direct to your smartphone
Built-in GPS
Multiple 3 beam frequency
Cons
Weight is a bit cumbersome
Fragile
If you know me, you know I love my castable fish finders and this is the latest and greatest option from Deeper.
You've probably heard of the Deeper Pro+ but the Pro+ 2 offers a few upgrades. First, let's talk about the important features.
You're looking at a total battery life of 7-9 hours when casting this bobber-like fish finder into the water.
You cast it out and it connects directly to your smarpthone via it's own wi-fi connection so you don't have to worry about mobile data or having service.
The fish icon feature is nice for those who are inexperienced but it also features fish arc technology too.
Scanning is pretty much always on point using three different cone frequencies to allow you to choose how narrow or broad you want the reading to be.
It's important to understand that the bobber itself weighs around three ounces so it is heavy and can be a challenge to cast out accurately.
With that in mind, you also need to be careful and you can't use it in shallow water where you might bang off of rocks or stumps.
The main features that separate this from the Deeper Pro+ are improved battery life, three beams instead of two, and a slight dip in overall weight.
Overall, this is about as good as it can get for shore anglers.
LUCKY Portable Fish Finder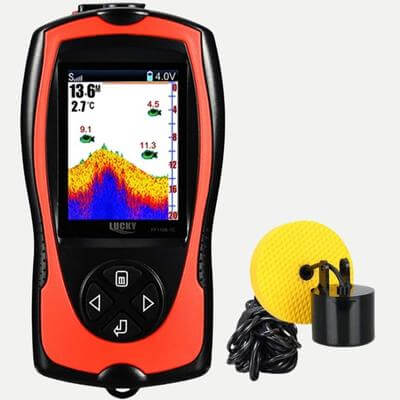 BEST PORTABLE FISH FINDER
Specs
Model: LUCKY
Type: Traditional sonar
Display: 2.9″
Dimensions: 5.8 x 5.1 x 3.9″
Pros
Simple and straightforward
Lightweight and easy to take anywhere
Great choice for ice fishing
Cons
The reality is, not everyone can make use of a premium fish finder like an HDS Live or a Garmin Echomap.
These fish finders not only require deep pockets but you need to have your own boat and a way of mounting them. In the case of the LUCKY Portable fish finder, you don't need anything.
All you need to do is grab your fish finder, take it to the water, drop the transducer into the water, and you'll get readings direcly on the handheld display.
You don't even have to mount it because it's light and portable enough to hold in your hand and set it down when you're not actively reading it.
The portable fish finder has a total depth of 328 feet and a 45 degree sonar angle. It runs on rechargeable batteries and the transducer wire has a range of approximately 26 feet when fully extended.
One interesting feature that you don't see a lot anymore is a fish alarm. This unit will make a noise when it detects fish to tell you it's time to read the screen.
Overall, it's a steep improvement from some of the previous LUCKY fish finders I've reviewed. The main improvement comes on the display itself.
It features three different color modes now with a much clearer display and more accurate representation of structure and fish location in the water column.
The price is right so consider giving this one a try if you're just dabbling or starting out with fish finding technology.
MarCum Quest HD L Underwater Viewing System with Lithium Battery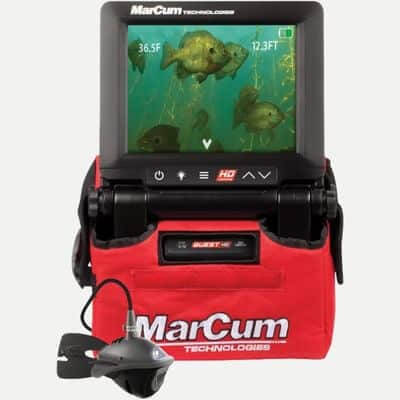 Specs
Model: Quest HD L
Type: Underwater Camera
Display: 7″
Dimensions: 7.5 x 10 x 10″
Pros
You can see what's under the water in real-time
It comes with a long-lasting lithium battery
1080p camera
Displays depth, temperature, battery status, and relative camera direction
Cons
Expensive
Only a 1-year limited system warranty
Why We Chose It
The MarCum Quest HD L Underwater Viewing System comes with everything you need to see what's underwater.
The bright screen allows you to have a fishes view of where you're fishing plus the depth, temp, and battery life, so you can identify the structure, vegetation, and fish that are below the ice or dock.
The camera direction feature helps you know where to cast your lure, which means you'll spend less time guessing where the fish are and more time catching them.
The 75′ of camera cable means you won't have to worry about running out of cable before you've found a school of fish. The
The biggest drawback is how expensive it is; however, you'll have everything you need, unlike other units that still require you to purchase a battery.
The lithium battery is the best option because it's much lighter than traditional lead-acid 12v batteries.
Moocor Underwater Fishing Camera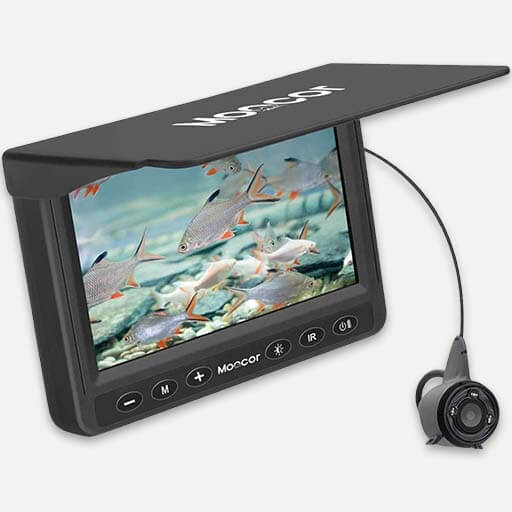 BEST FISHING CAMERA
Specs
Model: 8541747448
Type: Underwater Camera
Display: 4.3"
Dimensions: 4.9 x 3.3 x 1.5"
FEATURED SPECS
Here we have an underwater camera that is quite different from a fish finder. It comes with an HD screen, which is a great option for ice fishing.
EXTRA FEATURES
Features three high visibility infrared LED lights, so it lights up the water underneath the ice.
BUYING ADVICE
I suggest this option if you're looking for an ice fishing camera or possibly shore fishing if you're limiting your movement. The camera may draw attention to itself, so you'll want to keep it a small distance away from the lure.
Pros
Great for monitoring fish behavior
Excellent for ice fishing
Cool for recreational use as well
Cons
Limited viewing area
Cold water sometimes causes distortion
As far as freshwater fishing electronics go, this unit offers a unique advantage over traditional fish finders because you don't have to interpret what's on the screen.
Instead, you have a view as if you were swimming with the fish.
Deeper Start Smart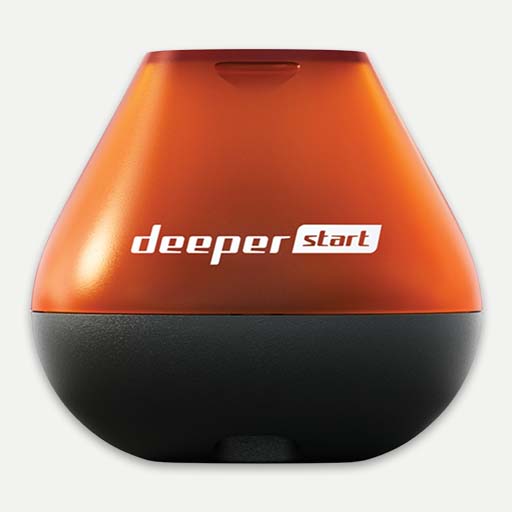 Specs
Model: DP2H10S10
Type: Castable Fish Finder
Display: N/A
Dimensions: N/A
FEATURED SPECS
The fish sonar connects using its wi-fi, so you don't need an internet connection or data.
EXTRA FEATURES
It displays fish icons using these different sizes to indicate different sizes of fish. There's also an alarm, so you never miss out on a big catch.
BUYING ADVICE
This one has a little less of a range than the other castable fish finder we looked at, and it comes with a mount so you can safely secure your phone to your rod.
Pros
Easy to use
Provides animated fish display in the water
Uses its own wi-fi connectivity
Cons
Doesn't provide a lot of detail regarding vegetation and structure
Shorter distance than desired
If you like the castable fish finders, here's another one for you. You can sync it with the Deeper App, hook it up using the included swivel, and cast it out on the water.
It comes with wi-fi enabled, so you receive updates in real-time.
The Deeper Start charges using a USB port, and it runs for a total of six hours on a two and a half-hour charge. The app is easy to use, and the sonar is accurate and efficient.
Raymarine Element 9 HV CHIRP Sonar/GPS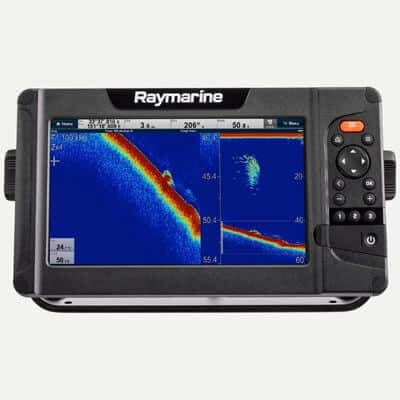 Specs
Model: Element 9 HV
Type: CHIRP
Display: 9″
Dimensions: 11.3 x 6.3 x 2.4″
Pros
DownVision, SideVision, and Raymarine RealVision 3D
Large screen
Sharp and clear views underwater
Simple keypad controls
Cons
A little pricey
Customer service issues
Why We Chose It
While this isn't the cheapest fish finder on the market, it offers a lot of features at this price point.
The large 9″ screen offers photo-like clarity of fish, structure, and vegetation when using DownVision, SideVision, or Raymarine RealVision 3D.
The Raymarine Element HV is not a touchscreen, but the keypad controls are self-explanatory and simple to use, so you'll spend less time guessing which buttons do what and more time fishing.
You can mark waypoints quickly with the oversized waypoint key to remember your best spots. However, you will need an SD card to store your waypoints on, so be sure to purchase one when you buy this unit.
There have been complaints of customer service issues when a problem does arrive, but Raymarine is very responsive when you ask a question on their website.
We got our hands on some of the best fish finders on the market. Click the video above to watch our hands-on review!
Types of Fish Finders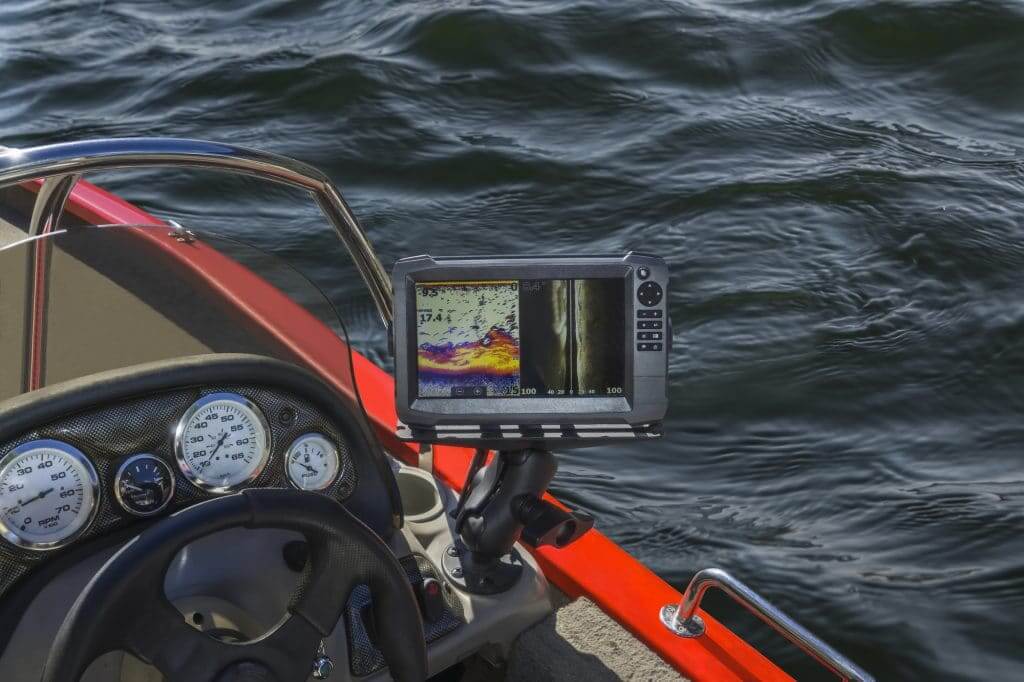 When choosing the right fish finder, what a lot of people don't realize is that it has a lot less to do with the design, screen, and appearance of the unit itself.
Having to choose the best fish finder transducer is what will separate the top-rated fish finder from a scrub you find on clearance. Let's break down the types of sonar.
Standard Sonar
The types of fish finders I used originally were conventional sonar. This meant that the waves went down into the water until they bounced off of something.
When they bounced, it would usually indicate a fish or some sort of structure.
Based on that, this is how you would determine where to throw your line. While this worked to a certain extent, you can probably tell why it isn't the best option.
First, it doesn't tell you what you're bouncing off of. It could be a rock, stump, patch of grass, or a prize-winning fish.
Another problem with standard sonar is the accuracy of location. They'll tell you the depth of the fish, but there's no guaranteeing how accurate that will be.
The screens on these types of fish finders aren't usually very detailed, so you don't get a lot of information.
It's generally a toss-up of whether you're casting perfectly into a school of fish or a patch of weeds.
Chirp Sonar
Chirping is the same as standard sonar, and much of the operational function is the same. The main difference is the sonar frequencies.
Instead of sending equal waves in a pattern down into the water, the chirp sends quick bursts of sonar waves, which helps detect fish quicker, but it also helps increase accuracy.
These types of fish finders can also tell you more about the water structure because certain things will move (fish), and others won't (structure).
Down Imaging
This type of fish finder is much smarter and ultimately much more expensive as well.
Instead of creating images based on where the sound bounces off, this type of sonar will paint a vivid picture of what to expect beneath the water based on the frequency.
Down imaging sonars provides an elaborate picture of underwater structures such as trees, stumps, and greenery.
It also refreshes constantly, so it will continue to pick up the movement of fish as they move around beneath you.
These are much more accurate, and they keep you hot on the trail of fish. The problem is, they can only tell you what is directly beneath the boat.
For that reason, you're limited with what you can do with a down image fish finder.
These work well if you're throwing out a split shot or a drop shot, but if you're trying to cast long distances underneath a dock, you won't have any idea what's out there.
Side Imaging
Hey, would you look at that? We have a solution to the problem.
If you read some of the fish finder reviews above, you know what side imaging exists, and it helps you see what's around the boat rather than right under it.
This is helpful if you're trying to fish structure around you or in shallow waters.
Each side imaging fish finder will have a certain radius that it can read, and the best fish finders will offer a combination of all of these in one.
You'll get chirp, down image, and side image in one convenient package to hook up to your boat and roll with.
If you're new to fish finders and need a more in-depth explanation, I highly suggest reading our guide on how to read a fish finder.
Features to Look For When Choosing a Fish Finder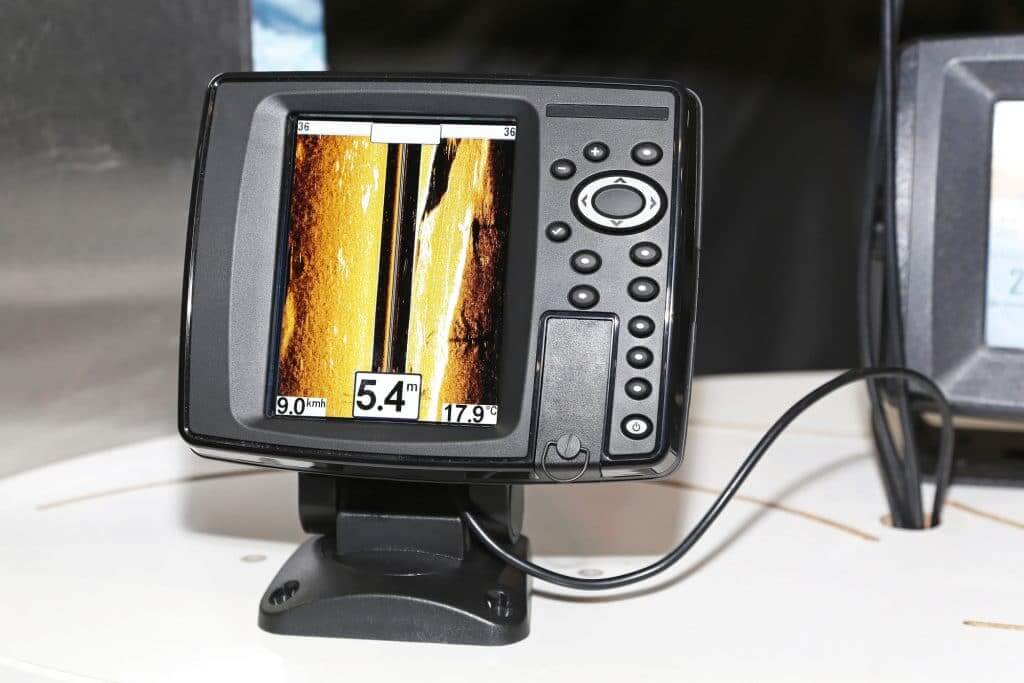 When you're looking for the ideal fish finder, there are many primary features to keep an eye out for. Here are some examples.
Transducer
The transducer is an essential component because it will determine the quality of the image you receive. If you don't have a high performing transducer, you won't have the accuracy you need to find anything.
The transducer sends the sonar waves into the water, and those waves bounce back, that's what provides you with the image of a fish underneath the boat. So, how do you tell that you have a high-quality transducer?
First, I look at the brand. If it's a popular brand like Humminbird or Garmin, I know I'm getting a product with a successful reputation.
The next thing I look at is the build of the device. Does it appear durable? Does it look like it can withstand some abuse?
Keep in mind that this piece will usually get mounted on the underside or side of the boat. There's a chance that it might take some damage in the water. It needs to be able to hold up against all the odds.
Mounting
Another important factor to consider is how the transducer gets mounted to the boat. The typical type of mount is a transom mount transducer.
These are mounted to the back of the boat, by the trolling motor so they don't have to take a heavy flow of water.
Due to the nature at which you mount these transducers, they are usually the most fragile but the most affordable.
Through-hull mounts usually go on the side of the boat, and while they're more durable and offer more flexibility as to where you mount them, they're more expensive.
These are designed for longer fishing trips in deeper water on higher speed boats.
An in-hull mount goes inside the boat as the name suggests, and they're easy to install. The downside here is that you need to have a boat material that the transducer can penetrate.
You'll need to mount it using bronze, stainless, or plastic based on your boat's material.
Cone Angle
The cone of your fish finder refers to the width of the sound wave it offers. The wider the cone, the larger the area. It's important to understand that larger doesn't always mean better.
Some of the fish finders we looked at above have a wide radius, but that results in a poorer signal.
I've noticed that fish finders with a smaller cone provide a much clearer and more accurate picture of what's going on under the water.
Where you really want to pay attention is the depth of the cone. Some will only provide signals up to 100 feet at the side but 150 feet if you're directly under the boat.
If you don't understand this, it can lead to distortions and confusion, which can cause you to cast in places where you won't catch anything.
The angle of the cone is critical too, and you'd like to find one with at least a 20-degree angle. These are most common, and you shouldn't have to pay a whole year's salary to get one that offers it.
Many of the fish finders I reviewed above also offer dual spectrum chirp, which will cover more area at a lower depth.
Display
The display and screen that you get with your fish finder are important because it helps you see what's going on beneath you.
An important feature that I look for is a fish finder with a display that is easy to navigate. Split screen is also an ideal feature.
I'm looking for simplicity, and so should you. All I need is a fish finder that will help me find fish. It's all part of the user experience.
Even though simplicity is important, you still need the right number of features. Having depth finders, will help you scope out the water and identify ideal fishing locations.
Something else you want to look for with your display as well is the type of screen. Some are monochrome, while others are color.
Most of the fish finders we see today will use full color displays to signify changes in elevation, this feature is incredibly useful, and it helps you get an idea of what you're looking at faster.
You also want to look for a display that offers some sort of glare protection on the user interface. This will make it easier to see regardless of the conditions. A backlight is convenient for night fishing as well.
Screen Resolution
The resolution of your screen is always an important buying factor because it determines how much time you'll have to spend looking at the fish finder to figure out what you're looking at.
While there's no "set in stone" requirement for screen resolution, you want something with high-resolution that allows you to read the fish finder clearly.
Size
In my opinion, I want something that isn't intrusive to my fishing. I find that some of the fish finders reviewed above appear incredibly fragile, and they also take up a lot of space in a small boat.
Nobody wants something that gets in the way, especially if you're fishing on a small boat.
That said, the smaller you go, the smaller screen size you will get, which may make it more difficult for you to see what's happening underwater.
You'll want to weight the pros and cons here. If you have a small boat, you'll have to either sacrifice some space or get a smaller fish finder.
Power
When I refer to power, I'm talking about the power of the transducer. The amount of power you have will determine how deep your finder can display images.
A powerful device will allow you to work better in deeper water, but it will also help you in less than desirable conditions.
If the water is murky, a low-quality fish finder will prevent you from getting a clear image.
The power of your transducer is calculated in something called RMS or root mean squared. It's similar to wattage. Most fish finders aren't any less than 200 RMS, and the ideal power is 500.
If you have a 500-watt device, you will be able to get a clear image in any condition.
Sometimes it's not even about the image. Many finders can display water temperature and they have depth finders.
Frequency
Another factor that will determine the quality of your image is the frequency. All of these factors work together in perfect harmony, and you can't have one without the other. Higher frequencies mean more detail.
The primary thing to understand is that, with a high frequency, the water depth and power decreases. So, ideally, you want to find something with a nice middle ground.
Quality frequency and moderate power are essential to getting a high-quality picture of the water.
GPS Capabilities
You want a GPS fish finder because this is a feature you won't realize you need until you need it. If you're out on the water and a dense fog comes rolling in, you won't know where you are.
I've drifted too far down the river on multiple occasions that I can't determine how far it is back to the launch site. If that happens, I can check out the GPS and keep my peace of mind.
A GPS fish finder also allows you to create waypoints and many have chartplotter features so you can document your best fishing spots for next time.
The only problem with the GPS fish finder combos is the price.
These are more expensive and sometimes a little bulkier, but you can't sacrifice the security you have in always knowing where you are. (unless you have GPS on your phone, which most of us do)
FAQ's
Final Thoughts
Choosing the right fish finder is not easy. It's an expensive purchase, and it's something that you hope will last you a long time.
Many factors go into this decision, and a lot of technology behind how they work is not easy to understand. I hope this guide cleared up some of your confusion and pointed you in the right direction.
All of the fish finder reviews above are great options; it's just about choosing the one that makes the most sense for you. I recommend the Lowrance Hook Reveal because it offers the most features for an affordable price.
If you're like me, you just want something to perform its duty without all the smoke and mirrors. That fish finder will do the trick. Good luck out there!