---
We independently research, test, and recommend the best products; you can learn more about our review process here.
You're tired of fishing from the old Jon boat, and you're ready to shell out for a bass boat.
But, the best bass boats aren't easy to shop for because there are a million different features to choose and it's easy to fall into a boat you don't love without the right information.
Bass boats have a low profile with a platform that allows you to cast from anywhere on the boat while being able to cruise into shallow water near weeds and dense vegetation.
I've fished quite a few different bass boats over the years, some of my own and others with friends and family.
I also put a few hours of research into compiling this list, so if you're in need of the best bass boat, let's get into the review.
---
---
Our Top Picks For The Best Bass Boats
Bass Cat Puma FTD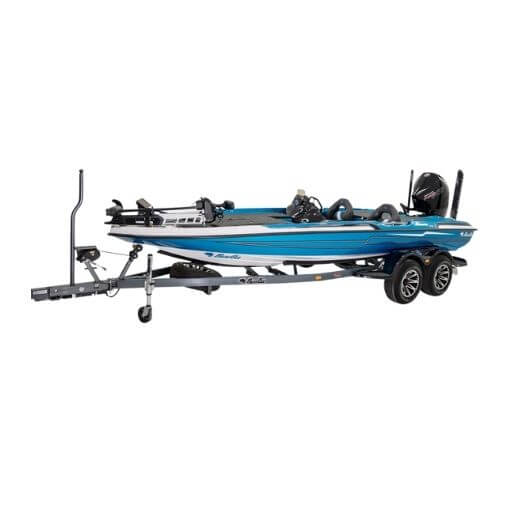 BEST BASS BOAT OVERALL
Specs
Length: 20' 4"
Beam: 94"
Price Range: Up to $70,000
FEATURED SPECS
Comes with a ventilated central tackle box section and eight-foot rod box and organizer
EXTRA FEATURES
Features several different compartments for storage on the deck with many others located throughout the boat
BUYING ADVICE
This premium bass boat is a great choice for those who are serious about their fishing and might be considering professional bass angling
Pros
The best money can buy
Comes with two Humminbird Helix 7 Fish Finders
Plenty of storage
Ventilated tackle box
Includes a Minn Kota Fortrex 80 motor
Cons
No review could really do this bass boat justice. This is hands down the best bass boat to ever hit the market because it's built by bass anglers for bass anglers.
It comes with everything you need, including plenty of storage, rod holders, livewell, fish finders included, motor, and 300 maximum horsepower.
Crestliner 1750 Bass Hawk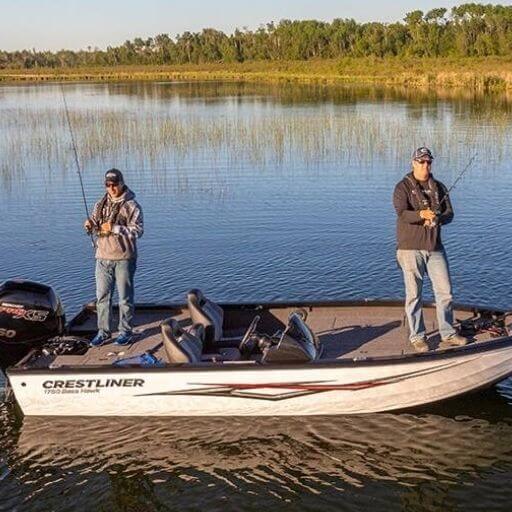 BEST ALUMINUM BASS BOAT
Specs
Length: 17' 9"
Beam: 95"
Price Range: Up to $40,000
FEATURED SPECS
Aluminum hulls offer a bit more durability and sturdiness when fishing dense cover
EXTRA FEATURES
Comes with room for up to five people with plenty of space on the casting decks
BUYING ADVICE
The illuminated rod locker is a great feature that many anglers would appreciate
Pros
Tons of storage
Aluminum hull for durability
Features a trailer and Mercury 90 EXLPT EFI FourStroke engine
Loaded with optional features
Cons
A bit small
No fish finders
If an aluminum boat is what you seek, then you would enjoy this option. The boat boasts a ton of storage, including 13 compartments with light-up rod locker with 15 tubes. You also get a 28-gallon, aerated livewell with removable aluminum accessory brackets. This boat truly has everything a bass angler could want.
Tracker Pro Team 190TX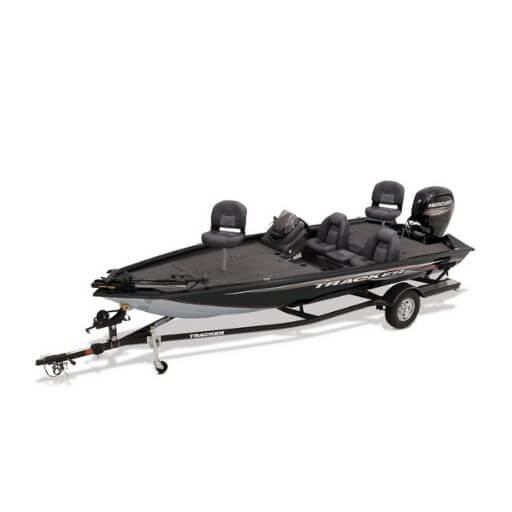 BEST BASS BOAT FOR THE MONEY
Specs
Length: 18' 7"
Beam: 89"
Price Range: Up to $20,000
FEATURED SPECS
Beautiful Diamond Coat finish shines like a diamond on the water
EXTRA FEATURES
Fits four people on board with two in the cockpit and two on pedestal seats
BUYING ADVICE
Budget-friendly option for those who aren't interested in shelling out a years pay for their boat
Pros
Affordable
Plenty of storage
Comes with a Lowrance Fish Finder
Cons
While this boat might be a bit smaller than some of the options, we have to make sacrifices in the name of affordability. The good news is, they have a ton of customizable options that you can use to make this boat unique to you. With that comes an added price, though. If you're trying to stay beneath that $20,000 mark, you'll have to go for all the basic stock features.
Ranger Z518C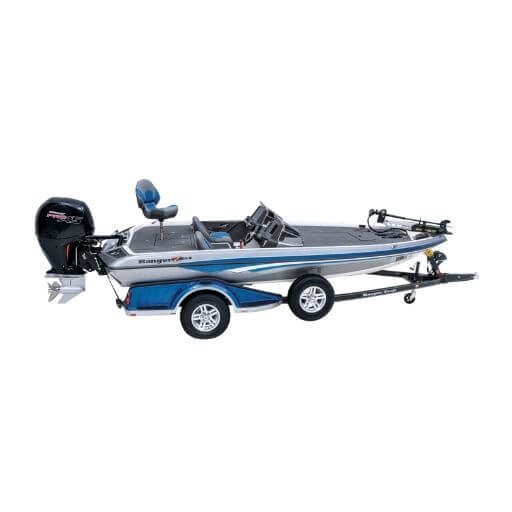 BEST SMALL BASS BOAT
Specs
Length: 18'
Beam: 97"
Price Range: Up to $40,000
FEATURED SPECS
The new 2020 model boasts 200 horsepower which is awesome for a small boat
EXTRA FEATURES
In-deck, gel-coated cooler for cold beverages
BUYING ADVICE
While this boat might be small, it doesn't sacrifice anything in terms of storage or comfort
Pros
Smaller boat ideal for small waters
Plenty of storage
Recessed trolling motor pedal
Comes with a Ranger Trail trailer
Cons
What can you really say bad about such an amazing bass boat? The top bass boats really bring it all to the table, and every boat in this review is amazing. This 18-foot bass boat offers exceptional performance with plenty of standard features.
You get an oversized casting deck and 97-inch beam, which is amazing for an 18-foot boat. The fiberglass material is solid, and they even threw in an insulated cooler to make the whole fishing more of an experience. Leave your igloo cooler at home, folks.
Skeeter FX R 21L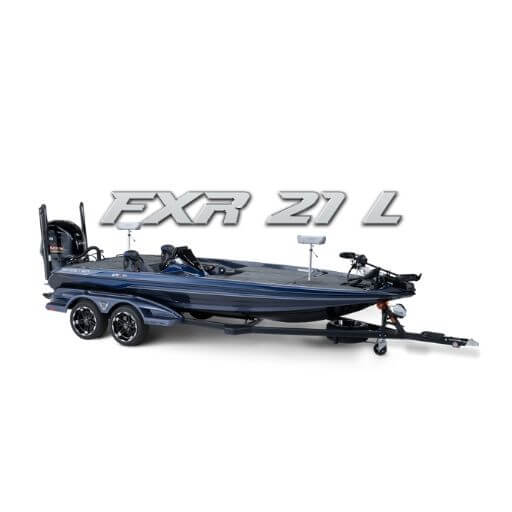 BEST BASS BOAT FOR ROUGH WATER
Specs
Length: 20' 10"
Beam: 96"
Price Range: Up to $90,000
FEATURED SPECS
Comes with a 112-pound thrust electric trolling motor
EXTRA FEATURES
Hydraulic steering, SonicHub stereo, and twin Power Poles
BUYING ADVICE
If you're looking for the Rolls Royce of bass boats, congratulations you found it
Pros
Everything you can think of is a standard feature
Eye-popping visual design and sleek lines
Much more than a bass boat
Cons
Okay, so, this bass boat might be a bit out of my league, but hey, we can all dream, right? The Skeeter FX R 21L brings it all to the table. It comes with a powerful 112-pound thrust electric trolling motor with foot pedal and an outboard motor that lets you hit 70.3 miles per hour. Yes, I said 70 miles per hour.
Because of the excessive speed, the boat requires a unique design. It uses something called Ex-Cel composite, which is essentially aircraft-grade aluminum reinforcement to minimize backlash as you crash through the waves. This boat is not for the faint of heart.
What is a Bass Boat?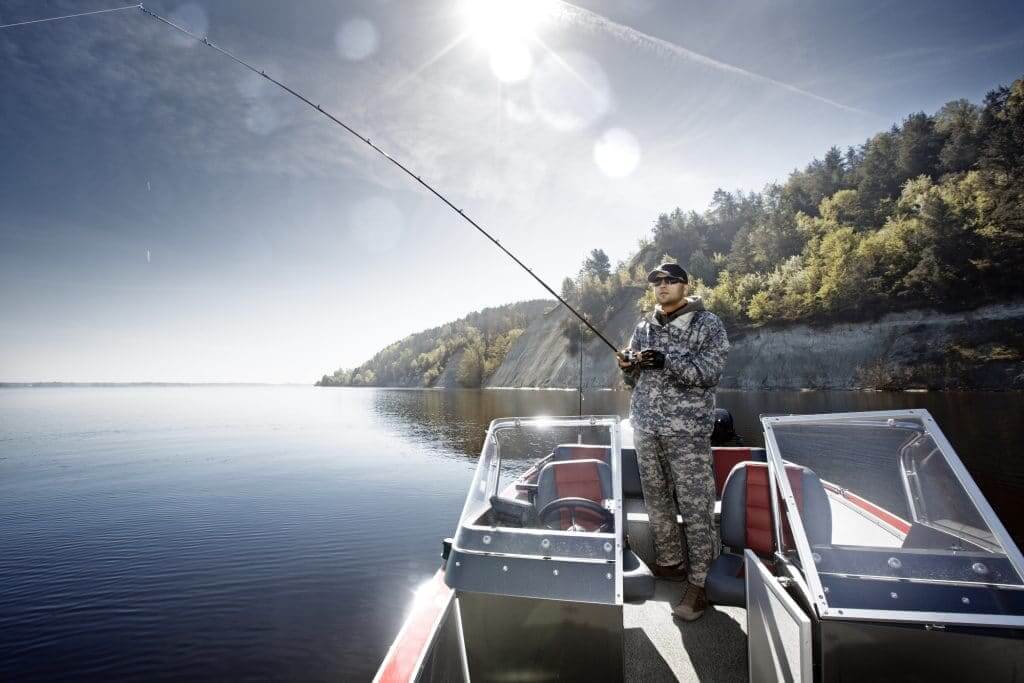 You've seen some incredible examples of bass fishing craftsmanship, but what is a bass boat exactly? The best bass fishing boats are designed explicitly for bass fishing by offering sleek, low profiles, which creates less disturbance in the water.
As you know, the quieter you are and the more carefully you can move through the water, the better.
Bass boats typically hold around two or three people, but many of the options reviewed above can take as many as four or five. Most bass boats will have a cockpit where the driver controls the outboard motor, and there's a foot pedal for the smaller trolling motor.
The idea here is that the outboard motor gets you to your destination, while the trolling motor allows you to quietly and slowly move through dense vegetation and around cover so you can get to the ideal spot.
If you're interested in purchasing an inexpensive trolling motor, check out my article on the best spot-lock trolling motors and find out if there is a model suitable for you.
One of the main features that separate a bass boat from other offerings is the deck. Most boats are sunken on the inside while a bass boat is essentially "flat" on the top with the exception of the cockpit. The reason for this is so anglers can stand even with the water and have the freedom to cast from anywhere on the boat. Most decks also contain a ton of storage and livewells.
Why Buy a Bass Boat?
I covered many of the features of a bass boat, so you can probably put two and two together as to why a bass boat would help you catch bass, but here are some additional reasons to point out.
There are many bass boat weights and sizes, so you can find something that suits your fishing style. For example, I tend to fish smaller waters, so a 19-20 foot bass boat wouldn't cut it for me. I would resort back to a smaller boat with a lower profile that allows me to fish more shallow water.
Bass boats are lighter than most boats their size. This is what allows you to use a trolling motor for something so large.
Bass boats come built with plenty of storage and livewells, which means you'll have everything you need built-in. You don't need to bring anything else because it's already there.
They have V-shaped hulls, which helps them cut through the water easier while creating less of a disturbance than some other powerboats.
Features to Look for when Selecting a Bass Boat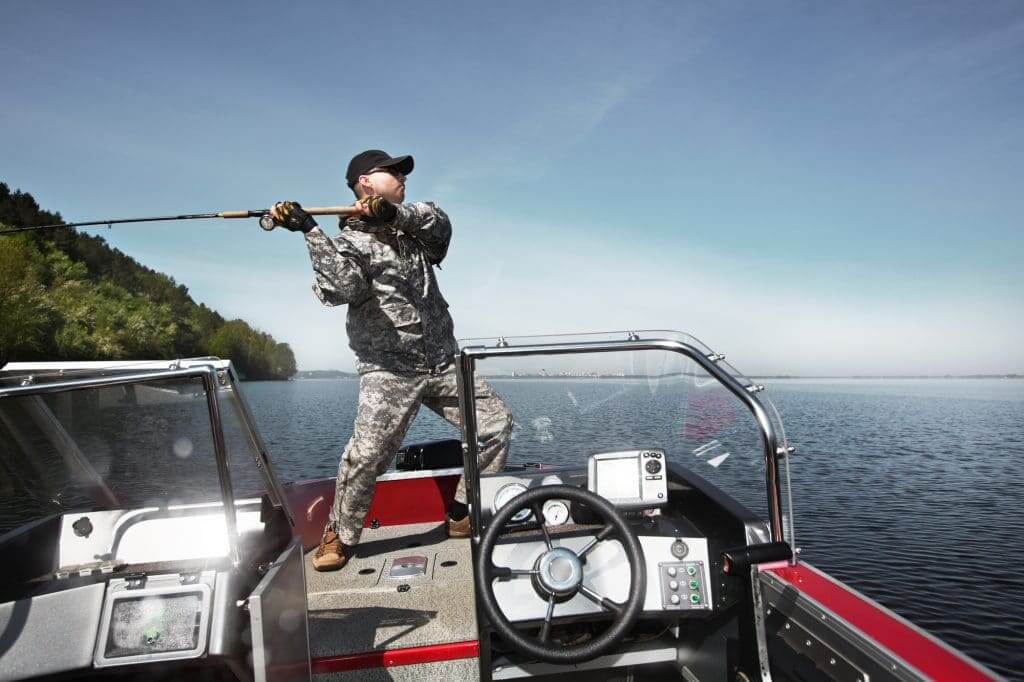 Now that you're smitten on getting yourself a bass boat, let's talk about some of the features you'll want to have.
Storage
Obviously, storage is important, but what matters more is what you can store in these compartments. Some bass boats aren't designed ergonomically, so the storage doesn't always make sense.
You want to make sure you have plenty of room for rods, tackle, and gear. Ideally, you should have an area to store essentials like food and drinks as well. Ensure that the rod storage you have in your boat is large enough to accommodate a few rods and always look at the length. You should be able to fit fishing rods up to 18" in most storage compartments.
Livewells
Having a livewell is important because you need somewhere to put the trophy bass when you catch it. (see what I did there?) Even if you didn't land the catch of a lifetime, you might be catching to keep, and you need to keep the bass safe while also ensuring you're not making them suffer through the day while you fish. Try to find a livewell in at least the 20-gallon range.
Fish Finders
Many bass boats come equipped with a bass boat fish finder, and you might want to see to it that yours has one as well. If you buy a bass boat new, you're almost guaranteed to get one. I would recommend going with a Humminbird if possible, and sometimes you have the choice to pick and choose what you want.
Accessories
In addition to the major components, you need to choose the best boat accessories. These will impact the fishability of the boat. Look for things like chargers, comfortable passenger seats.
Best Bass Boat Brands
Here's a rundown of the best bass boat brands, and many of these names will look familiar to you.
Bass Cat
The company started in 1971, and they are now one of the most popular brands. They sell all kinds of boats ranging from professional to weekend warrior, so don't be turned off by the high price tag on some of the more premium options.
Skeeter Bass Boats
Started in 1948 in Texas, Skeeter is the premium name in bass fishing. They sell a wide variety of boats, including wood bass boats, and you can find their offerings nationwide.
Ranger
Ranger is the creator of the Bassmaster Classic boats, and their offerings have been featured in many bass fishing tournaments all over the country. They offer plenty of budget-friendly options and smaller bass boats as well. Ranger Boats is my favorite brand, and I own one myself.
Final Thoughts
Shopping around for the best bass boat is stressful. It's a big purchase, and it's something you might get stuck with if you're not careful about what you choose. Make sure to keep all these factors in mind, don't let a big price tag turn you off, and always negotiate the price when you buy. Don't let a salesperson pull one over on you!
I recommend sticking to the most popular and prominent brands on the market because you'll find them in most marine and power sport shops plus, if something goes wrong, it'll be easier to find someone to repair it.
Good luck!