---
We independently research, test, and recommend the best products; you can learn more about our review process here.
Get set to break the bank- the Lowrance HDS Pro fish finder is here, and it is packed with all the state-of-the-art marine electronics and features you would expect for the price.
HDS Pro is the latest generation of fish finders from Lowrance, equipped with cutting-edge technology to take anglers to a whole new level on their fishing trips.
So, if you've been looking to upgrade your fish finder, or make a first-time purchase, we've done a complete Lowrance HDS Pro review to help you.
We are breaking down exactly what consumers can expect from the new HDS Pro- and whether or not it's worth the splurge.
---
Pros
Live and up to the second mapping
1-foot contour feature
Bow-to-Stern Controls
Chart Overlays- see multiple charts on one screen
High-resolution ActiveTarget 2 Live Sonar - Watch fish respond to your lure in real-time
Cons
Not well suited for beginners or occasional anglers
Expensive – this is better considered an investment as well as a tool
Models
If you're shopping for the HDS PRO, you don't have to worry about being overwhelmed with choices – there are only four models starting at $2,199.
You can pick from 9", 10", 12" and 16" displays, so no matter what kind of space you have or what your preferences are, you should be able to find something that works well for you.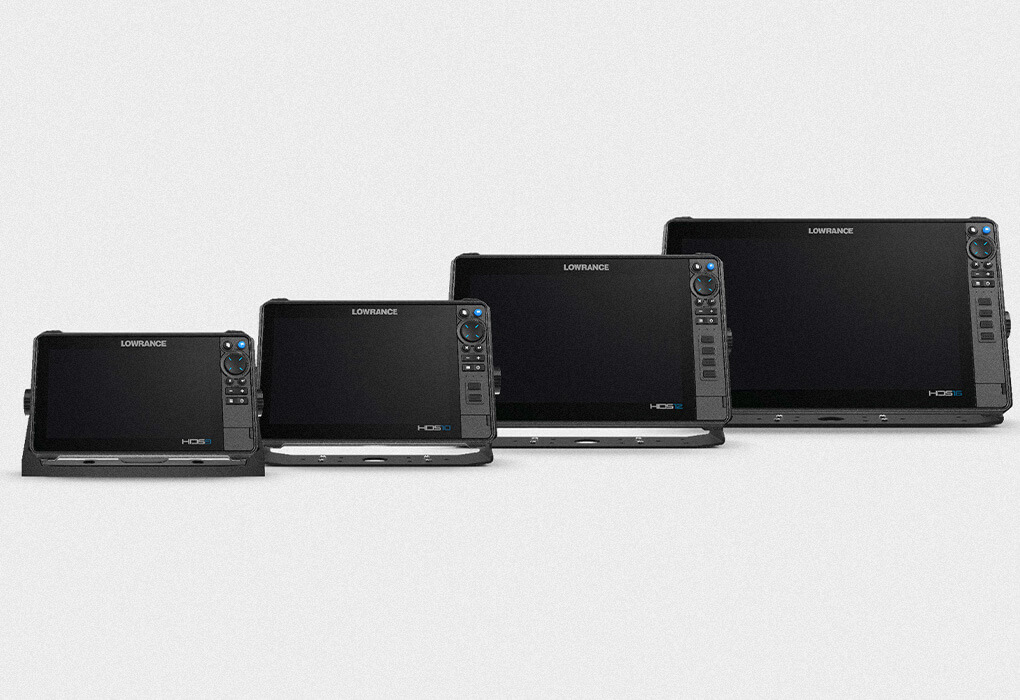 However, there are a few differences with each screen size, primarily in the resolution and programming of the keypad. The 12" and the 16" offer four user programmable keys, the 10" offers only two, and the 9" offers none.
Overview of the Lowrance HDS Pro
This GPS and fish finder combo provides a wide range of features that make it one of the market's most advanced that I've seen so far.
It uses high-definition DownScan Imaging (DSI) technology to provide accurate readings of water depth, bottom conditions, and other important environmental information.
There is also an advanced dual-frequency transducer that can be used on saltwater and freshwater bodies, shallow or deep, making it a solid option for fishing trips in any body of water.
The touchscreen interface allows you to access all your settings easily.
You have the ability to customize your display by adding maps, creating custom views with multiple windows and data displays, or adjusting the color palette for optimal visibility in different lighting conditions.
Lastly, one of the coolest aspects of the finder is ActiveTarget 2 Live Sonar. This feature allows anglers to see how fish respond to lures in real time. Now you're able to adjust your cast and strategy as needed without trial and error.
However, as great as the Lowrance HDS Pro is, it comes with a hefty price tag.
This device isn't cheap—it requires a significant investment—so it may not be suitable for beginners or occasional anglers who don't intend on using it often enough to justify the cost involved.
Additionally, while all the included features could be extremely helpful to hobbyists, I would think that it could become overwhelming for a first time fish finder user.
That being said, if you are an experienced angler or someone who fishes regularly, then this could be exactly what you need to kick your fishing trips up a notch.
Things to Consider Before Buying a Fish Finder
If you are in the market for a fish finder, there are several important things to consider other than budget, before making a purchase.
First, determine what kind of fish you plan on targeting and whether or not you need special features that may be necessary for certain species.
Will you be using your fish finder close to shore in shallow water, or will it be needed while you are out in deep water? Consider how easy it is to read and interpret the unit's information and ensure it meets your needs.
Lastly, factor in its portability, sensitivity levels, online maps, and output power so that your purchase will best meet your needs.
Features and Benefits of the Lowrance HDS Pro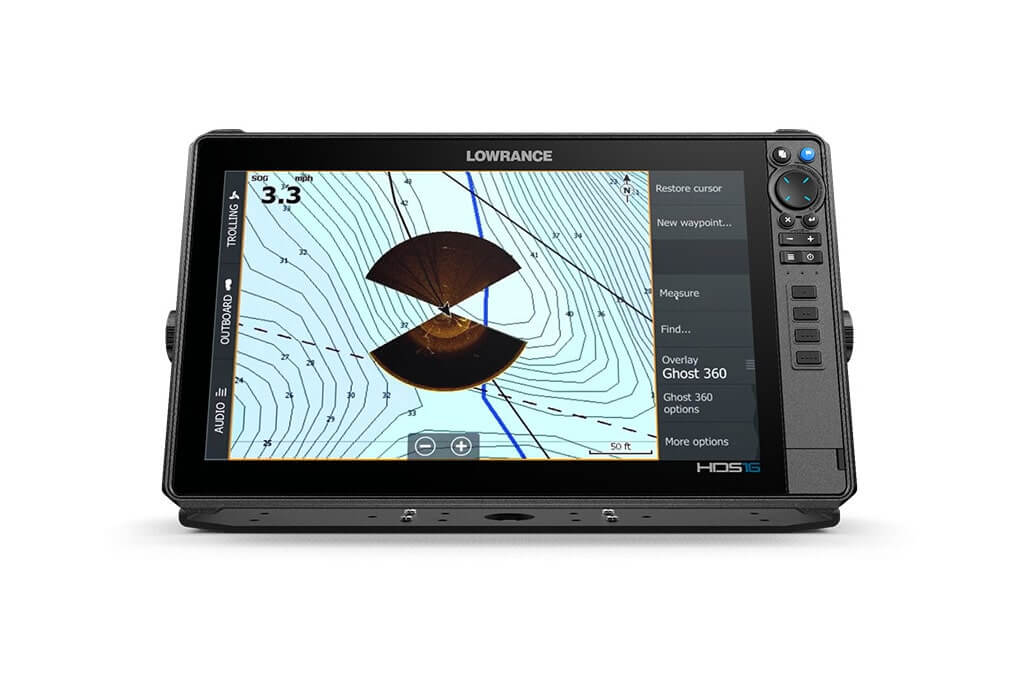 The HDS Pro offers a wide range of tools that are so helpful it's almost overwhelming. While it claims to be very user-friendly, it is almost hard to believe with everything that the technology has to offer.
That being said, let's take a closer look at all of its features and capabilities.
SolarMAX HD Display
The SolarMAX HD displays are twice as bright and over three times clearer than other LCD displays on the market. This feature is great because it is easier to see what's happening on the screen, even in direct sunlight or bright conditions.
While this isn't the most advanced feature, it is nice to know that you don't need to shade it with your hand or have to take off your sunglasses just to read what's happening on the screen.
Active Imaging HD
The HDS Pro also comes with Active Imaging HD for the highest resolution, DownScan and Sidescan.
With this you get an ultra-clear view of what lies below the surface so that you can better plan your next cast or adjust your strategy accordingly.
This also means that you don't need an additional module to take advantage of this feature; all you need is the fish finder itself.
Sonar Chart Overlays
You can also use the sonar chart overlays to get an even more detailed look at what is going on under the water with support for ActiveTarget Scout and Ghost 360 overlays.
This allows you to overlay different types of data onto a single chart so that you can easily identify trends or patterns in the water.
This feature is especially useful if you are trying to find fishing areas with concentrations of fish or if there are specific points in which they may prefer to congregate.
C-MAP® DISCOVER OnBoard Charts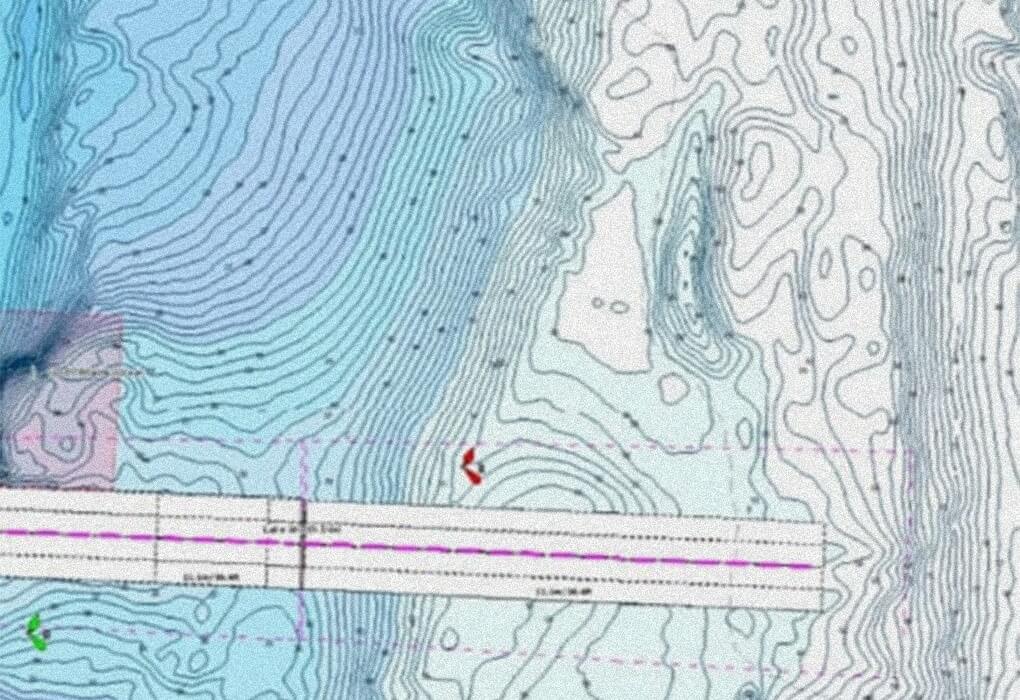 This is another one of the new products the HDS Pro has to offer.
It is a mapping option designed specifically for the angler, that provides high-resolution bathymetric 1-foot contours for over 19,000 lakes across the United States and 9,400 in Canada.
This capability presents a reliable way to locate fish and offers insight into how they might move or behave around various areas of the lake bed.
The 1-foot contour feature can significantly help you find the best spots to cast your line and have a successful day on the water.
ActiveTarget 2 Live Sonar
This is the system that will give you a real-time view of what is happening beneath the surface.
In layman's terms, you will be able to see exactly how the fish are responding to your line as it happens.
Bow-to-Stern Control of Power-Pole Anchors and Ghost
With this particular model, there is the capability to control everything 'from bow to stern.' Which will allow you to maximize your efficiency while out on the water.
You can set up pre-programmed routes and track them easily. That way, no matter how far out into open water you go, it will be easy to know exactly where your boat is at all times.
Basically, this eliminates guesswork, so instead of searching blindly for hot spots you can have a specific route laid out and enjoy an easier time heading directly towards effective sites.
Connectivity
Lastly, you can use a wireless connection to your smartphone like Bluetooth. The HDS Pro will also send smartphone notifications, so you're always up-to-date on what's happening in the water.
With this kind of connection, you can easily troubleshoot issues and identify changes in conditions. In particular, this helps you find fish by giving you the most current information available to plan your next move.
Alternatives to the Lowrance HDS Pro
Fortunately, if you're in the market for an alternative to the Lowrance HDS Pro, there are several excellent options out there that won't necessarily break your budget.
For instance, Raymarine and Garmin offer top-rated models comparable to the HDS Pro in terms of features and performance.
Similarly, Humminbird has a few different models that have been praised by anglers in terms of value, accuracy and ease of use.
However, if you're looking to stay in the Lowrance family, the three models below are also worth checking out.
Lowrance HDS Live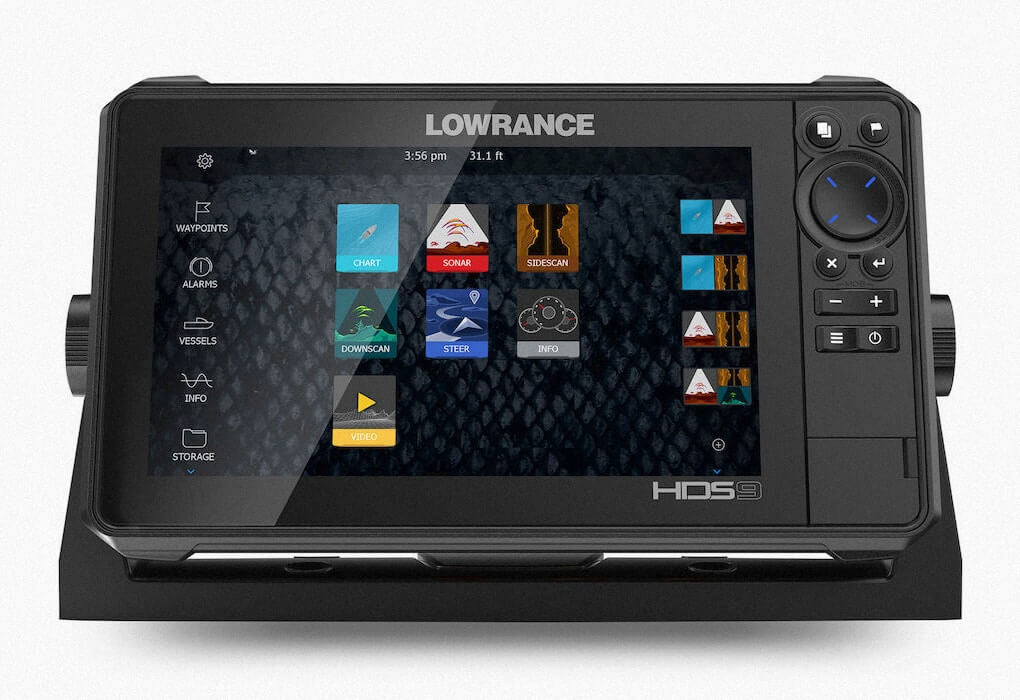 Lowrance HDS Live offers a collection of performance-focused features similar to the HDS Pro.
Both devices come pre-set with the full Lowrance function lineup, including Fish Reveal for seeing details of the bottom, such as structures and bait fish, plus CHIRP Sonar for better fish target separation.
However, there is no transducer included with the Live, but there is the option to add one for an additional $100.
Ultimately, both provide cutting-edge marine navigation equipment, it all comes down to what type of display quality you are looking for and how much you want to pay.
Lowrance Hook Reveal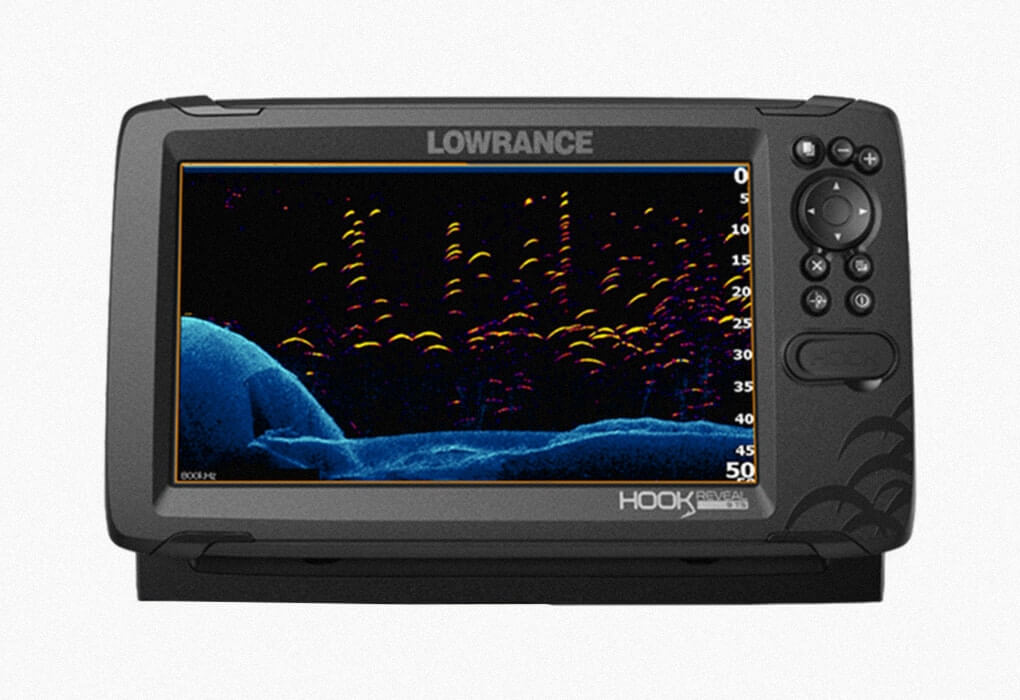 The low cost of the Hook Reveal makes it an attractive entry-level choice ideal for casual anglers or those on a budget. It also rovides basic functionality at a more wallet-friendly price point. You can check our Lowrance Hook Reveal review if you want to find out more about it.
It also offers great value with its fishfinder capabilities, and while it may not include all the benefits of the Pro or the HDS Live in the base package, there are options to upgrade as needed.
Lowrance Elite FS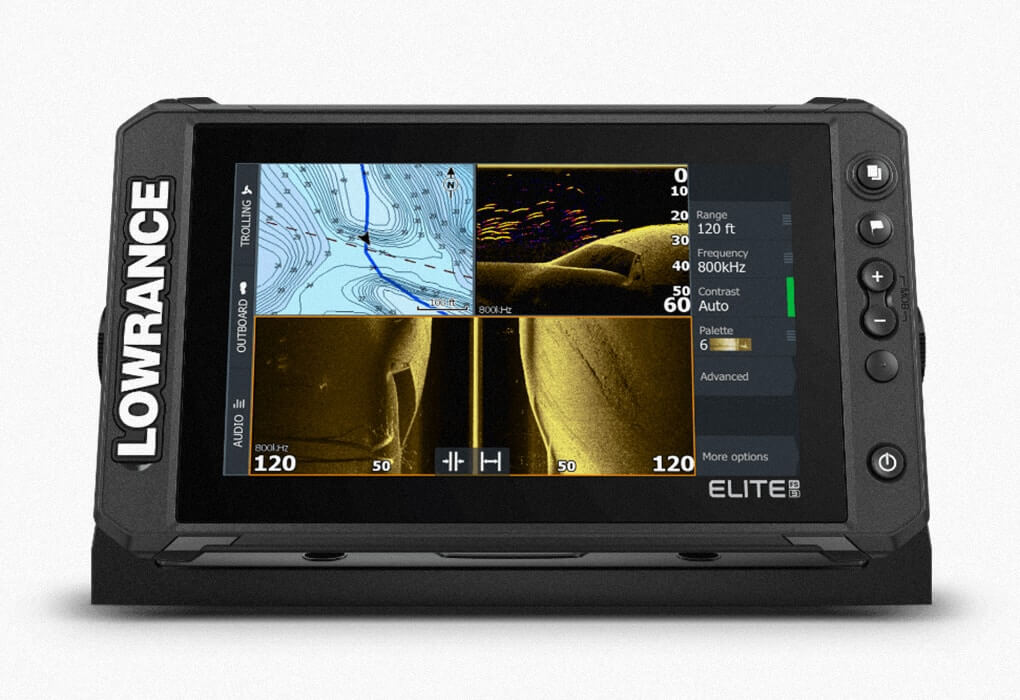 Lowrance Elite FS is a fish finder ideal for either fresh or saltwater fishing, compatible in deep or shallow water as well as being suitable for mid-size boats.
It also includes impressive features such as ActiveTarget live sonar with advanced water temperature.
This model also offers a GPS antenna and an ultra-bright 4.3″ backlit display so you can easily read your data in any light condition.
Final Thoughts
Overall, if you are in the market for a top-of-the-line fish finder with plenty of features, you won't regret choosing the Lowrance HDS Pro.
With its comprehensive features and intuitive design, there isn't anything else out there that quite matches up with this device – no matter what type of fishing you do.